You're climbing the last 20 meters up towards the summit, and you are struggling

  
beneath the weight of your enormous pack. You're sucking in the crisp mountain air but you can't seem
to fully catch your breath. You feet waiver slightly and you know you need to take off your pack and sit
down for a minute or you will collapse. You're so close! Why did you pack so many things to take with
you? This pack is robbing you of the glory of seeing the top of the mountain. Frustrations like this are
common with hikers and campers that need to bring their gear along with them on their back. Finding
the smallest, lightest and most compact gear is 100% necessary if you are planning to make it the full 
way to your destination. You have your cooking gear, your sleeping bag, your tent, your axe and you're
other essentials. You can skimp on some luxuries but you wouldn't dream of leaving your 4 legged
companion behind. Unfortunately dogs require quite a bit of gear themselves to rough it in the wilds
comfortably. Luckily Ruffwear is here to combat the struggle of packing and hauling your gear in the
most efficient way. The Bivy Cinch Bowl was designed to be lighter, more flexible and to take up less
space in your bag than a conventional bowl and food  bag. I was so pleased to have received this product

 
to test. This bowl is 15cm wide, collapsible and features cinch-able top
that doubles as a kibble carrier when out on the trail. Atlas and I have taken this bowl out on the trail to
test for a period of 2 months. We have used it in summer temperatures, in fall leaves and in half a foot of
snow during this period. (We have seen some fluctuating weather recently) We tested the limits of this
bowl by bunching it up and throwing it in my bag, washing it several times, clipping it to Atlas's backpack while he runs through the trees and leaving it out in the snow to freeze in a blizzard.
This product was designed to reduce the amount of space it takes up in your bag, and to keep
your dogs Kibble easily accessible while out on the trail. Some dogs thrive on routine and rely on being
fed at the same time each day. This can be a hassle when out on the trail because you have your kibble in
one bag (probably at the bottom of your pack by now) and your dog bowl in another bag. Or maybe you
didn't even bring a bowl for your dog because it is gigantic and takes up way too much room in your
pack. The Ruffwear Bivy Cinch bowl was a perfect all in one tool in order to solve these problems.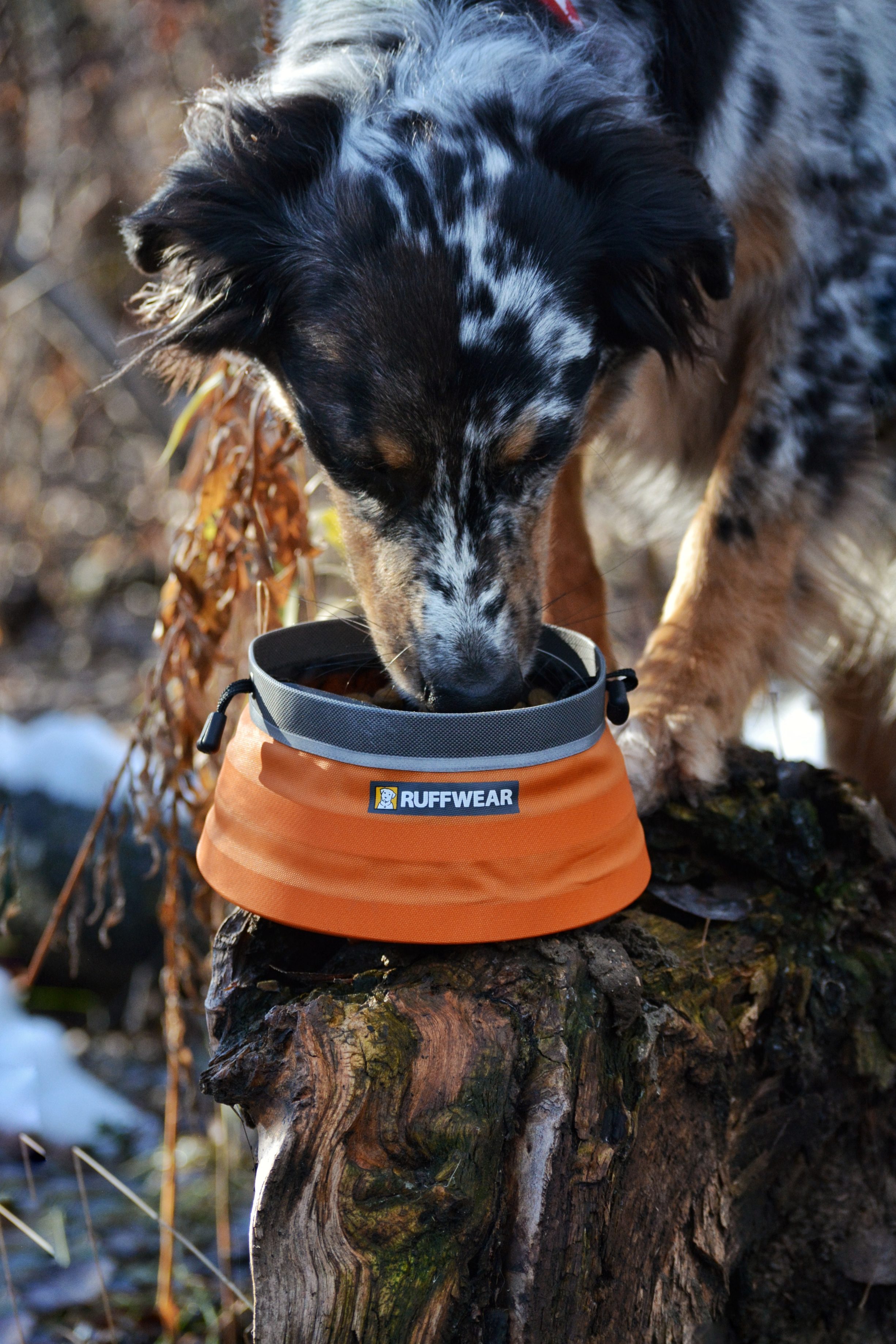 Overall, the design of this bowl is quite well thought out. It collapses easily, holds kibble well, is stable when it sits on the ground and is a quick and easy way to feed your dog when out on the trail. This bowl has a loop where you can hook up a carabiner to (not included) so you can hang it off the side or front of your pack to save even more space. It is also small enough to fit in some dog backpacks so your pooch can carry his own chow. The bowl can hold several cups of food (Maximum 1.8 Litres) and depending on the size of your dog, may be able to hold several meals at a time. This functionality works well if you have a dog that doesn't tend to over eat or if you watch your dog closely so that he doesn't eat more than 1 meals worth at a time. With Atlas I had to carefully monitor him so that he would only eat his allowed portion. There is an anti slip component to the bottom of the bowl which helps it to not slide around when your dog is eating. There are some issues with the design that I would like to point out as there are no products that are absolutely perfect. The design of the cinch feature of this bag could use a slight improvement with its stretchiness. When the cinch is open you cannot overlap it to the top of the bowl. This means that the cinch fabric gets stuffed into the inside of the bowl which can make it a bit hard for your dog to get the last kibble pieces inside. The fabric that it loose in the bowl is also vulnerable to be chewed on if you are not watching your dog carefully. I found that the fabric of this bowl got a bit slobbery when Atlas was licking around for the last pieces of kibble which may cause some bacteria if it is not dried out soon enough. I would like the see the cinch piece designed so that it could be out of the way when your dog is actually eating. When washing the Bivy Cinch Bowl, Ruffwear suggests that you wash it by hand with dish soap and let it air dry. The folds of the Cinch fabric tend to hold on to moisture a little bit so it is super important that you open up the fabric all the way and perhaps let it hang dry to avoid it getting moldy and musty. Other than these slight issues with the cinch fabric, this product works exactly as designed. 
This Ruffwear Bivy Cinch Bowl is jammed packed with really great features. It truly is the Cadillac of collapsible bowls. My first impression of this product was that it is of high quality. Ruffwear has skipped no expense to ensure that all of the pieces of this bowl are formed in a study yet flexible way. The welded FDA approved waterproof fabric is strong and flexible, allowing it to be smooshed around only to pop back into place easily. There is a reflective trim which helps to locate it in low light situations. The cinch stays tight and we did not find any kibble dumping out even when it was thrown around. We really did put this bowl though the ringer during our testing period and it took some harsh abuse from the elements. At one point it was frozen in half a foot of snow and did not suffer any ill effects.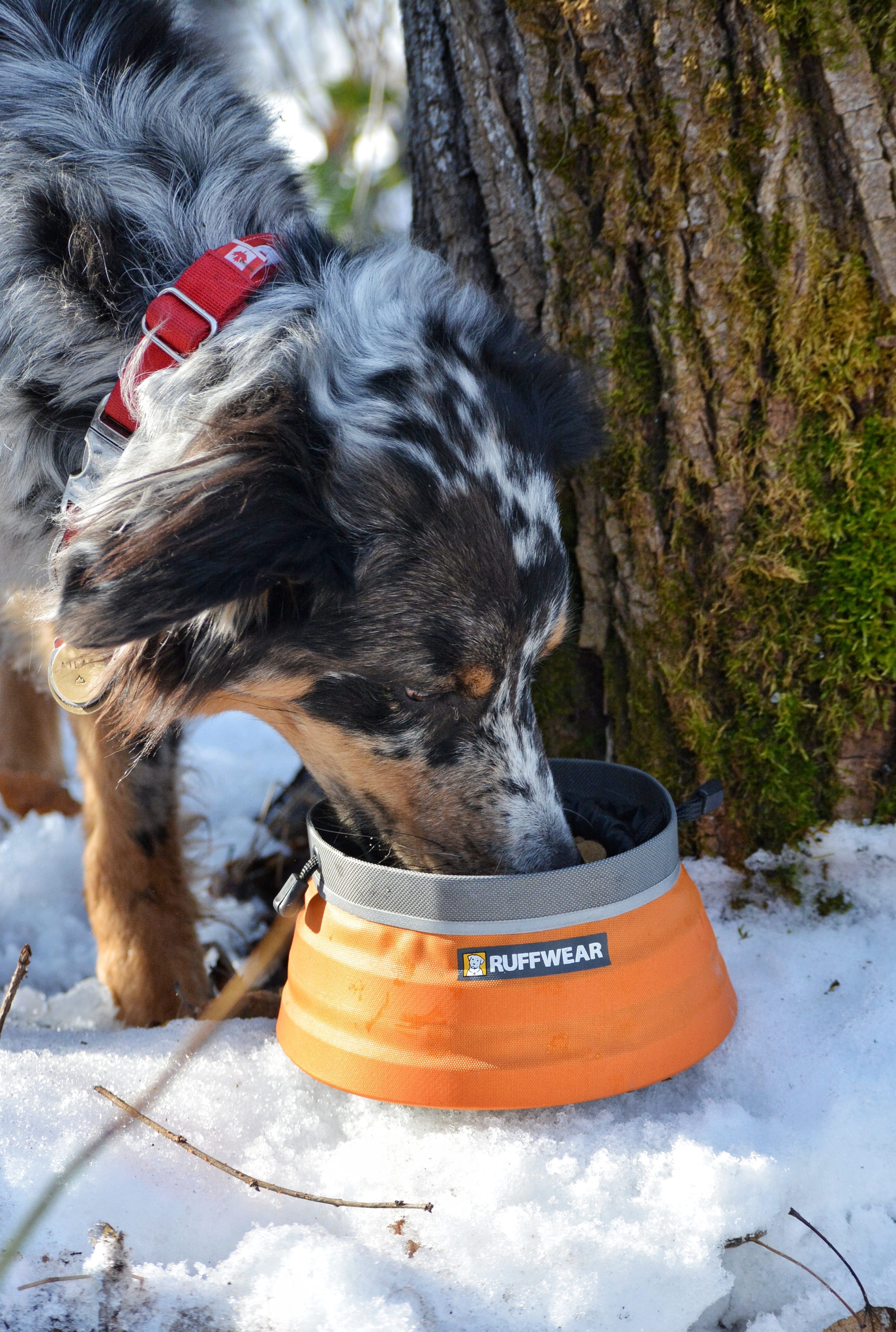 If you are looking for a bright, easy to spot bowl, the Ruffwear Bivy Cinch Bowl is the container
for you. This bowl is available in only an extremely bright orange colour and it is available in only one size
(15 cm diameter). It would be nice in the future to have additional colour and size options. I found the
orange colour to be vivid and attractive and the size worked perfectly for Atlas. When you are feeding
your dog, you can collapse the bowl part way to make the bowl less deep. This is a great feature if you
have a smaller dog that is a bit shy with sticking their head into things.
I found this product to work quite well and I was very impressed with the quality. I will continue
to use it on our camping trips and adventures and would recommend it to friends. Unfortunately
Ruffwear has decided to discontinue this product but they have since replaced it with the "Quencher
Cinch Top" Bowl which features a slightly different shape and fabric, and is available in multiple sizes and
colours. The new bowl is machine washable and it appears as though they have made changes with the
Cinch Top. I'll have to give the new one a try as well. The Bivy Cinch Bowl may still be available at some
retailers that carry Ruffwear products for the time being.  Ruffwear also still carries the Bivy Bowl without the cinch.
This bowl works best for: Dogs on the go that prefer to eat out of a bowl. It is flexible and takes

 
up less space in your pack. It works great for camping trips or hiking and works as intended in all
climates.
This bowl isn't ideal for:
Dogs that are  uncomfortable with eating from a bowl with a
fabric insert. You may also want to skip this product you plan on leaving your dog unsupervised with
multiple portions of food, especially if they have a tendency to over eat. Always watch your dog when
they are eating from this product.