Dogs with active lifestyles often mean more baths than the average dog, right? And the thicker the fur, the more shampoo, conditioner, water, and towels are needed. Which means more laundry! What if I said you could actually get away with using one small square of fabric to dry your dog off, and no laundry really needed to be done? Well, it's possible. The Alcott Mariner Shammy does just that.
I was insanely skeptical about the shammy when I first took it out of the reusable storage tube. It had a felt-like feel to it, and made me think it wasn't going to do much of anything, especially for my double-coated huskies. Being 20"x24", it's only the size of a hand towel… seriously? This was going to dry my dog by itself? Normally, it takes 3 bath towels + 1 hand towel PER dog to get them dry enough before I blow-dry them.
Get this: we were able to dry BOTH Ellie & Atlas with the shammy without even having to wring it out in between, and we probably could've kept going! Both myself and my husband were left speechless. Not only that, but their endless husky hair barely even stuck to the shammy. And cleanup was a breeze; a quick rinse, let to hang dry, and a quick shake-out once dry, and that's it! The material dried within just a couple of hours & I rolled it up and put it back in the container for easy storage. It's able to be thrown into the wash, but the only downside is it always has to be hung to dry & can't be put into the dryer, and if not dried fully before being stored there's a possibility of mold & mildew. In the grand scheme of things this really isn't that big of a deal if you ask me!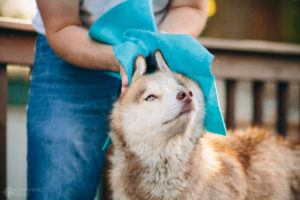 Photo credit: IG @expeditionhusky
Aside from regular baths, this shammy is definitely useful for camping for dogs of any size who are in and out of the water all day. As soon as they're out of the water, dry them off, hang the shammy to dry, and repeat as needed. I'd dare to say this shammy is way better than some of those "super absorbent" swimmer towels I've had in the past, and I'm tempted to buy one for myself! The Alcott Mariner Shammy has been added to our essential camping gear box, and should be added to yours also.
Review by: IG Trail Tester @expeditionhusky
Feature photo credit: IG @expeditionhusky