Canine Equipment Ultimate Cooling Coat
Summer is in full swing, and that means that sunshine and heat are also making an appearance. While enjoying the weather can be fun, it's also important to keep our four legged companions safe in warm temperatures. While dogs pant to help keep them cool, there are ways that we can help them regulate their core temperature to help prevent the risk of heat stroke. Cooling vests have been making frequent appearances in the dog community over the past few years and we were given the opportunity to put the Canine Equipment's Ultimate Cooling Coat to the test!  Farley has a 20 inch back length but the suggested girth for that coat was larger than hers so we tried it in a size 18 and it fit perfectly. The cooling coat is offered in ten different sizes. We were able to test the coat during hikes, walks, in our yard, and dog park adventures over the past month in temperatures ranging from 27C to 32C (80F to 90F).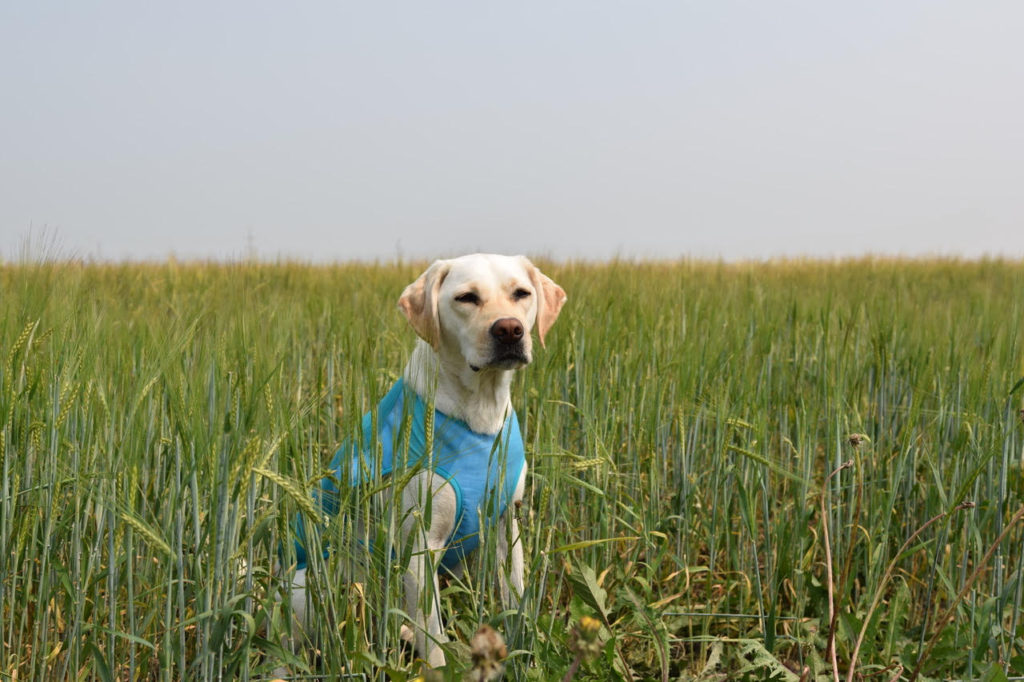 The Ultimate Cooling Coat is designed to be lightweight, ultra-absorbent, and allow for proper air circulation through the mesh panels. It's purpose is to utilize maximum evaporative cooling pressing to help keep your dog comfortable in warmer temperatures. Evaporative cooling works by changing water to a vapor with the help of heat. When the water is evaporated, heat is also drawn, resulting in a cooler temperature. This is a similar process to perspiration for humans.
The Ultimate Cooling Coat is made up of PVA (Polyvinyl Alcohol) on the back and chest and mesh on the sides.  The coat is designed to slip over your dog's head and the chest plate then attaches to the back of the coat with Velcro which allows for a quick and simple application process.  Because the jacket is designed to be an easy on/off we noticed that there were a number of places it wasn't quite as fitted as we wanted it to be.  Notably there were gaps in the shoulder area when Farley was standing/walking/running. The jacket is thin and light enough to place a harness overtop which, for most dogs, would help keep it in place.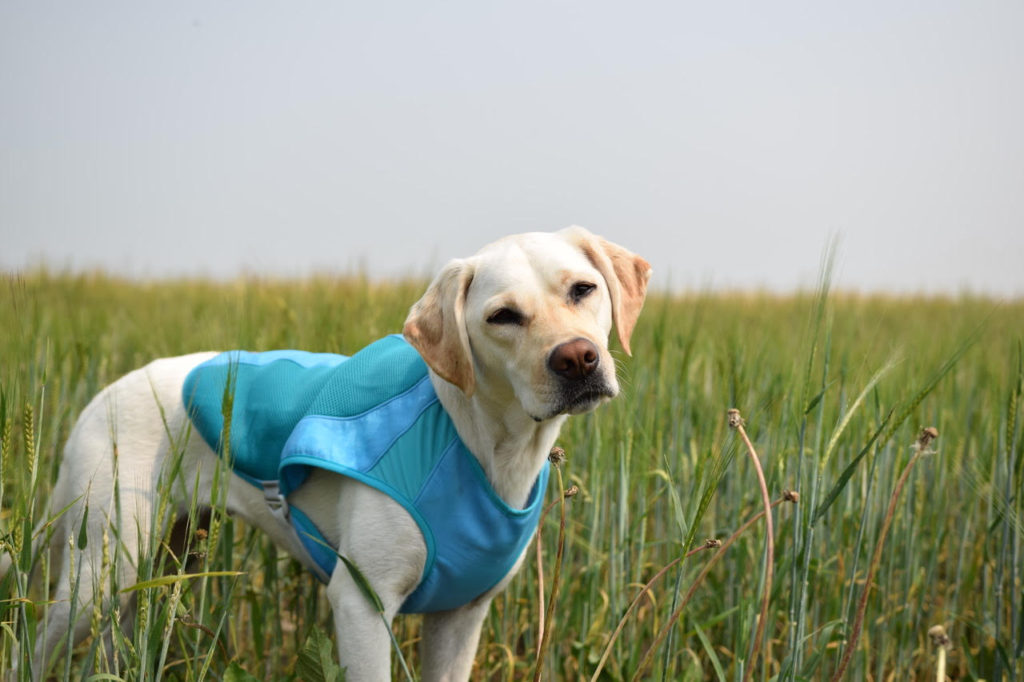 On our adventures the mesh was very easy to wet and required minimal water to saturate but the PVA was very difficult to fully wet and required a much more water than expected.  We had better results dunking it in water (e.g. a river or a lake) than pouring water on it as it had a slow absorption rate.  Once wet, it immediately felt cold. While other cooling vests have felt similar to wetting a towel and placing it on your body, the PVA felt very similar to Farley's cooling mats. The mesh, however, did not remain cool for long as the sun heated and evaporated the water quite quickly.  The mesh remained wet and cool for about 20 minutes while the PVA remained wet and cold for about an hour. While the mesh did not appear to be beneficial on this coat, the PVA did make a noticeable difference and Farley would stop panting quite quickly.
While PVA does provide a great cooling effect, the material does have some downfalls as well. Canine Equipment recommends laying the coat flat to dry, as attempting to unfold can cause it to crack. Despite following these directions, the jacket dried quite stiff and made it difficult to fold for storage or to pack. We did not experience any cracking in the fabric while following the directions, although the material was very easy to scuff. There are a noticeable amount of dents and scrapes from Farley wearing the coat during less strenuous adventures.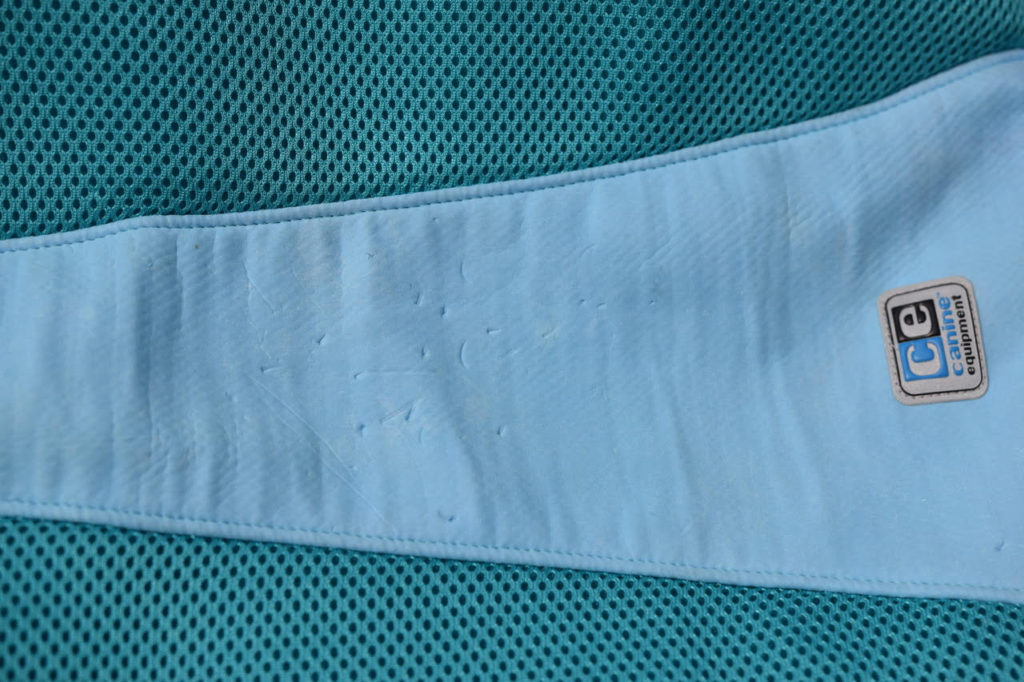 We also found that the construction of the jacket left something to be desired.  We were pretty gentle on the coat and didn't use it excessively in the month that we've had it and have found the seams are coming apart.  The stitching was loose in some areas when we took it out of the package.  The Velcro strips are quite thin and despite not being rough when adjusting the coat, the Velcro did begin to pull away.  If your dog likes to get a little crazy with their cooling coat on we don't think that these straps would hold up.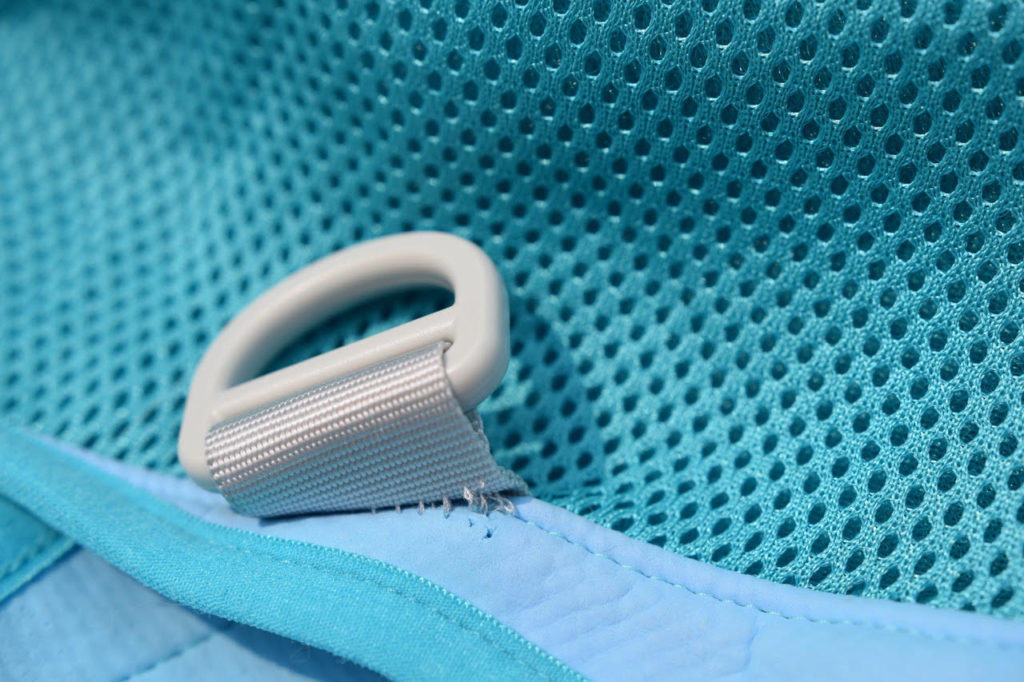 Overall the PVA areas of the vest worked very well to cool Farley and the temperature difference was felt immediately. The mesh and Velcro could have benefited from a slightly higher quality of materials such as nylon straps and buckles. We likely wouldn't use the vest during situations where we would not have access to a large water source due to the large quantity of water required to soak the PVA. The risk of material cracking would make us refrain from stashing the coat after use, making it difficult to bring on hikes or other adventures. We do however like how light and thin the coat is, allowing it to easily be rung out before use. While we may not choose this coat for our strenuous activities, we have found it to be beneficial while spending time in the yard or around town in hot weather and being able to re-wet it as needed.
The Ultimate Cooling Coat would work best for: Dogs taking part in less strenuous activities, those who adventure near with a large water source, those only spending a short amount of time in hot weather
The Ultimate Cooling Coat may not be ideal for: Dogs who are rough on gear, those with limited water access, extended periods in hot weather, those looking for a long term investment – we don't expect this one to last
Farley's measurements: Girth 27.5″ / Back Length 20″ / Weight 50 lbs
Ultimate Cooling Coat Size: 18
Review by: Dogs That Hike Explorer @farley_the_labrador