The Chilly Dogs Soaker Robe is a dual-function item – it's either an evaporative cooling vest in the vein of the Hurtta Cooling Vest and the Kurgo Dog Cooling Vest (reviews coming soon!) and similar, or a doggy bathrobe to dry off a dripping pup with minimal effort. I was extremely amused by the second option and couldn't wait to try the robe function during our Colorado lake trip. Fortunately, we got Robin in the right Chilly Dogs size this time.
The Chilly Dogs Soaker Robe is made of a microfiber terry cloth; it's the same nubbly texture as a cotton towel but much lighter and more compressible, with that cuticle-snagging texture common to microfibers. It's a durably made terry, and doesn't snag easily.
This is a simple jacket, in the same cut as Chilly Dogs winter coats, minus the collar: it's full-length (about 15″ back length for the 12-14″ size), with minimal hindquarters coverage and generous belly coverage. Most single-thickness dog jackets (Hurtta Chill Stopper, Ruffwear Climate Changer) are finished with a stretch bias seam tape around the edges, which lends an athletic, clean look. The edges on the Chilly Dogs Soaker Robe are instead rolled under and coverstitched like a T-shirt. They're well done but coupled with the fabric, it does contribute to the bathrobe look, and I think it might look more "sporty" and appropriate for cooling coat functionality with finishing tape instead.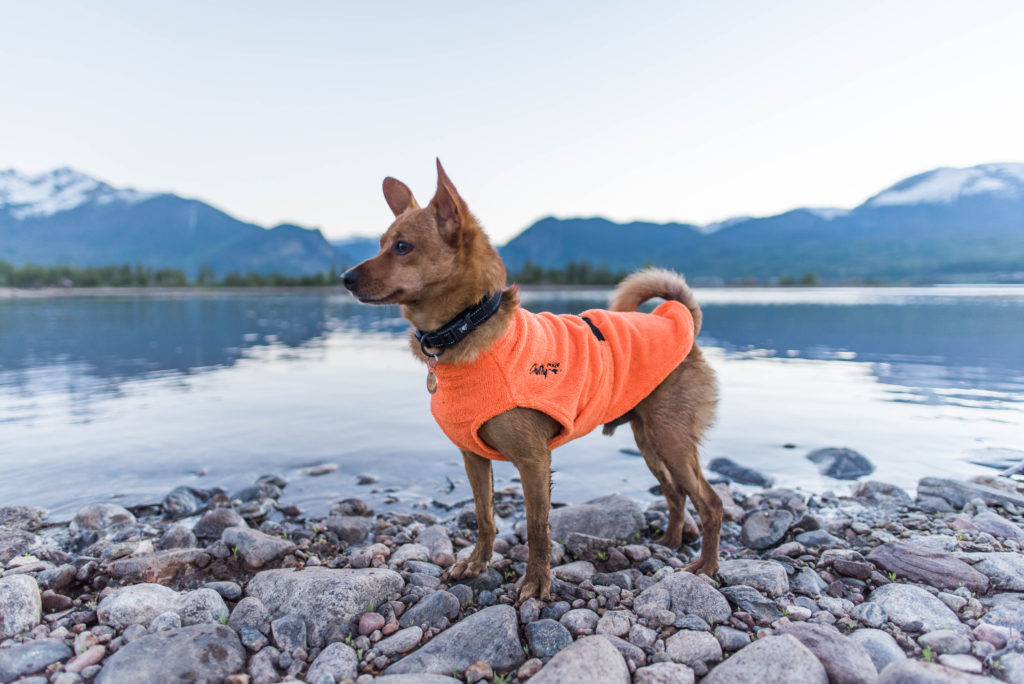 The coat fastens by way of a webbing belt and sturdy side release buckle. As with the other Chilly Dogs coat, while the webbing is functional, I'd prefer to see nicer quality webbing used on a jacket of this price point. This is the rough, knobby kind you see on low end dog visibility vests and the like, while a tightly woven mil-spec type (like the webbing used on backpacks) would be more appropriate and more durable. There are no reflectors, which isn't a big concern as it's not generally going to be a nighttime use coat, and the only ornament is an embroidered Chilly Dogs logo on the left shoulder.
After the last Chilly Dogs coat, I was a bit worried, but this 12-14″ size fits Robin really well and would go up to a 15 or 16″ back length and down to probably a 13″. Based on what we've seen, I'd be inclined to recommend buying based on the top number in the size range and adding an inch (so 12-14″ will be a perfect fit on a 15″ back length), but check with the company to make sure if your dog is much bigger than Robin.
Size chart issues aside, this robe is great on Robin! The belly panel is just long enough, which helps cover up his muddy belly after a lake trip; it's the right width between his front legs, and the back and side coverage is good. It's cut for full range of motion of the front legs with no chafing in the chest or armpits. I would like to see slightly more coverage in the hindquarters for the robe function (more drying/sand containment) since that's where most of Robin's floof is; however, for the cooling function, more fabric might flop around more and cause displacement. The waist belt is very effective and keeps everything in place well aside from a tendency of the hindquarters region to creep to one side. I think leg loops would be a nice addition, but we've done fine without them so far.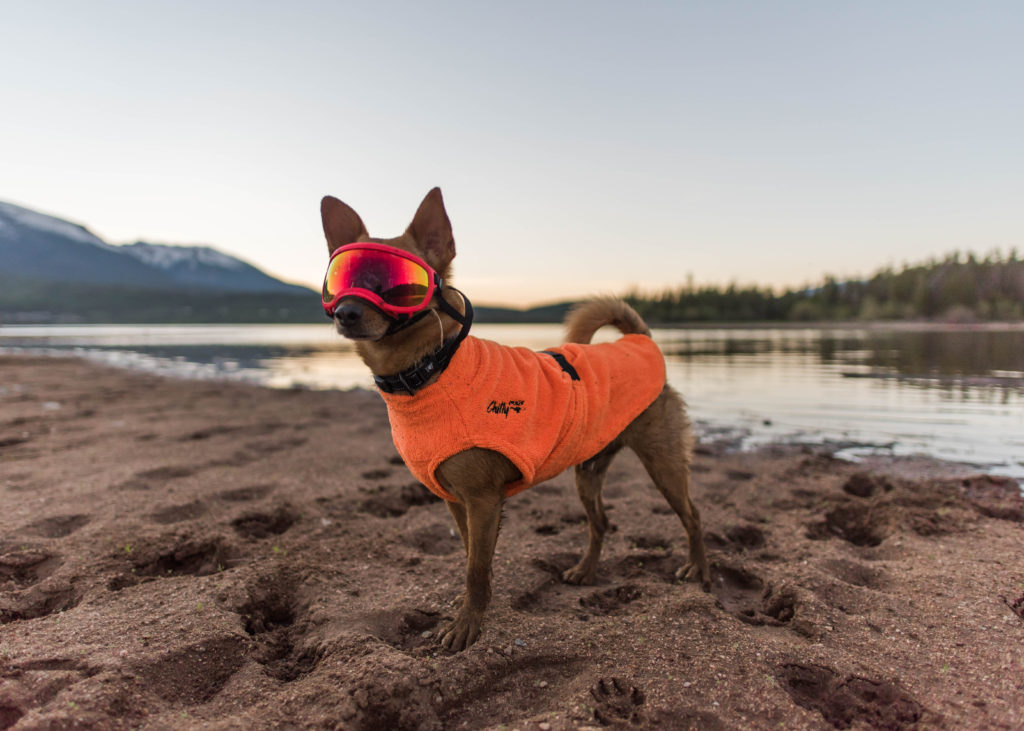 Because this is a dual-function coat, I'll review the functions separately:
Cooling vest: Not so much. While it definitely soaks up water as well as, or better than our typical cooling gear, the Soaker Robe gets SO DIRTY. We're used to cooling gear getting dusty and dirty especially on the belly, but the Soaker Robe's terry picks up dirt, leaves, grass, and twigs, and doesn't brush clean like a smooth-shell cooling vest. I'd say it makes sense to use for cooling if you're hiking to the beach or river on a hot day – keep your pup cool on the way there, rinse it clean and wring it out when you get to the water, and hopefully by sunset it'll be dry enough to serve as a robe. It'll look less out-of-place on this type of trip, too.
For ease of re-wetting, the Soaker Robe is tied for first place of all the cooling gear we've tried. That, coupled with its light weight and low-bulk fabric, makes it a good backup cooling coat in your pack for when your pup gets overheated. It can be wetted even with just a small amount of water, and sucks up water greedily so you won't waste any of your precious drinking water.
It's also a good option for keeping your dog cooler indoors. We've tried standard cooling vests like our Ruffwear Swamp Cooler for indoor use, but because they're sponge-like, water squeezes out onto the floor when Robin lays down, and when very thoroughly wrung, the fabric doesn't stay wet for very long. The Soaker Robe stays damp for quite a while indoors even when wrung very well – three hours during our test on a hot but not scorching day with no air conditioning. Because of the fabric, it doesn't ooze water or even transfer much dampness to the floor or bed.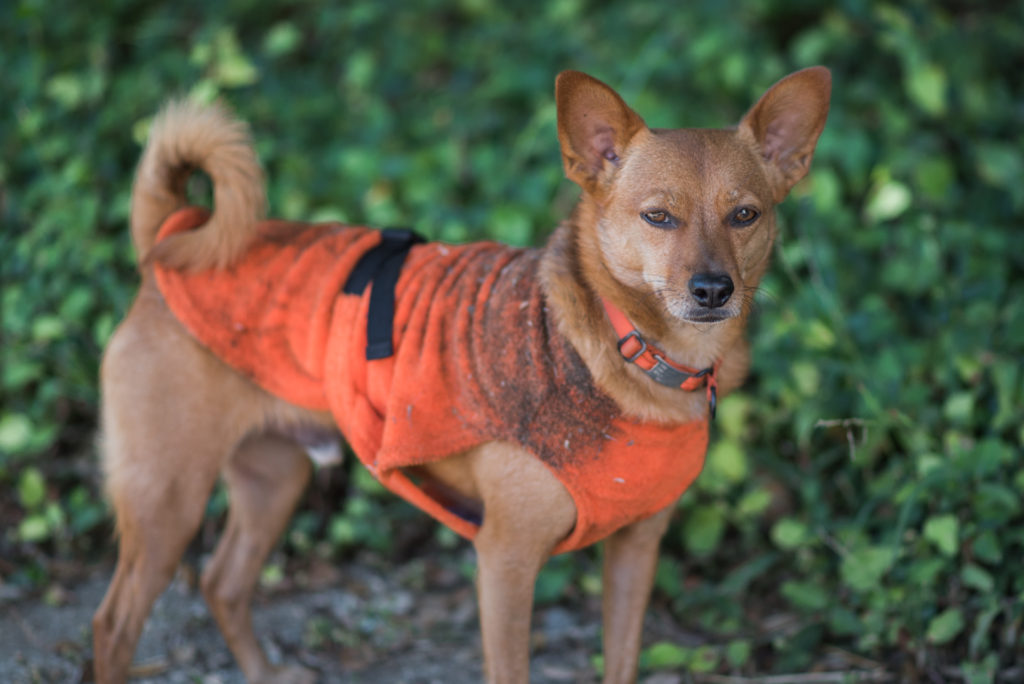 Robe: The Soaker Robe works perfectly post-swim to soak up all the drips and contain Robin's sandy belly. After a couple hours of boating, swimming and splashing, I popped this on him at sunset while the dogs begged for treats and we rolled up our boats. By the time we headed to the car, Robin was totally dry and the jacket was almost dry too – he'd shaken off before I put it on, and it has so much absorbency that the amount of water left on his fur by that point made very little difference to it. We had a rental car, so it was nice to keep it a little cleaner with the robe. Although Robin loves being toweled, a jacket makes much more sense when you've already got plenty of stuff to carry back from the water – the dog can carry his own sandy towel!
The Soaker Robe also works great post-bath, especially if you want to keep your house dry or you're staying in someone else's place. Our rental apartment in Colorado was ridiculously ornate – glass vases, white leather couches, lucite tables, mirrored dressers everywhere. Oddly enough they allowed dogs but we were careful to keep the pups away from the fancy stuff, and the Soaker Robe helped contain Robin's post-bath sprays of water. Also, it's a bathrobe for dogs. Yes.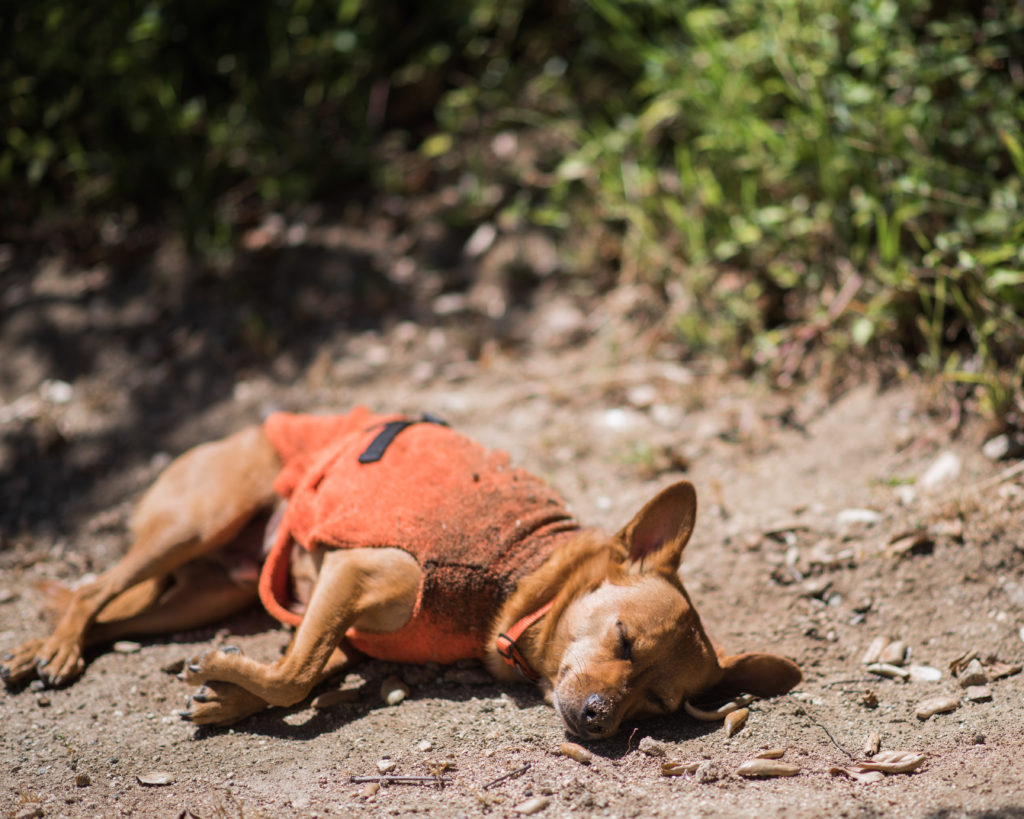 As much as I adore the Soaker Robe's robe functionality, it's a luxury item for us- we live in dry Southern California and don't give Robin baths very often, and he doesn't have a ton of fur to hold onto water. However, it's well made and extremely functional as a robe, and if I had a bigger, floofier dog I could totally see this being a life saver at bath time. Definitely worth checking whether your dog's size is currently available in the sale section!
There are some other dog bathrobes around, but most are either just for show with a silly tie belt, or are more like a wearable towel- not functional for the dog to walk around with, and all too easy for them to drag through the water or sand. If a robe would be useful to you, this is the most functional one I've seen.
Overall I wouldn't recommend purchasing this just for the cooling function, but if your pup could use a robe, then you need this, because it's adorable. We'll be using it after baths going forward and it'll definitely be in the bag for every lake trip.
The Soaker Robe would be best for: robe after beach time, post-bath robe, indoor cooling option, emergency lightweight cooling coat, easy to re-wet
The Soaker Robe may not be ideal for: regular cooling option for hiking (dirt and debris magnet)
Review by: Dogs That Hike Trail Tester @robinventures / robinventures.wordpress.com