There are countless harnesses on the market made with adventure dogs in mind. Some are overly complicated with many features designed to allow you to climb, and hike in extreme environments with your pooch. Others are rather simple without many features or padding to allow your dog freedom of movement on his journeys. There are also a few that sit in the middle of the two extremes, this is right where the Hurtta Adventure Harness fits. Recently, we were lucky enough to test out the 24- 32 inch (60- 80cm) sized harness out on the Rocky Mountain trails of Canmore, Alberta and close to home here in Edmonton, Alberta over the last few months.
The Hurtta Adventure Harness was designed to allow freedom of movement while keeping your dog comfortable. It features a moderate amount of chest padding with a mesh inner lining to increase breathability as well as adding cushioning to the chest region. The straps are simple and symmetrical with 4 different adjustment points to allow for an appropriate fit on most sizes and shapes of canine adventurers. The straps are designed so that you can simply slip your dog's head through the neck portion and then buckle the straps behind your dog's back. This design makes it so that you don't have to pull your dog's legs through the harness which allows for less tangled up pooches and less frustrations to the human trying to make it work. This extremely user-friendly design allows for the harness to be put on in seconds and can be put on quickly at the trail head.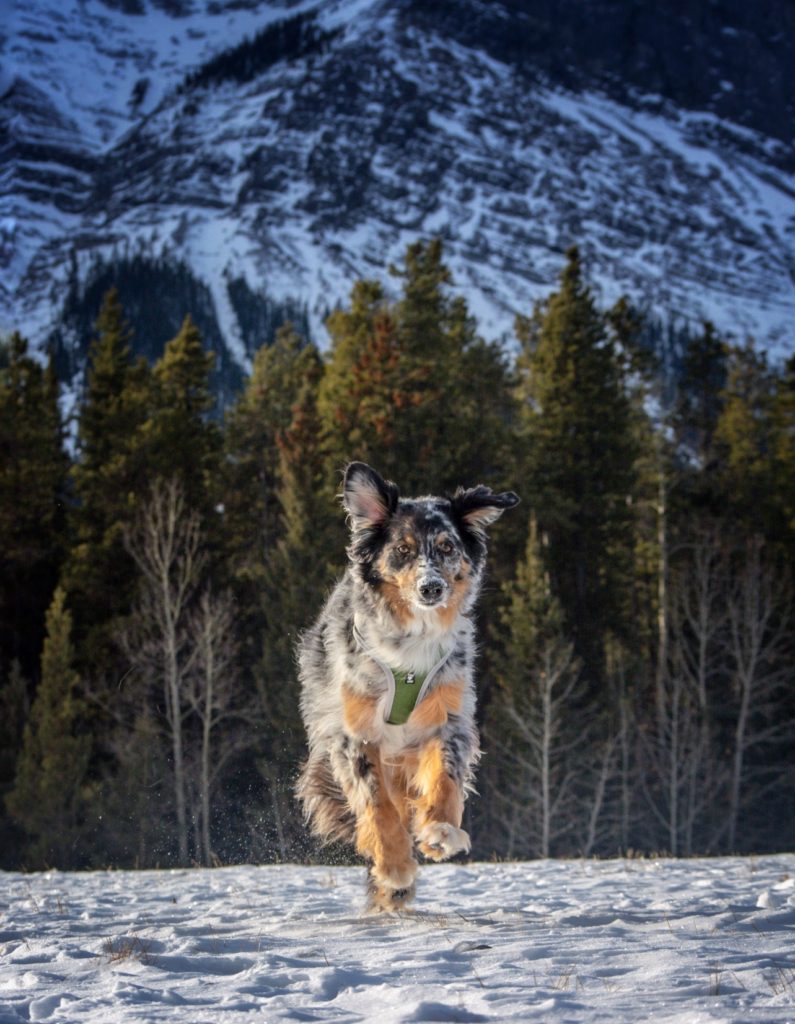 The Adventure harness stayed in place very well on Atlas during our testing. It did not seem to shift around at all while hiking and did not cause any chaffing. Various friends of ours also own this harness and some have complained that it tends to shift around on their dogs. They have also all agreed that the harness does not fit perfectly snug on their dogs' chests like it does on Atlas or like their Hurtta Active Harness does. It seems like the issue comes down to fit and body type as the Adventure hardness is about 4.5cm longer than the Active Harness. Hurtta has designed the chest panel of this harness to be quite a bit slimmer than the Active Harness as well which reduces the amount potential chaffing on narrow chested dogs.
While this harness seems to be simply constructed, it does have some features that separate it from other harnesses in its category that are worth mentioning. There is 3M reflective piping throughout the design that allows your dog to be seen more easily seen in low light environments. The fabric on the front of the chest panel is made of Neoprene which is a quick drying, flexible material that is perfect for movement in "soggy doggy" environments. The harness also features an attachment point for Hurtta's "Polar Light" waterproof LED light (sold separately). One feature I do miss when comparing the Adventure Harness to Hurtta's Active Harness is the handle. The Adventure Harness has no handle to grab onto which is a setback when trying to get an extra grip on your dog when say…. a brave squirrel wanders in front of you. One final advantage to the Adventure Harnesses simplistic design means that it is much lighter when compared to Hurtta's (medium heft) Active Harness and (bulky) Trail Harness.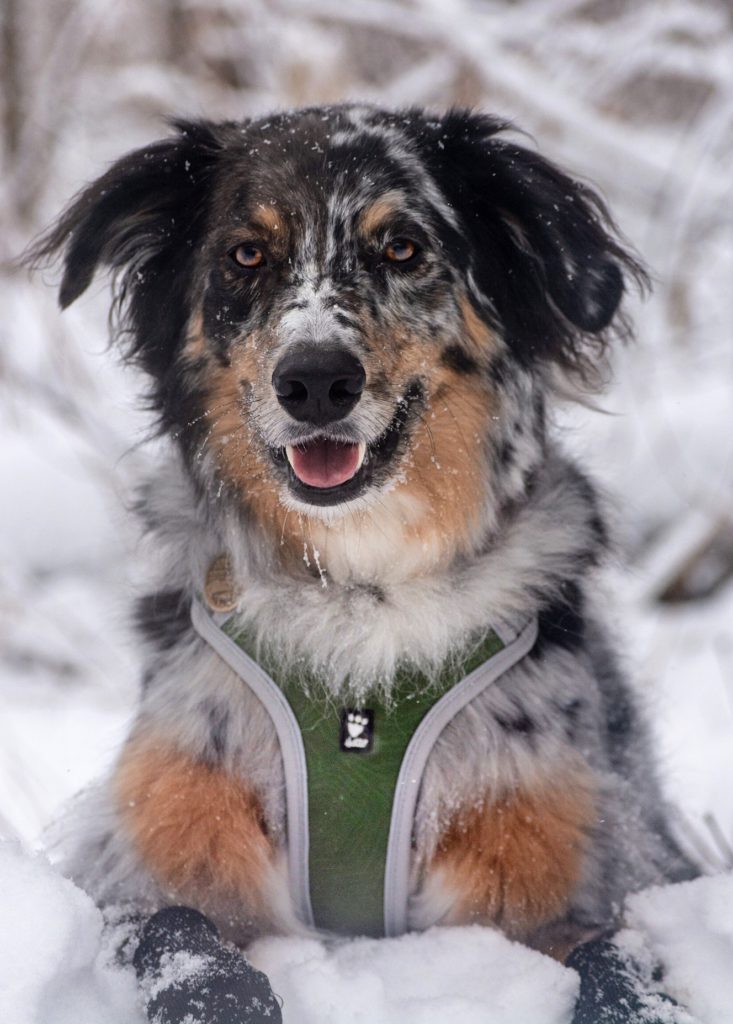 The Adventure harness is available in 6 different colours to suit most tastes and 5 different sizes to fit most sizes of dogs. It is easily adjusted and features durable plastic buckles that are easy to snap and stay in place correctly. The nylon straps are held together at various points with reinforced stitching and metal attachment points. The leash attachment point is also made of metal and has proven to be extremely durable.
To be perfectly frank, I have reviewed countless Hurtta items for Dogs That Hike and they all have one thing in common. They are made with extreme attention to detail and with the best quality materials available. The Adventure Harness is no exception. Hurtta gear tends to really last when put through the ringer out on the trail. Atlas is extremely hard on his harnesses when out in the wild. He loves rolling on rocks, derping into glacier lakes and running full speed through trees in the forests of the Rocky Mountains. This Harness (like all of his other Hurtta products we have tested) has been used and abused and still does not have a fray or scratch on it. Hurtta claims that this harness is hand wash only, and to be honest that's generally how I wash all of Atlas's adventure gear anyways.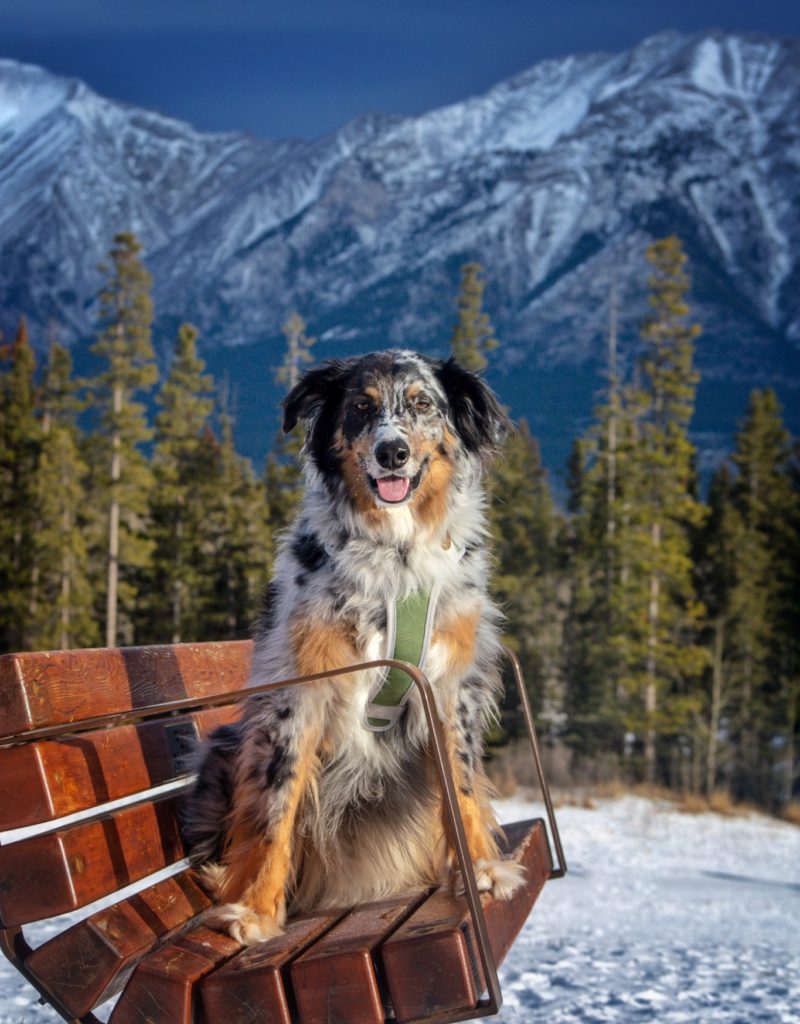 The Adventure Harness would be an excellent solution for someone looking for a relatively simply designed harness without a lot of extra bulk from unnecessary additions. It would be great for narrow chested dogs that tend to get chafed by Hurtta's Active harness. This harness is made with careful attention to detail and in my opinion will surely be a long lasting piece of equipment for years to come.
The Adventure Harness would work best for: Anyone who is looking for a simplistic, lightweight, yet comfortable harness for their dog.
The Adventure Harness may not be ideal for: Anyone who requires a lot of bells and whistles on their harness such as a handle or climbing support.
Atlas's Measurements: Girth 26.5″ / Back Length 25″ / Weight 53 lbs
Hurtta Adventure Harness Size: 24 – 32
Review by: Dogs That Hike Explorer @atlastheadventuredog
Product from: @hurttacollection / hurtta.com