Are you one of those people who are always on the go with your furry friend? – Us too. Being an active family we tend to travel around all over the province of Ontario with our husky pups River and Rain. We usually spend anywhere from a weekend to an entire week or more away from home out on the trails or on a camping trip in the woods. What a pain it is to have to not only lug around food for yourself, but for your furry friend too. Sometimes I would put dog food in tupperware containers, but then you can't reuse the same tupperware for your own food unless you don't mind the taste of kibble! Plus you'll need a few large sized tupperwares to carry food for a week or so, and once those are empty you've got a few containers taking up precious cargo space.
Kurgo has come up with a simple solution for this: the Kurgo Kibble Carrier. The lightweight hex-weave material of it makes it incredibly easy to load up your dog's meals for a few days and carry it around with you. The bag can fit virtually anywhere when it is empty saving you a whole bunch of space, which is crucial if you're a backpacker or adventuring traveler. When the bag is full it can hold up to five pounds of dog food, more than enough to feed your furry friend(s) while out adventuring. Its size is about a football or so when full but could be emptied and fit in your coat pocket.
One of the great features of this kibble carrier is the simplistic way of saving space as you go through food. The Kurgo Kibble Carrier has an open top where you roll it down a couple of times and buckle it to hold the carrier shut. While this may not seem practical, as the kibble carrier does not have a zipper or means of sealing it, I have never had kibble fall out of the bag. We have noticed that if you don't roll the handle down more than a few times and if it is not secured or being carried, it could get caught on something or shake around and have the potential to open up and spill. But our tests have found that so long as you're carrying the bag, or it is secured in place like a backpack or car trunk then you won't have any accidental kibble spills.
A really wonderful aspect about the roll down buckle is the more your pup eats the further you can roll down the top of the carrier. This allows it to be compacted even smaller, freeing up more space, unlike almost any other container. Kurgo advertises the carrier as being able to hold five pounds of dog food. In an answer to another consumer's question on their website Kurgo states that the carrier should hold roughly twenty cups of kibble, (depending on size and density of the kibble). Twenty cups would amount to roughly three days' worth of food for both River and Rain. Since the carrier isn't zipper or air-tight sealed a few days of food is probably the most you would want in the carrier at a time anyway.
Kurgo makes other products such as collapsible bowls for food and water and designed the kibble carrier with this in mind. There is a pouch at the bottom of the kibble carrier where your collapsible bowl can easily slide in. That way you can never forget one to bring along with some kibble so your friend can eat just like at home. I found that the flexible sides of the carrier allowed us to roll them down and our pups were not afraid to dunk their head right in the Kurgo Kibble Carrier – no bowl was needed. The carrier stood straight up and did not fall over while they munched away. So if you've got a dog that isn't picky about a bowl or if you don't own a collapsible one, the kibble carrier seems to hold its weight pretty well and your dog can eat right from it.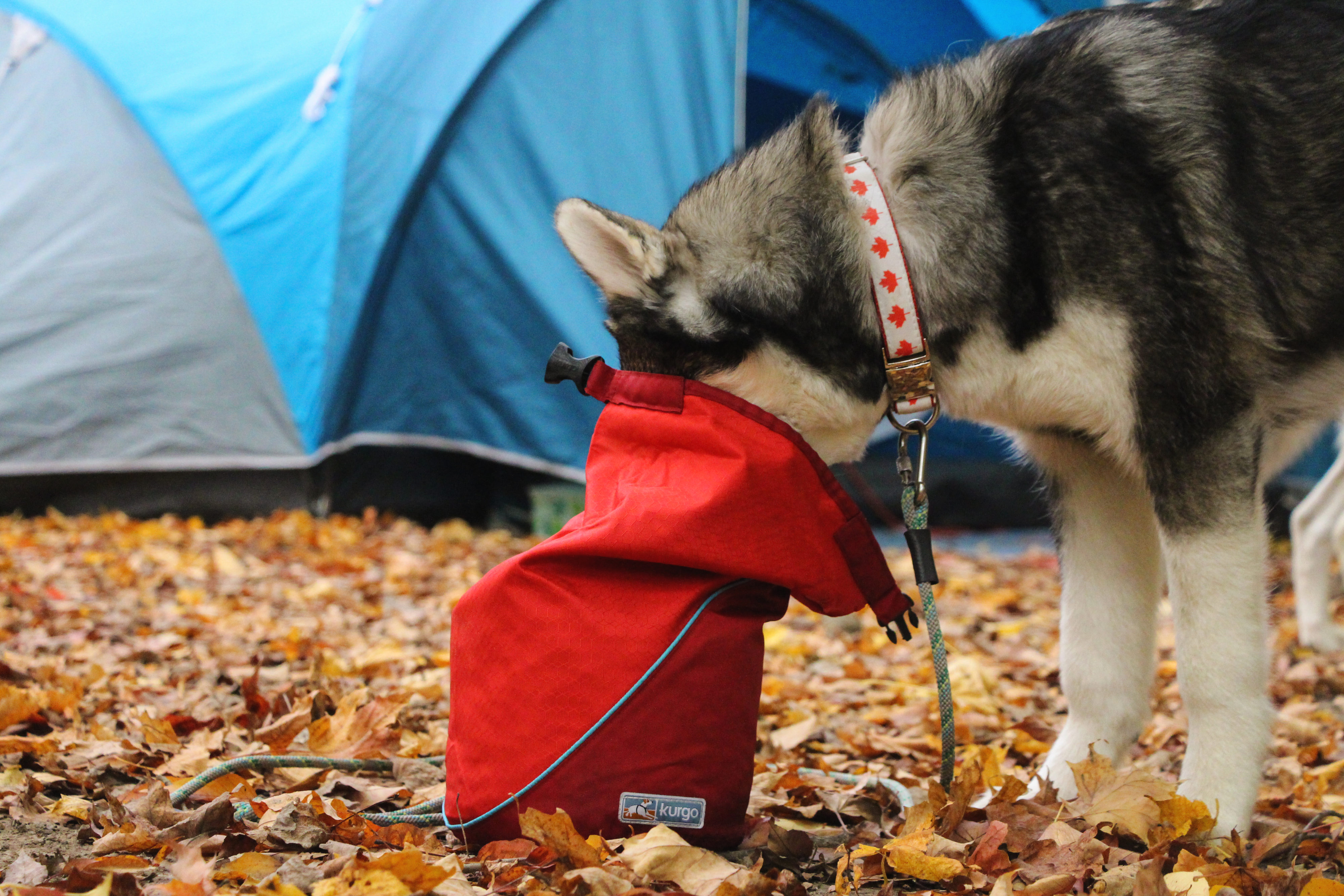 Kurgo also says that the kibble carrier is water-resistant. It will not keep out water if submerged but some light rain or snow definitely won't dampen your pup's meal. We used the kibble carrier on a camping trip that was three days and placed it on all kinds of surfaces from dirt, to fallen leaves and picnic tables. River and Rain enjoyed the food and seemed to have no complaints. As previously mentioned, a collapsible bowl can fit in the bottom – however, if you don't own the Kurgo specific one or another that has a flexible edge then it likely will not fit. We have a stiff-edged collapsible bowl that is relatively small and could not get it to fit in the slot. There is also another pocket on the carrier located at the side which has a zipper. It is convenient to put dog treats, an extra $20 or maybe poop bags in.
Another thing that was mentioned is the hex-weave design. The material is machine washable so feel free to chuck it in the wash. We used to have to resort to large Ziploc freezer bags when staying away for the weekend. With the kibble carrier you won't have to worry about using cheap plastic to keep your dog food contained, and is a much more eco-friendly option. It's price is not much more than a couple packs of freezer bags from your grocery store, and will certainly last ages longer than them. While the design is overall great the kibble carrier only comes in one colour – chili red. The more stylish folk may not like that but if this bag is coming along for a woodsy hike or camping excursion I'm sure the colour would not be the deal breaker.
The Kurgo Kibble Carrier has definitely become an essential item we need for River and Rain now. No longer are we resorting to freezer bags or plastic tupperware. Being the hikers we are sometimes our hikes take us a few hours to a full day and the pups have got to eat. One meal for River and Rain in the kibble carrier and it hardly took up space in my back pack. Our hiking checklist got the Kurgo Kibble Carrier put right in. I'm thinking we might actually need to order another because we tend to be away from home for more than a week at times. The quality, price and function of Kurgo's Kibble Carrier is fantastic and once you've bought one I can guarantee you will not regret the purchase.
Review by: Dogs That Hike IG Trail Tester @thenortherndogs