This winter, Delilah had the pleasure of testing Muttluks Snow Mushers, in size 5 for her front paws and size 4 for her back paws. The boots we received from Muttluks was Delilah's first time wearing boots. Prior to testing these, we would only apply Mushers Secret to each of her paws, but with time she would get cold, which limited our time spent in the snow. We tested these boots in two different trail conditions; an ungroomed trail with deep snow and a well-groomed trail. For this review, we are thrilled to also incorporate the feedback of fellow Explorer Crockett (@tansypup). Crockett wore a size 1 for both boot sets (front and back). He tested these boots during a two hour off leash hike and while skijoring through the woods.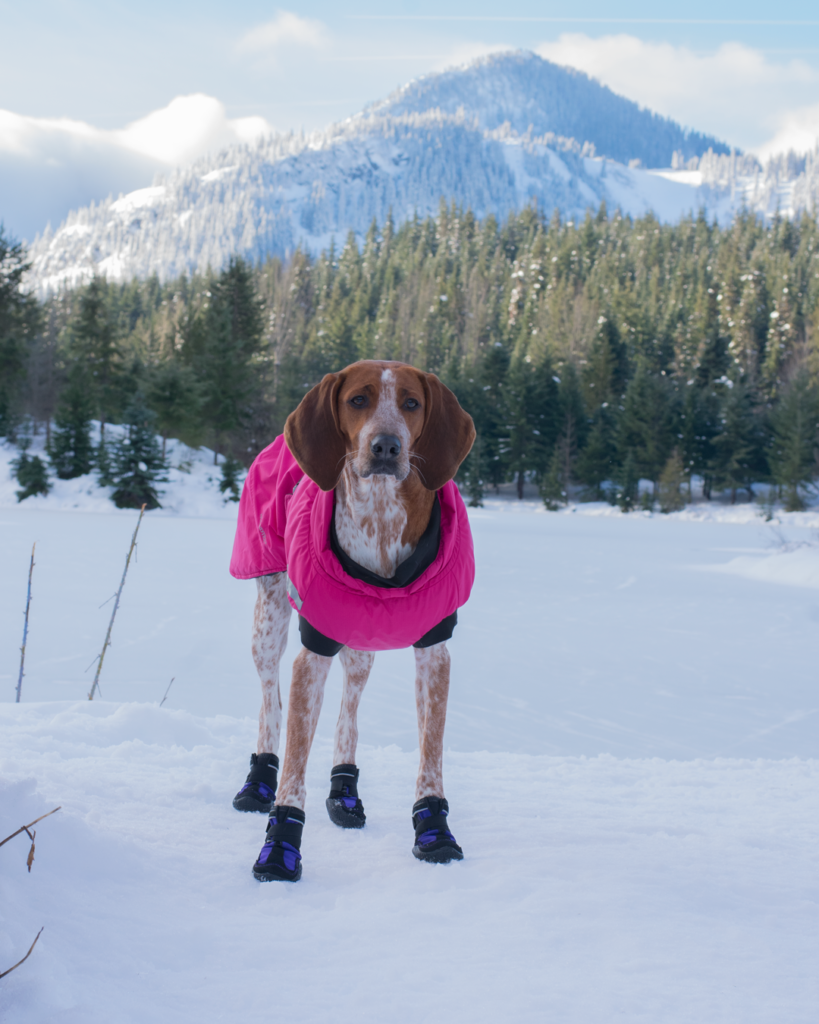 The main features of the boots are the interior fleece lining that adds a layer of warmth to their paws, exterior Velcro double wraps to fasten the boots on, and rubber soles with traction treads. The boots also have reflective accents located on the back of the upper ankle area which is great for those who hike or walk in the evening because it will provide some visibility. We do, however, recommend that your dog wear more visibility gear in addition to these boots. Crockett also tested a softer non-rubber soled boot and found in comparison the thicker sole lead to a bit of clumsiness to start. While it may take a little more time to get used to, the soles on the Muttluks would not wear out as quickly as softer boots would. Unfortunately, as with most dog boots, the rubber soles can get slippery on ice as Delilah did slip around on it. If you plan on using dog boots in icy conditions, it's recommended that you limit their activity level (e.g. leashed vs off leash).
Overall, we had a few minor issues with the fit of the boots. Crockett's front paws are 2.25" and back paws are 2", and Delilah's front paws are 3.5" and back paws are 3". We consulted with Muttluks on what size would be best and we both felt the sizes we received may have been a touch too small.  When we were putting the front boots on, we felt like we had to force their paws inside because the sizing of the boots is based off your dog's entire length of the paw including their toe nails. If we were to get these boots again we may size up instead and the issues wouldn't be as pronounced. While Crockett and Delilah were wearing the boots, we noticed they both stopped to lick at the front boots and tried to take them off, which we suspect is because they were experiencing slight discomfort and/or adjusting to new boots. However, the back boots were much easier to put on and didn't seem to cause any irritation. When it came time to remove the boots, both dogs experienced crinkled hair on the top of their front paws, which confirmed that the boots were a little tight. Though the boots may have been a little tight, Crockett and Delilah did not get any blisters or sores from wearing them. Both dogs also have their dew claws and we did not notice any irritation to them.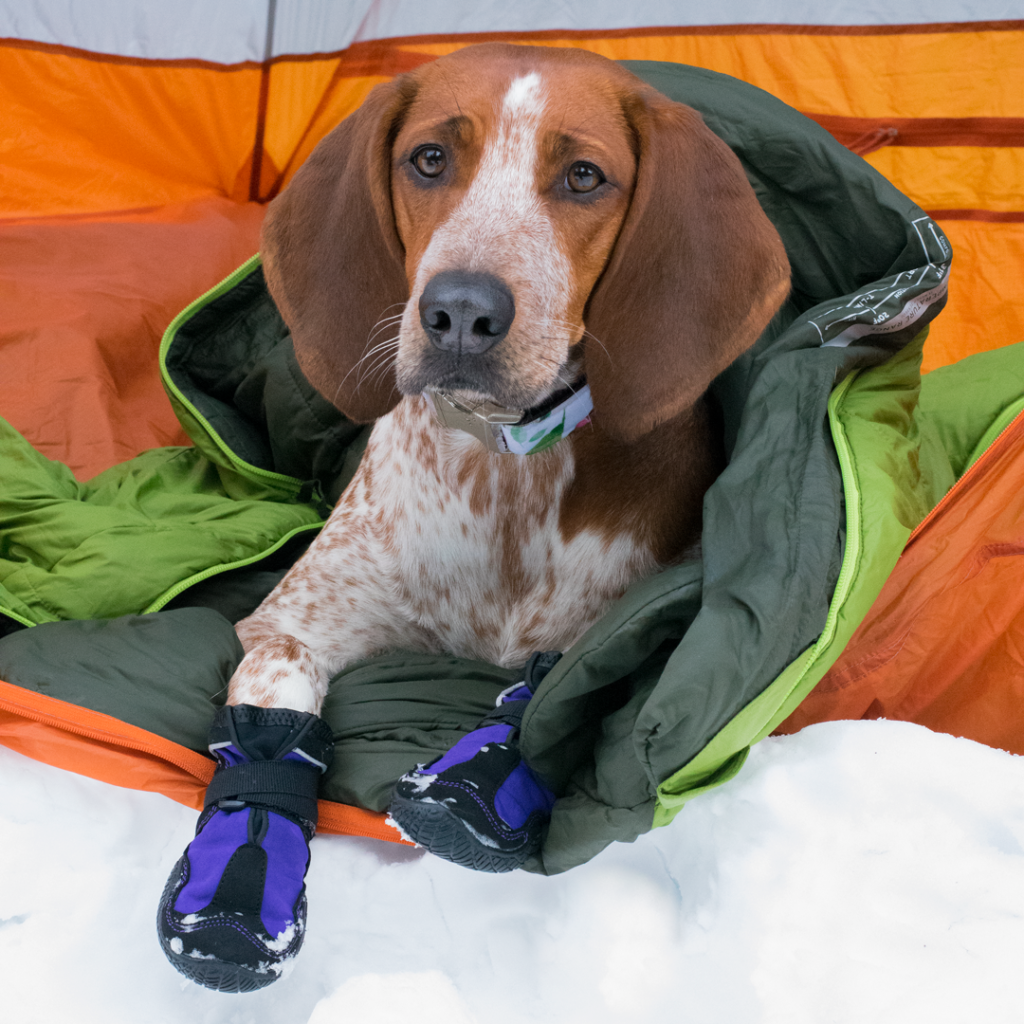 When we were on the ungroomed trail with deep snow, we had to readjust Delilah's boots a number of times. Delilah was off leash during this hike and had the snow zoomies so with her running through the deep snow very quickly, it would push the Velcro straps off. One option for a better boot fit would be to add socks/boot liners but at the time of this review we did not get a chance to test any. Crockett had a bit of better luck than us and he did not experience any issues with the boots coming off. They both did experience snow collecting at the cuff of the boots, however, it did not ever get passed the Velcro straps and these boots kept their paws dry. When we were on the groomed trail, the one issue we experienced was the back left boot would rotate sideways. Upon further inspection, we noticed the rubber sole was glued on a little crooked compared to the others. If we had noticed this earlier on, we likely would have exchanged the boots to solve this issue so be sure you check your dog's boots thoroughly before hitting the trail.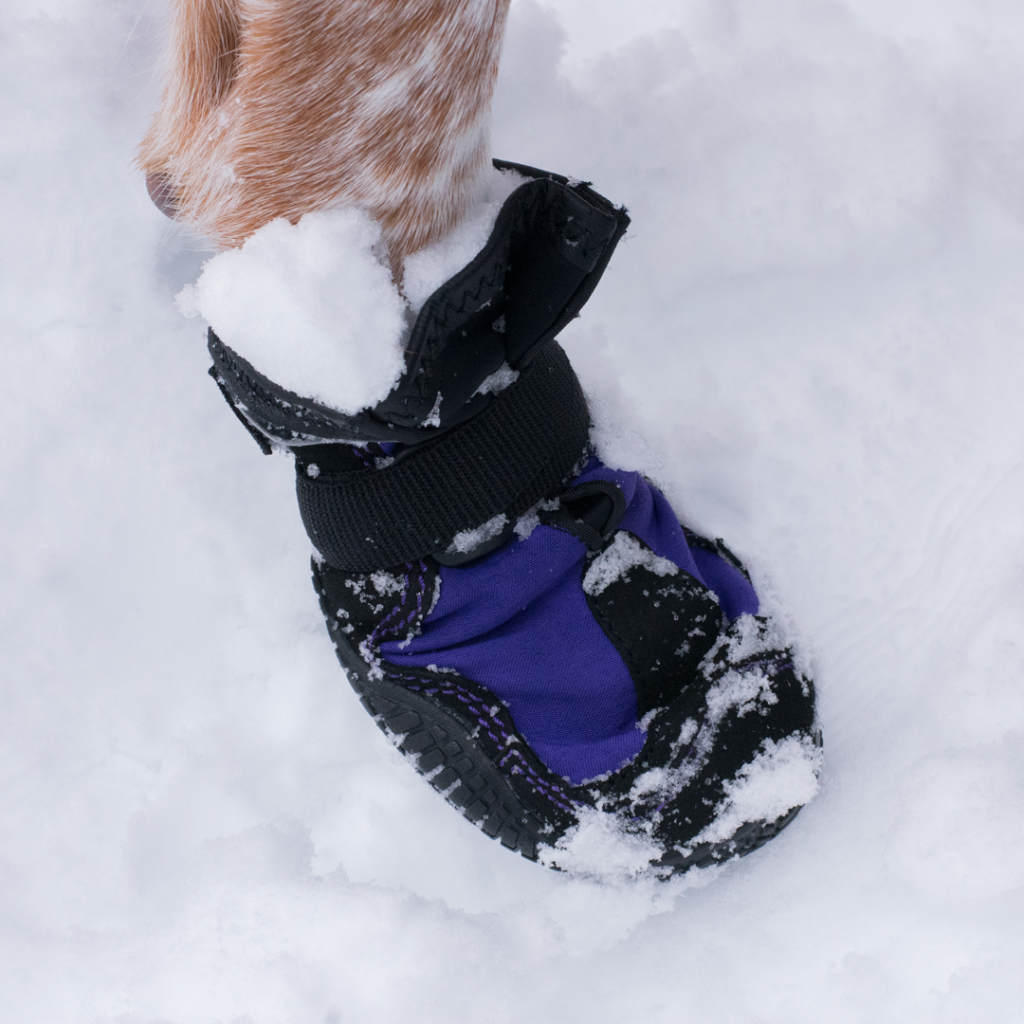 Overall the quality of these boots is reflective of the price point. On the well-groomed trail, Delilah walked a little funny on her back paw due to the poor construction of the back left boot because it would rotate sideways. This often caused us to readjust that boot. However, we did not have to adjust the other boots nearly as often as we had to on the ungroomed trail which was a major plus. On the exterior of the boots, the reflective strip on the back, we noticed the Velcro straps had pulled off some of the reflective material and we believe in time, the reflective liner will eventually come off. The boot's soles are made of rubber making them durable, and the thickness of the rubber was the right amount to keep Delilah's paws from the getting cold.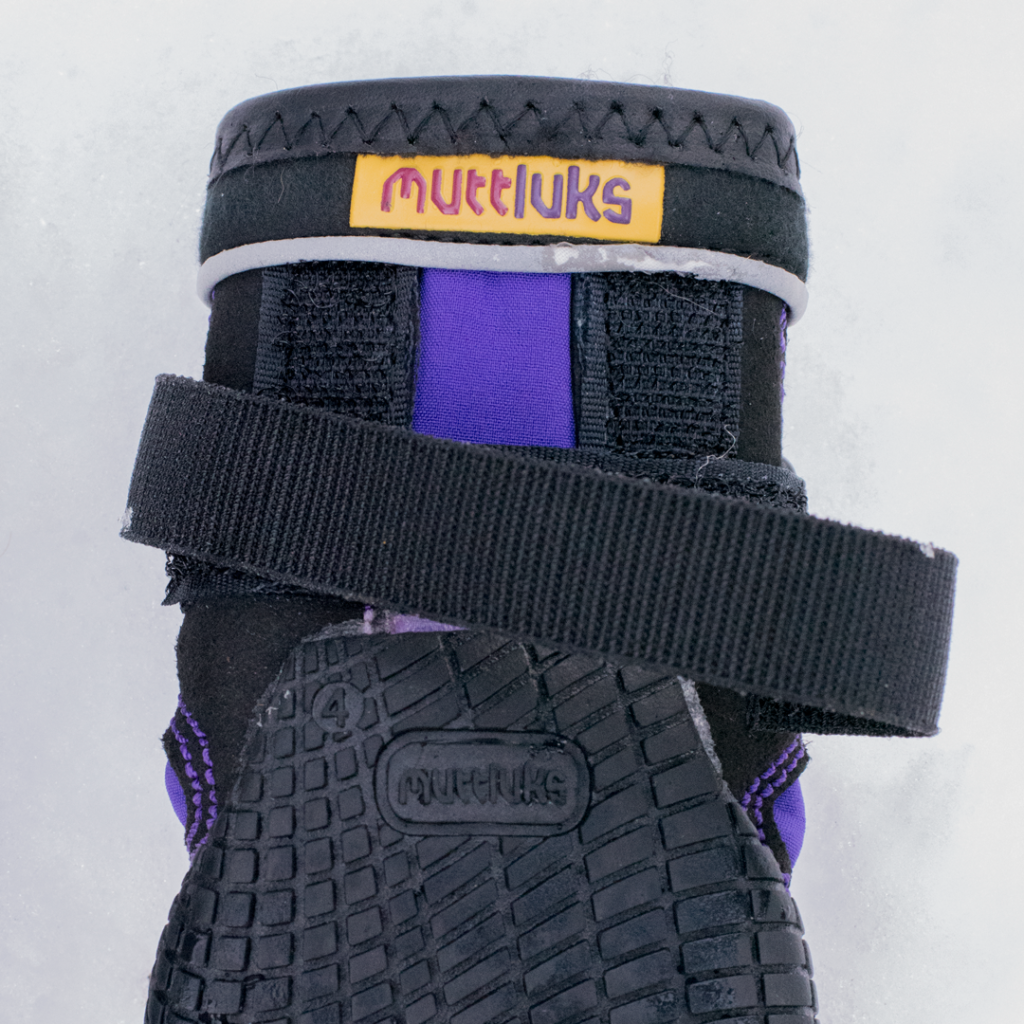 The boots did a great job protecting Crockett and Delilah's paws from the cold. Unfortunately, due to the poor construction of one of the back boots, we will need to purchase another set as the current set will only last this season. If you are unsure on sizing we recommend reaching out to Muttluks directly or trying them on in store (if you're lucky enough to find them near you) to ensure you have the correct boot size for your dog and be sure you understand their sizing. Overall the snow mushers excelled best on a well-groomed trail.
The Muttluks Snow Mushers would be best for: protection during city walks from salt and other harmful elements, on leash adventures, well-groomed trails, paw protection for outdoor potty breaks during the winter season.
The Muttluks Snow Mushers may not be ideal for: sensitive paws, icy conditions, crazy doggos who love deep powder (unless you have socks to help with the fit), dogs prone to dew claw irritation may have issues with the location of the Velcro strap/location of the dog's dew claw.
Review by: Dogs That Hike Explorer @thelifeofdelilah
Product from: @muttluks / muttluks.ca
Delilah's Measurements – Weight: 48lbs, Boot Size Front Paws: 5, Boot Size Back Paws: 4
Crockett's Measurements – Weight: 19lbs, Boot Size Front Paws: 1, Boot Size Back Paws: 1