Atlas is a major thrill sniffer, but he is also a mud magnet. There have been times when he has stumbled upon a swamp only to emerge looking more like black Lab than an Australian Shepherd. Gear for the true adventure dog has to be able to withstand some major mud baths. There's nothing worse than a collar and leash that hold on to the disgusting odors of the trail or that fade and break when washed. Luckily, Petoji has come up with an amazing line of leashes and collars that truly stand up to the grimy hazards of the wild. Recently Dogs That Hike sent me the ¾ inch wide, 2ft long Petoji Traffic Lead to test out on the trail, on city streets, and at agility practice. I have been testing out this leash for a period of about 2 months and I could not be more impressed.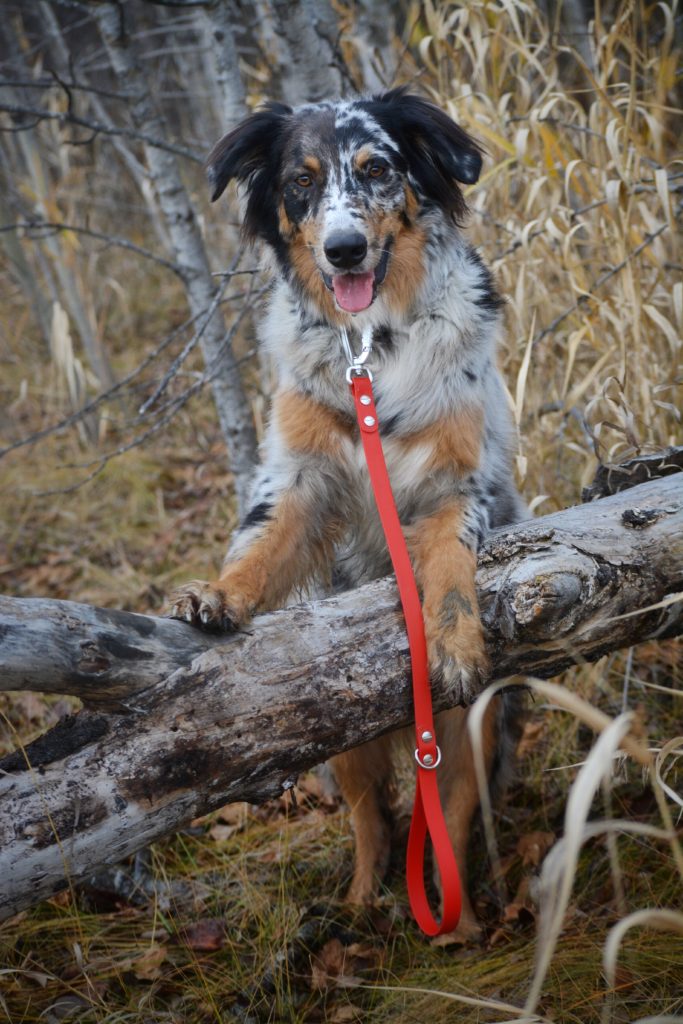 The Petoji Traffic Lead was designed for times when you need more control of your pooch. This shorter length leash is perfect for keeping your canine close to your side when you need to maneuver treacherous paths or areas with a large amount of traffic. This leash worked great for keeping Atlas close when wildlife and people were walking by us on the trail and around the neighborhood. It also worked well to keep Atlas out of trouble while waiting our turn at his agility courses, and was a nice light alternative to some of the other leashes in our collection. It was the perfect leash to keep Atlas next to me without having to lean over. This leash features an incredibly strong auto locking aluminum carabineer that clips nicely to Atlas's collar. This is a nice feature to keep your dog from snapping off at the connecter and getting away when they see a particular juicy rabbit in the distance. This leash has a large enough handle to fit most human hands comfortably and it also features a d-ring to carry your trusty poop bag holder or other accessories.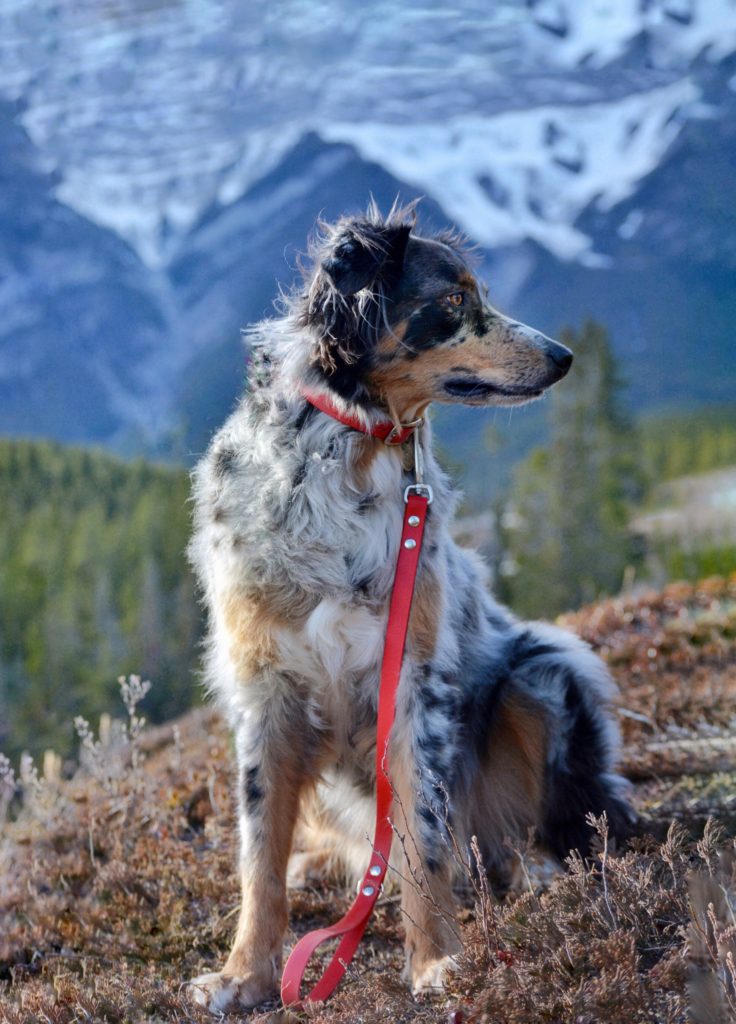 Petoji claims that the polyester webbing (with PVC Coating) that these USA made leashes are made of is stink proof, waterproof, mildew proof,  and dirt proof and I must say that I 100% agree with this claim. This leash has been rained on, snowed on, drug through the mud, drug through a pond, chewed on (briefly) stomped on by me (accidently), tossed into a bag with a bunch of other gear, dragged on the street, and all of this abuse has never even left a mark on the leash. It wipes clean extremely easily and doesn't hold on to that dingy mud smell that some leashes will. I've soaked this in the sink and there has been zero fading or rust developed on it so far.  The carabineer mechanism is still going strong, and although it took me a couple of tries to remember that it is self locking, it is fairly user friendly.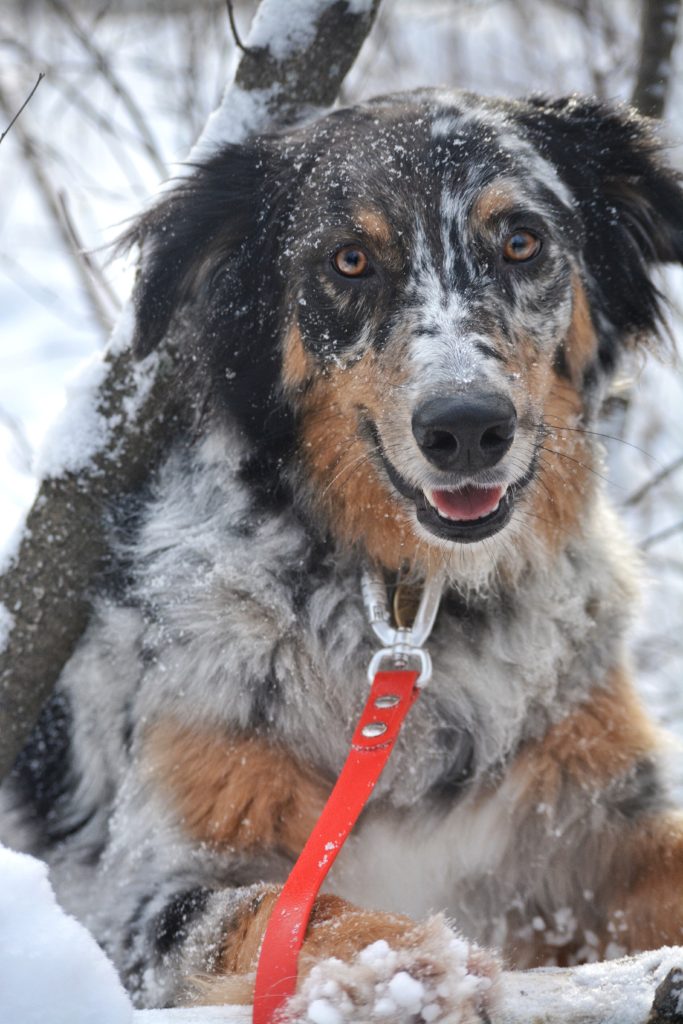 This leash gains tons of points in the fashion department. Petoji products are literally available in every colour of the rainbow and more. If you are not much of a pop-of-colour sort of person, they also offer a neutral black option. You can also mix and match the colours on the pieces of this leash including various hardware colours. Although I have only tested the Traffic Lead size of this leash, there are many other lengths and widths available.
This leash has certainly exceeded all of my expectations and I will continue using this leash when I need a little extra control with Atlas. I would highly recommend this leash (and other Petoji Leads) to friends who spend a lot of time getting dirty in the outdoors and who would like a long lasting, strong alternative to traditional leashes.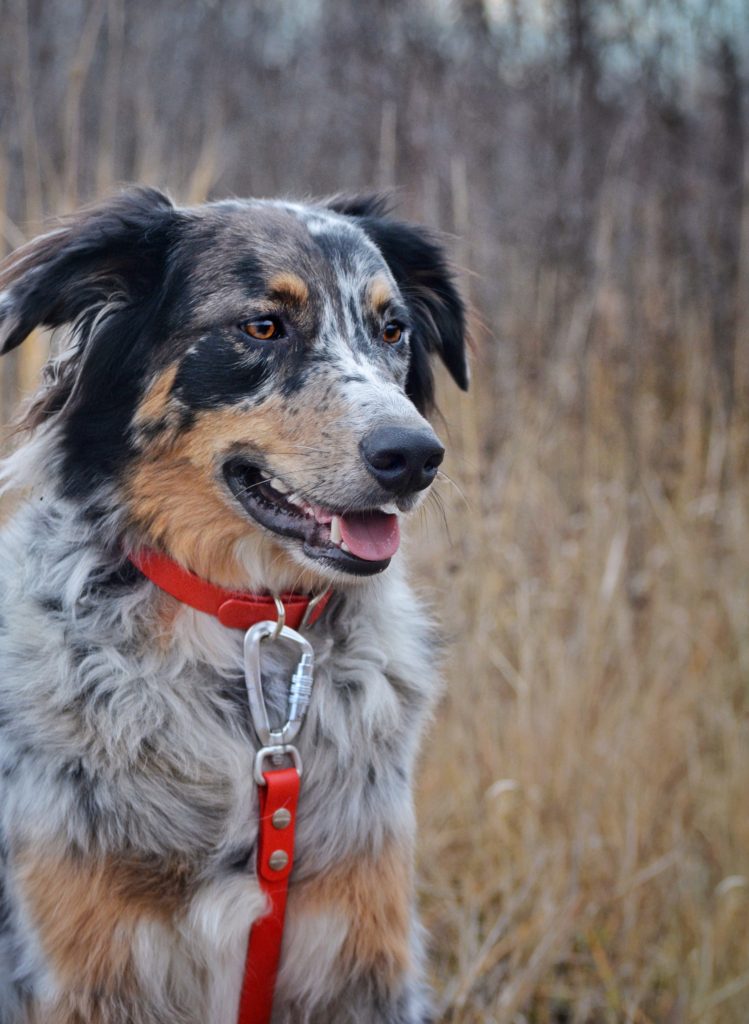 This leash works best for: Dogs in all climates that are occasionally in situations where they need to be kept close to their owner. This leash is great for dogs that require a stronger, easily cleaned alternative to normal leashes.
This leash would not work best for: Small dogs (under 20lbs), as you may need to bend down quite far due to the fact that this leash is only 2 feet long. Petoji does have a line of leashes that were designed with small dogs in mind. This leash is also not recommended for dogs that are over 120lbs.
Review by: Dogs That Hike Trail Tester @atlastheadventuredog / atlasdogblog.com
Product from: @petoji / petoji.com