When temperatures dip below 20F, boots for both of my dogs are a necessity. We had a fairly mild winter last year and made do without any boots, but this year has been significantly colder and, much to Tansy and Crockett's dismay, wearing boots has become a common occurrence. We received our PoochieBoots in Size 1, specifically for Tansy to try but they fit Crockett too, so we tested them out on both of them!
PoochieBoots are marketed to be comfortable, fashionable, and stay on. The boots are made of a water-resistant fabric, waterproof PVC sole, and lined with a thin fleece. Unlike many dog boots on the market, the waterproof PVC sole allows the boot to be soft and flexible which is great for dogs who are new to boots – there is less of a learning curve that comes with harder bottomed boots. Poochie Boots come in 7 sizes, their two largest sizes (6 & 7) are paired with a size down to account for larger dogs whose back feet are smaller than their front feet. The boots come in one color (black with red soles) but all sizes come with two interchangeable velcro straps to switch up the look of the boot. You can purchase additional straps in a variety of patterns. While I appreciate the fashionable patterns, I wish there were some solid colour options (e.g. just a solid black strap) for those of us with less flashy dogs. The boots come in a little pouch to store them in with a small pocket to hold the extra velcro straps. The size we tried came with Black/White Gingham and Red/Black Zebra straps.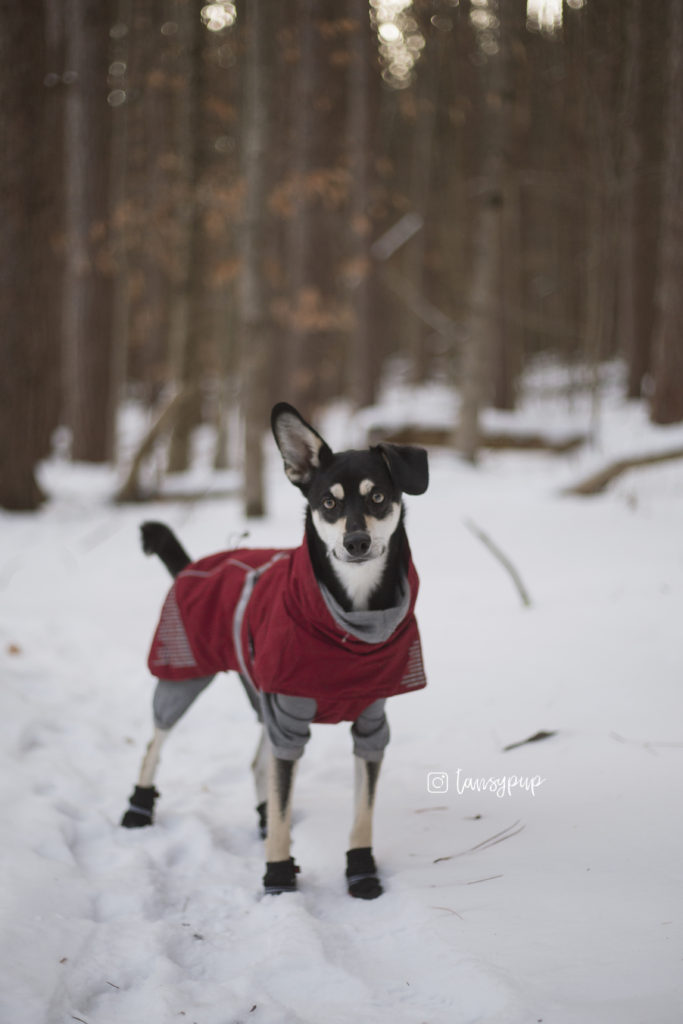 Neither Tansy or Crockett had a hard time getting used to these boots and once outside, they walk perfectly fine in them. I was also very happy that neither of them stop to try to take them off or lick at them (a problem we've had with other boots). They have some traction, but like most dog boots they do slide a little bit on ice or when running and stopping in snow. We had no falls though and I would trade a little bit less traction for increased comfort/warmth and protection from the elements – especially for leashed walks.
There is a learning curve (or at least there was for me) on how snug these boots need to go on. You need to attach one end of the strap to the velcro, and while holding it down with one hand, use the other hand to really pull the strap tight and velcro to the strap already in place. It took me a couple of walks before I had figured out exactly how tight these needed to be. When put on properly, the boots do not fall off on our leashed, sidewalk walks.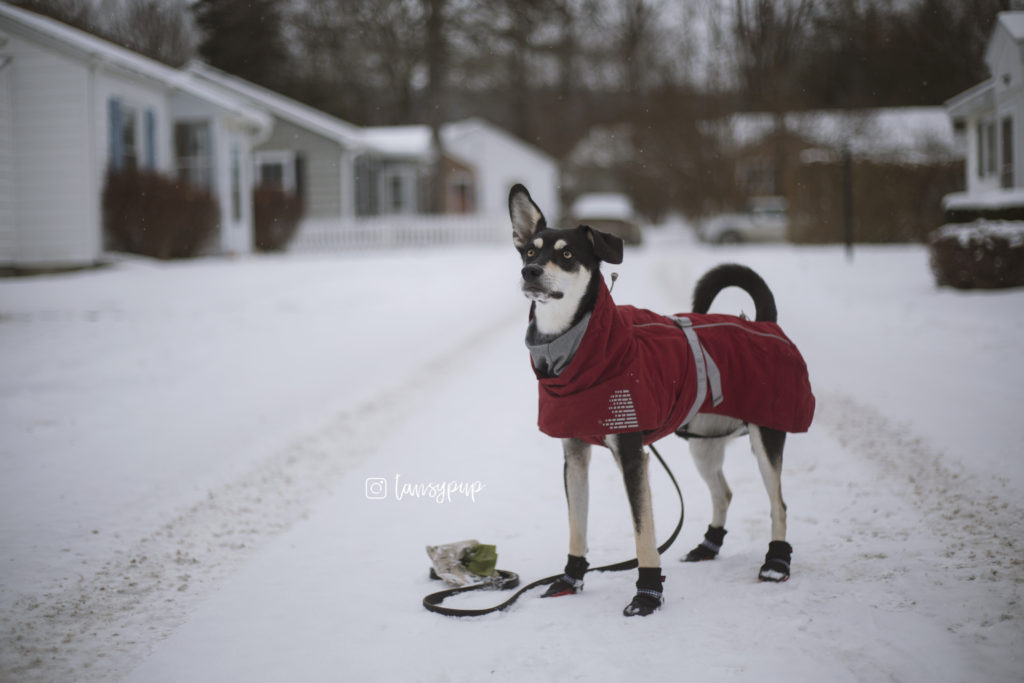 For off leash hiking these boots surpassed my expectations but we did lose one boot on one of our adventures. To put it in context, we were on a 2 hour off leash hike in 4" snow, and Tansy's back boot flew off once. To be fair, Tansy was FLYING through the woods, jumping on logs, digging in holes, and chasing critters through prickers…so falling off once actually impressed me. However, at $48, these boots aren't cheap and I found myself worrying that one would fall off out of sight and get buried in the snow. It's a decision most dog owners have to make – do you go with the higher priced boots that offer more protection and risk losing one or do you go with the cheaper boots and not worry. It would be great of PoochieBoots offered the option to buy singles or in pairs allowing owners to replace a single lost boot.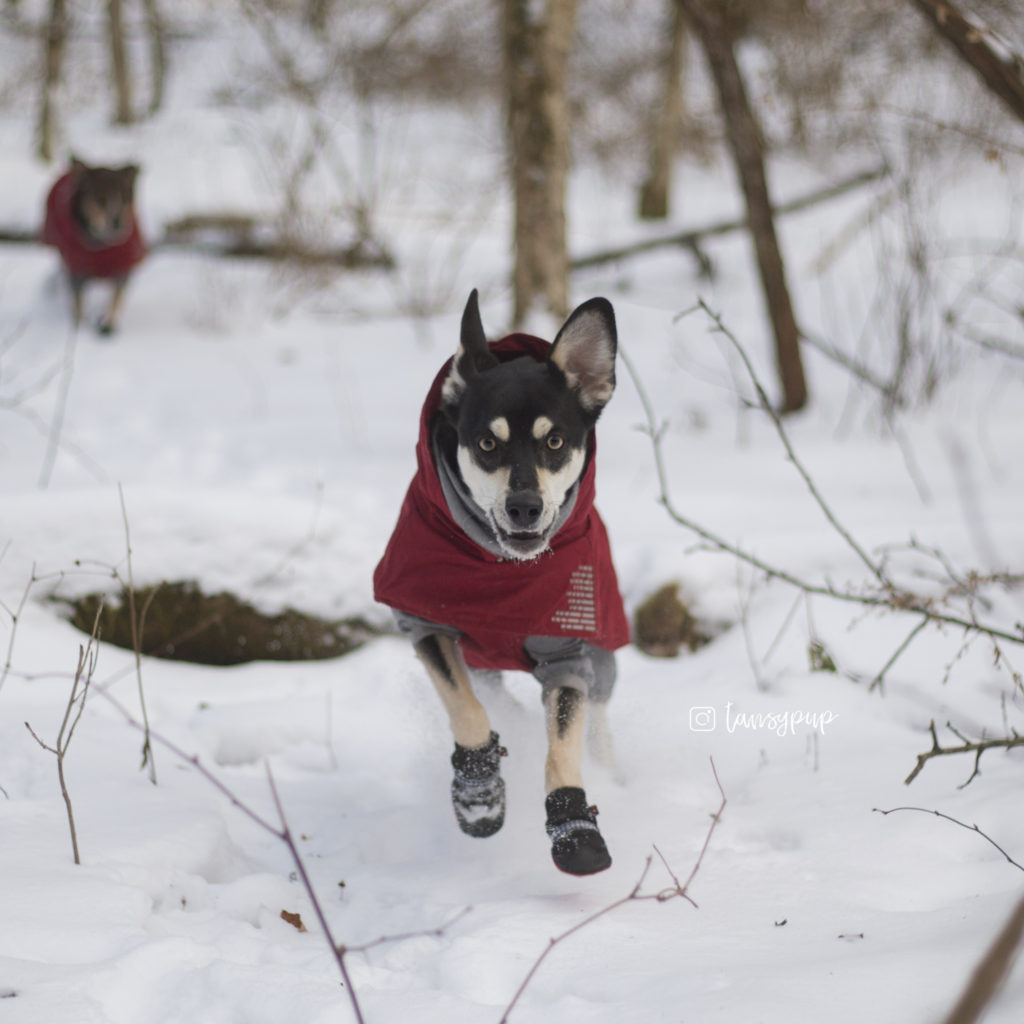 The interior of the boots stayed dry on all of our hikes, although when running off leash in deeper snow the snow did build up in the cuffs. However, the snow did not slide down past the strap, and the paws stayed dry.  The nice thing about PoochieBoots is that the cuffs aren't very high so while snow did get in  Leashed walks, even in deeper snow, did not have this problem.
Overall, I was very pleased with PoochieBoots and I will continue to use them on our leashed walks and hikes.
The PoochieBoots would be best for: dogs with sensitive feet or dogs who are new to boots and protect against the cold, as well as salted sidewalks, dogs with dew claws as they did not bother the dew claws on either of my dogs and did not cause any blisters.
The PoochieBoots may not be ideal for: long walks or runs on abrasive surfaces (per the website), for dogs who run hard and are often out of sight.
Review by: Dogs That Hike Explorer @tansypup
Product from: @poochieboots /poochieboots.com