Wild Hound Outfitters Waxed Canvas Collapsible Dog Bowl
I'll have to admit, I melt for attractive, hip, handcrafted goods. And I melt even more for waxed canvas. Add in the fact that I'm a huge proponent of fair trade and you can imagine how excited I was to get to test the fair trade certified, handmade, food-safe waxed canvas collapsible travel bowl from Wild Hound Outfitters.
For those of you who aren't familiar, waxed canvas is generally cotton that has been treated with paraffin wax or beeswax to create a completely waterproof seal for the fabric. The idea originated in the 19th century when sailors treated their sails with various oils and began making rain slickers for the sailors out of scraps of their sails. Due to the fact the fabric isn't terribly breathable, the fabric fell out of popularity for making clothing, but due to its extreme durability, it is now used most frequently for bags and wonderfully now, a travel dog bowl – the Wild Hound Outfitters Waxed Canvas Collapsible Dog Bowl.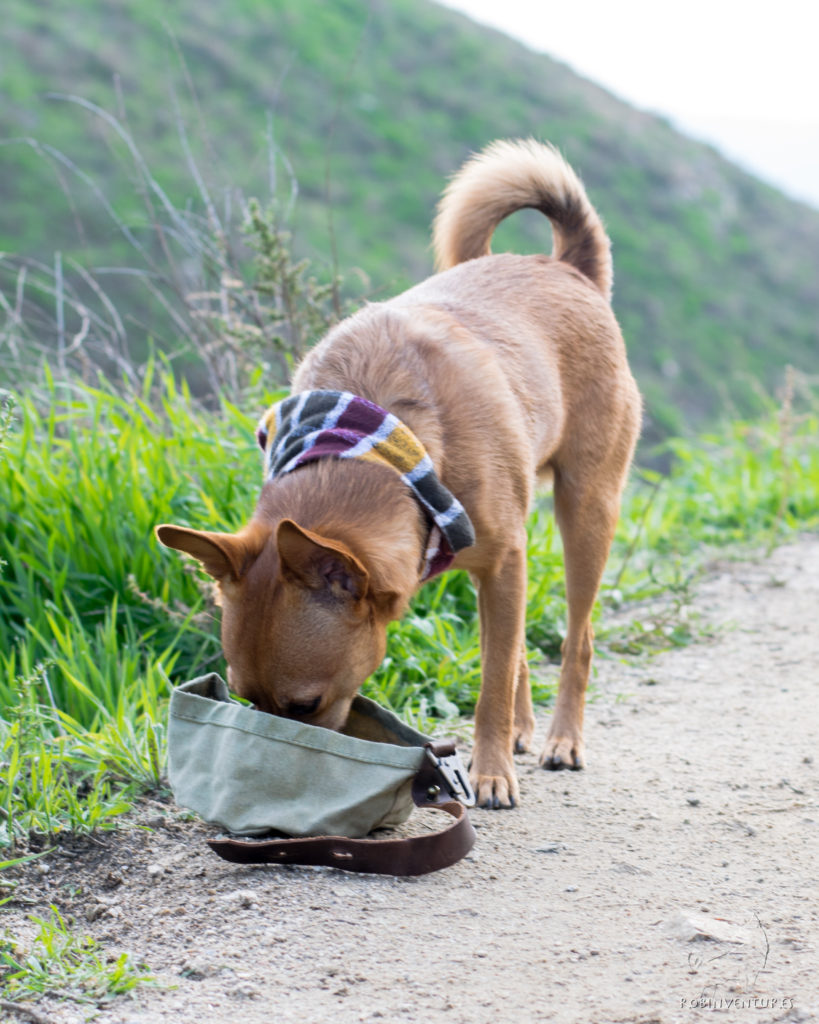 I was initially a little skeptical about the bowl's capacity to hold water for an extended period of time and remain watertight. We tested it by leaving water in the bowl on our kitchen counter for several days and watching for any sweating or leaks. We were delighted to discover the bowl does not leak at all.  In addition to being watertight, the waxed canvas has been relatively easy to clean with a little soap and water and it's easy to switch between food and water by just giving the canvas a little rinse after feeding.
In comparison side by side with our silicone travel bowl, it's worth noting that the canvas bowl is slightly heavier, is more difficult to pack down and doesn't dry as quickly as its silicone counterpart. Whereas the silicone bowl is very malleable, the canvas is quite rigid, which limits the shapes it is capable of packing down in to. Despite being a touch heavier than our silicone bowl due to the leather strap and brass clip that fastens the bowl when it is collapsed, the canvas bowl is still quite lightweight. The slight difference in weight is just something to consider if you are packing for a strenuous backpacking trip where every ounce you carry matters.  Water also does not bead off the canvas as quickly as it does a silicone bowl, but we haven't really found this to be a problem. It's just something to keep in mind.
Something else to note, and perhaps something that Wild Hound Outfitters could consider shipping out with their product are instructions on how to care for waxed canvas. Cotton and wax are both natural products and as such, they will show signs of weakening and decay over time. In doing some research, I found that waxed canvas should be re-waxed on an annual basis using the same wax as the manufacturer in order to maintain the integrity of the waterproofing. I don't see anywhere on the Wild Hound Outfitters website indicating they sell wax for the purpose of maintaining the bowl which has me concerned that this product will not hold up in the long-term due to my inability to provide proper maintenance.
Something else I would suggest is that the bowl could be offered in a more brightly coloured canvas options. As is, the bowl is dust coloured and is difficult to spot as it camouflages with the ground. As a general rule, I like our travel and backpacking gear to be brightly coloured so if we are packing on the fly, it catches my eye easily and isn't at risk for being left behind. Size-wise, the bowl is perfect for small breed to large breed dogs, but wouldn't be suitable for giant breeds with ultra wide snouts as the bowl is only available in the one size. At 80lbs with a large head, Reggie doesn't have a problem drinking from the bowl.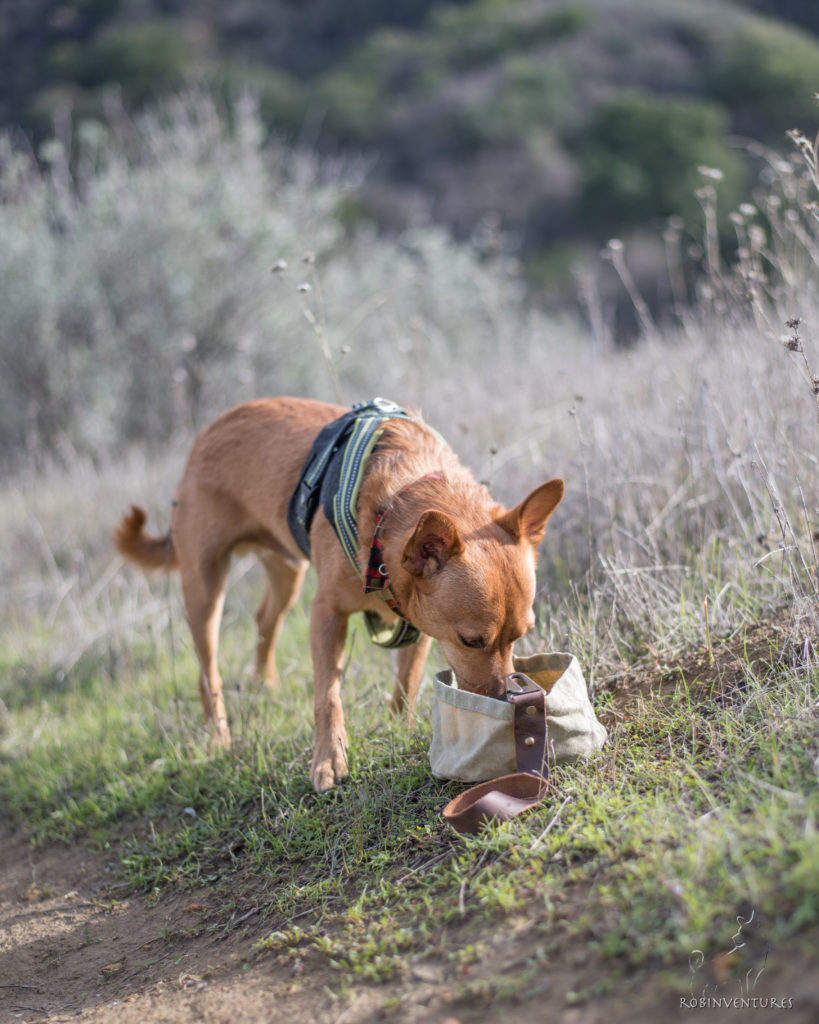 Overall, we really love this product. Outside of the few small changes we would like to see made that are mentioned above, it's very well designed. It's stylish, unique, convenient and rugged and was frequently in our adventure gear rotation on our recent van trip to Mexico.
This bowl is ideal for: Road trips, day hikes, small to large breed dogs, camping, water and food
This bowl may not be ideal for: Long backpacking trips, giant breed dogs
Review by: Dogs That Hike Trail Tester @reggieandthecats
Photos by: Dogs That Hike Trail Tester @robinventures
Product from: @wildhoundoutfitters / wildhoundoutfitters.com