Alcott Essential Treat + Ball Bag
During our long walks it is not uncommon for Emma to lose interest in her ball, usually it's right after she has dropped the slobber covered ball in dirt. Now it's my turn to carry the slimy ball in my hand because I'm not putting that back in my pocket! Thankfully the Alcott Essential Treat + Ball Bag we received from Alcott is a great solution just put the ball in the bag and go, it is machine washable therefore no effort is required for the cleaning of the bag. We tested this bag during our morning off leash walks, during our clicker training classes, and of course during our hikes. Overall we found this product very useful and we use it every day for select items to be carried.
There are advantages and disadvantages with regards to the design and function, but in my opinion as long as the user keeps in mind that valuable belongings should never be carried in a bag that attaches with only a clip it will become an essential item. The bag has a large spring loaded opening and is made from a durable well stitched grey polyester fabric with a small elastic topped pocket on the front of the bag.   The clip on this bag is subpar as it is too small and not very "grippy" when clipped on your belt leading to it falling off on our adventures.  This is compounded by the fact that the bag itself is quite large and bulky so it easily catches on things. Thankfully there is an option of a grip clasp that you can open and snap onto your belt for a more secure attachment.  While the grip clasp is a great option, it is extremely hard to open and requires a lot of effort and frustration. Initially, I was slightly disappointed with the options to wear the Treat + Ball Bag but comparing to other models on the market our frustrations aren't uncommon and for us the clever design of the opening outweighs our other issues.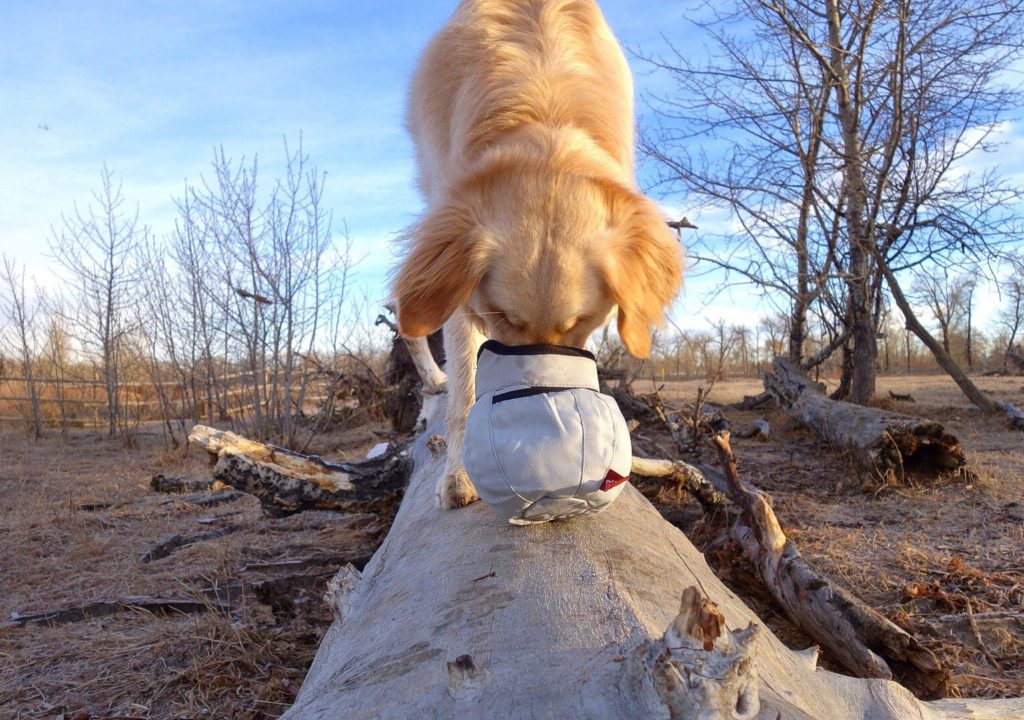 One huge advantage this bag has over others is that it can be opened and closed easily with one hand.  It is also wide and rigid making it easier to reach in to retrieve your ball treats or other toys. I've owned other treat bags and have found the openings require two hands to open which as you know when you have to reward your dog quickly to capture a good behavior you don't have time to fumble with a drawstring or Velcro. Our bag is used to carry a small bag of treats or food, a ball and the small pocket on the front is the perfect size for our clicker (a tool used in positive reinforcement training) and has become a very useful tool in our daily lives.
Even though we have come to love the Alcott Essential Ball + Treat bag and use it on a daily basis there are a few opportunities for improvement.  As mentioned above the method of attachment could use an upgrade – Alcott could consider adding rubber grip inside the clip or adding a bigger bump on the bottom of the clip (so it catches on your belt instead of slipping off).   I personally love the design of the opening and have not had an issue with treats falling out however a few of the other Trail Testers would like to see a more secure closure option to prevent food from falling out. The color is a nice neutral grey which matches with anything you wear but some of us dog enthusiasts love a pop of color. The price point is wonderful for the quality of the bag, but I would gladly pay a bit more to see the improvement on the clip and more color options.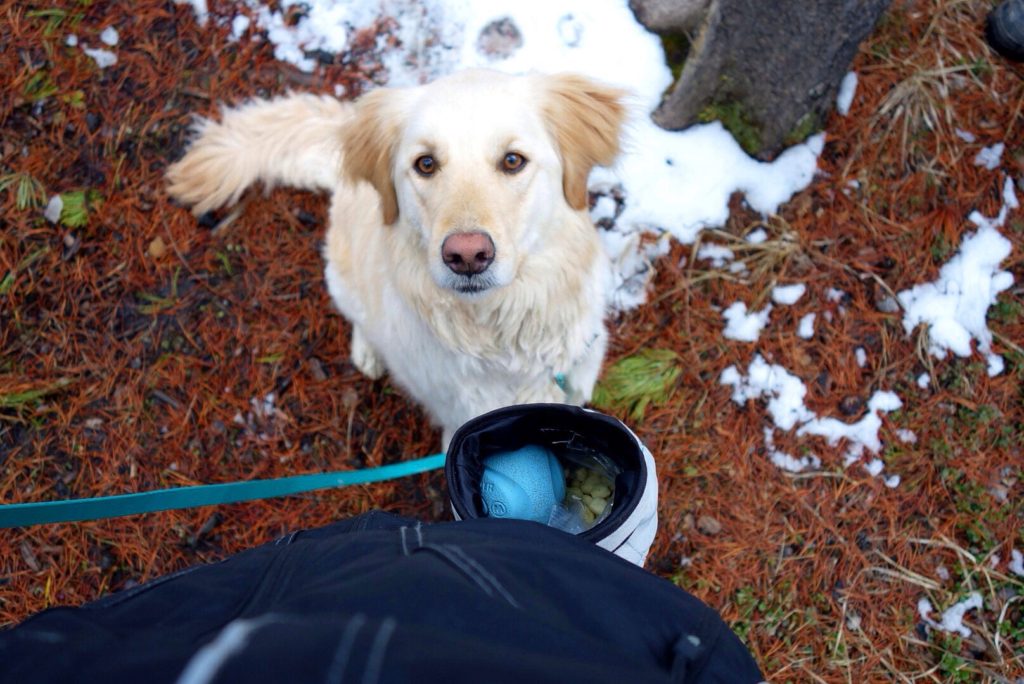 Overall we are happy with the Treat + Ball Bag and will continue to use this spacious, durable, easy access bag on a regular basis. It is a must for us for dog park visits so we have a spot to carry dirty wet slobbery toys when not in use.  We will also continue to use it on our hiking excursions for easy access to food or toys instead of packing them in an inconvenient spot. I have recommended with the caveat to not carry valuables in the bag as the clip isn't the most secure.  As far as room for a toy and treats it is a great option to ensure your pup will have their attention on you because you are carrying all the fun stuff!
This bag would be best for: holding both treats and toys, training classes (motiviation tools within easy reach) those who like easy access/don't want to fumble opening zippers/closures,  light to moderate impact activities – it stays shut on city walks, dog park adventures and easy hikes
This bag may not work for: high impact activities – the clip isn't the most secure and you risk some treats falling out if you're too rough on the bag
Review by: Dogs That Hike Trail Tester @emma_brat
Product from: @alcottgear / alcottadventures.com