I think most of us can agree that our dogs have way nicer equipment than we do. Reggie is decked out in all the latest high-tech outdoor equipment and I'm just bumming around in 10-year-old hiking boots, a Gore-Tex jacket with a broken zipper and my backpack held together by safety pins. As the shabby hiker I have become, I was pretty excited about the opportunity to test out the lovely piece of human gear that is the Hurtta Trainer's Vest that we received from Hurtta North America.
The vest is solidly constructed of the same high quality materials, precise stitching and attention to detail I've come to expect from Hurtta. It's made of two layers of their laminated, water repellent, breathable Houndtex sports fabric and features two 3M reflectors for added visibility. It has ample pockets for motivational toys, treats and clickers, a built in hood, a designated cell phone pocket with a hole for your headphones (or poop bag dispensing- choose your own adventure), various clips and loops and a removable treat pocket. It's available in "granite" which is black and grey and ranges in size from XXS-XXL.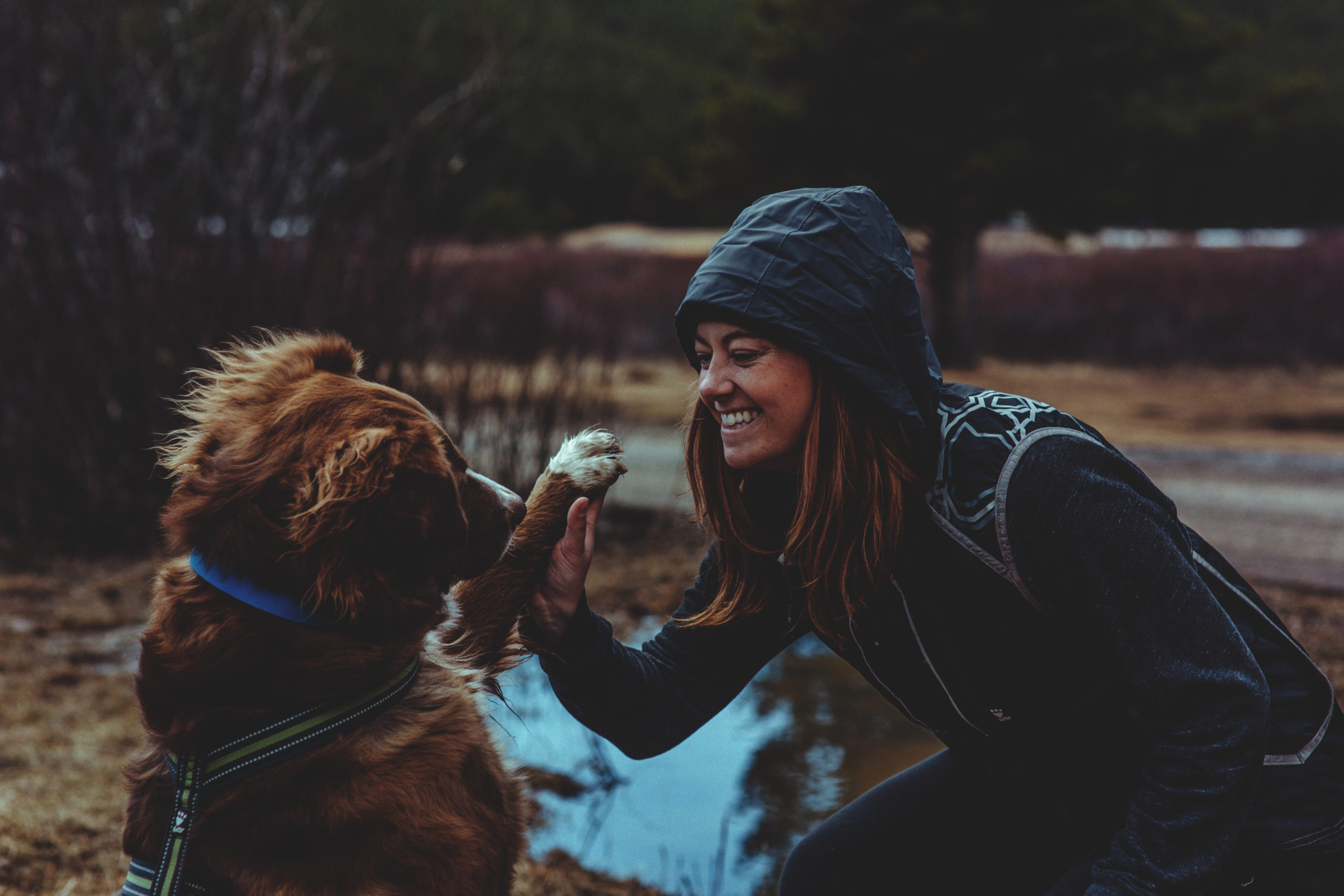 With clean lines and a neat geometric pattern on the left shoulder, the vest is subtle and stylish enough that I feel comfortable wearing it in the woods, the dog park, walking around downtown and to casual dinner.  The vest is only available in a unisex option so some, including myself, will find that it fits a bit big. My vest is a size S and I can easily fit a couple big sweaters and a jacket underneath if need be. That said, the vest is adjustable at both the waist and the neck and I prefer having the extra room for adding/removing layers. As the vest is currently only available in a unisex option, on some body types it can appear slightly boxy and masculine in terms of construction.  Additionally, women with curves might find that it fits tight in the hips and would do better sizing up.  I would love to see it offered in a unisex and ladies version with the same design tailored to properly fit women.
Living and hiking in a place that is windy (and cold) much of the year, I absolutely love high-necked outdoor clothing. The neck on the vest is super high and delivers just the kind of wind protection I need to stay warm. It also features a convenient built-in hood that can be easily folded down and hidden out of the way if you don't need it. I haven't had the opportunity to test the vest out on a warm day yet, but in consulting with our comrades in Southern California, it seems that the vest is best suited to cooler climates or spring/fall/higher altitudes in warmer climates. Also keep in mind that the vest is water repellent, NOT waterproof so don't forget to pack your rain jacket too!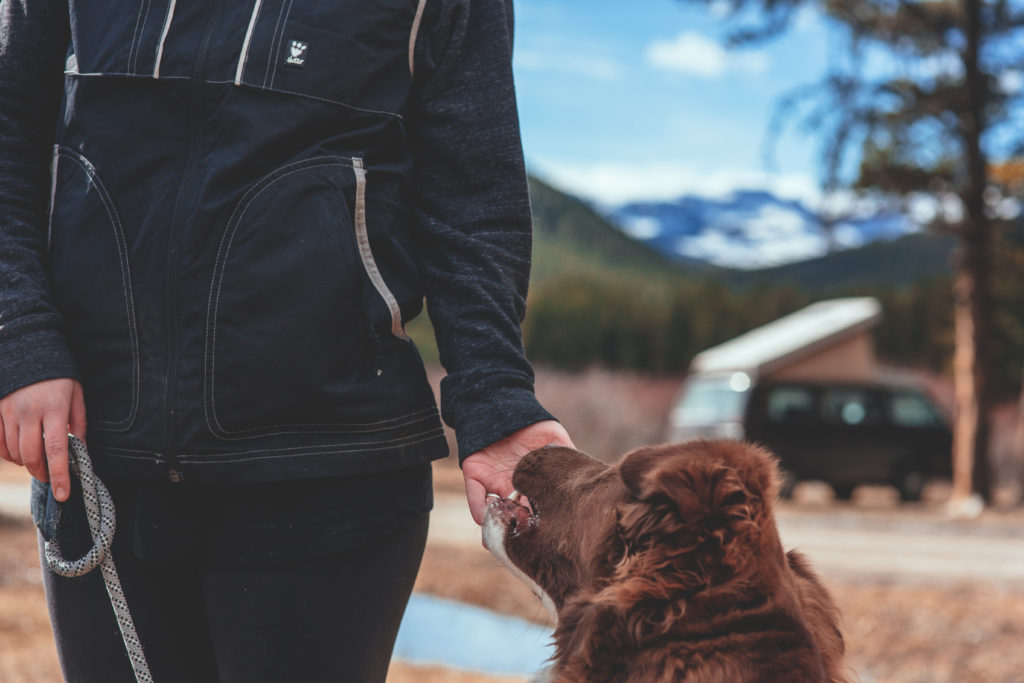 Moving on to the myriad of pocket design innovations that make this vest an excellent training tool. The bottom, back half of the vest is a huge, stretchy pocket ideal for putting away and taking out motivational toys at lightning speed. Reggie happens to be most motivated by an unreasonably large, spiky, squeaky green ball which, previous to using the vest, I would just have to stuff all drool-covered inside a designated pocket in my bag (gross, right) and would have to fumble around to get it out again. The size of the pocket makes our training sessions more productive and precise and as an added bonus, keeps my bag much cleaner. There are two similarly large pockets for more toys on the front.
The vest also has a removable treat pouch. I needed help from my fellow trail testers to find this feature, as it's pretty incognito – we jokingly referred to it as "the secret pocket".  To save you the struggle, I'll just tell you where it is.  If you open the left, hip zipper pocket, you will find that the removable pocket is stealthily velcroed inside. My only issue with this particular feature is that I normally treat from the right hand side. It would be great if the removable portion could be used on either side of the vest rather than just on the left. The last unique pocket I'll mention is an open, deep, vertical pocket for quickly dropping your phone inside on the fly behind the left chest zipper pocket. There is a small D ring on the right hand side of the vest and a large, round ring on the back for clipping leashes, water bowls, bear spray etc. and a small fabric loop on the left hand side under the armpit that came with a small carabiner attached.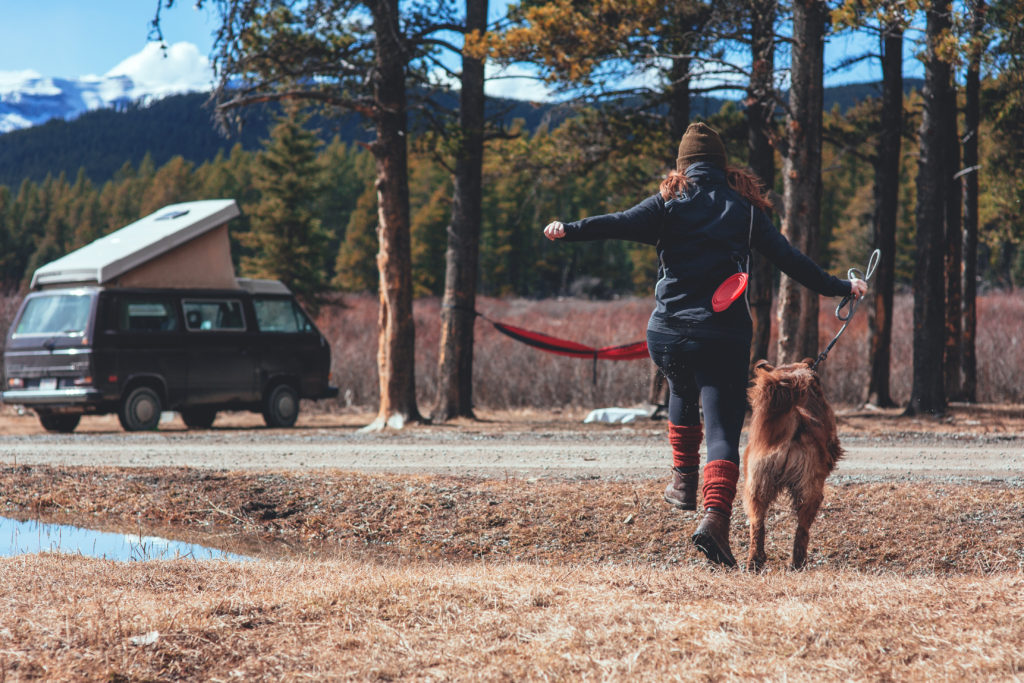 Hurtta truly did a wonderful job with this design. They thought of everything I would want to see in a vest for hiking with Reggie and they did it without sacrificing style, quality or comfort. With the price sitting at $130 USD, it's certainly not cheap however; it's durable, high quality, attractive, functional and is more than just a simple vest. Remember that pack I was talking about earlier that is held together by safety pins? I finally caved and dropped it off for repairs last week and the Trainer's Vest has been a more than worthy substitute for short hikes while I wait for my pack to be fixed.
The Trainer's Vest is ideal for: cool climates, high altitude, shoulder season, men, women, hiking and other active pursuits, positive reinforcement training
The Trainer's Vest may not work for: Warm climates
Review by: Dogs That Hike Trail Tester @reggieandthecats
Product from: @hurttanorthamerica / hurttaamerica.com