Let's talk about boots. There are so many on the market it can be difficult to choose a set for your pup; and as we've personally discovered, more expensive doesn't necessarily mean better. It's all about finding the right fit for your dog both in style and comfort. While we don't use boots on all our adventures, we do use them to help protect their paws from extreme cold, salt, rough terrain, and we always carry a set in case of an emergency in the high peaks.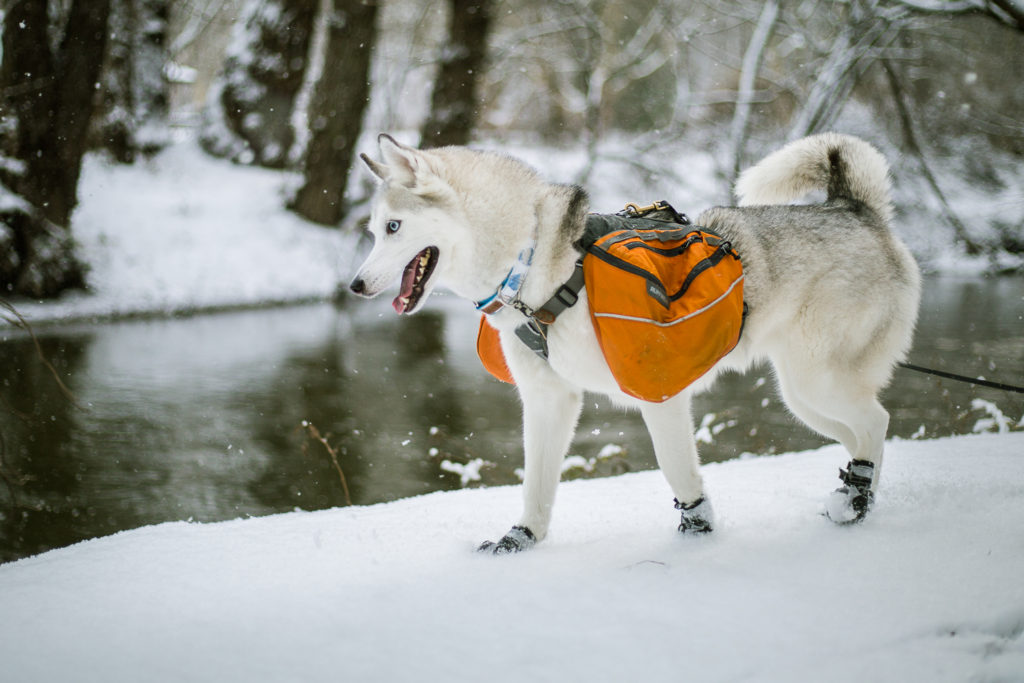 The Alcott Explorer Adventure Boots we received from @alcottgear are the 5th set of boots that we've had the pleasure of trying out, being able to compare to brands such as Ruffwear & MyBusyDog. The Alcott Explorer boots are on the market for $44.99 USD per set of 4 and come in a reusable black mesh bag. They are made from breathable, water resistant material, with a durable rubber sole, and two double-back Velcro straps at the top, one of which has a large reflective strip across it. These boots only come in grey & black with Alcott's logo in large print on the front toe. Options for other colors would really be nice to have. I personally prefer brighter colors as it helps to find them if they fall off & get lost on the trails or in the snow, and the bright color also gives an extra level of safety while wearing them. The logo is another eyesore for me; the majority of our other gear doesn't flash the logo so readily, which is what I prefer. It's not visually appealing to see the logo so large and up front. Reducing the size of the logo, or moving it to another location in smaller print would be ideal.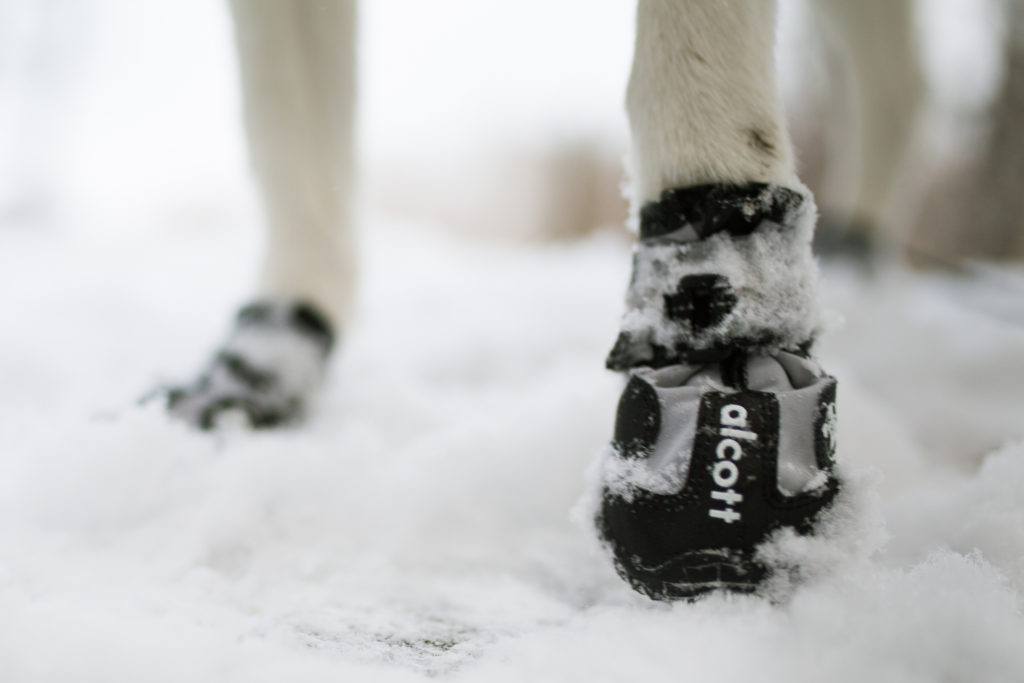 The boots come in three sizes only: small (2.25" width), medium (2.75" width), and large (3.25" width). This makes finding the perfect fit difficult for dogs who have an in between size. In the dog boot world, ½" is a big difference between two sizes, and can really make or break the right fit. We were testing out a set of size small boots, and I didn't find the listed measurement to be accurate, and to actually run a little small. Atlas measures a 2.25" width to his foot, so these boots were initially meant for him, but they were too small for him, yet the next size would definitely be far too big. I tried them on Ellie, who measures 2" and she fit into these boots perfectly. More sizing options at ¼" intervals should be offered.
The rigidity of the boot and the width of the top when un-Velcroed seems to work in our favor in terms of putting them on, as these have been the easiest boots to put on that we've ever tried. It takes a hike or two for them to break in and become a little more flexible, but once put on, Ellie seemed comfortable and didn't try to shake them off at all. With other boots we've tried, we will occasionally see some rubbing on the heel portion of her foot, but I couldn't find a single bit of rubbing anywhere on her foot. Her feet also remained totally dry; the breathability and weatherproofing work better in the Alcott boots than our Ruffwear Summit Trex boots!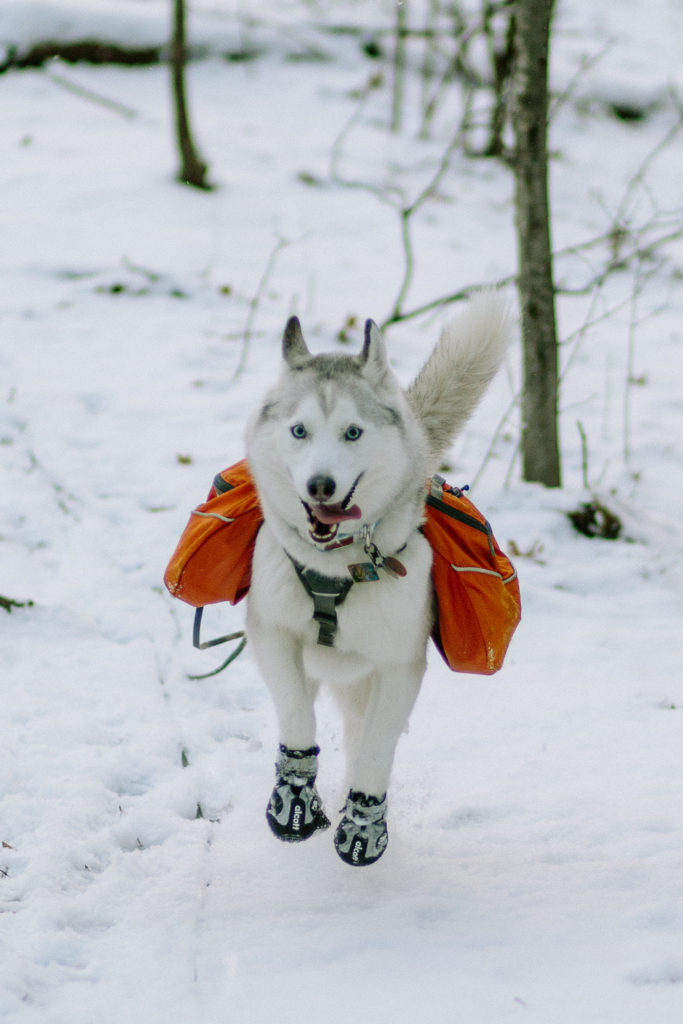 These are the first pair of boots that have never fallen off Ellie once, and I've never had to readjust anything in the numerous hikes we've gone on, through snow, on pavement and sidewalk, up and down hills, and through confidence training involving jumping up & down from rocks & logs. That being said, every dog is different, and what may be perfect for one dog may not work at all for another. From what we've gathered, we find that these boots work best for dogs whose feet are already slightly wider than their leg. Those who have dogs where the leg might be a bit thicker and not taper into their foot as well might have difficulty keeping the boot on.
One issue that needs to be taken into consideration is the height of these boots. Dogs that have dewclaws may have a lot of trouble getting the boots to fit tight enough to stay on, as the straps seem to sit right over the spot that a dewclaw would be. The height may also not be suitable for those who are in deep snow a lot. We were unable to test in snow deeper than 4", and with the ankle-height of the boot, there's always a chance snow could get inside. Another issue is that these don't seem to grip well at all in packed snow or ice as compared to every other boot we've tried which does give some traction. The sole grips just fine on regular pavement, sidewalks, and rocks, but snow seems to become a challenge.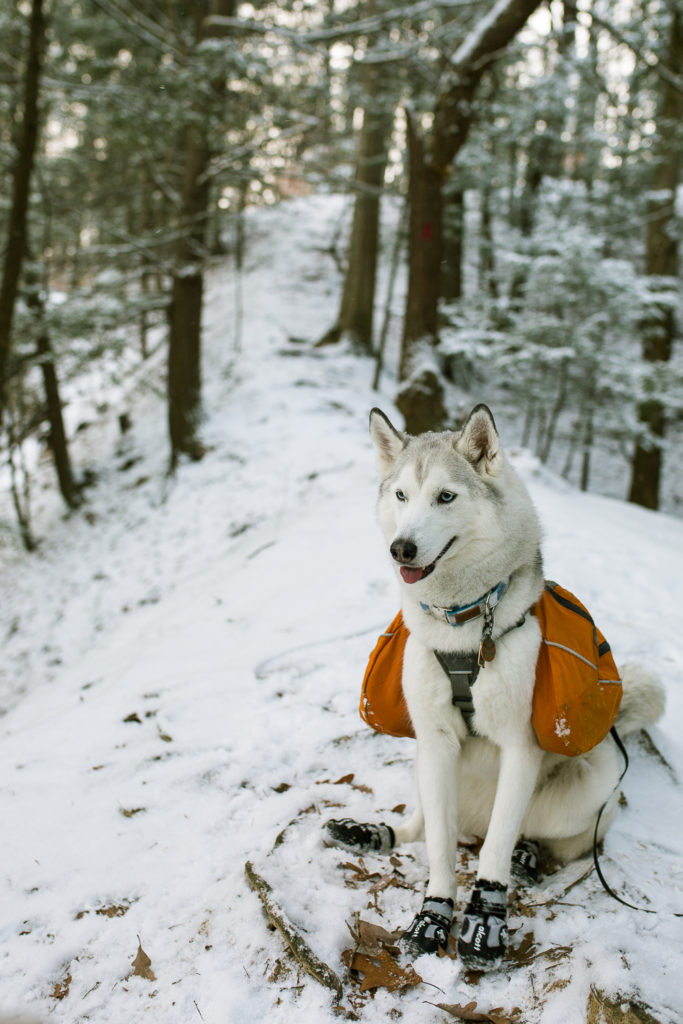 Overall, we find these boots to work amazingly well for us in three out of four seasons. Ellie doesn't have dewclaws, so that's likely one reason they worked so well for her, and the sizing, though off for Atlas, seemed to end up perfect for Ellie. If you're unsure on sizing, or you dog sits somewhere inbetween sizes, or even has a different size for their front feet versus their back feet, these may not be the best option for your pup.
These boots would work best for: General use to protect feet from extreme heat or cold, wet conditions, and rocky terrain.
These boots may not work well for: Conditions involving packed snow or ice. Dogs with dewclaws, and dogs who may be inbetween sizes offered.
Review by: Dogs That Hike Trail Tester @expeditionhusky
Product from: @alcottgear / alcottadventures.com