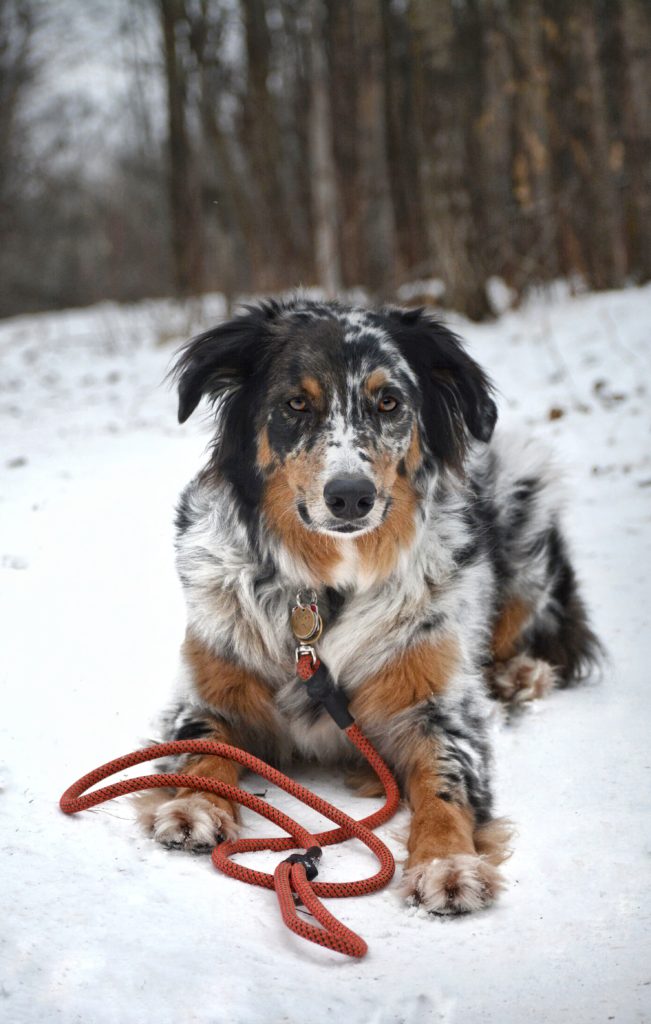 Often times the environment takes a backseat to consumerism and us humans don't bat an eye at the wastefulness of our species. Over packaging, disposable products and using non-recyclable materials is killing our environment and truly impacting the earth around us every day. It's our responsibility as earthlings to reach out and search for products that are long lasting and kind to the Earth. I was so glad to test out a product from Wild Hound Outfitters that does just that with their recycled climbing rope leashes! Atlas and I tried out a 6ft long red leash for almost 2 months while out on the trail in crisp fall weather and two horrible -30 degree winter cold snaps. It has proven to be a very beautiful and durable addition to our gear box. It so refreshing to see a company that is trying to make a difference by re-purposing retired climbing rope in such a successful way.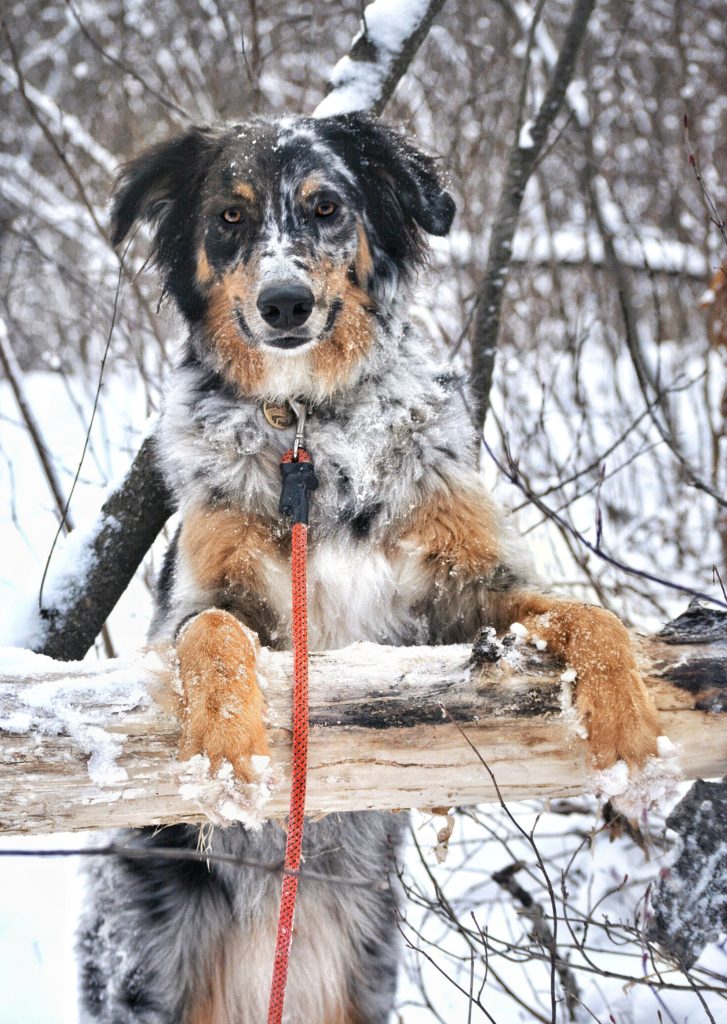 The Wild Hound Outfitters Climbing Rope Leash was designed to be a durable, shock absorbing and sustainable option to connect you and your dog while out in nature. Climbing ropes are often used to make leashes as they are designed to absorb some of the force your pooch can cause while pulling on the lead. This leash did have some give but it did not absorb as much force as some other leashes on the market that I've tried. It can be quite stiff when out on cold walks but functions as well as any other rope leash I've tried. This leash has a loop so you can wear it around your shoulder while it is not in use (this feature works great while at the dog park). One thing to watch out for when choosing any rope lead is to be wary of minor rope burn to your hands if your dog is a major puller. You can combine this leash with a head halter to minimize this.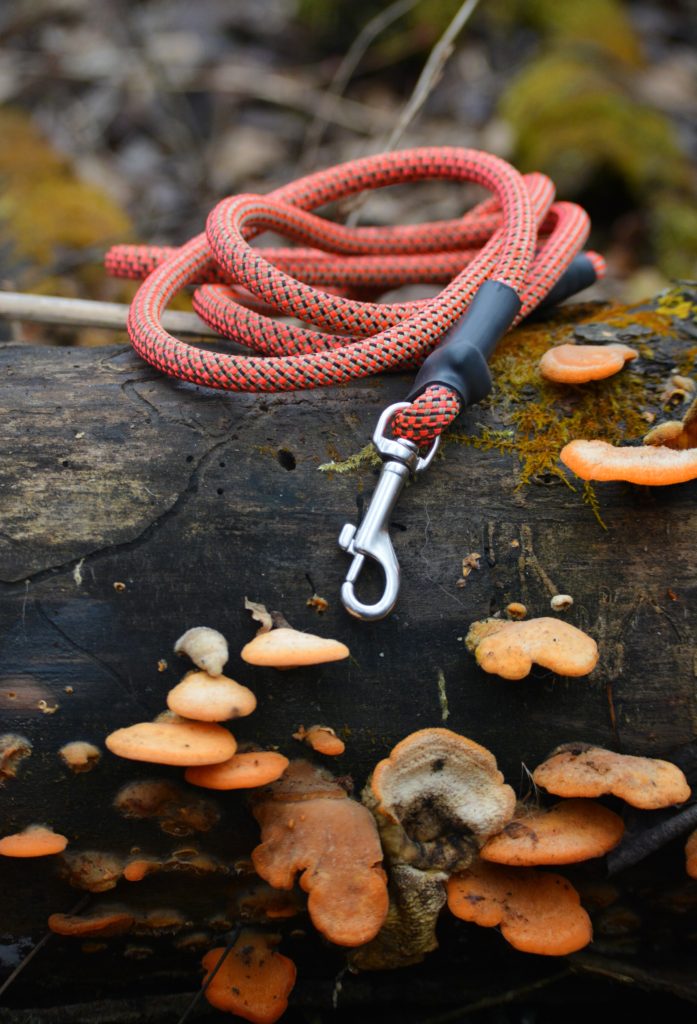 These leads are handmade in the USA from ropes used and trusted by mountain climbers. These ropes are collected from climbing gyms and from adventurers who have used them to scale mountain peaks. Each rope is visually inspected for damages or wear and is hand crafted one at a time into a colorful 6 inch lead. This leash features a stainless steel snap hook clasp which is light and attractive. It has held up well from being dragged through dirt, mud, snow and ice and still functions perfectly. This leash has been tested in some of the most severe weather that the Canadian wilds can throw at us and has held up wonderfully. It was dragged through some mud at one point and came clean very easily when soaked in the sink with some laundry detergent for 5 minutes. Cleaning this leash did not cause it to fade, and in fact the leash has not faded one bit through all of its daily abuse out on the trail and around the neighborhood. I think Wild Hound Outfitters hit the nail on the head with their goal to create a long lasting, earth friendly leash.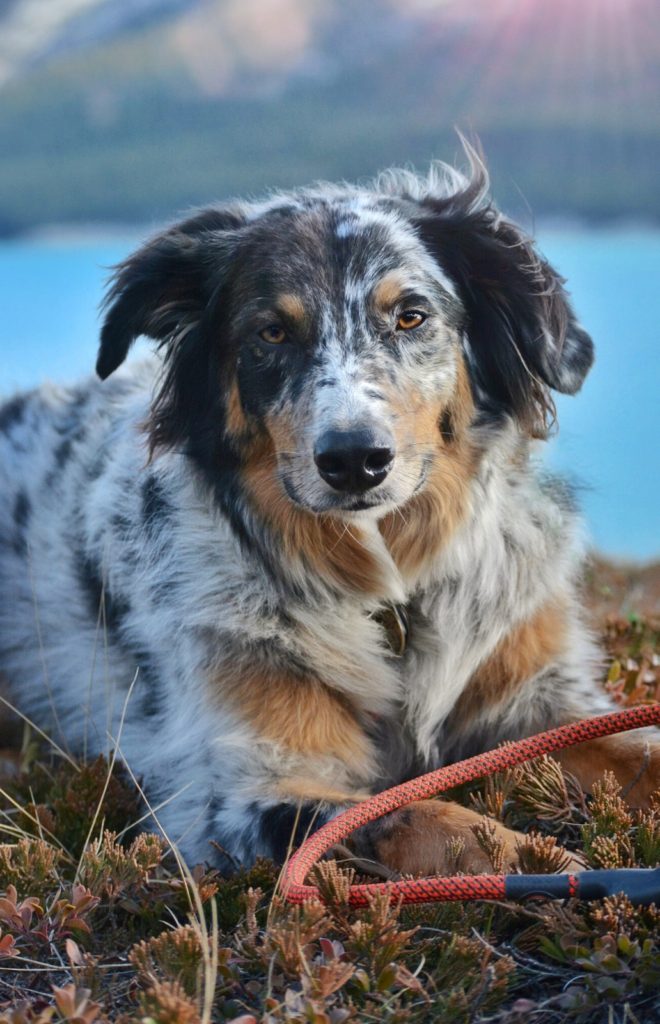 I love that this leash is available in so many fabulous colors! Styles range from bright neon green, to trendy turquoise, to neutral black. There are 7 colour options at the moment; this may vary due to availability of rope. Climbing rope leashes are all the rage right now and I always end up with someone asking me where I got it when hanging out at the dog park. These leashes are only available in one size ( 6 ft length) So if you are looking for a variety of sizes you will need to look elsewhere. One other thing I really like about this leash is that the snap hook clasp is light and would fit on any sized collar. This would work well for large dogs or for small dogs who are burdened by traditional heavy materials.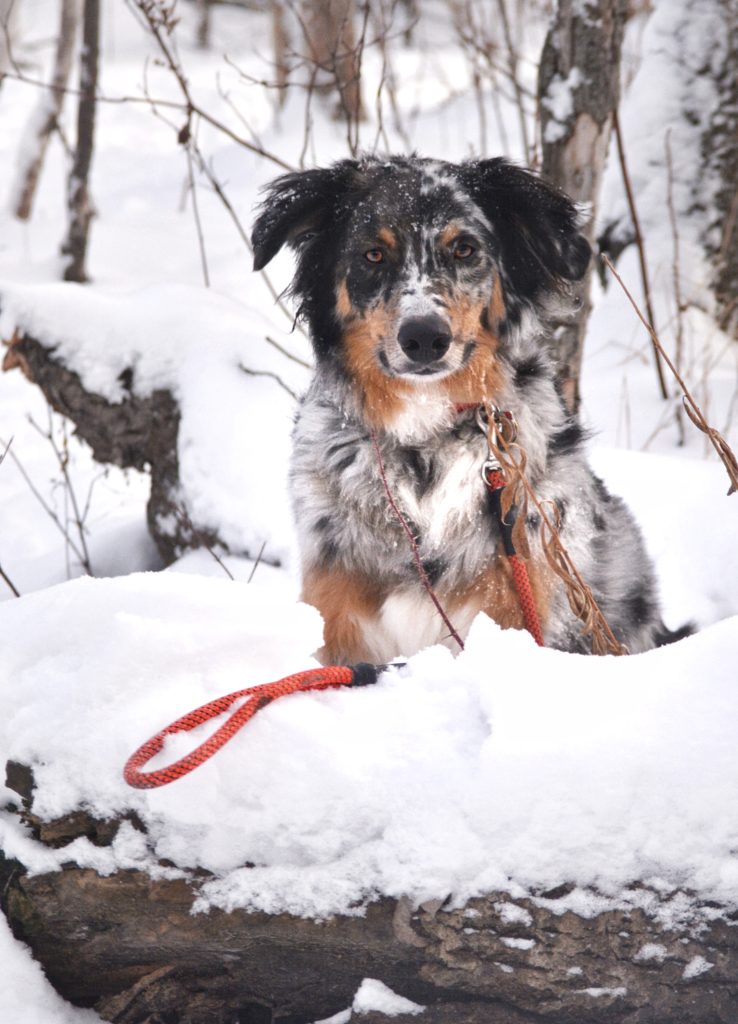 Overall this leash is a super trendy, eco-conscious, durable option for someone who is looking for an alternative to conventional leashes on the market. I have recommended this leash to some of my friends and I will be continuing to use it when out and about on the trail. The only thing I would recommend to Wild Hound Outfitters as far as changes or redesigns would be perhaps adding an ergonomic handle made of a different material (to help avoid hand irritation from the rope). The addition of other sizes would also be nice option in the future. Wild Hound Outfitters scored huge points for strength, style, and sustainability for this leash and I'll give it two thumbs up.
This leash would work best for: Dogs of all sizes, in all climates. This leash is great for people who want a trendier environmentally conscious leash for their canine.
This leash wouldn't work for: People with sensitive hands. You will need to look elsewhere if you want other sizes as this leash is only available in a 6ft length
Review by: Dogs That Hike Trail Tester @atlastheadventuredog / atlasdogblog.com
Product from: @wildhoundoutfitters / wildhoundoutfitters.com