The Alcott Explorer Pup Tent – chances are, you've seen it in some of your favourite Instagram photos (or maybe on @dogsthathike or @alcottgear ) and you have wondered to yourself "Wow, that's so cute! But what is its practical application?" We are here to answer those pressing questions for you.
After months of use we have found that the tent really appeals to Reggie's natural instinct to den. Often when we are out camping, he wants to rest but doesn't necessarily want to go to bed while everyone else sits around the campfire. If I set the pup tent up near the fire, he's able to cozy up and rest without feeling like he's missing out on the fun.  One of our fellow Trail Testers does not like kennels even they enjoy this tent!
The pup tent is also great for keeping mud, plant matter, dirt, dust and grime out of our tent. It acts as a transition space from the messy adventures of the day to the nighttime. We have also used it in city parks as a lovely shade structure. Not only does it have the front door, it has "windows" that act as ventilation panels that will keep your pup cool on hot afternoons and evenings.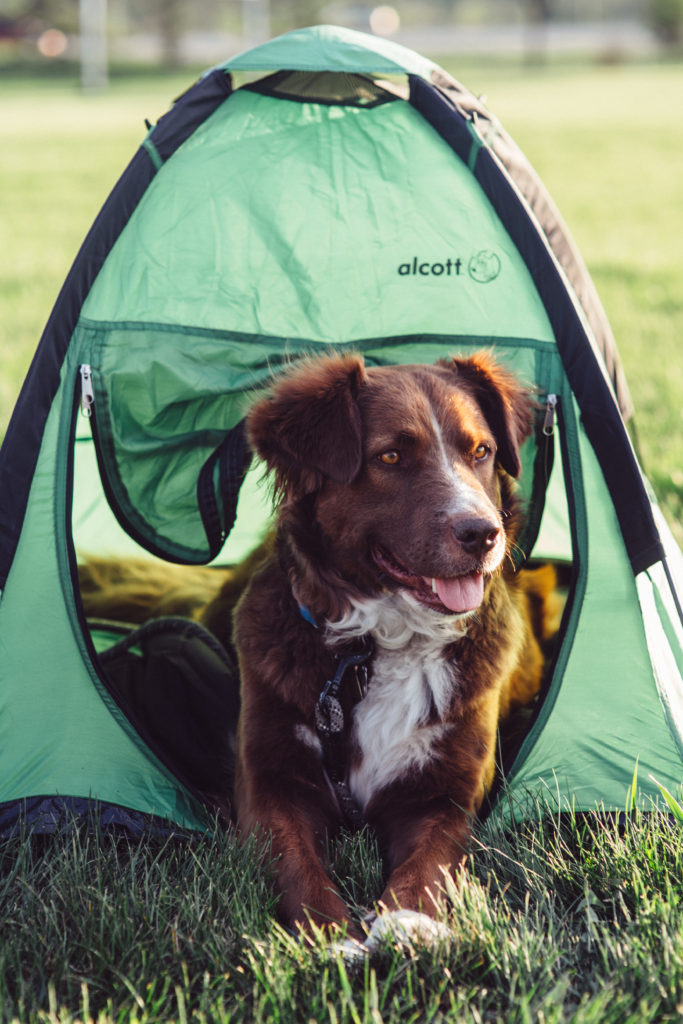 Ringing in at an affordable $39.99 USD, any expectations that the tent will match the quality of your $400+ backpacking tent needs to be checked at the door – this is after all a pup tent. It is a single wall tent that does not come with a waterproof fly but the design incorporates a waterproof tub floor.  With the exception of the tub floor (which is tarp), the tent is made of a lightweight breathable nylon.  It is set up with two plastic poles and it even comes with tent pegs.  The pegs aren't your top of the line pegs but they held up surprisingly well in moderate wind.  While the tent can handle a little bit of light rain, if you're expecting heavy rain or snow, you'll need to make sure it's under a tarp or trees otherwise anything in it will not stay even remotely dry. This does not mean however, that the tent isn't a very useful piece of equipment nonetheless.  It's very lightweight, easy to set up and Reggie and his fellow Trail Testers all seem to love it.
While the small size of the tent allows it to be lightweight and packable, I do wish the tent came in more than one size. It is currently only available in 28" x 45"x 35" and although Reggie can fit inside no problem at 80lbs, he has to stay curled up. It's not big enough for him to stretch out on his side which is how he prefers to sleep.  This tent would be ideal for Retriever size and smaller so I would love to see Alcott add a larger size for large breed dogs.  It is also only currently available in bright green and black with no other colour options.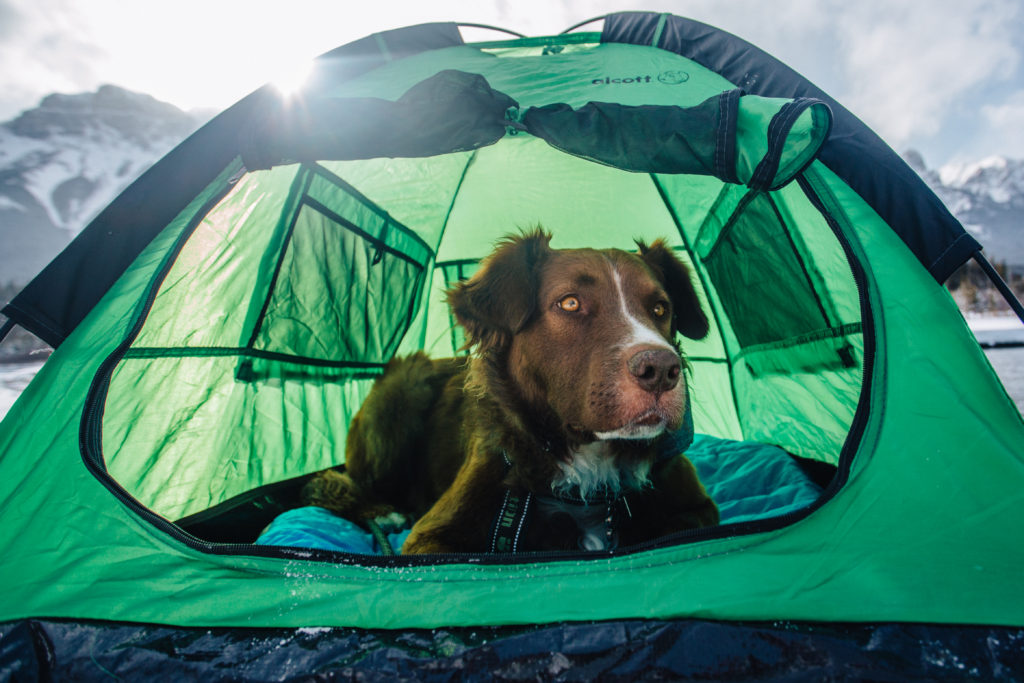 Chances are if you've seen this you've thought "no way is my dog sleeping in that tent overnight!" and if you have space in your own tent we would agree.  Given the lightweight materials if your pup has a tendency to escape it would take no time at all for a dog to chew right through the fabric and enjoy a midnight stroll. Living in the Canadian Rockies, I also worry about encounters with wild animals and unexpected shifting weather conditions. That said, if you live in a more temperate climate than we do, and don't have an escape artist pup, this is a great alternative place for your pup to sleep.  In particular, if you are a person who hammock camps, this tent would provide an excellent place for your dog to sleep underneath you.
As long as you go into the tent purchase understanding where the tent is useful and not expecting a fancy piece of technical equipment I think you will be very satisfied with your decision to add the pup tent to your gear collection.
This tent would be best for:  dogs who don't want to miss out on camping fun but clearly need a nap, dogs who have the natural instinct to den, protection from sun, moderate wind and light rain, cats – every Trail Tester who has a cat has had their tent claimed by a cat
This tent may not be ideal for: those who are camping in adverse weather conditions and don't have any other means of weather protection, large dogs
Review by: Dogs That Hike Trail Tester @reggieandthevan
Product from: @alcottgear / alcottadventures.com