Loyal Canine Co First Aid Ointment
Editors note: This is an individual product review – if you are looking for information on pet first aid head over First Aid for Fido on the Trail.
Robin injures himself pretty frequently on the trail and I always make sure to carry first aid products to patch him up. While he's generally surefooted and fairly body aware, he doesn't feel pain when he's excited, so he'll trample red ants or scrape up his feet and belly jumping off of rocks. Oddly enough, he didn't injure himself a single time while we had this first aid balm for testing, but I did use it on his irritated pads after we walked across some too-hot pavement, and also tested it on my own splitting cuticles, flea bites on assorted family members, and Robin's healing scar from a winter injury.
The Loyal Canine Co First Aid Healing Ointment claims to speed up recovery and minimize scarring via its anti-bacterial, anti-fungal, and anti-inflammatory ingredients. It's recommended for minor cuts, sores, burns, skin irritations, rashes, and chronic psoriasis and eczema. Here's the ingredients list provided by Loyal Canine Co, split up by main function based on my research:
Protectant: beeswax
Moisturizer: shea butter, sweet almond oil
Anti-inflammatory & antimicrobial: calendula oil, sea buckthorn oil
Promotes healing: vitamin E, roman chamomile
Antiseptic: helichrysum
Reduces swelling: myrrh
Bites/stings: lavender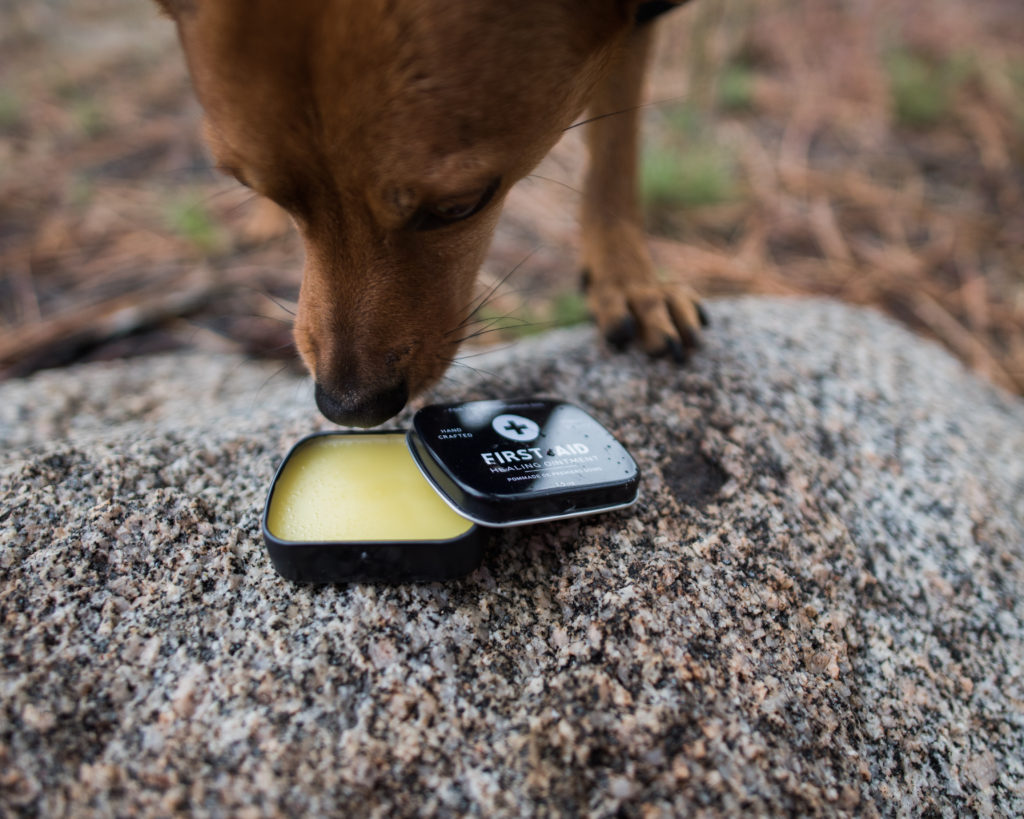 We've tried 3 balms to date – Musher's Secret, Woofgang Shop Paws & Go, and this First Aid Healing Ointment. Musher's Secret is marketed as a buildable protectant, and is comprised just of wax and oils, while Paws & Go and the First Aid Healing Ointment are both mixtures of moisturizing oils, healing extracts, and a protective wax. However, Paws & Go is marketed as a protectant and healing ointment, while First Aid Healing Ointment is marketed as a first aid item to be used more for acute injuries (minor cuts, burns, irritations) as well as chronic skin conditions.
The ointment comes in a sturdy 1.5 oz tin that's plenty big enough to last, but small enough to throw in a pocket or backpack. It's by far the softest of the three balms, with a thin greasy texture like Musher's Secret, rather than a drier balm texture, but it's dense enough that it didn't melt or run in hot weather. The thin, oily texture is gentler for application on delicate burned or irritated skin, but on paw pads and my own cuticles I found it to be slower to soak in and a bit greasy.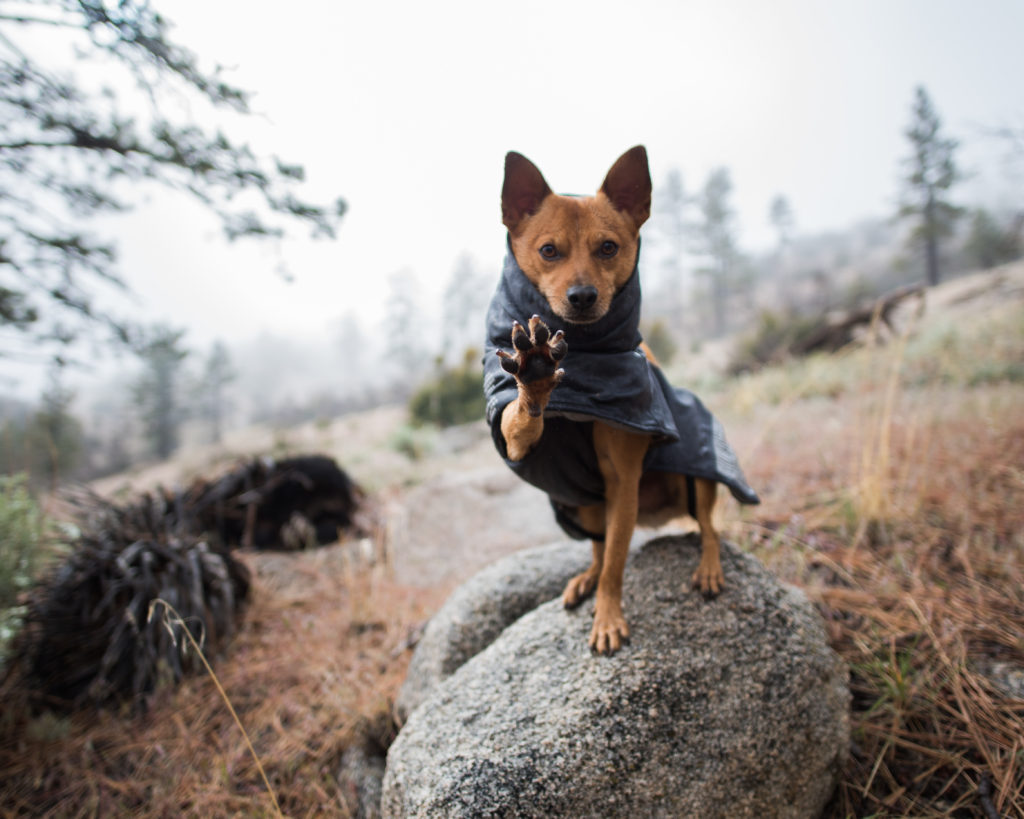 As with other balms we've tried, I didn't notice permanent changes, but in the short term his pads looked very hydrated for a few hours and stayed a nice soft black for about a day until the next application. I didn't notice any change to the scar on his belly, which is probably too old at this point. Family members reported temporary relief of itchy flea bites, and the balm hydrated dry irritated skin.
Because First Aid is a term is commonly associated with open wounds, cuts and lacerations, I don't think it's an appropriate way to market this product. The packaging isn't designed to keep the ointment clean- a squeeze tube with screw-on lid would be more appropriate for an ointment meant for open wounds (possibly like the kind that vaseline lip balm comes in) to reduce contamination. Also, it contains quite a few ingredients because it's an all-purpose balm meant to treat a variety of conditions, and I'd be reluctant to introduce so many substances to an open wound. For open cuts and wounds, I'll stick to my single-use packets of triple antibiotic ointment. However, based on our experience, I'd definitely keep using this balm on dry pads, dry skin, mild burns without broken skin, and on healing scars after the wound closes.
This ointment is best for: dry skin, dry pads, bites, shallow scrapes, irritated skin, first degree burns, healing scars
This ointment may not be ideal for: open wounds, deep scrapes or cuts, burns with broken skin, blisters
Review by: Dogs That Hike Trail Tester @robinventures