Traveling to & from adventures can either be fun, or exhausting, for both human & dog. Taking the proper precautions to make sure your dog stays safe while still keeping them comfortable is always a top priority. The Alcott Traveler Car Safety Belt provides a great option to keep medium to large-sized dogs feeling more secure.
Ellie has always been perfect in the car; she lays down in the back seat and sleeps. Atlas, on the other hand, becomes extremely anxious on car rides, and refuses to lay down. I've tried everything aside from prescription medication to help him relax, from conditioning training, to essential oils, to pheromones, to thunder jackets, all to no avail. When we were sent the Alcott Traveler Car Safety Belt, I was excited at a new opportunity to help Atlas calm down, but unfortunately found out very quickly that it just made him more anxious, as it made him feel trapped and unable to control his movements no matter how long I made the belt.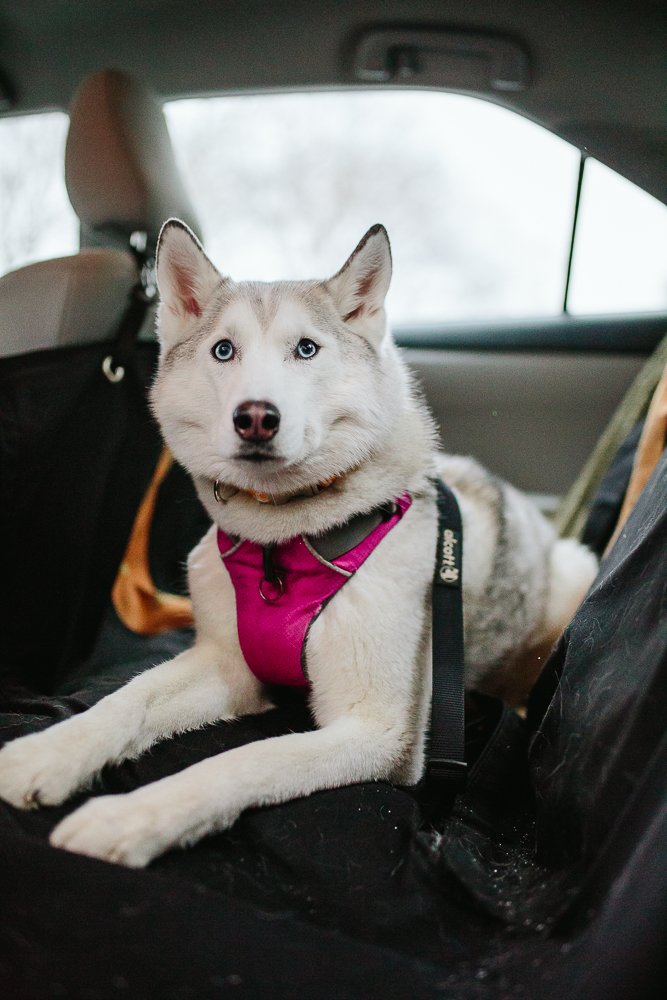 Despite the Traveler Car Safety Belt not working for Atlas, I tried it on Ellie to test out the function, durability, and trustworthiness of it. While Ellie wasn't fond of it either as I've never had them secured down while in the car (I use a hammock seat cover), it held strong with no sign of coming loose from either the seatbelt clip attachment or the leash clip. Ellie was able to move around comfortably with little issue, and never once got tangled. And despite the mud they trekked into the car after our hike, cleanup was a breeze!
The belt is constructed out of a thick 1" wide nylon strap that doubles back to a slide buckle to allow for adjustment in length. It easily adjusts to anywhere from 15-26" long to accommodate various sized dogs. Alcott's goal was to be able to offer this as a universal "one size fits all" belt, but (no pun intended) seems to have fallen a little short of the ultimate goal. The shortest length at 15" sits at the perfect length for a small dog, maybe around 15 lbs or under, to be able to end up hanging over the front edge of the seat without being able to touch the floor if the car has to suddenly stop quick. Dogs between 15-25 lbs may find it a little bit of a struggle if they end up over the edge of the seat, but should be able to recover and get back on the seat on their own. Alcott should ideally offer two different sized belts; smaller dogs may not only find the current size they offer belt a little bulky, but the concern of falling over the front of the seat could be fixed if they offered a shorter, thinner belt. Another way to help reduce the risk of this is to have a hammock car seat cover.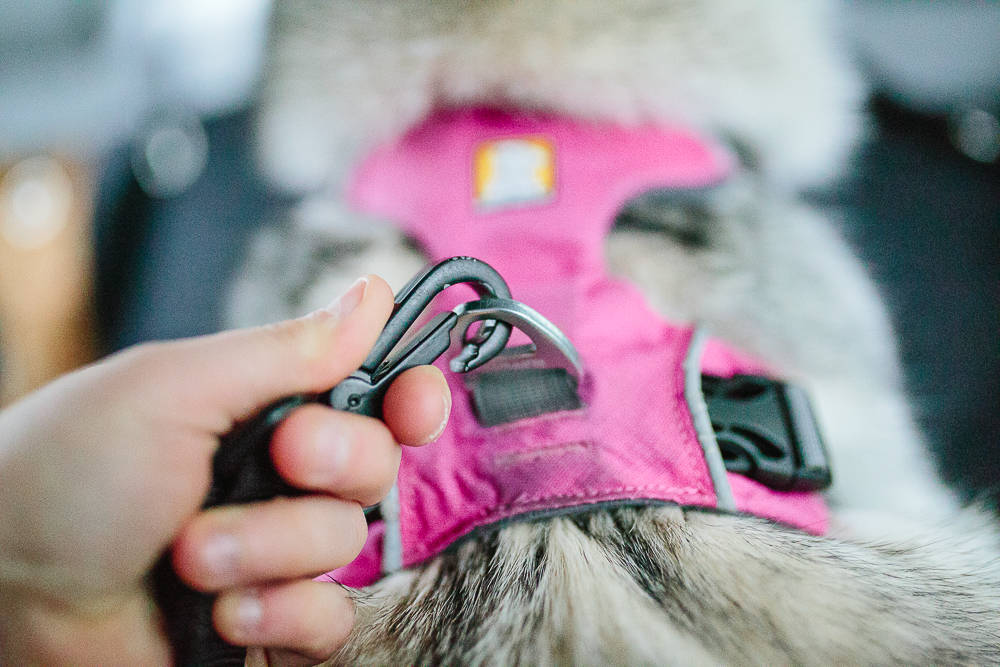 While color isn't a make or break deal for the belt, it does only come in one color: black. Having other color options could make using the belt more appealing; owners could have the option to match the belt with the harness they choose to use. And while the belt can be used with any harness, Alcott does offer an Adventure Harness that provides a bit more chest support than a lot of other harnesses on the market that aren't specific to car safety. Their Adventure Harness comes in 7 different colors – how fun would it be to have the Safety Belt come in 7 colors also, and be able to buy them in combination for a complete safety package!
Securing the belt in your car is incredibly easy; all you have to do is put the attached seatbelt clip into the regular seatbelt clip in your car and you're good to go. Attaching it to your dog is even easier; simply clip the strong swivel-head leash clip to the harness of your choice and that's it! It should be noted that Alcott's website does say that the seatbelt clip may not fit in all Volvo models, but doesn't list which specific models, so Volvo owners should inquire prior to purchasing.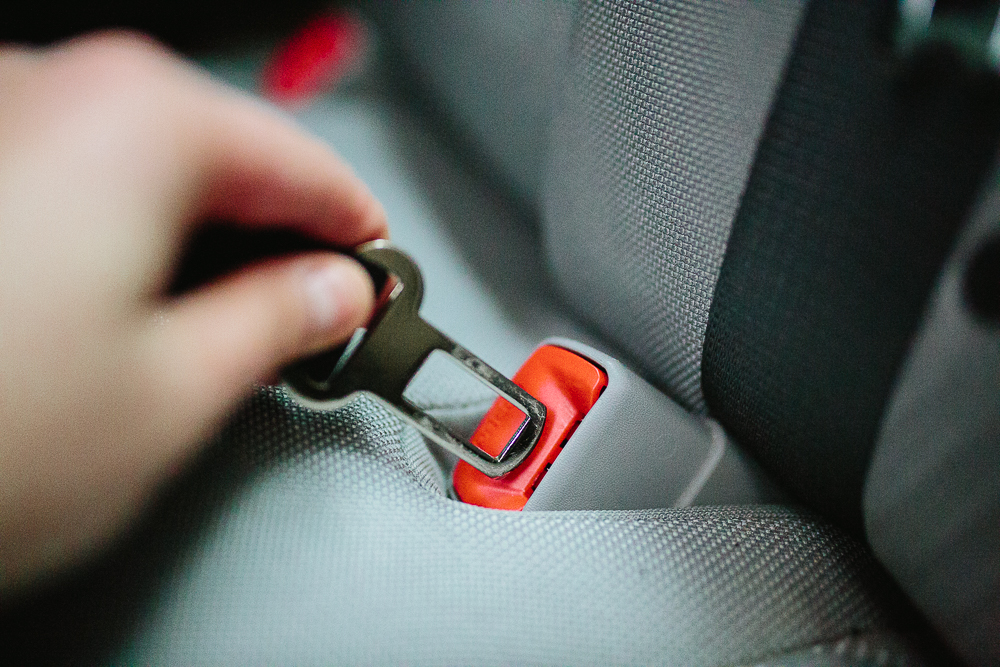 Overall, with retailing at only $9.99, this belt is an excellent option for medium to large sized dogs who need a little bit of extra security while in the car. The durability and ease of use makes the seatbelt a good option for car safety. And due to its nylon construction, cleanup and dry-time are at a minimum.
This belt is suitable for: Dogs or owners who may need or want that extra bit of security while riding in the car, and dogs who often try to climb into the front seat.
 This belt is NOT suitable for: Small dogs, or dogs that may already have certain types of anxiety in the car.
Review by: Dogs That Hike Trail Tester @expeditionhusky
Product from: @alcottgear / alcottadventures.com