Ellie & Atlas have become my go-to running partners, and our canicross adventures had been lackluster until we received the Hurtta Hiker Belt from Hurtta North America. Prior to this belt we were using the Ruffwear Roamer hands free/waist leash but with my curvier body the thin strap and minimal padding meant it often rode up my torso while running and put pressure on the wrong part of my back. The Hiker Belt has completely changed and improved all things comfort about canicross for us.
I'd been in the market for a new belt for a while, so I was extremely excited to find out that I'd be testing the Hurtta Hiker Belt out. For those who aren't familiar with belts, they are designed to be worn by humans during dog-pulling activities to ease the strain of pulling.  They sit around your waist, above your hips, and offer a front attachment point for one or more dogs.  While our main use is canicross and the occasional hike, the Hurtta Hiker Belt can be used for a variety of activities including canicross, hiking, skijor, skatejoring, bikejoring or even just walking.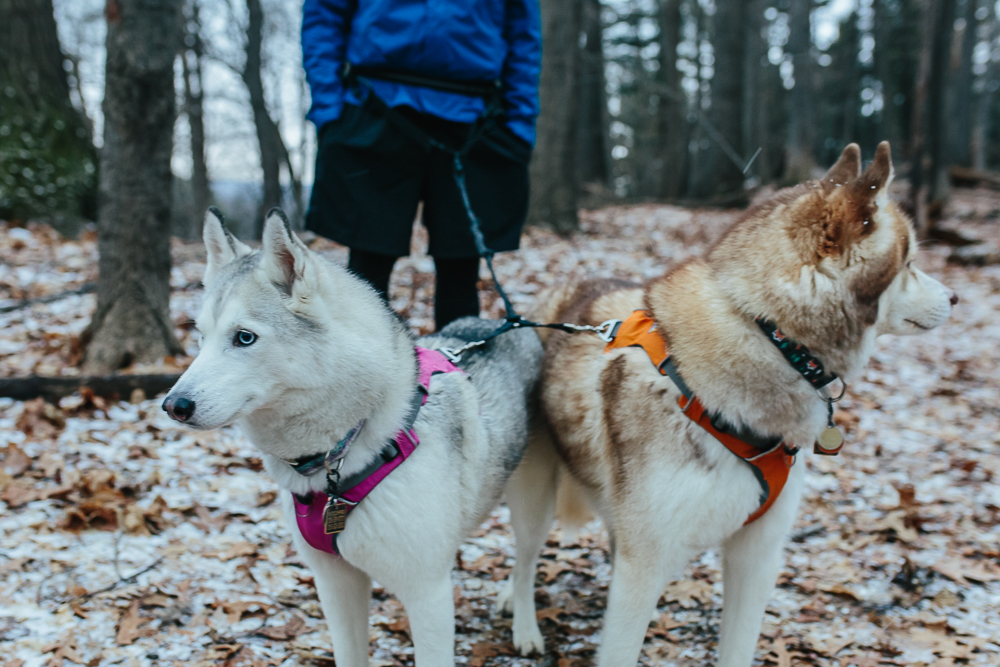 The belt is comfortably padded, and ranges between 5-6" in width (5" on the sides, 6" in the back) to allow for even distribution from any pulling to help avoid injury. To go along with construction, the hardware that comes on it has proved itself to be durable time & time again with the amount of pull Ellie & Atlas put on it as a team. The belt features two dense, thick, and heavy duty twist-lock carabiners on either side of the thick elastic front band, as well as a heavy duty quick-release clip attached to the elastic band on the front. And if for any reason you needed or wanted to switch out the carabiners, you could, as they are fully removable from the belt. The one bit of hardware that isn't the same material is the front buckle that goes across your hips. While the plastic has stood up to all the use I've put it through so far and is proving to be just as durable, a metal buckle would help stay consistent with the other materials used for the hardware. And while the belt does not come with a line, Hurtta suggests using any of their rope leads to attach, as the thick elastic strap in the front has plenty of shock absorption in it, meaning most would not need additional bungee. I had an extra line at home from Alpine Outfitters with bungee in it so decided to use that. The bungee in the Hiker Belt combined with the bungee in our line has resulted in an extremely minimal pull force even when both Ellie and Atlas are attached and any rope leash would likely be the same.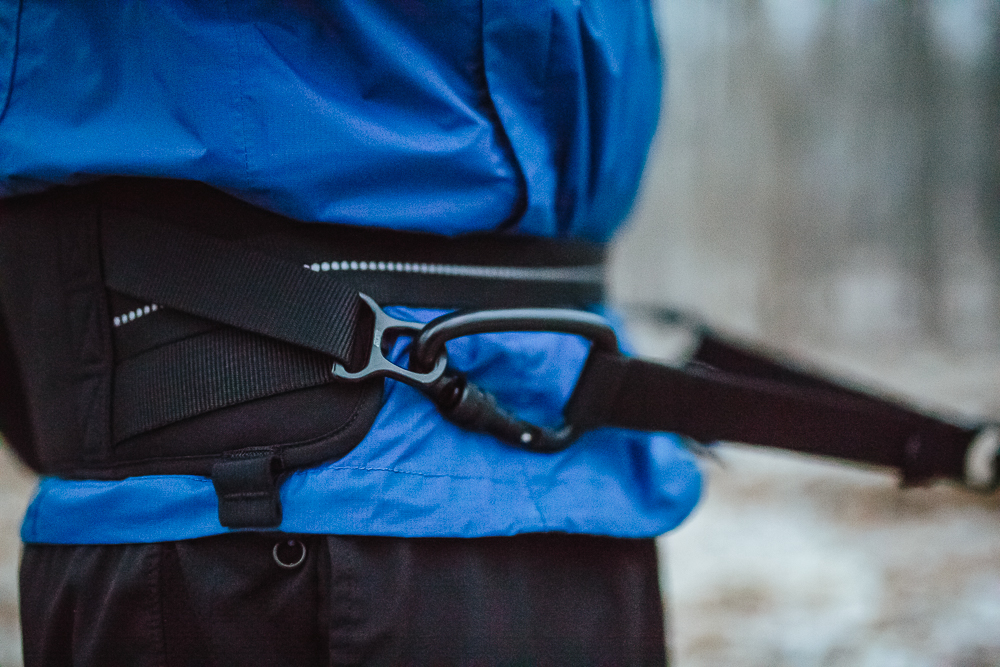 The belt comes in just one colour and one size, but it caters to a decent range of waist sizes. The adjustments on the belt will allow it to fit anyone between 30" and 47" (75-120 cm), which ultimately ranges from what most would consider medium to an extra-large.  While I appreciate that they are trying to have a versatile product, two separate sizes (XS-Medium and Large-XL) would help accommodate a broader variety of shapes & sizes.  Currently, even the smallest 30" sizing would is too big for some while the larger 47" is not be large enough for others.  Additionally, as the belt comes with two adjustable 1" wide bungee/elastic leg straps, the positioning of the straps can become uncomfortable if the adjustments of the belt itself are towards the larger end.
I love the idea of the leg straps, and they definitely help keep the belt in place on my hips so it doesn't ride up like a waist leash would, but having wider hips and setting the belt at a larger adjustment, the attachment points of the leg straps become a little skewed and sit more on the side of your hips rather than the front. The straps have a simple elastic slide "buckle" loop that allows you to adjust the straps to their desired length, but it's not snug enough to keep the straps where you want them to be. The movement from running easily moves the loop and loosens them up, which then caused the belt to move up higher on my waist. In order to correct the straps loosening, I simply measured where I needed them to be, and tied a quick knot into them so the loop stays in place, and they've worked perfectly since! A tighter loop to compensate for less wiggle room in the straps, or more substantial or potentially wider leg straps could help eliminate the need for a knot.  Alternatively, as the leg straps are removable, another Trail Tester opted to remove the leg straps and continues to use the belt without them.  She has found that it still meets her needs without the leg straps.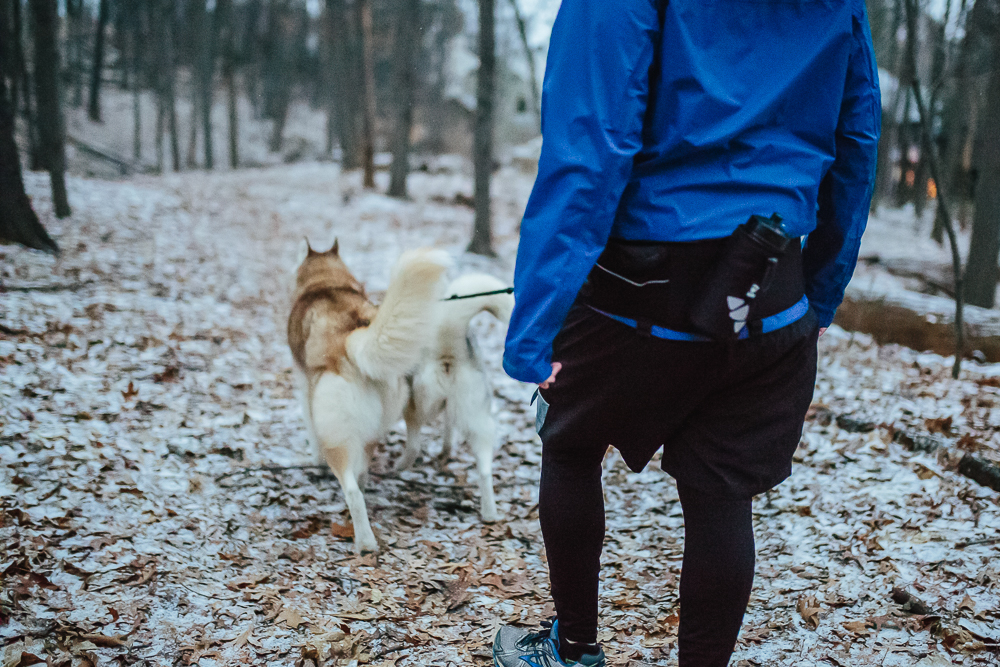 On the back of the belt, there is a water bottle holder capable of holding your basic 12-16 oz bottle, as well as a small pocket on the left-hand side of the belt. The zipper on the pocket is designed to help keep out moisture, but can be difficult to open and close at first if you try to open it slowly.  I've found that doing a very quick motion one way or the other tends to open it relatively easily, and the more I've used it, the easier it's become to open/close and it's certainly kept everything dry! The pocket is advertised as a cellphone pocket, but with owning an iPhone 7 Plus, it's not large enough to cater to anything bigger than something the size of an iPhone 5. One neat feature of this pocket is that it has a rubber port on it for either poop bags, or if you're able to fit your phone, you can slide your headphone jack through it. At the moment, your only option for extra storage is adding on a Hurtta Trick Pocket (their small treat bag) that can easily be attached to the belt with the clip that's on the back of the treat bag. This can help alleviate the concern of putting treats in the same pocket with your phone. I'd love to see Hurtta offer a larger pocket, and/or a second built-in pocket for treats on the right-hand side.
If you've read any of my other reviews, you know by now that reflectivity is something I'm big on, and really earns some extra brownie points with me. This belt does feature some reflectivity, but I truthfully feel like it could have more. The front band that goes across your waist contains one line of reflective stitching, and the water bottle holder on the back has the traditional Hurrta reflectivity symbol, as well as a small strip across the pocket. I often run when it's dark out, so having reflectivity is very important to me. Hurtta does carry the Dazzle Rope round rope leashes with 3M reflectors and bright high visibility dyes that can be used to improve visibility in the dark, but I think Hurtta could benefit from adding more reflective stitching throughout the belt to up the safety.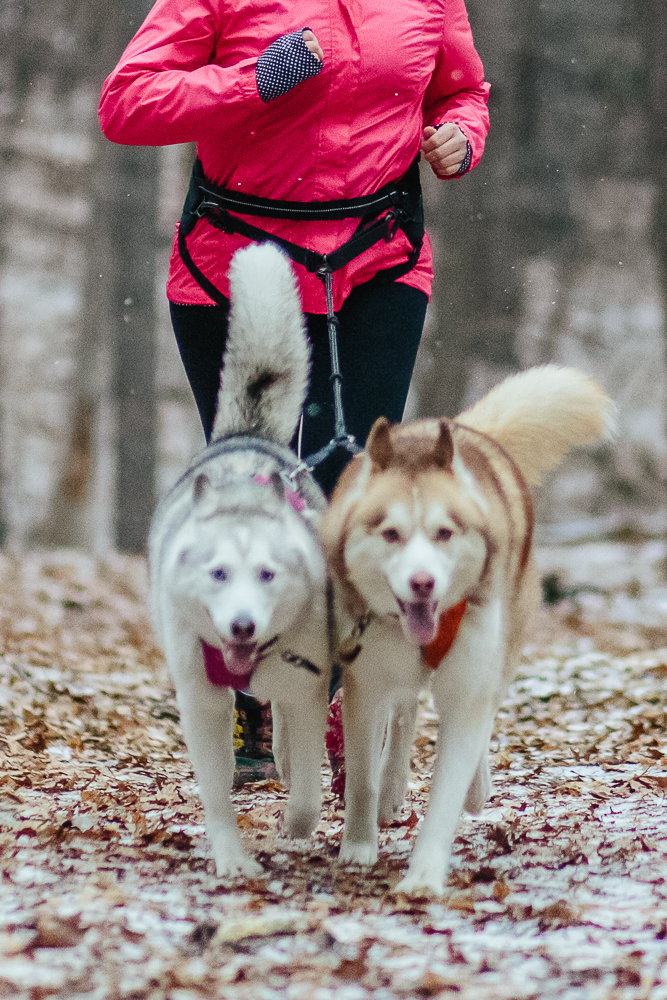 Another great feature of the belt is the "panic release" clip in the front. If there is any situation where you need to quickly release your dog from the line, just pull back on the clip & it releases immediately. This feature is extremely helpful in situations where you may be going downhill, but your dog is pulling too much for you to keep balance, and is also useful in races with the potential to get tangled in another team. The only caution with this is that if you accidentally grab it when trying to reel in your dog for whatever reason, it pulls back so easily that you may accidentally unhinge your dog when you didn't mean to.
One last issue I found is that the Hiker Belt did not come with any instructions.  Instructions are something that may benefit first-time users. All the straps & buckles can definitely get confusing, and first-time users may not know exactly how to set it all up. If Hurtta isn't able to provide a full set of instructions, even including a link to a set-up video would be a great thing to offer.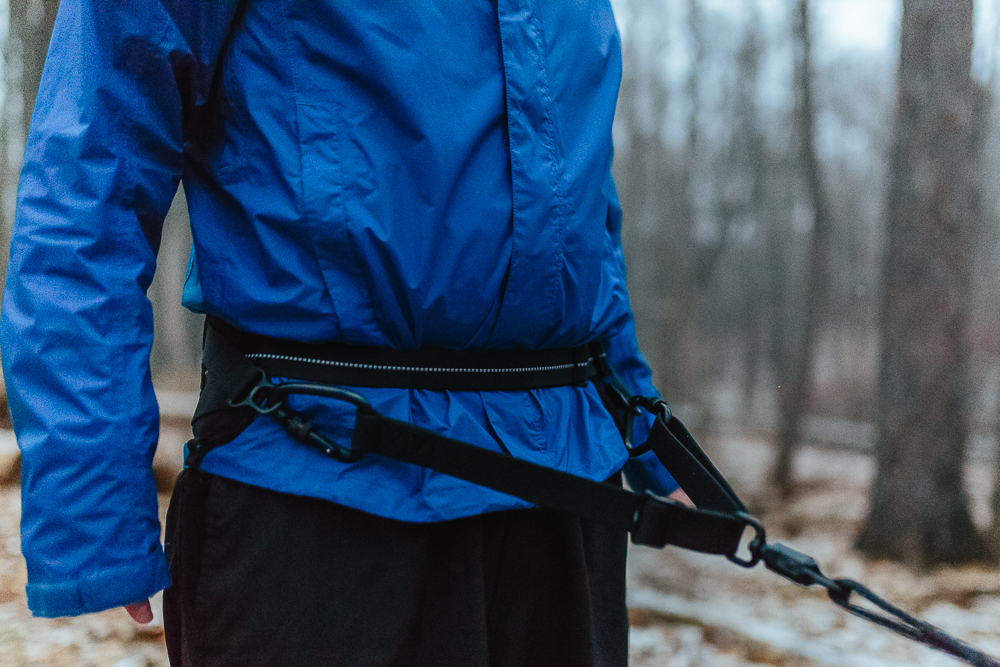 Overall, this belt is an awesome intro belt to canicross, skijor, or even for use in general hiking. While some adjustments can be made to improve it, I likely will never be using the Ruffwear Roamer lead again, and really look forward to our canicross adventures from here on out. The front elastic strap is perfect to help absorb pull shock, and the belt itself fits so comfortably it barely feels like there is any pulling being done. I would absolutely recommend this belt to anyone in the market for one.
This belt is best suited for: active dog owners who participate in canicross, skijor, or hiking, and those who often struggle with waist leads riding up.
This belt is not suited for: dogs who aren't up to par on leash manners and who may all of a sudden bolt one way or another
Review by: Dogs That Hike Trail Tester @expeditionhusky
Product from: @hurttanorthamerica / hurttaamerica.com