When traveling on the many trails our beautiful country has to offer we often face interesting terrain. Giant boulders, narrow bridges, rocky scrambles, and cliffside passes are all areas where having a little extra control and safety can help steer our journeys away from disaster. There are some situations where having your dog on a leash and collar combo is just a plain old bad idea. A harness can be a safer and more convenient way of maneuvering in risky terrain. Sadly many harnesses are too heavy, bulky and slide around on your pooch causing more negatives than positives. I felt this way until I was provided the Hurtta Active Harness by Hurtta North America through Dogs That Hike.  We tested this 60 – 80cm (24 – 32 inch) sized harness on the mountain trails of Nordegg, Alberta and around our hometown of Edmonton, Alberta for a period of about 4 months. We have put this harness through the ringer and it has proven to be a top notch product.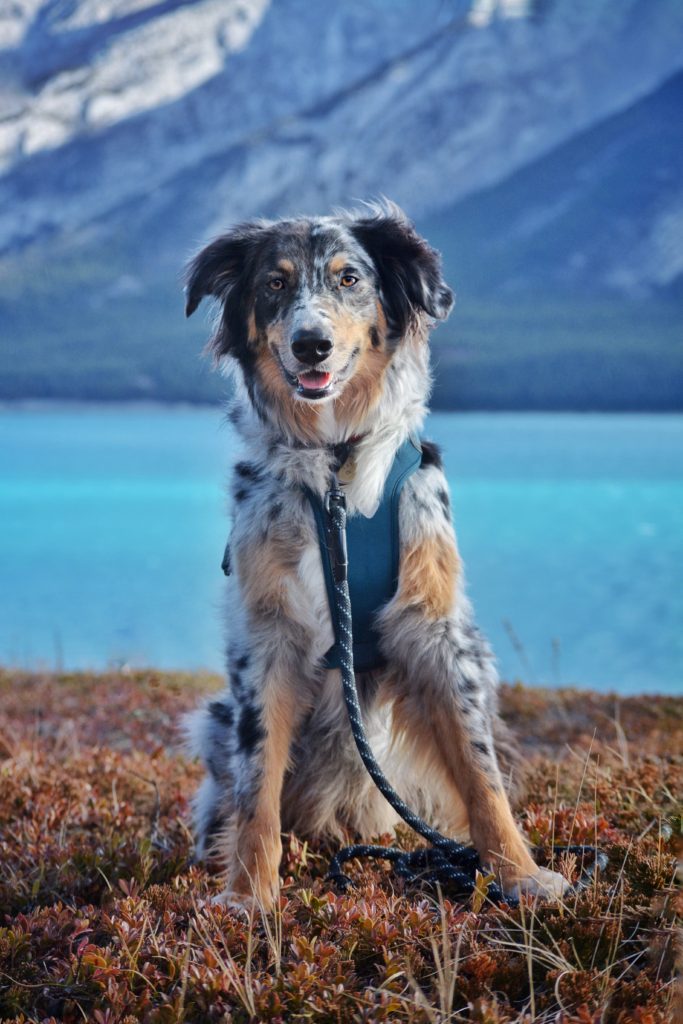 Harnesses are designed to take pressure off of your dogs neck while on leash, and to make walking more comfortable for your canine companion. Hurtta really hit the nail on the head with this harness and its one of the best I've seen on the market. This harness has a whole whack of features that separate it from other harnesses on the market.
First off, this thing is extremely light. Atlas tends to pout when I load him up with heavy gear so this helps a lot. Hurtta has saved on weight by using plastic buckles rather than metal ones but don't be fooled by the words "plastic buckles" – these things are tough!  Two of my fellow Trail Testers have both come across situations where the buckles should have been destroyed and they barely show a scratch. The straps are easily adjustable and don't have any dangling bits for him to chew on (yum nylon!).  In fact this is Atlas's only harness that he has never chewed up! The Active Harness features a strong sturdy fabric handle that comes in handy for grabbing a hold of your pooch if he meets eyes with a delicious squirrel in the distance or for when traveling on uneven or tight, risky terrain. I've used this handle hundreds of times but I would like to see it improved with a bit of padding. To attach your leash to this harness, you can use the very sturdy connecting D ring that is strong and works with most leash types (I believe they are changing the shape of this clip on the updated versions to a triangle).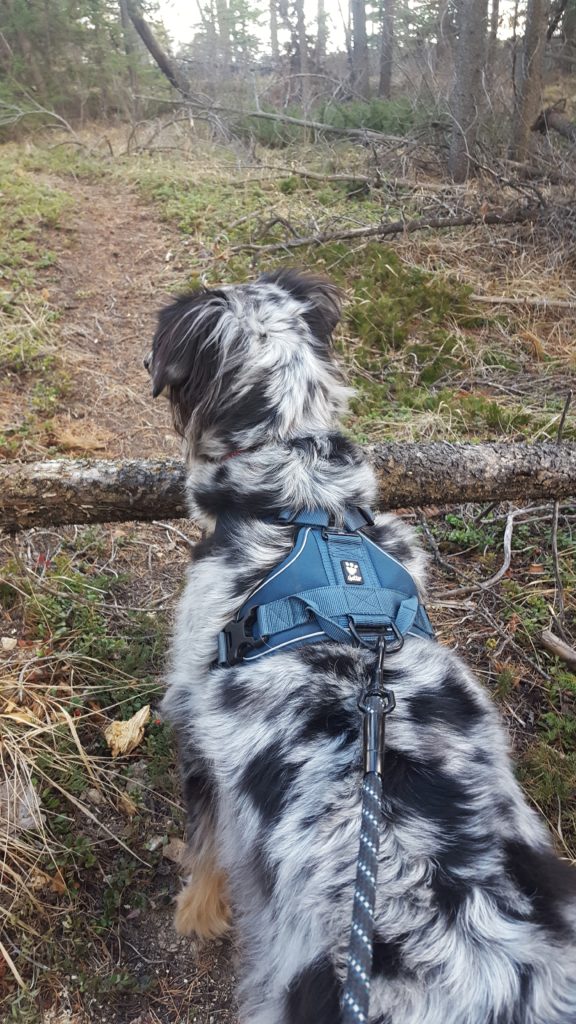 This harness features a medium amount of padding that works great for my super furry Atlas and most of my fellow Trail Testers who tried this product.  My fellow fuzzy Trail Testers and I enjoy that the moderate padding means it isn't too bulky and doesn't irritate our pups.  Two of the Trail Testers have short haired dogs and while one found it was perfect, the other mentioned that they would like to see more padding.  The issue of padding and what exactly is the right amount is always a difficult subject as everyone has their own personal preference.  Lastly, one of the coolest things about this harness is that it has been designed to work with several of Hurttas jackets! Many of their jackets feature a slot in the top for the leash to clip on and the handle to pop out for easy use.
The Active Harness has put up with A LOT of abuse. Atlas has rolled this harness into mud, snow, rocks, branches and through the river. He has wrestled with his friends, jumped off boulders and ran through streams without this harness even developing the slightest frayed edge or scuff. The sewing and all components on the harness are sound and are of superior quality. This harness has truly been put through the ringer and has come out the other side looking basically brand new. The material is easily rinsed when it gets dirty and dries nicely when hung up. Many Hurtta products are machine washable but I always prefer to hand wash my gear.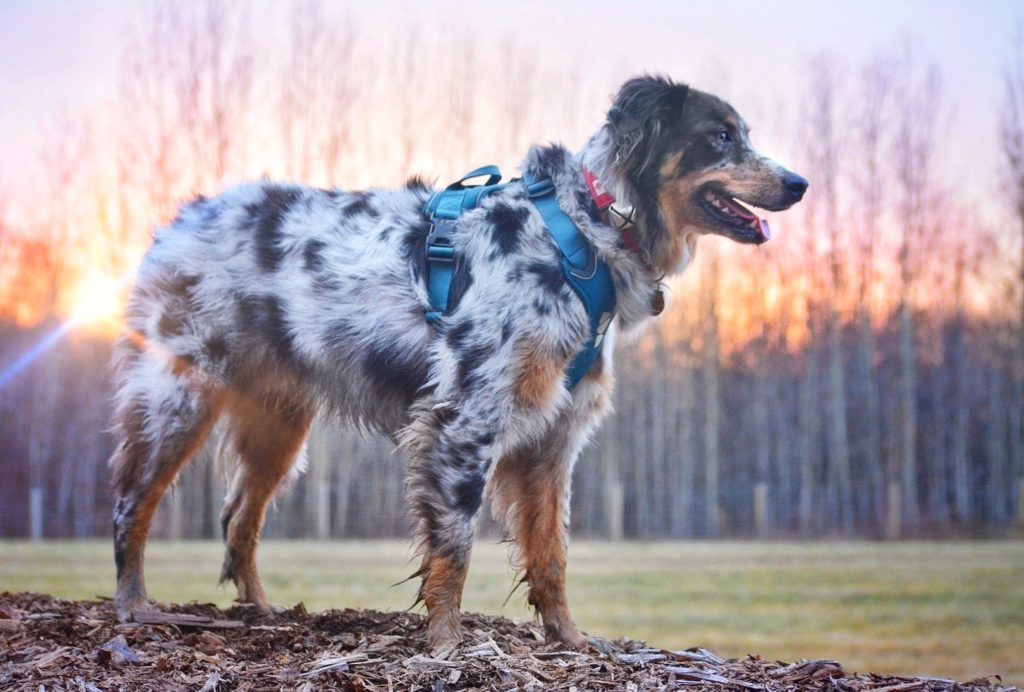 This harness is quick and easy to adjust and seems to stay in place extremely well. I have not experienced any shifting when it is in use and Atlas does not appear to be slowed down one bit while dashing through the woods. This harness features a wider than normal padded chest plate that fits him perfectly. If your dog is narrow chested you may want to give one of Hurtta's other harnesses a try instead as your pup may experience some chaffing.
This harness is available in 5 different sizes and will fit almost all breeds. If you are on the cusp of sizing my fellow Trail Testers and I all recommend sizing up on this particular harness as they tend to fit on the smaller side. I would suggest to Hurtta to perhaps add more sizing details for this harness on their website for those who are unsure. For those who like a colour option, this harness is available in 3 really nice colours: Raven (black) for the neutral lovers, Juniper (dark blue) for those who like a slight pop of colour and Cherry (bright pink) for all those true "fashionista" adventure dogs out there. Additionally, you can check out the Dazzle Harness, which is almost exactly like the Active Harness but in high visibility colours. I personally really like the look of this harness; it provides lots of cushy comfort without being obnoxiously bulky. One downside to the design of this harness, which is a downside that many other similar brands of harnesses in this category also have, is that the neck straps do not have a buckle.  This means that you must pull the harness over your dogs head to put it on and take it off. This wasn't a problem at all for Atlas (besides getting a bit stuck on his wacky ears) but I can see some dogs being a bit stubborn or scared of this. Hurtta could potentially add a buckle on the neck strap in order for more efficient removal.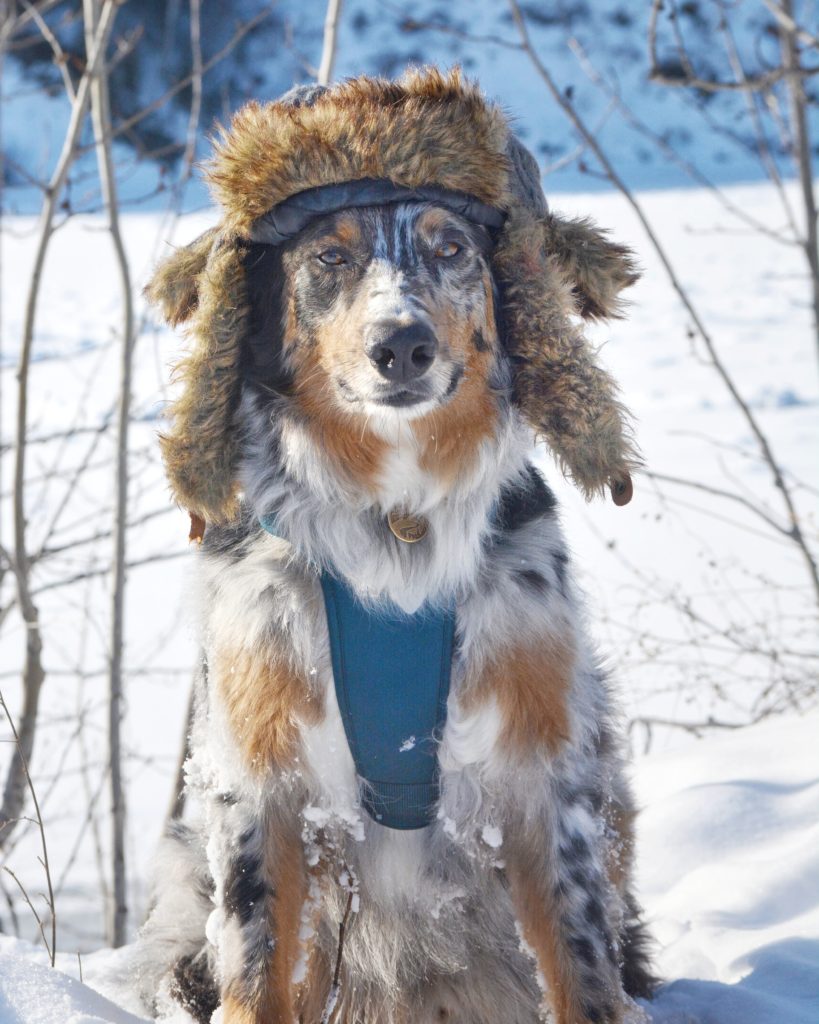 This harness has exceeded all of my expectations and has proven to be a durable, comfortable, high quality product. This is now my go to harness for all hiking and adventuring activities. I would recommend this harness to almost anyone who wants a bit more control over their dog during outdoor activities.
This harness would work best for: Dogs of most sizes and energy levels. This harness is great for hiking and for casual use. This harness works well in all climates.
This harness would not work best for: dogs that are extremely scared of harnesses that must go over their head as it does not have a neck buckle. With a little training and positive reinforcement your dog may be able to get over this fear and you may be able to use this product successfully. It would also not work for dogs that have very narrow chests or for dogs who get chaffed very easily.
Review by: Dogs That Hike Trail Tester @atlastheadventuredog / atlasdogblog.com
Product from: @hurttanorthamerica / hurttaamerica.com