The Hurtta Trail Pack received from Hurtta America is advertised as highly adjustable, multi-functional pack with emphasis placed on comfortable fit for the dog and large, detachable saddlebags.  In our opinion, this pack does not disappoint on any of its advertised features.  It has quickly become the most regular piece of equipment in our adventure repertoire.  Our dog Reggie, an 85lb, 3-year-old, large mixed-breed dog with a thick double coat tested the pack. We have used it on multiple trails ranging in difficulty, exertion and terrain type and in everything from cool fall weather to snowy, icy and wet conditions. The harness portion of the pack has been used several times daily for over a month.
When you purchase this pack, you not only get saddlebags, but end up with two excellent products capable of keeping up to even the most active dogs in one functional, well-designed package.  It is definitely a product designed for dogs that live highly active lifestyles and travel frequently.  It is one of the more expensive packs on the market so it might not be the best choice for you if you're more interested in a day-pack or are not planning on using the pack heavily.  It is a high performance product and I feel it would be overkill if you are trying to decide if a pack is the right choice for your dog or only need a pack that has enough room for half-day or single day excursions. Given the pack's durability, adjustability and smart design, the cost is reasonable if you are looking for a high performance pack.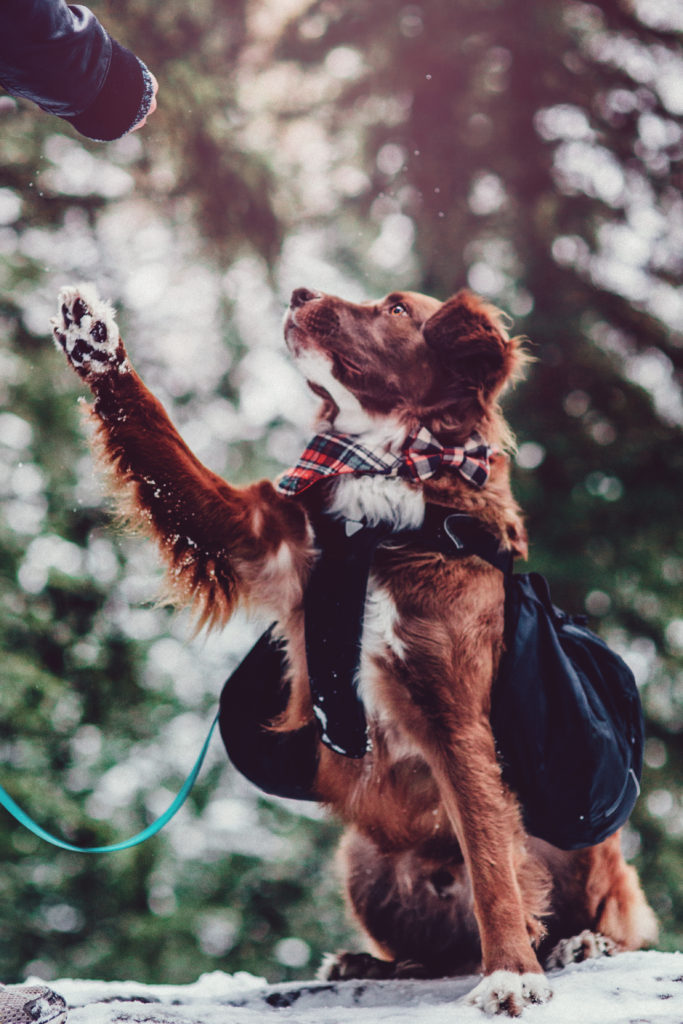 The harness itself is flexible which makes it effortless for the dog to move normally and provides the option of two different rear-clip leash attachment points. It features a neoprene brush guard that covers the dog's chest completely and has three large 3M reflectors front and centre. The brush guard has proven to be very durable. Reggie is a bit of a bruiser with a tendency to be very hard on his outdoor equipment and this harness is holding up beautifully to his antics which include frequent dips in the river. The harness dries quickly and is not negatively impacted by exposure to water.
The handle on the harness has not frayed or shown any signs of wear after grabbing it on multiple occasions to keep our prey-driven pup from chasing unsuspecting woodland creatures. It is worth noting that Reggie is extremely powerful in the chest and has ripped more than his share of stitches on other products when deciding to pull in the past.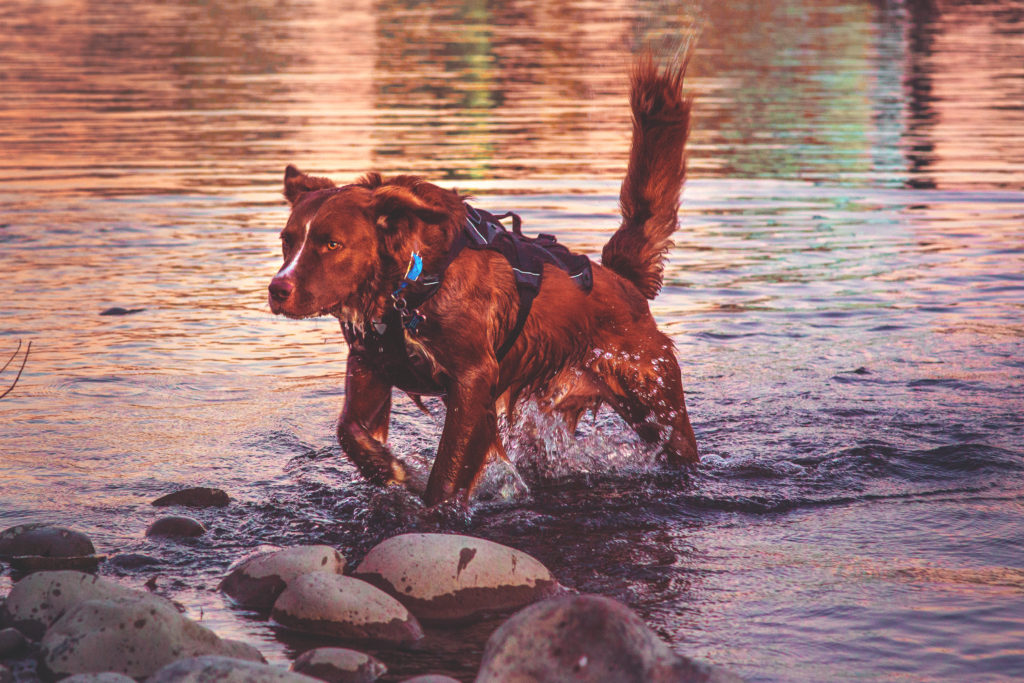 The harness is also fully adjustable in the chest, shoulders, girth and flank which makes it easy to fit the product to any shape of dog. Reggie is somewhat oddly proportioned but the harness works perfectly for him. It definitely takes some patience to adjust all the straps at first but we haven't noticed any slipping or stretching in the harness at all since the first adjustment.   Another Trail Tester who has a very fluffy dog had some issues with the fabric on the harness slightly bunching under the buckles; however, it does not provide any discomfort to the dog and they continue to use the harness. This is not something we have specifically experienced but is something to consider if you have a very furry dog.
The saddlebags are easy to remove from the harness but putting the pack back on using the attachment points is slightly more difficult, however, you won't have too much trouble once you get the hang of how they work. Once attached, the pack stays secure and balanced in place. Reggie likes to roll vigorously in the snow and the pack has stayed secured without issue.
The bags themselves are very large and have the versatility to be used for day hikes, multi-day excursions and to serve as Reggie's overnight/trip bag for our frequent road trips.  The bags feature both a large and small pocket on each side with ample room for just about anything Reggie would need for a long trip. The larger pocket is equipped with convenient built-in elastic to secure items upright and prevent objects from shifting during hiking. Both pockets have large zip openings and are easily accessed. The saddlebag portion of the product is also quite water resistant. We were caught in a very wet, heavy fall snowstorm and all the contents inside the pack remained completely dry. The saddlebags are made of a very lightweight material and how well the fabric repelled water was a pleasant surprise.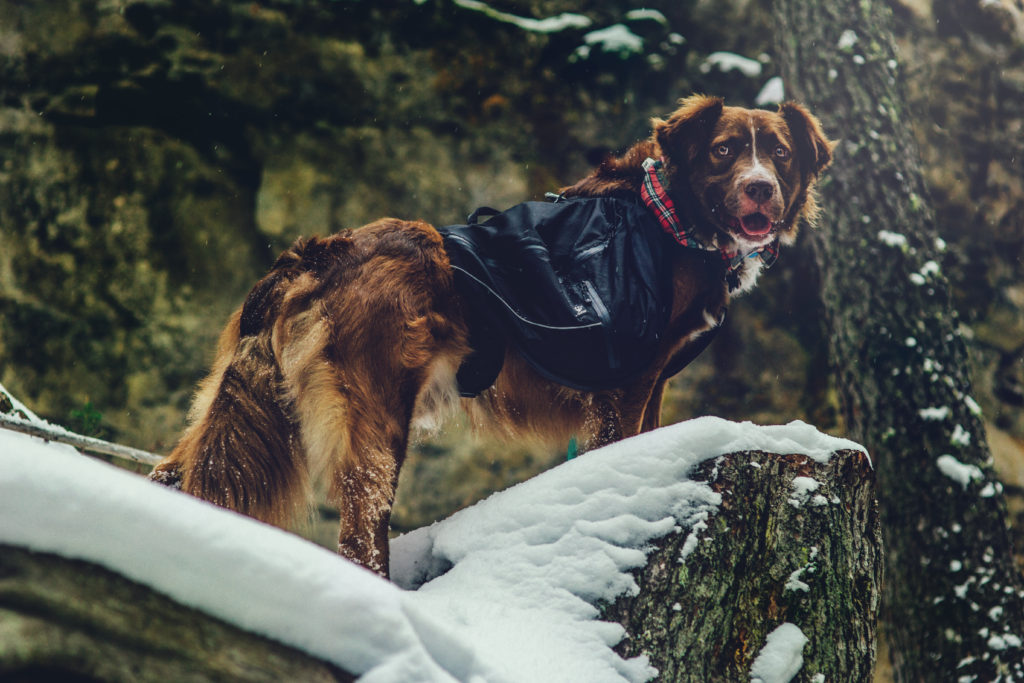 Although we are in love with the product overall, we have noticed a couple minor issues that could use some finessing on the part of the manufacturer. The black paint on the metal leash clips has worn off already. The pack itself is also tricky to snap on in snowy conditions. I would caution you in taking the bags off the harness in the snow. Once snow or ice is caught in the attachment points, it is very difficult to clean them out and re-attach the saddlebags. I also would like to see some straps that allow you to cinch the load a little closer to your dog for longer trips. As it is, and as it is with most larger/expedition packs, the low part of the bags do tend to flap against the dog's sides when it's very full and I feel it would be more comfortable for the dog to carry the weight closer to their body.
Although we haven't tested the pack in warm weather yet, it does hold quite a bit of heat due to its large size and may not be the best choice for very hot summer days especially if you have a double-coated dog.  It is worth noting for those of you who are more fashion conscious that the pack is only available in black and so if you are looking for a splashy or exciting colour, this is not the product for you.
Overall, this is the most useful product we have had the opportunity to test and exceeded our expectations all-around. Hurtta truly puts a great deal of thought into their designs and are at the forefront of high-performance dog gear. This is an excellent choice in packs for the serious adventure dog.
This pack is ideal for: day trips, multi-day excursions, frequent overnight travel, dogs with difficult to fit proportions, hiking, wet conditions
This pack is not ideal for: extreme snow/ice, possibly dogs with very thick coats, those who prefer a rigid harness, very hot days, those who would prefer colour options, affordability, day-trip use only.
Review by: Dogs That Hike Trail Tester @reggieandthecats
Product from: @hurttanorthamerica / hurttaamerica.com