Wild Hound Outfitters Colours of the Earth Dog Bowl
As bowls go, durability is a top priority for anyone with a dog, and depending on your needs, a nice, solid bowl for your home is ideal. The Wild Hound Outfitters Colors of the Earth Bowl speaks for itself. Hand crafted one-by-one in a small pottery shop in Ohio, these bowls boast a beautiful speckled clay, topped with a gorgeous blue/green dripped glaze.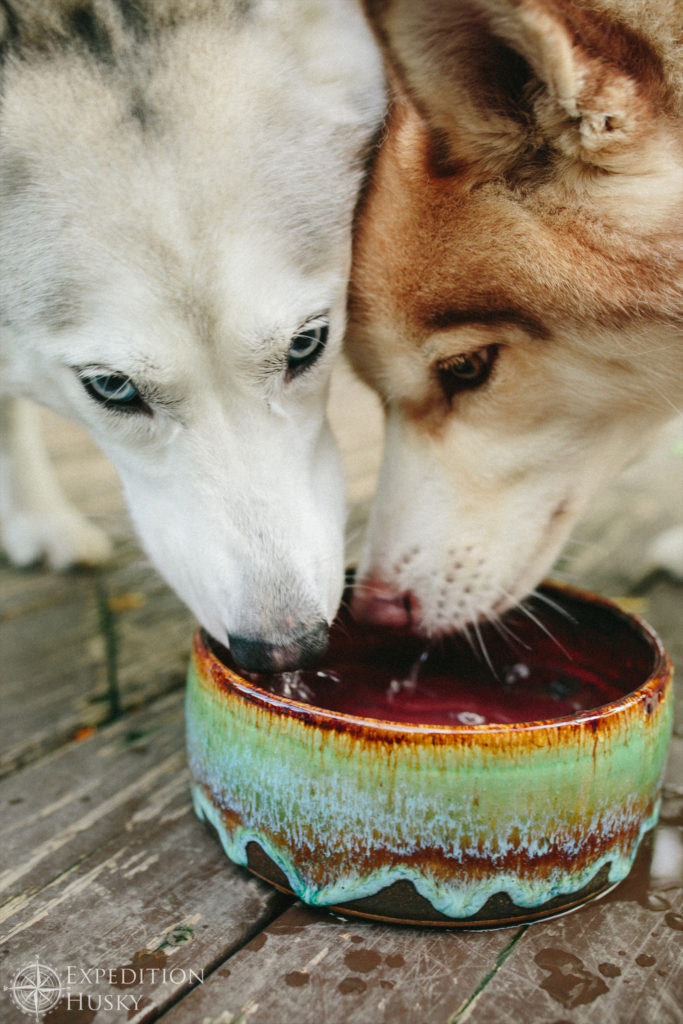 A few great features of this bowl include the fact that it's dishwasher safe, microwave safe, and can be used for any kind of food or liquid without damaging the color or structure. And although not practical for travel, this bowl is seriously a beautiful addition to any home, whether for food, or water… or even if you wanted to use it for yourself! I almost feel bad using it as a dog bowl because of how stunning it is! That being said, it's lasted for close to two months of being used as both a food (kibble and raw) & water bowl for Ellie & Atlas, with zero signs of wear, and guests I've had over have admired how beautiful it is almost immediately.
The bowl comes in two different sizes: 1 quart, and 1.5 quarts. Ours is the 1.5 quart bowl, which is listed at 7" in diameter, by 2 3/8" tall. The 1 quart bowl is a bit smaller at 5 ¾" diameter by 2 ¼" tall. The full diameter measures from outside edge to outside edge, so the internal diameter of the bowl is slightly smaller. Ours measured in at just under 6 ½", so the 1 quart bowl would likely be around 5 ¼" or so. Being that these are hand-made bowls, a slight variation in all aspects is to be expected, but definitely not a deal breaker by any means.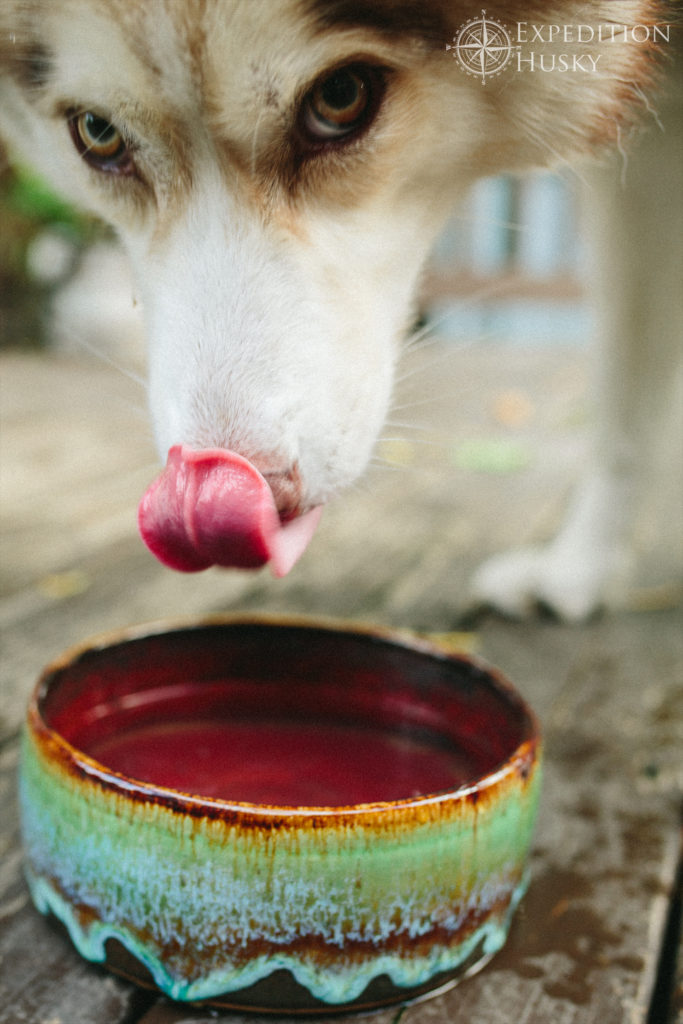 Wild Hound Outfitters also offers another bowl of the same size options & dimensions, as well as similar construction, but a different "pattern". Instead of the vibrant blue/green glaze, it's topped with a white speckled glaze that gives the bowl a beautiful, refined look. It's a much more toned-down neutral design, which is perfect for a home that likes to keep the décor minimalistic.
I hand wash Ellie & Atlas' bowls daily, and they're put through the dishwasher weekly, and in making sure I tested all aspects of the bowl, I made sure to throw it in the microwave several times to see how it was affected. While the washing had no noticeable issues, putting the bowl in the microwave can be tricky. The bowl itself heats up quite a bit, but also manages to evenly heat its contents without needing to mix, which can be both a plus and a minus. The bowl itself will heat up to the same temperature as whatever is in it, so caution while removing it from the microwave is important. I don't typically have anything to microwave for Ellie & Atlas, so it's not an issue for us, but anyone who uses it for purposes other than as a dog bowl for kibble should be cautious.
The larger 1.5 quart bowl that we have is perfect for a dog up to maybe around 50 lbs, but anything bigger might not create as comfortable an eating experience for the pup. Ideally, more sizing options would be great, maybe even a smaller as well as a larger size option, or an option for customization of the bowl to cater to dogs of all sizes.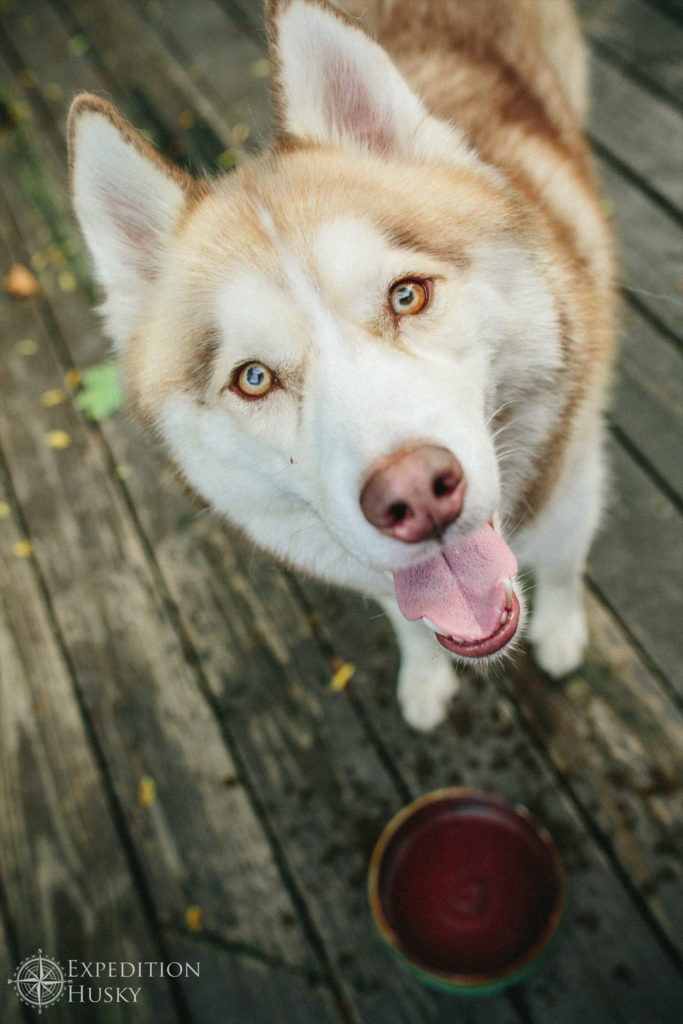 One last detail is that the fact that these bowls are constructed of clay. If using the bowl for a young dog, one who is super playful with their bowl, or one that likes to jump up while you're preparing their food & knock the bowl off the counter, there is always a risk of it breaking, which can leave some sharp pieces. This bowl is more suited for dogs who won't chew at or play with their bowl.
When relaxing from fun adventures, you want to make sure your home is your safe place; a place where you can sit back and enjoy the beauty of the indoors, even for just a few minutes. Having the Wild Hound Outfitters Colors of the Earth bowl in our home has really added an extra decorative element, while still retaining its full functionality. Overall, this bowl has been a beautiful addition to our daily routine, and I would most certainly recommend adding either this or the White & Clay bowl to yours as well.
This bowl is best for: anyone who is tired of plain old ugly bowls, microwave safe bowl, dishwasher safe bowls
This bowl may not be ideal for: dogs who like to play with their bowls, very small dogs
Review by: Dogs That Hike Trail Tester @expeditionhusky