Having an adventure dog comes with plenty of dirt, sand, and mud. Keeping your vehicle clean can be quite difficult when your four-legged companion tend to bring nature's elements along for the ride. Farley was given the opportunity to test the Bench Seat Cover Heather Pattern in charcoal grey by Kurgo. We tested it out in an SUV as well as a midsized sedan daily for several months. We used the regular width, although it is also available in an extended version for wider seats.
Car seat covers typically come in one of two styles – the bench seat cover or the hammock cover.  The bench cover offers coverage while still allowing passengers to sit in the back seat without any adjustments, while the hammock style covers has additional protection for the floor and can act as a barrier to keep your dog from roaming.  We choice the bench style of protector and does allow more dirt to fall onto the floor of the car, keeping the floor clean wasn't one of the reasons we were looking for a car seat cover.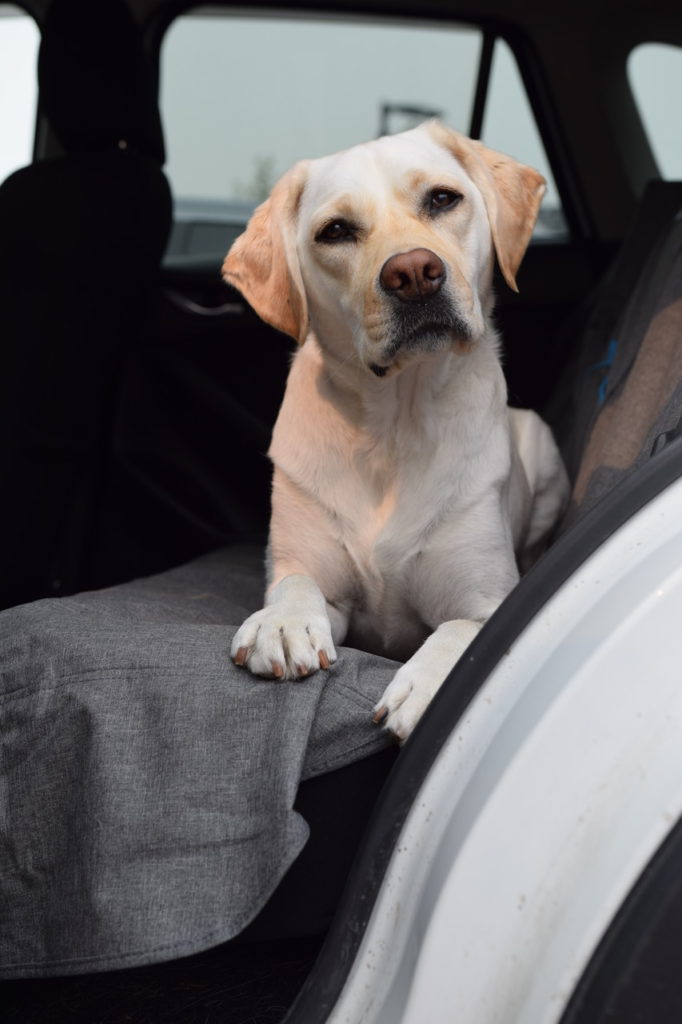 Upon opening, it was immediately evident that the cover is made from a thick and durable material that is lined with a waterproof backing. There are three adjustable nylon straps that buckle around the headrests and one thicker strap that attaches behind the seat, allowing for a snug fit and very minimal movement. It also includes plastic tubes that are inserted in between the seat buckles to hold the cover securely in the crease of the seat. There are two medium sized storage pockets with Velcro closures, both being big enough to store a small bag of treats or other small gear. The edging is long enough and designed to wrap slightly below the seat with a small elastic, ensuring the most coverage possible in order to protect your vehicle from your companion. The set up and attachment points allow for quick installation and removal, making it easy to shake the dirt off of the cover between washes.
One of our main priorities while traveling with Farley in the car is to keep her safe. Unfortunately this eliminates many seat cover options due to not being able to access the seat buckles to use a safety harness. Kurgo's cover offers built in Velcro openings that allow users to access the buckles or leave the pocket sealed to prevent dirt from falling under the fabric and onto the seat. It is important to note that most vehicles will not be able to use the middle seat belt while using a cover due to covering the strap. Another bonus is that child car seats can be placed securely over the cover, as you will still have access to seat latches. Kurgo advertises their product as not interfering with most side airbags, although does recommend confirming with your vehicle's manufacturer.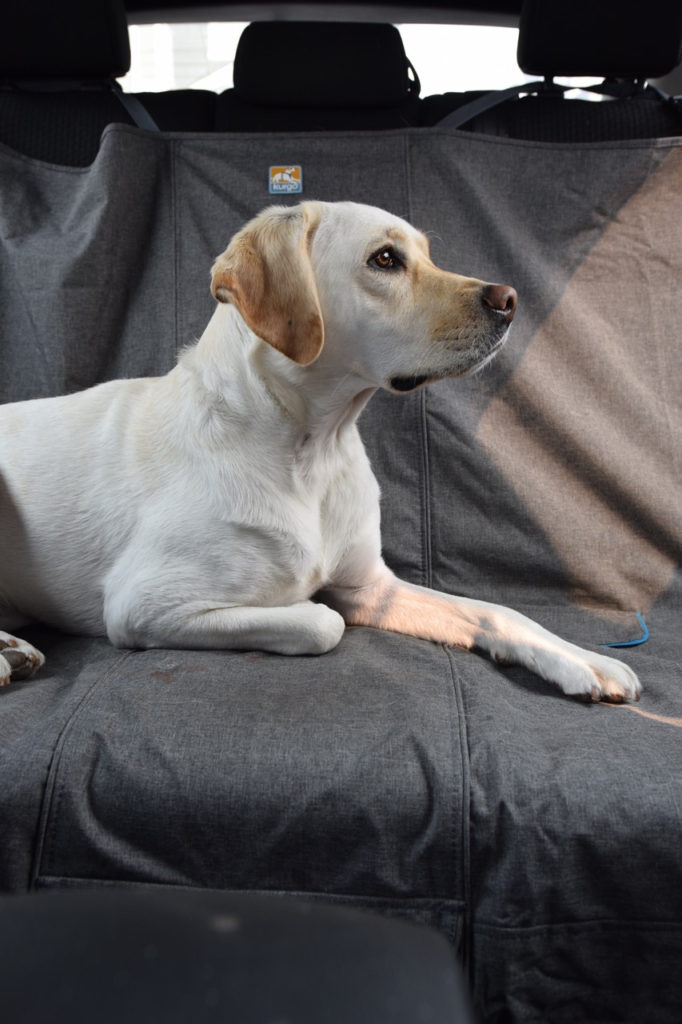 The seat cover has held up great despite being covered with water, dirt, blood, and plenty of mud daily. We have had multiple dogs in the car while testing the bench cover and have not noticed any wear or damage. It is very easy to remove and shake off the excess fur or elements, or to roll up and throw in the washer. We have not had any issues with frequent washing, although do know someone who had a Velcro seam come apart after several washes. We haven't had any issues with removing stains and were quite surprised when bloodstains from Farley's torn paw pad washed out with regular detergent. Although we were told the cover is stain resistant, we were impressed that it performed so well with everything we put it through. Despite having a smelly dog in the car, having a freshly washed seat cover tends to hold a fresh sent for an extended period of time.
Kurgo's bench seat cover has been a necessity in our lives. It is very durable for the price point and offers good coverage while still allowing access to the seat buckles. We enjoy the bench style as it also allows passengers to sit in the back seat without any modification and allows for easy storage behind the front seats. It can be folded down small enough for travel and is perfect to use in rental vehicles.
The Bench Seat Cover would work best for: those wanting to protect their vehicle from harsh elements, those needing access to side seat buckles, wet dogs
The Bench Seat Cover may not be ideal for: those who need access to the middle seat belt, those who would benefit more from a hammock style cover (additional floor protection and a fabric barrier to prevent dogs from roaming in the car)
Review by: Dogs That Hike Explorer @farley_the_labrador