Ultra Paws Cool Dog Boots
It's summertime and that means temperatures are hot!  We all know how important it is to keep our pups cool during these hot months, making sure we've got plenty of water and watching for any signs of overheating. Another important step in that regimen is keeping their paws safe from hot surfaces. On hot days, urban walks can be extremely hard on your dog's paws, even causing burns and blisters in extreme heat. Hot sidewalks, asphalt and concrete, however, are not the only culprits! Rocky paths, sandy beaches, and many other trail conditions can be uncomfortable and sometimes dangerous on your dog's paws in hot conditions. Dog boots are a good solution for keeping your pups paws nice and safe, and
Breezy
was lucky to test the
Ultra Paws Cool Dog Boots
this summer! We tested these boots on neighborhood walks and runs, as well as on the trails. Temperatures ranged from 80°-95° F.
These boots are specifically designed to be worn as protection from the heat. The predominant cooling effect of any boot would be to act as a barrier between the paw and the hot surface, and these are no different. The dog's paw sits on a nylon material over a flexible sole made of recycled rubber. This rubber is soft and while it's held up to the testing we've done so far, I don't think it's intended to hold up to miles and miles of rough trail.  Ultra Paws does recommend using Shoe Goo to extend the life of the boots. The soles of the boots also have reflective foil and foam to reflect the heat away from the paws. The top of the boot is a light grey breathable mesh. It's soft and very flexible to conform to the dog's paw. This mesh, albeit only on the top, still provides excellent breath ability and should also reflect some heat away from the paw.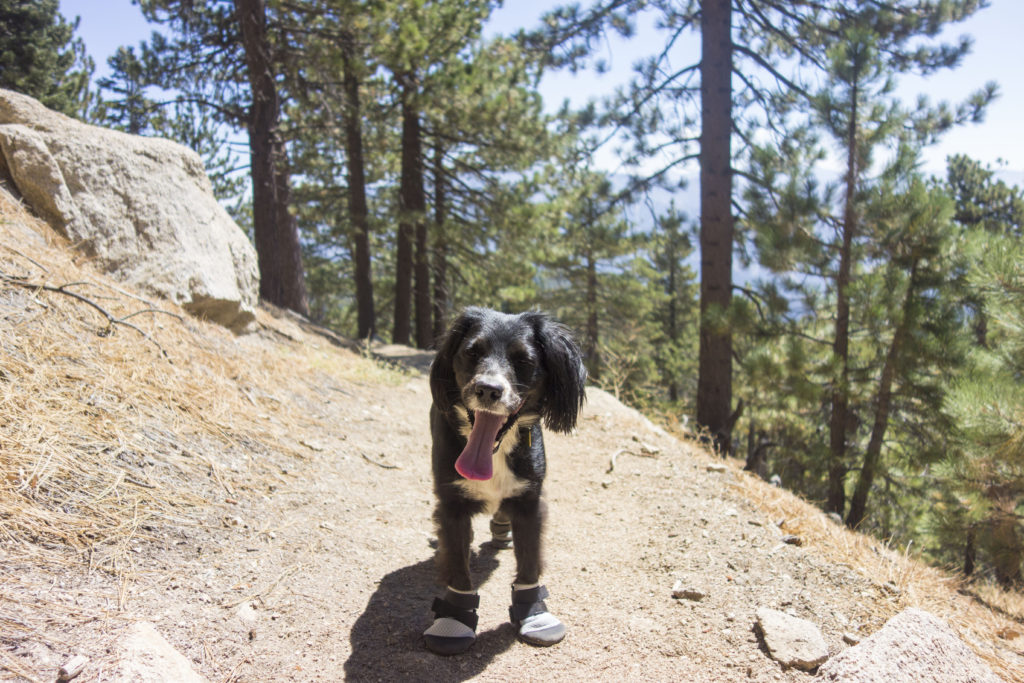 A unique feature of these boots is a pair of thick foam cushions on the front and back of the upper section of boot. On the size Small, the front foam is just under 1/4" thick and the back foam nearly 3/8" thick. This foam is meant to create a secure grip and cushioning on the dog's ankle, preventing discomfort from overtightening and preventing the boots from twisting or slipping off. While a nice feature, we found the foam to be quite cumbersome and made getting the boots on a real challenge. The boot is secured by two high quality Velcro straps that tighten in opposite directions. I like this feature a lot, very well designed for maximum grip. The straps are easy to operate and do a great job securing the boot.
The boots come in 6 sizes, Petite to XL, and we tested size Small (2.25" / 5.7 cm). Breezy's paws measure closer to 2″ so her options were 1.25″ or 2.25″.  Because she has very fluffy feet, if there's not an exact size match I will always pick the larger size. With these, I'm extremely glad I did! The neck of the boot doesn't open as wide as other boots we've tried and the foam cushions make it a very tight squeeze. In fact, we ended up having to remove the top foam cushion on two of the boots to fit on Breezy's front paws because of her dewclaws. If your dog doesn't have dewclaws, this may not be as big of a problem, but keep in mind these boots will be a tight squeeze to get past the paw pads. These boots are wide however, so once the paw gets all the way in, its got plenty of space to breathe.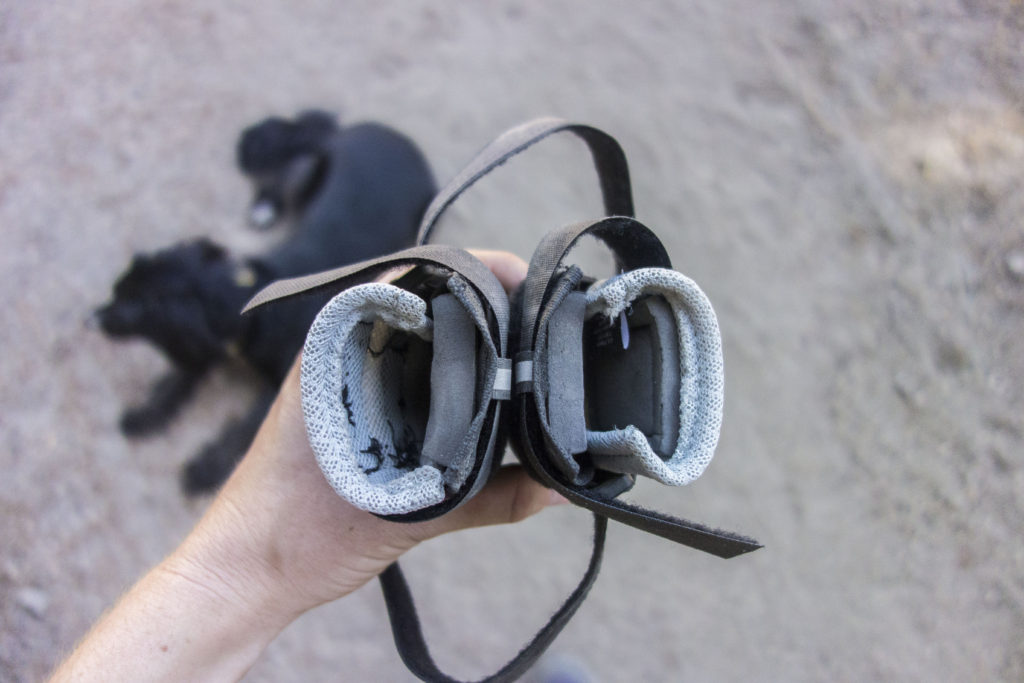 On our first few neighborhood walks, I was happy to see these boots did not affect Breezy's gait very much. The flexible sole allows ample freedom of movement and the mesh even more so. However, in more unstructured movement such as hiking off leash, Breezy seemed much more clumsy with them. Walking and running she seemed ok, but her quick trot, which is her go to on the trail, was relatively clumsy. Trotting as well as turning or stopping rapidly caused her some paw goofiness even after wearing the boots a couple miles. My best guess is that these boots are quite a bit wider than other boots she's worn and she had trouble adjusting to the size of them during sporadic motion. I wasn't sure if the soft rubber sole would offer much traction but I have been pleasantly surprised so far. We have not, however, yet had an opportunity to test them on slippery surfaces, but on loose dirt and rocky trails she didn't seem to have any trouble with slipping.
As for the cooling effect, these are incredibly helpful for neighborhood walks where the sidewalks really heat up. Especially if you have a dog like Breezy who, in nearly all scenarios, prefers the sidewalk to the grass. For trail use, I would prefer a boot that is more durable and a bit easier to get on and off. For most hikers, the trail won't be too hot for your pups paws entire way. If it is, cooling boots won't be the only thing you'll need out there!  While the boots boast reflective properties to reflect heat away, we weren't able to note and discernible difference from other boots with a similar sole thickness that we've used on hot surfaces. For most hikers, you'll want to be able to put the boots on when surfaces get too hot, and easily remove them when you don't need them. The design of the neck on these boots mean that taking them on and off can sometimes be a bit of a struggle. I would love if these boots could open up the neck a bit more so getting them on and off of fluffy paws wouldn't be such an issue. That way if your trail suddenly gets very rocky and exposed, or you have to walk a mile along a hot road to get back to your car, or you've got to cross a ton of hot sand to get to the ocean, you can pop these on easily and efficiently.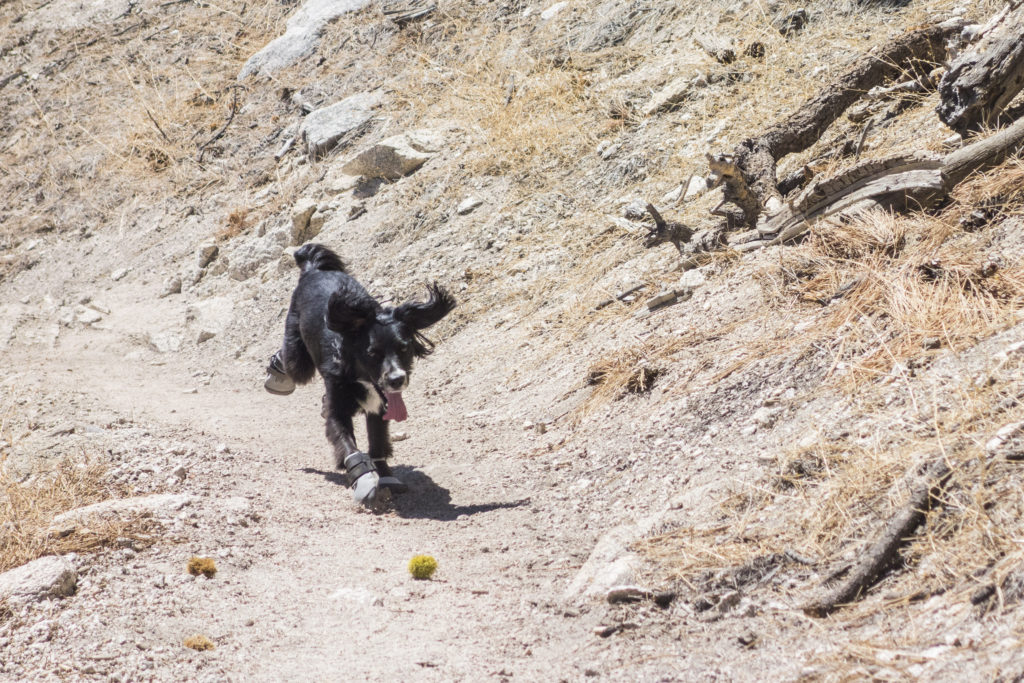 Overall, these boots are an affordable and aesthetically pleasing option for protecting your pup's paws this summer. The Ultra Paws Cool Dog Boots are very flexible and definitely the most breathable brand we've tried. That combination should provide a lot of comfort without the stuffiness of a more rugged boot. Versatile both on urban explorations and trail romps, its a great boot to keep your dog's paws safe in the heat for many happy miles. One thing that we would really like to see is better sizing options – there are a lot of dogs whose paws fall in between 1.25″ and 2.25″ and neither of those sizes would work for them.
The Cool Dog Boots would be best for: dogs who unavoidably walk or run on hot sidewalks regularly, dogs needing relief on hikes as temperatures rise and ground temperatures heat up, beach going pups who must walk a ways along the sand before reaching the water
The Cool Dog Boots may not be ideal for: dogs who need long lasting and durable relief on hikes, dogs with dewclaws that might make fitting the boot a challenge
Breezy's measurements: Paw width 2" / Paw length 2.75"
Ultra Paws Cool Dog Boot size: Small (2.25″)