Although Robin's a 90% off leash dog, we recognize the importance of a good leash and have a small collection, including one other multifunctional leash, the Ruffwear Roamer waist leash. I was excited to give the "Award Winning" Kurgo Quantum leash a try because it touts 6 configurations and uses a nylon ladder adjustment method that I haven't seen before.
The Quantum is on the thick side because it's made with two layers of nylon webbing, tacked together about every 3″ (it varies) to create a nylon ladder; to fix the leash around your waist/shoulder/an object, you clip into the ladder with the included carabiner. The stitching is thorough and unlikely to break; if it did give way, the next ladder would catch the carabiner. It's 7′ from end to end and the webbing is the weighty, slick type that is easily snagged by Velcro, so be careful when adjusting the hook-and-loop padded handle. I prefer rope leashes or poly webbing for durability, but nylon does have a sleek look. On the dog end, the cut end is finished and folded under; the human end is simply cut and burned so it may be more subject to wear.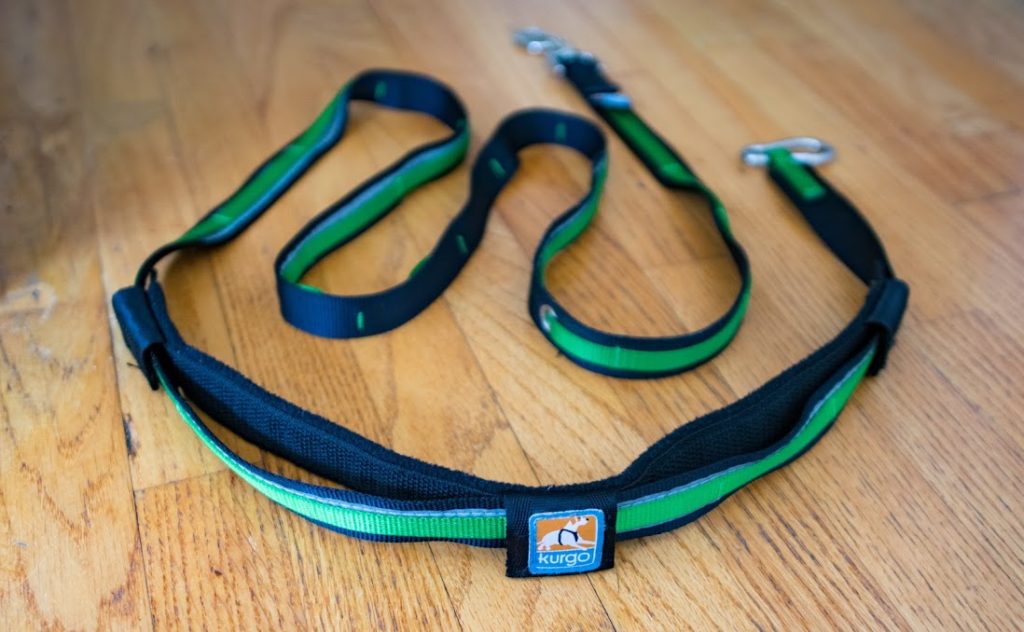 Our model is one of the reflective ones, so it features a layer of reflective fabric sandwiched between the two nylon layers. Oddly, the first 16″ on the dog end of the leash has no reflectors; the rest does. The reflectors are stitched on but the edges are raw, so they have started to fray in some places.  The carabiner has a sharp edge at the nose, which snags on the webbing every time the leash is adjusted. This can be avoided with careful removal/insertion, but with normal use there are some snags forming on the green webbing. The bolt snap on the dog end is on the heavy side, meant for a large dog, and its action is a little sticky; at this price point I'd like to see a lighter and better designed clip (like Ruffwear's Talon clips).
Fortunately, the sliding padded handle is removable; before I took it off, I was liking this leash a whole lot less. The handle is a 20″ strip of webbing with a fleece lining and a snap on each end; it attaches to the leash with three hook-and-loop bands. It's floppy and bulky, so it's always folding up on itself, it's uncomfortable under a pack, it slides around when you're trying to hold the leash, and it's fussy to adjust.
For a dog of Robin's size (18lb), the hardware is a bit heavy, even compared to our medium/big dog leashes. He's easygoing so it's not a problem when clipped to his harness, but I wouldn't use it on his collar. Kurgo could consider offering a smaller size.
On my end, the Quantum is too short to function in the cross-body configuration (I'm tall and Robin's short) but it fits well as a waist leash. Because of the ladder spacing it has to go on my actual waist (I prefer to wear leashes around my hips below my pack's hip belt), but we made it work. It's nice and long, which lets him range a bit farther, but the extra length can get tangled up under his front legs, which isn't a problem with our shorter Ruffwear leash. The nice thing about the ladder design is that you can take up the slack by just clipping an additional loop through the carabiner – I do this to manage the big loop of extra leash when it's not attached to him.  One fun thing we tried was having Robin pull me a bit. He's too small to do real canicross, but having a longer waist leash was fun for a bit of experimentation going up hills.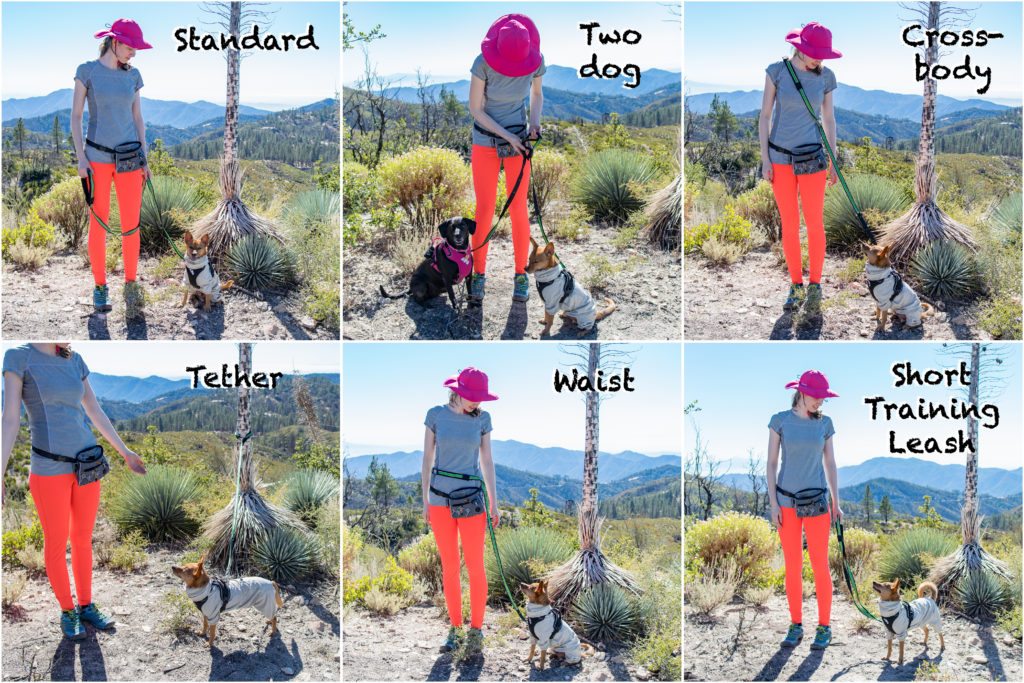 Here's what we thought of Kurgo's configurations:
Standard 6′ leash: Works fine once the slippery handle is removed – I kept feeling like I was losing my grip on the leash when it moved around.

Two-dog: We clipped one end to Robin and one to Xena and snapped the sliding handle together in the middle. Immediately, Xena headed straight for her mama and unsnapped the handle. Even without the handle slipping around, grabbing the leash in the middle sounds like a recipe for rope burns. I can't think of a way to create a real handle in the middle without a knot or an additional carabiner, so it's a two dog leash only in that there's a clip on each end.

Cross-body: For us, the leash was way too short because Robin's short and I'm tall. I could see how this would work for other pairs though, and it's a different idea.

Tether: No problems here, used it once for the picture and once to tether Robin up outside a visitor's center.

Waist: The ladder attachments may make it harder to get the exact hip size you want (it did for me), but the unexpected side benefit of the system is that you can loop the leash up and clip it to shorten it. We used the waist configuration for a couple of city walks and liked it better there than on the trail – for the city, I liked having a non-stretch leash and the length was just right. For the trail, I prefer a waist leash with a bit of stretch.

Short training leash: Yes, you can double the leash and clip the carabiner to the dog or the lowest ladder. Doesn't seem very useful to me, but it works.

Bonus configuration: The carabiner can be clipped around a backpack strap, belt, etc to create a long line. I did this a couple times in a hurry when I'd unclipped the lead and didn't have time to put it back on.
I'm torn on the ladder method – it's fussy because of the snaggy carabiner; there's no way to tell which ladder is "mine" so it takes an extra moment to figure out how tight to clip it; it's bulky; it's not finely adjustable. But it's also unexpectedly flexible because you can clip up extra slack, and with a better carabiner it would be faster to unclip than Ruffwear's Crag Clip. For us, since we're not huge leash users, I'm probably going to stick with our shorter, simpler Ruffwear leash, but I can definitely see the application for this. A glance at their website shows that our version is slightly older and includes a standard-shaped carabiner, while the current version features a bottle opener carabiner. The new carabiner looks like it might be better machined and therefore have less of a snagging problem.
The Kurgo 6-in-1 Quantum Leash is a bit overbuilt, but super functional. I recommend it to regular waist leash users, since you can adjust the length by clipping up the slack, as well as anyone who thinks they'd really make use of multiple configurations, as it's a bit faster to adjust than the sliding buckle type leashes. If the redesigned carabiner on the new leashes is less snaggy, that would definitely help; if not I recommend replacing it with a sturdy accessory carabiner (and ditch that handle!)
This leash is best for: Flexibility, waist leash, multiple configurations, larger dogs
This leash is not ideal for: Off leash dogs (bulky to carry if you're not going to use it), small dogs
Review by: Dogs That Hike Trail Tester @robinventures / https://robinventures.wordpress.com/