Alcott Explorer Adventure Backpack
Over many generations many breeds of dogs have been bred to help out their humans companions with various tasks. Some are pointers, some retrievers, some are great at scent detection, some are great rescuers, and some are perfect sheep herders. What do all of these dogs have in common? A love to please their owners by doing their job. Many dogs love to be challenged both mentally and physically. Some dogs thrive when given work to do, and this is where dog backpacks help to zap some life into your exercise routine. When given an opportunity to carry some weight, dogs are often more focused and display better behavior. You've probably seen many pictures of hiking dogs on Instagram with large expedition packs with detachable bags and a slew of other complex features. Perhaps you are not one of those people who take their Fido hiking up a mountain or maybe you're not the roughing it type. There are plenty of people in the world who generally stick to walking around the neighborhood with their pooch with the occasional trip to the local dog park. Never fear, there are many backpacks on the market that are suited to the less rugged version of doggy exercise without having to shell out big bucks for the expedition packs.
Recently Dogs That Hike has given me the opportunity to put one of these everyday backpacks to the test. I had the pleasure to test out the Alcott Explorer Adventure Backpack out around out neighborhood and to hit the trails local dog parks in my city for the period of about 2 months. I really wanted to put this backpack to the test and test it we did! Atlas wore this pack out during our solo missions around the park and together with friends. This pack took some serious abuse when it was thrown into sudden wrestling matches, dunked underwater in the pond, scrapped across branches while off-roading in the woods, and frozen in the (way too early) October blizzard we had this month. This pack was put through the ringer, and has held up well to the elements. We tested this medium (Medium: 10″ length, 17″ – 21″ chest, 22″ – 30″ waist ) sized pack with both zero weight and loaded with two full plastic water bottles to push it to the limit on our journeys. This pack is also available in a small (Small: 8″ length, 12″ – 16″ chest, 14″ – 20″ waist) and large (Large: 12″ length, 21″ – 26″ chest, 30″ – 36″ waist) size.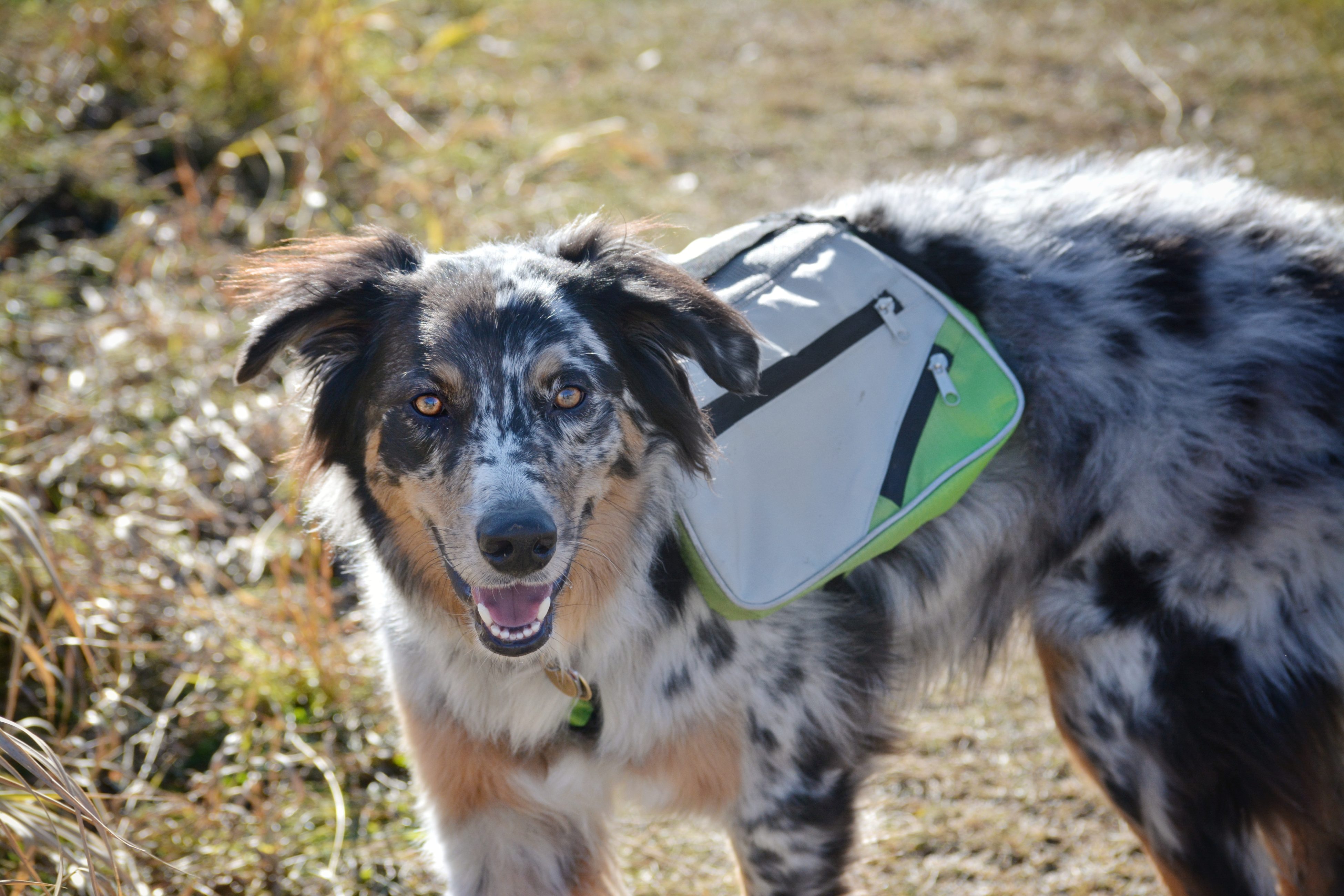 When considering dog backpacks it is important to remember that they fall under different categories. What may work for some activities may be poorly designed for others. There are "expedition backpacks" that are built to last over countless intense journeys and there are "day packs" that are met for casual use. Alcott describes this product as gear that is suitable for an adventure of a lifetime. I'm not sure if that accurately describes the functionality of this pack but perhaps that's subjective on your definition of adventuring. To me personally it seems like a perfectly appropriate day pack for your everyday simple outing around town. Either way, the Alcott Explorer Adventure Backpack has some really great features that are actually really well thought out. The seams of this pack have a really nice reflective quality that really surprised me one day when walking the trails at dusk. This is a really nice feature to stay visible especially around traffic in darker areas. Another feature that I really enjoyed is the poop bag dispenser hole that is incorporated into one of the packs smaller pockets. Such a neat idea! Just stick a roll of bags in there and you are able to pull one out fairly easily. This function works well if you are walking on leash. When off leash it may be a bit tricky to grab a bag out of the backpack if you dog is not particularly great at holding still. Like most dog backpacks this bag features 2 large pockets (one of which is insulated) and two smaller pockets (one of which has the poop bag access hole) The Insulated pocket is something that I have not come across on any other pack. When I first saw it I thought it would be good for storing food for a little picnic, but these dreams were shot down when I realized Atlas would have totally try to eat any food I would ever want to put in there. Perhaps if your dog is less food crazy than mine, you would have luck in this scenario. (If so please send us your photos of your doggy picnic!)  Many other backpacks that are available on the market have a d-ring which allows you to use the backpack as a harness. The Alcott Explorer Adventure Backpack does not have this feature. You cannot use this backpack as a harness as there is no clip.
When I first pulled the Alcott Explorer Adventure Backpack out of my Trail Tester box that was sent to me by Dogs That Hike I was confused about what was looking at. The backpack is quite stiff and has a shape that is quite unlike any other backpack I've seen. The bag has very little give and is quite structured. Due to the boxy feel of this pack, Atlas was definitely slowed down when maneuvering through tightly positioned trees. There is a mesh part on the top of the pack that is supposed to be a breathable material, but my first impressing of this was that it feels cheap. I was not really able to determine if this part really does breathe better than other materials but it did let quite a bit of water in when Atlas went for a splash in the pond so I assume that it does let in some airflow. The pack has a handle on the top that seems to have held up ok. I often find myself reaching down to hang on to Atlas by the handle when joggers or mountain bikers are in the area. The snaps on the product are made of plastic and seem to be of ok quality they are a bit small and thin. None of the snaps have broken so far on our trips out with the bag. I think there are some areas of the pack that would have benefited from some additional sewing or stronger materials. In my opinion, I don't think this bag would be suitable for people who take their dogs on any long term moderate hiking and camping. I don't think this bag would be a long lasting piece of equipment on any multi day expeditions, but I think it is more than suitable for people who are just getting into backpack training or are looking for a tool to keep their dog a bit more focused on walk around the neighborhood.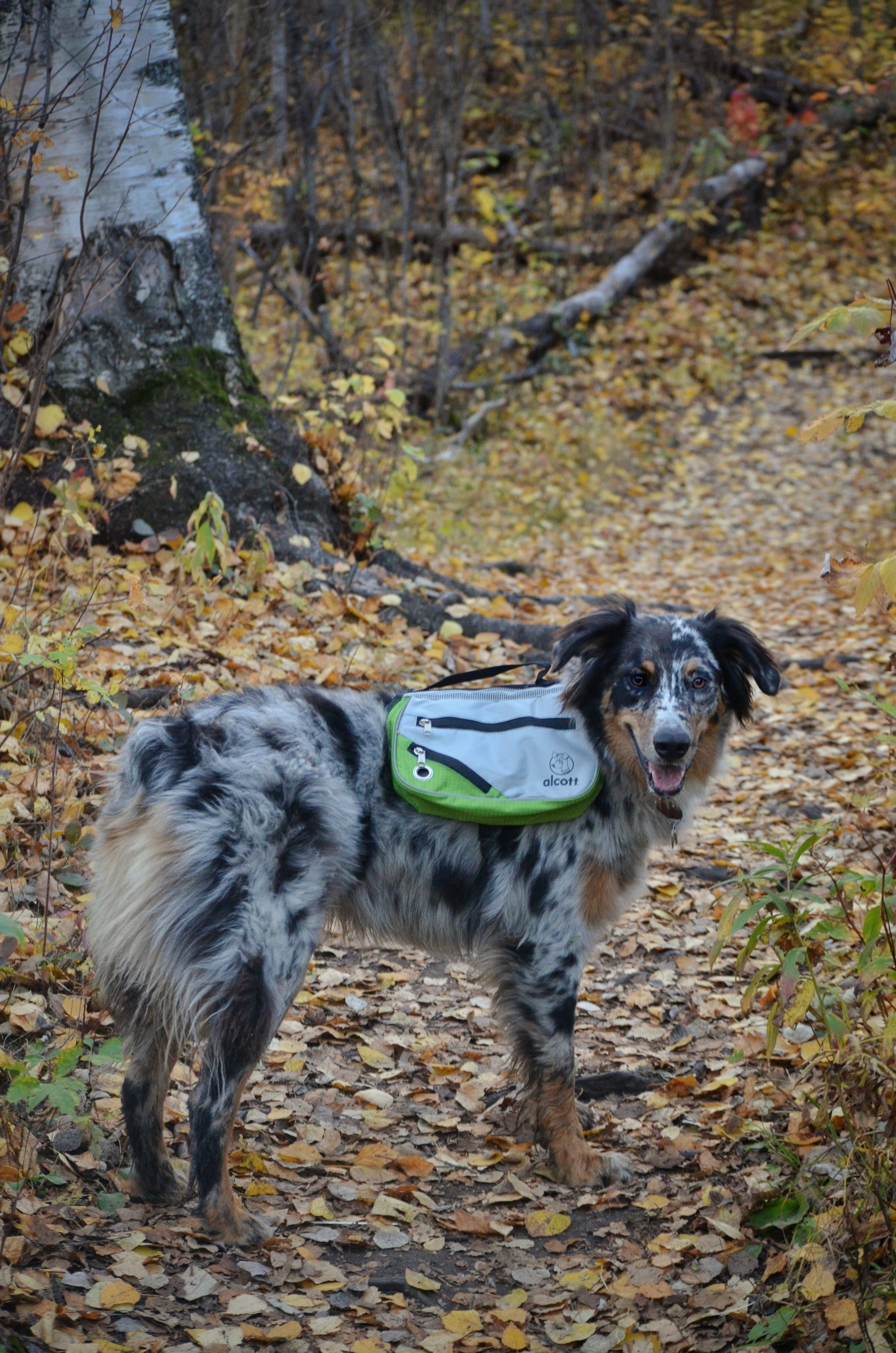 The Alcott Explorer Adventure Backpack has some great features but unfortunately it loses some points in the fashion department. Although the pack is a nice bright green and silver colour with high visibility, the boxeyness of it definitely gives it a less than attractive look. The neck strap was really nicely designed with two clasps that you can disconnect in order to get it around, rather than slipping the entire backpack over his head. I really like this feature and it is great for dog that are shy with things going near or over their head. Although the straps appeared to be properly tightened, this pack only has one belly strap which causes the pack to slide around while walking and it causes the pack to slip up towards Atlas's head when he bends over to sniff at something. I could see this problem causing chaffing and rubbing when out on extended hikes.
With dog backpacks you seem to really get what you pay for. This backpack preformed very well for the two months I've tested it for, and for its price level and I would pick it above other inexpensive packs that are available in the day pack category. There are some really great features with this pack that I have not seen in even the most expensive packs and I think Alcott is really on to something with this product. I'd like to see some improvements in style and fit in the future, but this pack has proven to be great for backpack beginners and I would certainly recommend it for someone who is just starting out with casual backpack training. Remember not to overload your dogs backpack and ensure the straps fit correctly.
Overall the Alcott Explorer Adventure Backpack would be perfectly suitable for the dog owner who likes to stick close to home, or a weekend warrior type who journeys on short trips once in a while. This pack has functioned nicely on various trips to the dog park and on trips around the neighborhood. It would work correctly in any climate and for dogs of all energy levels. This backpack preformed above average for a bag in the daypack category.
Although it seemed to hold up nicely with some abuse from wrestling and weather short term, I don't think it would hold up long term to this kind of abuse on long trips or camping. The lack of a second belly strap may cause some friction issues on longer trips as well. If you are looking for a more rugged bag, I'd probably recommend passing this one by and looking for a something in a different category.
Review by: Dogs That Hike Trail Tester @atlastheadventuredog / http://www.atlasdogblog.com/