Active dogs like Ellie and Atlas need healthy paws in all seasons. While dog boots are an awesome concept and work wonderfully for some, sometimes it is easier to use a paw protecting balm instead. Musher's Secret provides a very safe and reliable alternative to traditional boots for most situations. We've been using Musher's Secret for years on the trails, for our running, for mushing, and for general foot care, so I was ecstatic to be given the opportunity to offer up a review on it and share how awesome it is, not only for mushing dogs, but for any active dog!
Musher's Secret is made from a mix of four different natural human-grade waxes (white and yellow beeswax, carnauba wax, and candelilla wax), as well as two food-grade oils (white and vegetable oils), with a touch of vitamin E, making it 100% safe for your dog even if they lick it. It comes in three different sizes: 60g (~2oz), 200g (~7oz), or 1lb at a very reasonable cost for the length of time it takes to go through a jar. The 60g jar runs about $13, the 200g at $20, and the 1lb at $30. Before you run and buy the largest jar to be most cost effective, know that it takes a LONG time to go through even the 200g jar for one dog. That being said, it doesn't go bad, and as long as you keep it in a sealed container, it'll last as long as you need.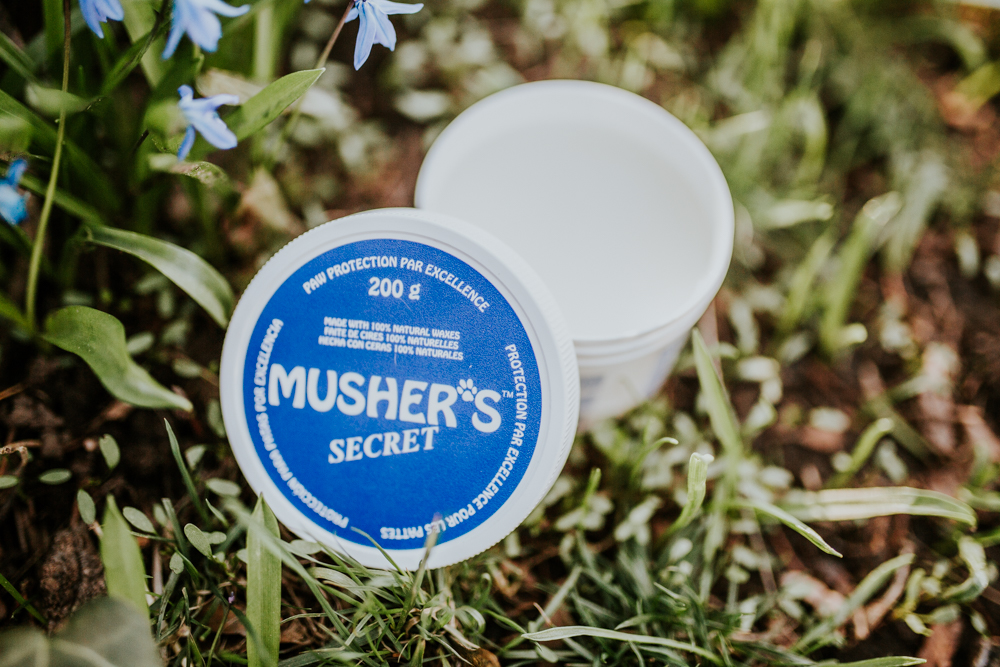 Due to its waxy nature and addition of oils and vitamin E, Musher's Secret allows for both protection as well as soothing of paws. And while it's not labeled for use on the nose, I've heard and seen some pretty incredible results from owners whose dogs who may suffer from hyperkeratosis on their nose. Think of it as putting on moisturizer, and then putting a glove over your hand to keep the moisture in and maximize the softening & soothing effects.
Along with its ability to soothe dry paws, Musher's Secret gives your dog's paws an extra barrier from the elements, both hot and cold. If most of your walks or runs occur on pavement, it's best to use before every walk. In addition, when running or walking during the winter, it helps to create a barrier from salt that would normally cause irritation, as well as prevent the snow from balling up between their toes. If your dog walks or hikes mostly on the trails, with the occasional pavement walk, application only every 2-3 days is necessary. However, the more active your dog is, or the more rough the terrain you exercise on is, more frequent application is recommended.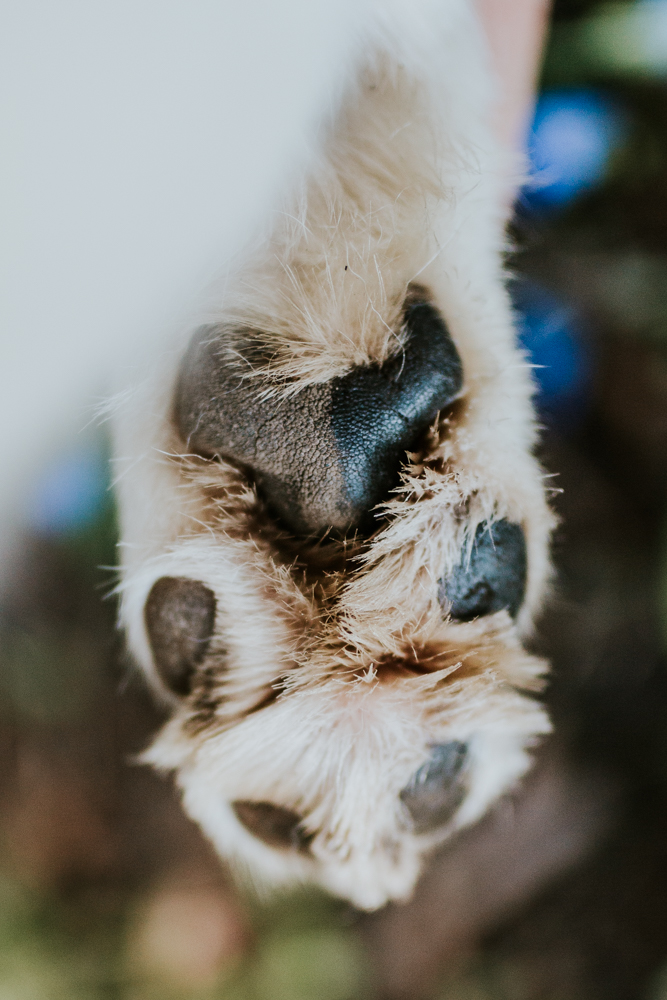 It's incredibly easy to use, and a little goes a LONG way. I use about ¼ tsp for all four paws per 40-50lb dog (2 inch wide paws), and that's to do both the paw pads as well as between the toes. Smaller paws will need far less, and larger paws would obviously need a little bit more. You can apply with bare hands, but because of the wax, it can make your hands feel oily if you don't wash it off afterwards. I have a pair of reusable latex cleaning gloves that I wear when applying. Something as simple as disposable nitrile or latex gloves work just as well. To apply, take a small amount of Musher's Secret, rub together between hands/gloves to create an even layer, and just massage onto each paw pad.
There's only one caution I want to offer up when using Musher's Secret. Because it is a wax & oil-based product, it can leave oil spots on your floors if you use too much at once. In order to prevent that, I always apply it by the front door on an older mat, or in our kitchen where it can be easily cleaned up. If you're using the correct minimal amount, the chance of any issue, even on carpet, is pretty slim so there isn't much need to worry at all. Alternatively, you can carry this product with you in your car and apply it at the trailhead if you're only using it for protection from the elements.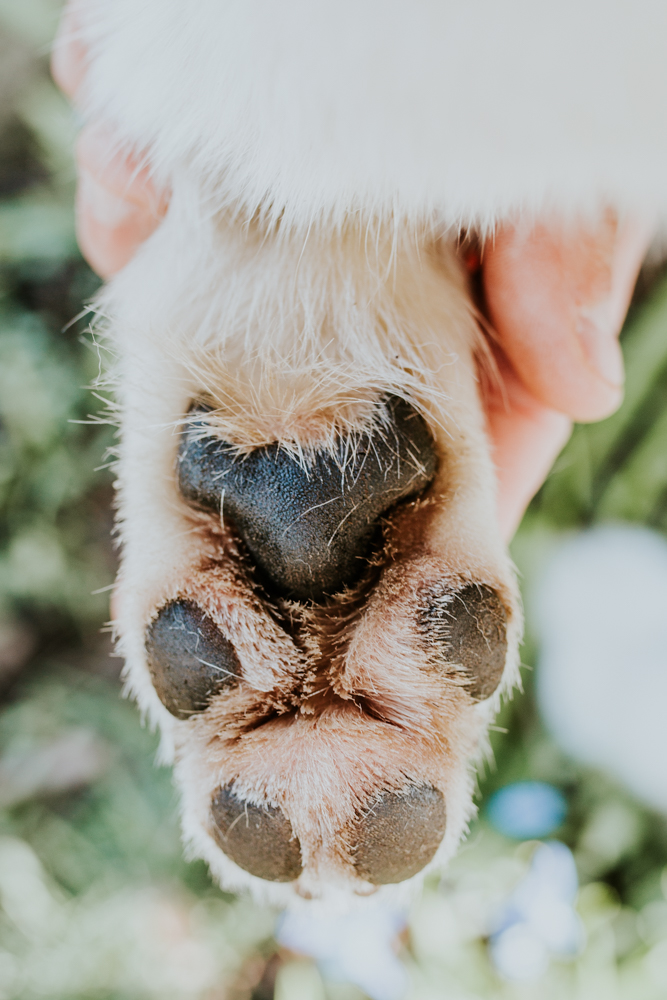 I've been an avid Musher's Secret fan for years, and haven't been able to find a product that matches its benefits. While there are plenty of products on the market that also offer all-natural softening properties, the additional element protection is what draws me to Musher's Secret and makes it a perfect alternative option for dogs who may have difficulty with boots of any age, size, or activity level.
This balm would work best for: active dogs, paw protection on snow, paw protection from heat, dogs who are not able to wear boots
This balm may not work for: dogs with sensitivities to any of the ingredients, dogs with open and/or untreated wounds
Review by: Dogs That Hike Trail Tester @expeditionhusky