The Original Fleece-Lined Muttluks are just like the Original All-Weather Muttluks (suede sole, nylon upper, thicker nylon toe cap, and stretchy leg cuff), but with the addition of a thin fleece liner. The lining makes them stiffer overall than the All Weathers and also harder to cinch tightly around the ankle. However, I do really like the reflective ankle straps, which are the least bulky, easiest to fasten/unfasten, and long enough to wrap and reflect all the way around. They're probably the most effective of all the boots we've tried.
The suede sole is much more durable than it sounds, and while it picks up dirt it's also quieter than a rubber sole and offers better grip on rocks and packed dirt trails. It has good thickness and a good balance of structure and flexibility.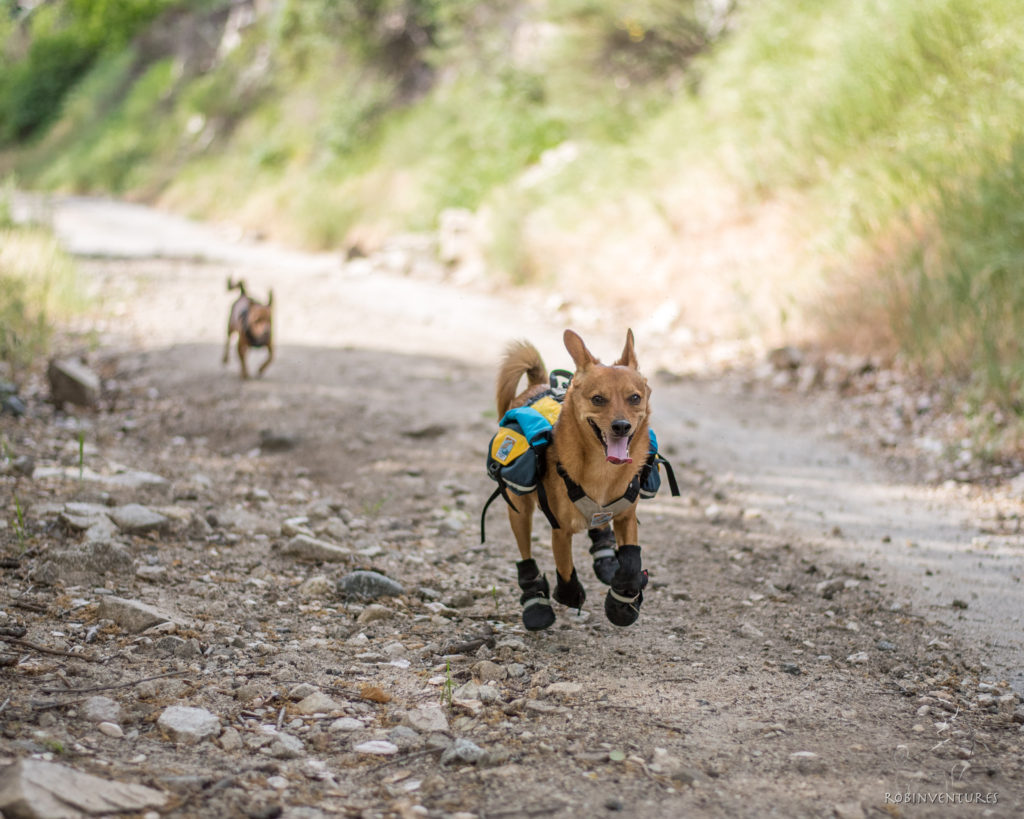 My big gripe with these boots is that they have raw edges on the insides including a substantial seam between the cuff and the fleece lined boot, although they are less rough than the All Weather Mutluks due to the fleece edges.  For the price I'd expected the fleece liner to be sewn in reverse so that no raw seams would face the foot.  Fortunately, aside from a bit of extra difficulty getting Robin's paws past the main seem in to the boot, we didn't have any blisters or chafing from these and other Trail Testers who have used them for years have not had any problems either.
Muttluks sizing is different from all other boots we've tried – they're sized based on paw LENGTH rather than paw WIDTH. I find this a little odd, since Robin's front and back paws differ in width by half an inch and he's worn two sizes in all other boots, but all feet have the same length measurement (2.25″).  The boots sizing ranges from Itty Bitty (1 – 1.5″ paw length) to XXL (4.75 – 5.25″ paw length) and they are only available in a set of 4.  That puts him right on the line between XXS and XS Muttluks. There is a bit of wiggle room with soft boots compared to rubber soled boots, and despite the tall cuffs especially on the back feet, they aren't terribly large for him.  The current colour selection is black, blue, green, orange, purple, pink and red although it can often be difficult to find them in anything but black.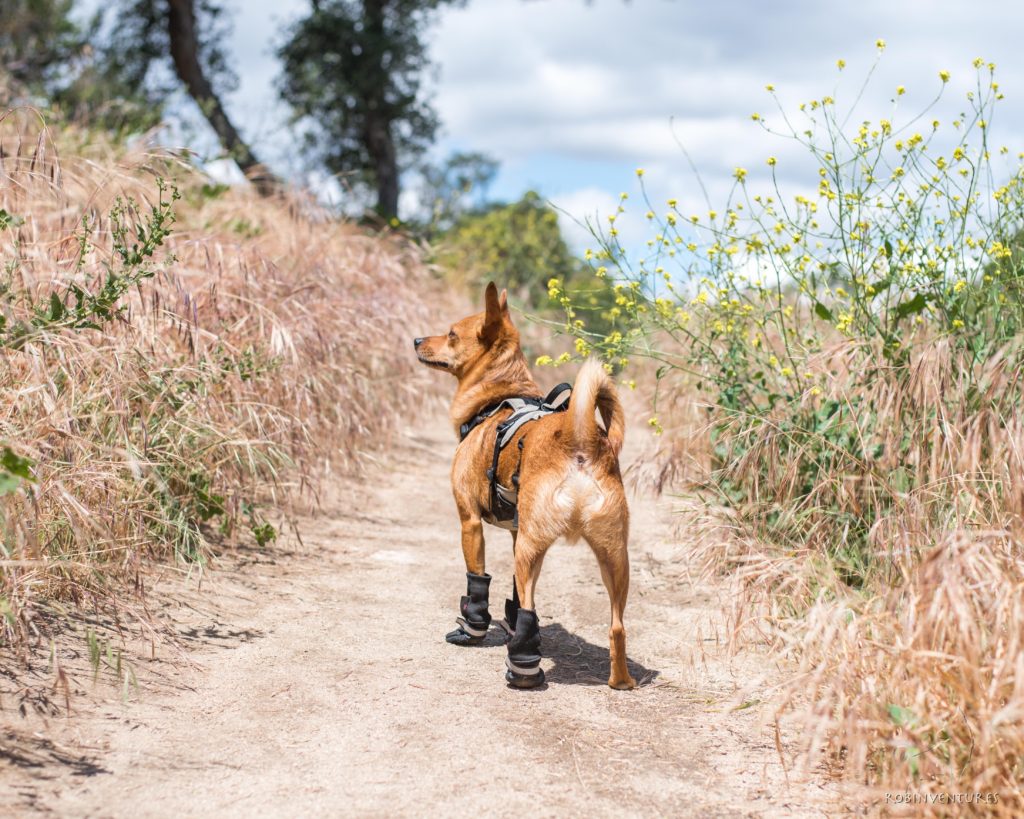 We ended up with the XXS boots and they fit his paws perfectly but the cuffs ended up being a bit large on him.  The slightly oversized back boots, plus the bulkier ankle, led to Robin throwing a boot each time we used them (not a problem in his smaller sized All Weathers), and one is currently missing at time of writing. (they're not available in singles, so I'm hoping he lost it in the house before we left for the hike.) However, he hasn't gotten any blisters during our test period, which is a FIRST – he got blisters with most other boots in shorter distances. This is with no socks, so it's a big success and makes up for some of the other flaws. They're not perfect, but not having to wrangle socks is a big plus.
These boots really aren't appropriate for California spring, so we stuck to using them mostly on rainy/cool mornings for the test period.
Despite their height, the cuffs aren't snug enough to actually keep anything out (dirt, pebbles, FOXTAILS), especially on the back legs where they're stretched open by the hock, so they feel excessive without much advantage. The foxtails actually worked their way into the insides of the cuffs all the way down to the ankle strap. I did try folding them down, but they felt too bulky on Robin's narrow frame. His previous one-size-down Muttluks had shorter cuffs that I greatly preferred (which did better, but not perfectly, at keeping dust out), but were too small in the foot, especially for the front paws. Our fellow Trail Testers who live in winter climates often speak about how popular these boots are for winter weather.  This surprised me given the loose cuff issues I've faced with Robin.  From our test results, they seem like they'd be best for cold feet (a big problem for Robin in winter) and salted streets, but not so much for deep snow.  Other Trail Testers confirmed this is the case – these boots are perfect to protect from winter elements but you will be digging snowballs out of the cuffs if you're venturing in to deep powder.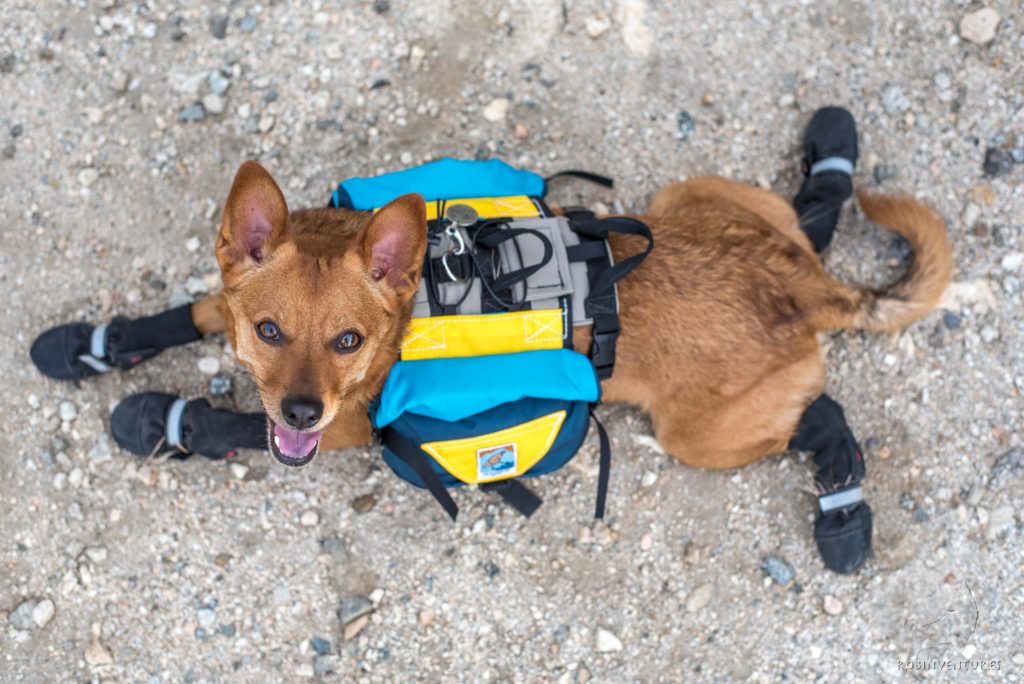 Overall, I love that Robin didn't get any blisters even without socks (a first!!) but they're obviously not so good for dusty trails and dry summer vegetation, so I'm interested to see if they'll do better in snow.
At the moment, these are the only warm boots we've tried, aside from the winter-oriented, but uninsulated Hurtta Outbacks. Robin's little pads do get cold in uninsulated boots, even with socks, so I'm excited to give these a try, and giving them an extra value bump for being unique in our lineup. They're also well made, well built and sturdy feeling despite my issues with the cuffs.
However, I do really wish they'd turn those raw seams away from the foot.  These are worth the $33 Petco price, if you're OK with the loose cuffs or willing to make modifications.
As the first set of boots that haven't given Robin any blisters, even without socks, I'm feeling positive about these despite the one-season use and the loose cuffs. With solid build quality I think they're worth a try for sensitive feet, cold weather and dogs new to wearing boots. I wish the fleece liner resolved the interior raw edges, but it did help cushion Robin's feet against blisters. Can't wait to see if these keep his cold little pads warm on winter trail hikes.
These boots are best for: Cold weather, shallow snow, ice and salted streets (guessing here!), blister prone dogs, dogs with dew claws
These boots may not be ideal for: Warm weather, foxtail type plants, sealing out dust
Review by: Dogs That Hike Trail Tester @robinventures