If you are an active dog owner who is constantly hitting the trails you may have considered purchasing a dog pack. Even if you typically walk your dog around your neighbourhood, a dog pack can still be an extremely useful piece of gear; they provide additional space for packing all your dog's supplies and adding weight to the pack is great exercise for your pup. Be sure to give your dog time to adjust to wearing a pack with no weight before adding any, a good starting point is to add 10% of the dog's weight to the pack, and go from there.
The Outward Hound DayPak  is a low priced pack that offers lots of space to fit all of your pup's personals in there. While it definitely is a spacious pack Outward Hound describes it as a "day-tripping, light-capacity" pack, and I would agree with that statement entirely. If you're the kind of person who would be looking for a pack/harness to keep control of your dog during a leashed walking then I wouldn't suggest this pack. It is not designed to carry heavy things or perform under intense running or training. But, if you're going for a short hike or a leisurely stroll downtown to carry a few light items then this pack may work for you.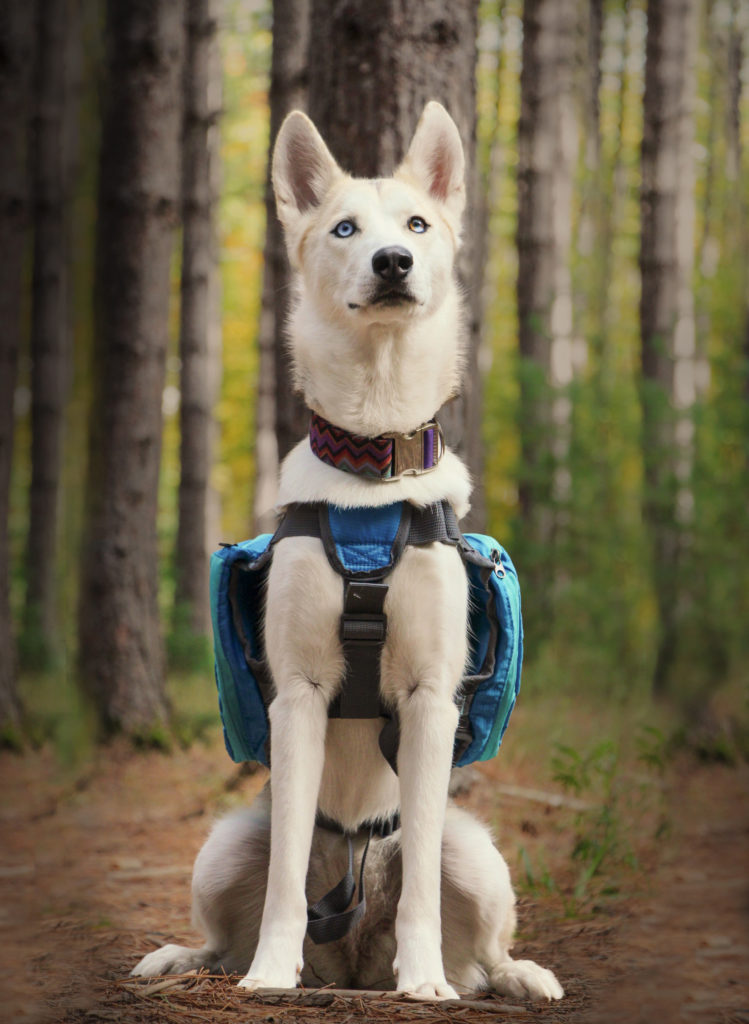 The Outward Hound DayPak was tested on River, our 1.5 year husky, during multiple day hikes and walks around our neighbourhood. She's an active dog and once in a while she'll tend to be a puller on leash if she gets excited. Due to this, we like to use packs that are quite sturdy and double-up as a walking harness. The DayPak has a d-ring attachment located at the rear of the pack. I found this to be strange to have just one ring only at the back of the pack. If your dog tends to forget that they should be walking at your side, a short sharp tug on the leash will correct them back to your side. When the ring is located at the back of the pack it becomes harder to bring the dog back to your side. Most of the packs that I use tend to have both a back and front ring to connect a leash to. If your dog is not a puller, or you don't plan to hook a leash to the pack this shouldn't be a problem for you. Another issue I have with a sole back ring is for dogs that happen to be working/sport dogs. River has been sledding, skijoring and bikejoring and she has been trained to know that it is okay to be pulling when hooked up to a harness that pulls from the rear. I feel as though we are confusing River using this pack because she knows it is okay to pull when the force of the pull is at her rear, causing her to want to pull on the leash. I suggest Outward Hound considers adding a D – ring to the front to allow for easier leashed walking.
I feel as though Outward Hound had one thing in mind when designing the DayPak and that would be getting the most amount of space while keeping the harness light as possible. The DayPak comes with pockets that are the size of the whole side of the pack, and there are zippers under each side that allow you to expand the pack about an additional 3". The saddle bag zippers slide easily without catching and are still in good condition, but it does seem rather thin and I would expect that over time they may wear.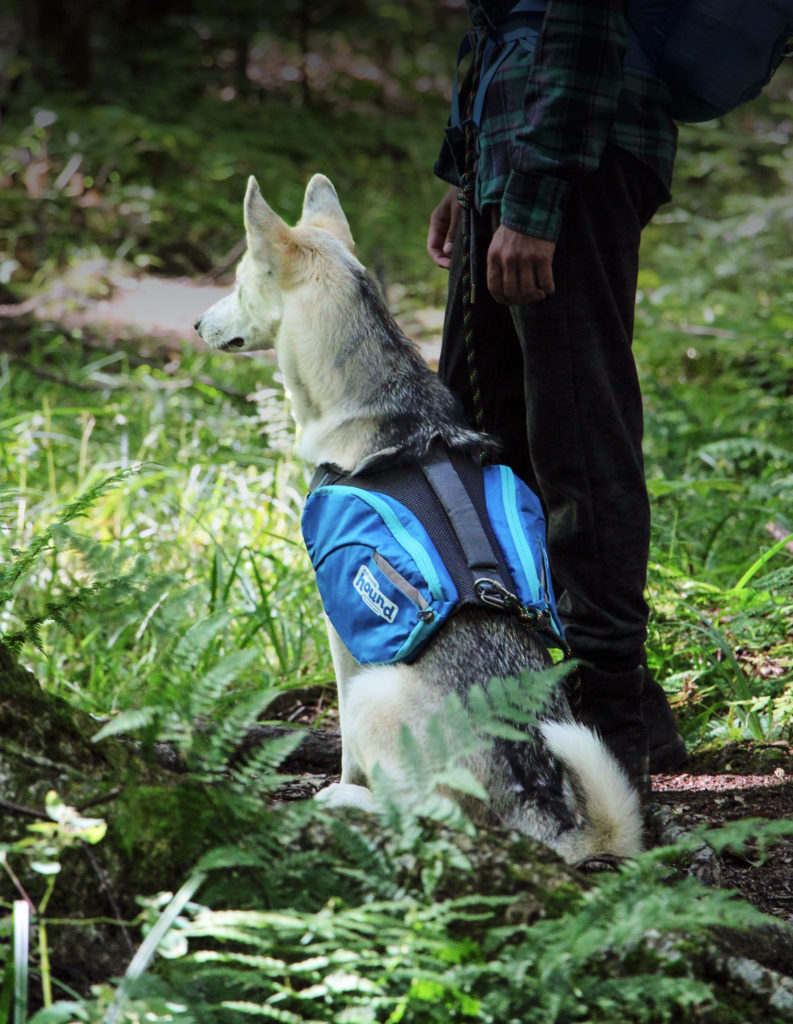 Inside each saddlebags is a sideways "pocket", and I say "pocket" because it is oriented sideways (pocket opening is parallel with dogs leg) and has no closing mechanisms so to me it seems useless, anything inside it would slide out into the main area of the bag. There are also two small 4"x4" pockets on the outside of the saddlebags that fasten with an inch of Velcro. Again, this pocket doesn't seem like it has much function if you can't securely close it while your dog is bouncing around on the trial. The saddlebags can store two water bottles per side, a roll of poop bags per side, and small collapsible bowl. We noticed due to the extremely thin fabric the bags are made of, and their round-ish shape caused the items inside to flop around a LOT, so I wouldn't recommend loading the bag too much. The meshed harness fabric and lack of any padding also contributed to causing the entire pack to shift around (often sat over to one side or the other) or just bounce around in general.
Aside from staying in place, I'm not sure how well the pack would hold up if you're constantly putting in four water bottles, as it is a light-weight pack I don't believe it designed to carry much weight. This pack would be great for people who are only looking for their dog to carry a few light items like poop bags, treats, a toy etc.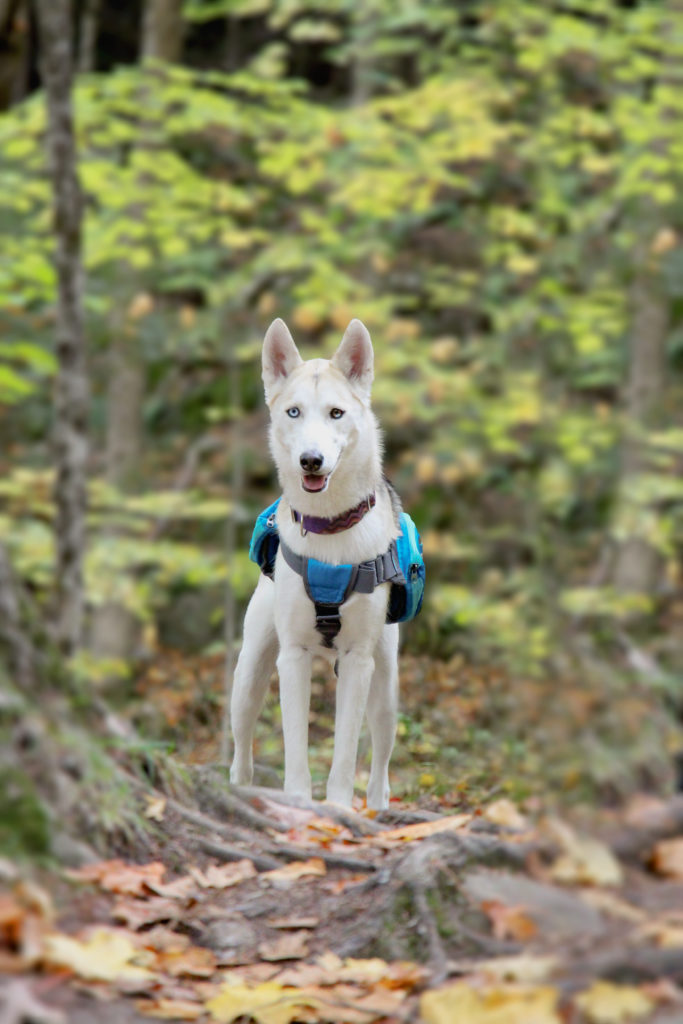 There are two straps that go under the girth and straps that cross the chest. The girth straps are about half the width of the chest straps; I would have preferred them to be the same width to help distribute the weight onto the dog better, and being only an inch wide it they twist easily. The thin straps may have also contributed to the packs movement. The handle along the spine of the pack is thick and padded and has remained in good shape with no signs of wear or fraying stitches, even though we've used the it to wrangle River during a case of the zoomies.
The Outward Hound DayPak is a suitable pack for those who are looking  for a low riced pack to have their dogs carry their own lightweight supplies. The Outward Hound DayPak is not designed for weight training or rigorous activity so it is not comparable to a Ruffwear type dog pack. This pack could be starting point to see how your dog adjusts to wearing a pack before committing to a more expensive option. I would suggest that Outward Hound consider either changing the meshed harness material to something more rigid, or change the shape of the saddle bags to defuse the amount of movement (or both!). I would also recommend the fabric used for the saddlebags be improved to something a little thicker.
Review by: Dogs That Hike Trail Tester @thenortherndogs