Xena hikes off leash when we adventure together but I always carry a leash with me in case we run in to other hikers and dogs on the trail.  I was actually looking for a new everyday leash that is water-resistant when Dogs That Hike sent us Alcott Essential Adventure Leash to test.  Perfect timing!  We used the leash on our daily walks as well as on our hikes.  This review is based on using the leash for over a month.
This nylon leash comes in 3 sizes:  Small, Medium and Large.  They are 6' long with different width – 5/8", ¾" and 1".  Dog-friendly trails in Southern California have a rule that requires dogs to be on a leash that is no longer than 6' so this satisfies that requirement.  When you want to have more control over you dog, just shorten the leash in your hand.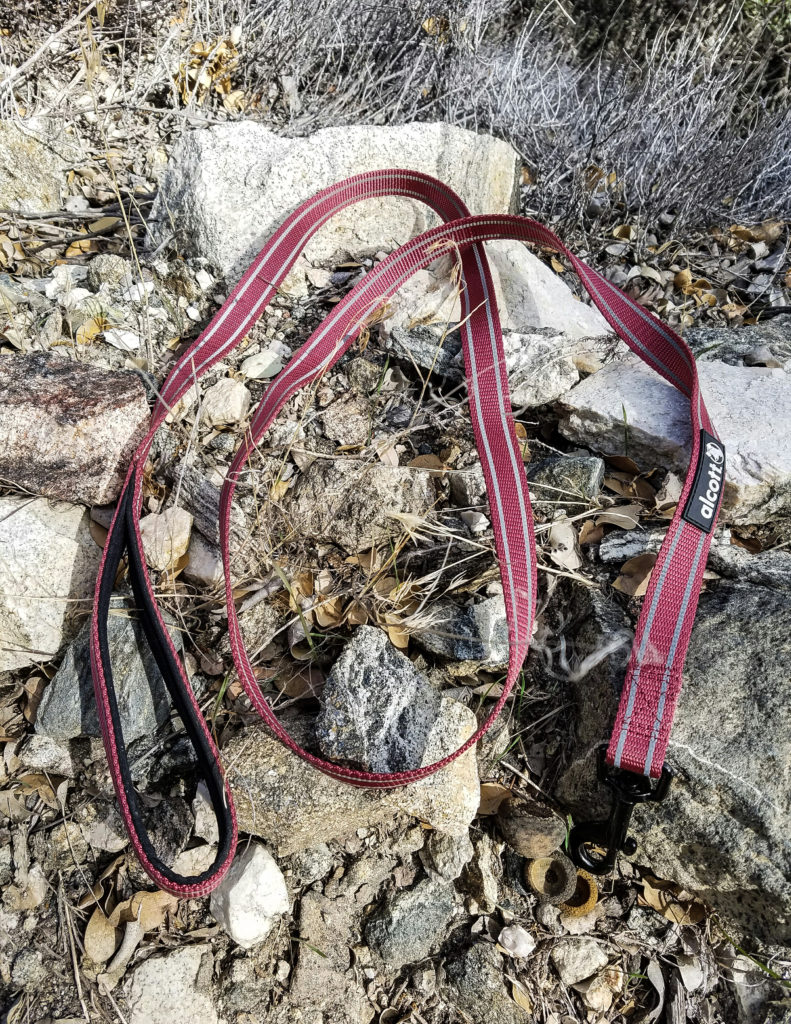 The color is listed as vibrant red but that is not the case.  It's more close to wine, between red and burgundy.  There are reflective accents on both sides of the leash as a safety feature which works great at night as well as during the day and the black neoprene padded handle is soft and comfortable.
The reflective accents on both sides of the leash are printed on to the leash rather than sewed on.  At some point, I expect them to peel but I didn't notice any wear and tear on them as of yet.
I have used it for walking in the rain and the level of water resistance was what one would expect from a nylon leash.  This became my rainy day leash.
This leash is best for: Anyone who is looking for a durable leash with a safety feature, packable leash, versatile leash, 6′ length leash, a supplement to a safety collar or harness.
This leash isn't ideal for: Those who like longer or shorter leashes (this only comes in one length).  It's more of a preference thing than a product flaw though.
Guest review by: IG @hikinggirlwithdog