There's nothing like taking a trip to the dog park and letting your dog run wild and free among the other liberated canines. The wind in their fur, the pond water up their nose, there is truly nothing that compares to letting your dog return to their untamed roots. Unfortunately there is not always an option to unleash Fido and Fluffy into the great outdoors and that is why I am so glad to have had to opportunity to try out the Outward Hound Hands-Free Hipster pack. This pack is perfect for those walks where you need to have your dog on leash but would like a hands-free option. So now you're out walking your dog in the sunshine. Wait, where are you going to put your phone? What about your treats? ball? poop bags? Letting your pup run wild sure has a lot of equipment involved! Luckily for us humans this Outward Hound pack has got you covered on that aspect as well. This pack features a 5 ft adjustable leash that has a clasp on both ends, and has two large zipper compartments to store precious items like car keys and your phone. There are 2 additional mesh pockets without zippers for any other items. This pack also features a cinch able pocket that unzips to extend to be the perfect water bottle holder.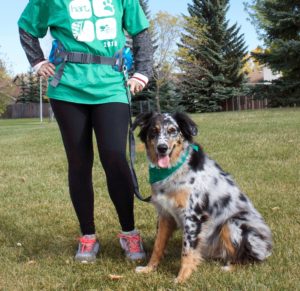 Photo credit: IG @atlastheadventuredog
We were lucky enough to receive this product before we took part in the Humane Animal Rescue Team's Sneakers and Strays event that I was both volunteering at as a photographer and participating in during the 5 Km walk portion. As a primary event photographer I had to have my hands free to capture action shots of the participants around me and this pack worked perfectly for my situation. I was able to clip Atlas to me as I walked around taking photos of all of the people and dogs enjoying the event without having to struggle to hold the leash and take photos at the same time. The pockets held treats, my lens cap, my phone, my car keys, poop bags, my debit card, driver's license and even some samples that we received at the park. Additionally I also had a water bottle in the bottle holder that stayed in place the whole time. I really put this product to the test at this event as I had the pockets crammed full of stuff and Atlas clipped to me. Since the Sneakers and Strays event, I have been using this pack almost daily out on the trail and at our local dog parks for a period of about 2 months.
This pack has several well thought out features. The leash that is included is adjustable and you can lengthen and shorten it as needed. The leash has sturdy clips and was easy to manipulate to connect to Atlas's collar. There is a D-Ring on both sides of the bag that allow you to clip the leash up when your dog is not attached so it doesn't get in the way.  The water bottle holder is the perfect size to hold your standard plastic water bottle. You can zip this pocket up when there is no water bottle in it so that there isn't a long pocket dangling down as your trying to walk or run. The clips that secure the bag around your waste are made of plastic but they are sturdy and the nylon material is easy to adjust to be bigger or smaller. There are several other pockets on the pack as well. The pockets have quite a large capacity and when the zippers are zipped I did not find them to ever open on their own. Unfortunately there is one flaw with the design of these pockets. The way the zipper is sewn on, it extends to the bottom of the pocket and it can leave loose treats or small items vulnerable to falling out. I had to make sure to open these pockets very carefully to avoid spilling any treats on the ground. Additionally, there are two other ways this product did not receive full points. This pack can only fit someone with a waist between 30 and 40 inches, leaving out anyone has an above or below averagely sized. I think this would likely be an easy fix for Outward Hound to allow larger or smaller sized people to be able to use this product successfully. There is also a slight problem when your dog is pulling it twists the pack around so that the one D Ring that the dog is connected to gets moved to the middle. This shifts the pack to be slightly off center this can cause some slight problems with obtaining items out of the pockets. This shifting did not hinder me to much extent so I was able to look over this minor flaw.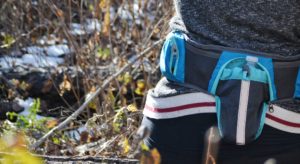 Photo credit: IG @atlastheadventuredog
The Hands-Free Hipster appears to me made out of a durable water resistant fabric. We have used this pack on daily adventures for two months, and we have yet to have any rips or weak spots appear. The leash is made from a thicker than average nylon and has held up to the occasional chew from Atlas.. I absolutely crammed the pockets to the max with gear and they have held up nicely. All seams and zippers on the product have held up nicely. The only section of the pack that you may want to watch carefully is the part where the D-Rings are sewn to the rest of the pack. I could see this not being strong enough for a large dog that pulls heavily and constantly. I would recommend combining this product with a gentle leader or front clip harness if you have a dog that is a chronic puller.
This product appears to have been made with an average sized adult in mind. The waist size has a relatively small window of fit, which eliminates its use to a wide range of people. The pack is nicely padded and extremely comfortable to wear. When putting it on I often forgot I was wearing it. It is currently available in blue and bright green. I'd like to see a neutral colour option in the future for those who don't want to bring as much attention to themselves.
Overall the Outward Hound Hands-Free Hipster worked perfectly for managing Atlas and our gear at the Sneakers and Strays event, at the dog park and out on the trail for a testing period of 2 months. As long as I was careful about opening the zippers, each pocked held my items well. The leash functioned perfectly as a hands free option and held up strong. The pack fit me perfectly and was the ideal way to carry around all my gear when out on a walk or run. I will be continuing to use this pack in the future and I have recommended it to friends who are of a similar size to me. In the future I think this product could be improved by having a more adjustable waist strap, adding more colour options and perhaps adding some reflective qualities for night time walks. It would also be nice if replacement leashes could be purchased.
This product would work best for someone of average size who wants to walk their dog on-leash and hands-free or as a pack to hold dog gear while at an off-leash dog park. It would work best for dogs that are not chronic pullers, as a pulling dog can send you off balance and risks tearing out the D-Rings. This product works extremely well paired with a face halter or front-clip harness. This product can be used with large or small dogs easily although you may want to add an extender for the super tiny dogs. This pack can be used in any climate.
The Hands Free hipster is not suitable for you if your waist size does not fit into the 30 – 40 inch window as it will not fit. It is also not suitable if your dog is an intense puller unless you combine it with a stop pulling aid such as a face halter or front clip harness.
Review by: IG Trail Tester @atlastheadventuredog / www.atlasdogblog.com
Feature photo credit: IG @atlastheadventuredog