So you're getting ready for your next adventure with your dog, maybe you're planning to conquer a snowy summit, enjoy the day at the beach or simply let your pal let loose on the trails; now you're wondering if you have all the gear you need to protect your pup from all the harsh elements they are exposed to. But have you thought about how to protect your dog's eyes? Many people don't realize the abuse our dogs eyes can go through on all our wild adventures, often undergoing exposure to extended periods of sun & UV rays, dust/debris, stray sticks and thorns in the bush, high winds and bugs during car rides… and the list could go on. That's where Rex Specs come in. Rex Specs are protective dog goggles for active dogs.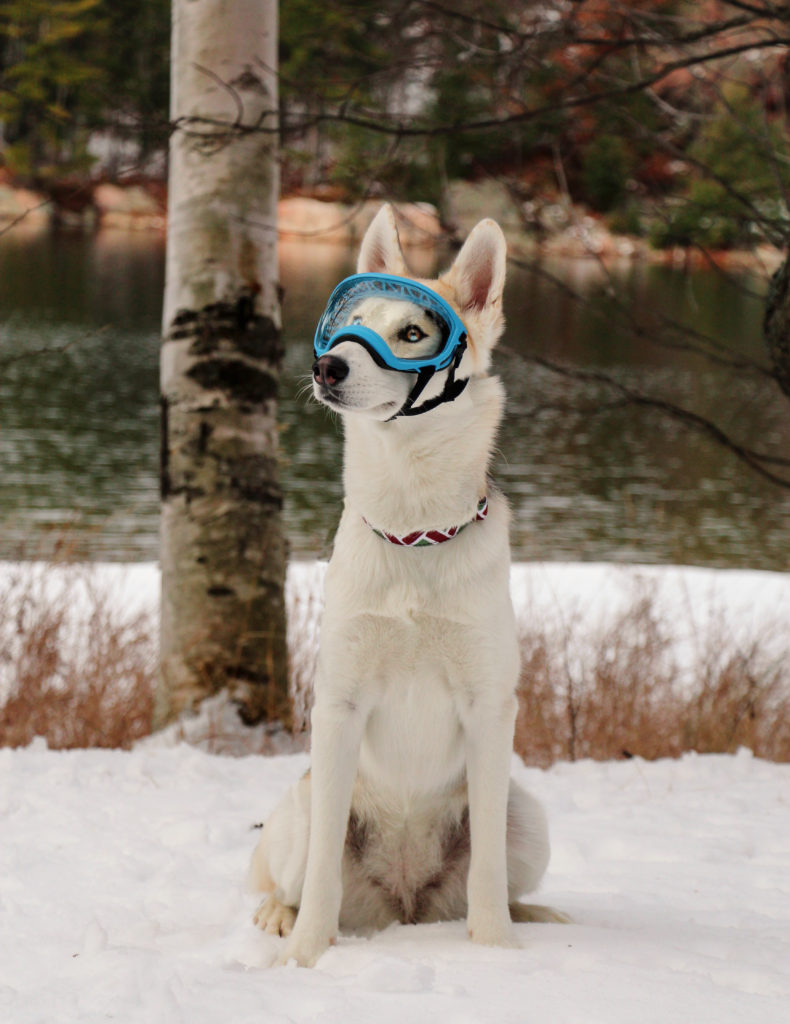 River is our 1.5 yo husky/shepherd; she's prone to getting eye infections in the winter from burying her face in the snow. She also loves sticking her head out of the window in the car, zooming around in the bush, mushing, bike joring.. you name it. All these activities could potentially harm her eyes which is why we were excited to put Rex Specs to the test. We tested the Blue "Original" size Rex Specs on River who weighs in at 50lbs. The Original size is described as "one size fits most" fitting dogs between 30-100lbs depending on head shape. Rex Specs has also recently released a "Small" size goggle intended for dogs 10-30lbs. [Editors note: we are currently testing the small version – check back soon for our review on those!] Rex Specs offer a Strap Extender which will be useful for dogs with a neck measurement (under the jaw to the back of the neck just below the ears) greater than 20".
Before diving into the specifics of the goggles, it should be noted the feeling of wearing goggles is unnatural to most dogs at first, and it is normal for it to take some time before your dog feels comfortable wearing their Rex Specs. Rex Specs recommend on the first few times the goggles are worn to remove the lens (yes it's removable/interchangeable!) so your dog can adjust to the feeling of the frame first before adding the component of looking through a lens. Start in short increments during fun activities where your dog is distracted. I recommend on starting on leash at first as well since some dogs may want to paw at the goggles or rub their face on the ground, having them on leash can quickly correct this behaviour. We started River in the Rex Specs, with no lens, during leashed heeling with fairly frequently rewarding with high valued treats. River was content wearing the goggles as long as we were keeping a decent pace and of course as long as she was getting some treats. It was clear she was reluctant to leave the goggles alone once we slowed down or when we let her off leash on the trails at first. We simply just had to work up to learning to wear the goggles in longer periods by continuing practicing with the Rex Specs during leashed heeling, and after a week of wearing the goggles once a day for 30 mins with no lens River no longer seemed to notice the goggles on her face. Once she was comfortable with the frame we began wearing the Rex Specs with a clear lens, to my surprise adding in the lens didn't affect Rivers comfortability with the goggles. Now, when I grab the Rex Specs River sticks her face out for me to put them on!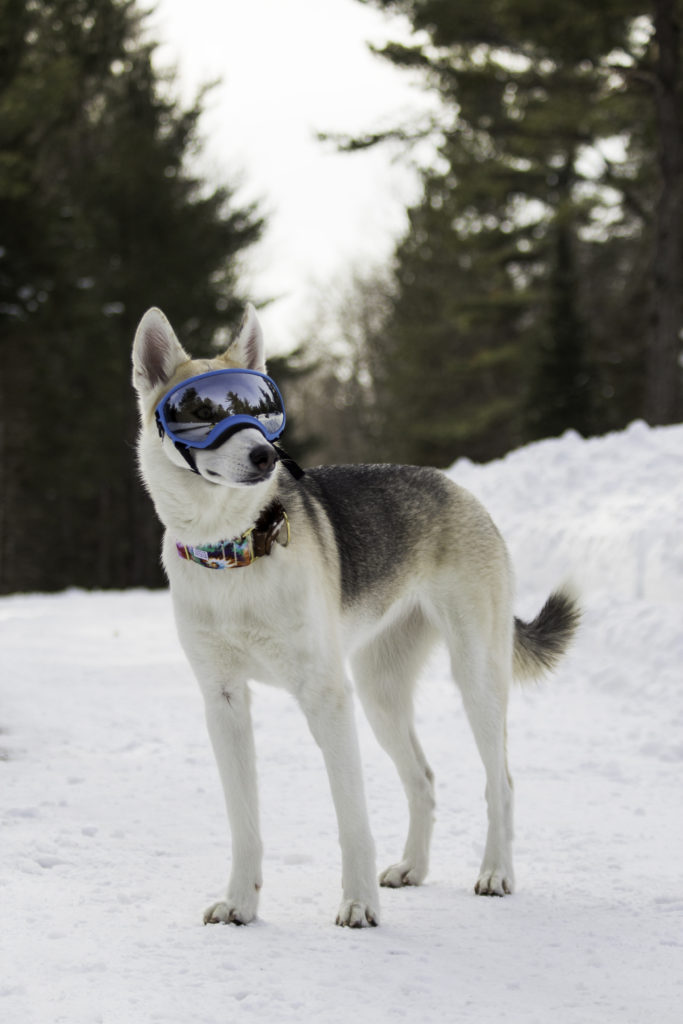 Rex Specs are constructed using 3D printing technology for the frame, a single spherical lens, light foam cushioning around the rim of the frame, with two nylon straps under the jaw which connect to a single nylon strap that clips around the back of the head (just below the ears). Each of the straps is adjustable (but not elastic so that once adjusted the goggles can't move around), and the frame is braced along the sides of the goggle and across the brow. This bracing supports the lens of the goggle away from the dog's eyes and brows ensuring for a comfortable fit that doesn't interfere with your dogs eyes or field of view. The frame is rigid and feels durable, yet flexible enough to be able to form to different face shapes and has some give so they would be difficult to break. There is a thin layer of foam that surrounds the sides of the braced frame to allow for air flow/ventilation to prevent condensation and fogging. As the sides/top are breathable this therefore means the goggles aren't waterproof. River wore her Rex Specs in heavy snowfall and moderate rain for approximately 45 mins each on different occasions and I found the "seal" around the edge was snug enough to keep water/snow out of the goggles, but if submerged water would certainly seep in. Once wet the foam dried quickly. The goggles have a low profile that fit to the shape of most dogs faces, which is combination with the strap placement make for a very secure fit. River barrelled through knee deep snow in her Rex Specs and they stayed right in place, even giving her head a good shaking didn't dislodge the goggles.
Rex Specs come in 8 different solid colours (blue, purple, black, coyote, red, orange, neon pink & neon green), and come with one clear lens and your choice of 5 other lens colors (Smoke, Blue Mirror, Silver Mirror, Red Revo & Blue Revo). You can read about more information about the difference between the lenses by reading "Whats The Difference Between Our Lenses?" under the blog section on the Rex Specs website. All lenses are interchangeable and made of polycarbonate which is what sunglasses and ski goggles are made of; it is shatter resistant, evening passing the ANSI Z87.1 -2010 impact resistance test in addition to being rated UV400 to provide protection from UVA/UVB rays.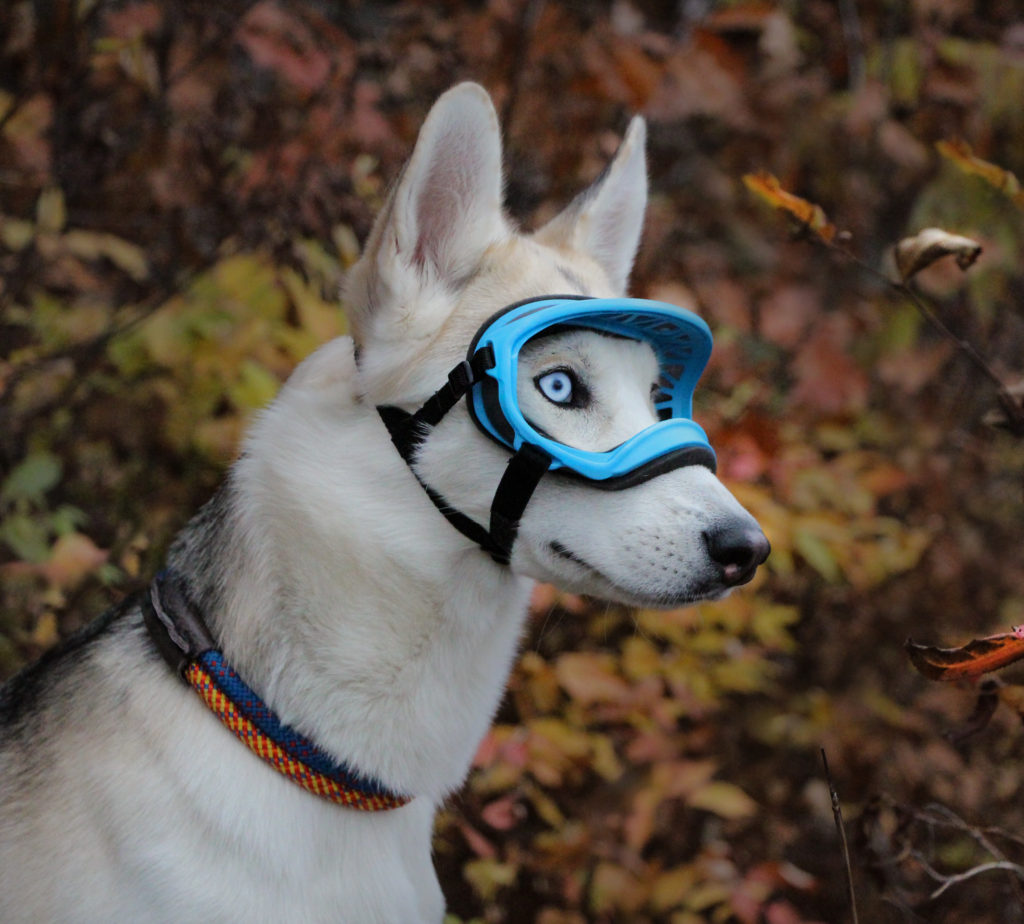 In addition to the clear lens we have the Silver Mirror lens. The tint of the lens didn't seem to affect River's vision or comfortability with the goggle. As we mentioned, River went ripping around in her Rex Specs through rugged bush, and hence a few minor scratches have occurred on the lenses. You are able to purchase replacement lenses ($19.95 for a 3 pack or $8.95 each) and it is stated on the replacement lenses product description that the mirror lens does scratch, but mirrored lenses have a higher VLT (Visible Light Transmission) category (see more on this on Rex Specs blog post). Since some scratching in inevitable, Rex Specs recommends using/wearing the lenses until there "totally beat up" because their depth perception is not the same as humans and therefore dogs may not notice the scratches in the lens as easily as a human would.
Overall I am extremely impressed with this product. Rex Specs were originally marketed for and tested on military and working dogs; this testing clearly shows in the well thought out design that boasts functionality and protection. We found the Rex Spec to be incredibly easy to adjust, to put on/take off, and yet the goggle remain secure throughout any and all of our adventures. One added bonus of the Rex Specs besides giving protection is these goggle look pretty awesome. When suited up in some Rex Specs any pup looks ready for some serious action. We've been complimented on River's Rex Specs on almost every occasion she's worn them as they are an atypical piece of gear but they look great. As Rex Specs are a "one size fits most" there may be some breeds that the goggle won't fit. Dogs above 100lbs (although I came across reviews of dogs that exceeded this weight which said they fit into the goggles) or dogs with very short snouts may have some trouble getting a proper fit, perhaps Rex Specs will consider offering a "Large" size goggle in the future.  Rex Specs sell for $79.95 which may be considered expensive to some people, but in my opinion these goggles are worth there price considering the level of protection they offer and there perfected design which offers an unobstructed view for your dog.
Review by: Dogs That Hike Trail Testers @thenortherndogs
Product from: @rexspecsk9 / rexspecs.com