Toys are a necessity in our home… durable, indestructible toys. I was skeptical of the P.L.A.Y. Barbell Rope Toy at first since any previous rope toy we've owned has been destroyed within a few days to a week at most, and then went straight into the trash; we've avoided buying them for so long for this very reason. To our extreme surprise, this toy has lasted for a good 2 months now with barely any signs of wear, despite the many tugs & chews that have happened on it.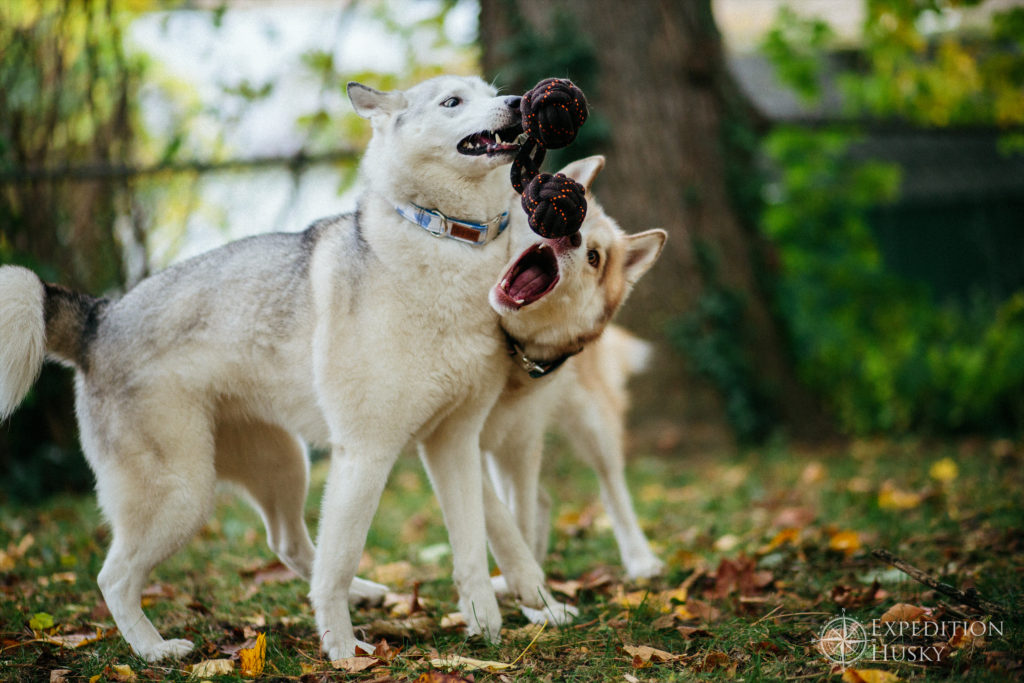 The Barbell toy is made from braided high-tensile strength cotton rope that is extremely durable as well as non-toxic, and created with AZO-free dyes. The braided cotton is one feature of this toy that makes it more durable, whereas other rope toys typically just have cotton strands compressed together in a linear fashion rather than being braided. Another cool feature of all of P.L.A.Y.'s toys is that they meet the quality control & safety standards for infant & children products! So even if you have young kids in your home, you don't have to worry about them getting their hands on your pup's toys.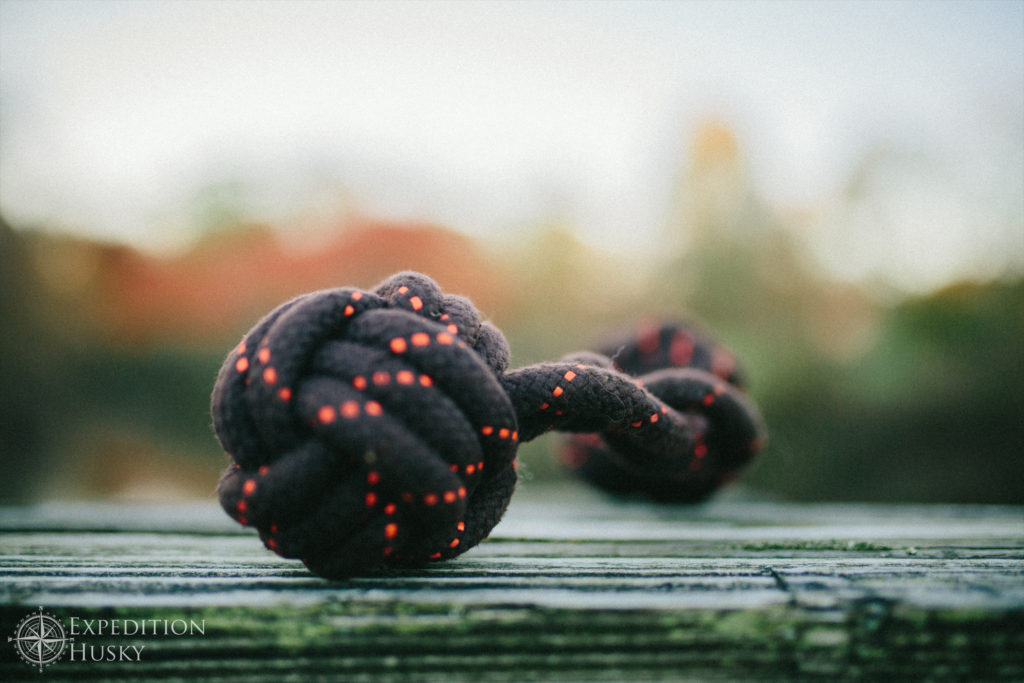 We've taken this toy outside in the mud, in the snow, and back into our house, and it's maintained its durability as well as its looks. Despite the mud, I didn't find much that was obvious that remained on the toy after play, and ultimately a quick shake-off and/or rinse-off did the trick to make it suitable for inside use again. If needed, the toy can be thrown into the washer, and comes out like new once left to air dry. If put through the washer, it does take quite a while for it to completely dry (close to 24 hours), but the fact that it makes it through a wash cycle alone is amazing and makes cleanup a breeze if it's been out in the mud all day. The barbell only comes in the color brown, but truthfully, I wouldn't want it in any other color. I find that the brown helps keep the toy looking brand new, as any stains it may have would just blend right in.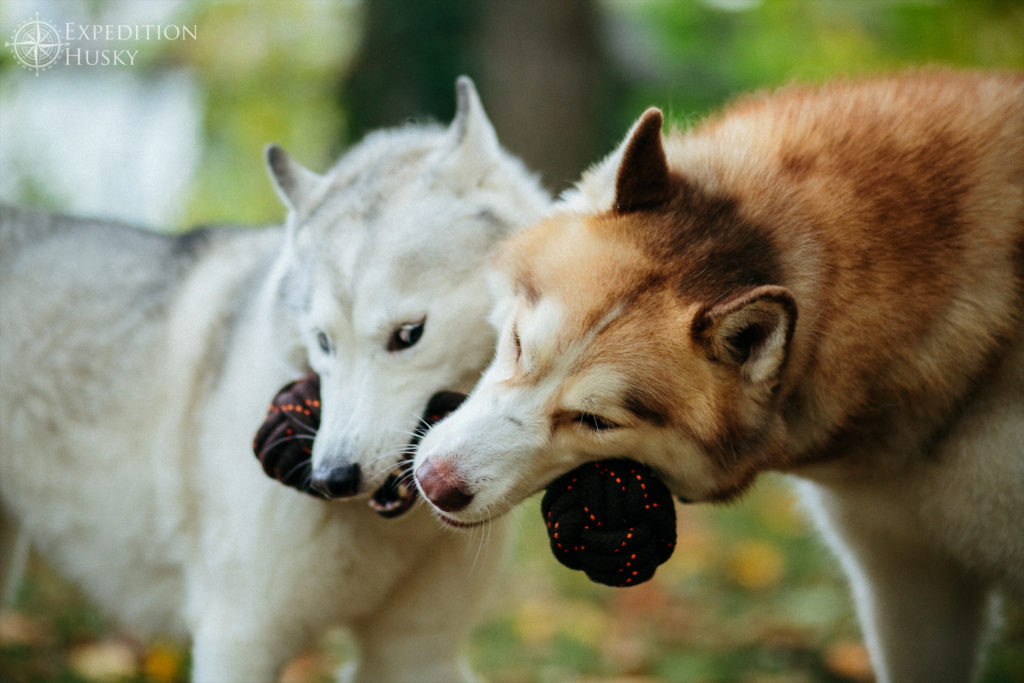 The P.L.A.Y. Barbell Rope Toy comes in two sizes: large ($9.50 USD) or small ($7.50 USD), and both appear to be suitable for a range of different sized dogs without discriminating against any specific size. The large is perfect for dogs 30 lbs & over, while the small is great for any dog under 30 lbs. I was surprised at the cost of them with how durable they are; I'd dare to compare them to some of the more expensive durable chew toys on the market. In addition, the best part about this toy is the fact that it doesn't have any frayed ends like most other rope toys you find, which could be one major reason we are finding this rope to last far longer. I find that the frayed ends are what the dogs tend to go for immediately, which ultimately ruins the rest of the rope toy. The P.L.A.Y. Barbell toy keeps the dogs looking for new ways to chew or tug instead of concentrating on just one area.
All that being said, it IS a rope toy, and any avid chewer could likely chew through it if they wanted to or had the time to. While it is strong & durable, I could see a larger dog who is very into chewing being able to chew through it, although I do think it would take a little bit of time even with an avid chewer.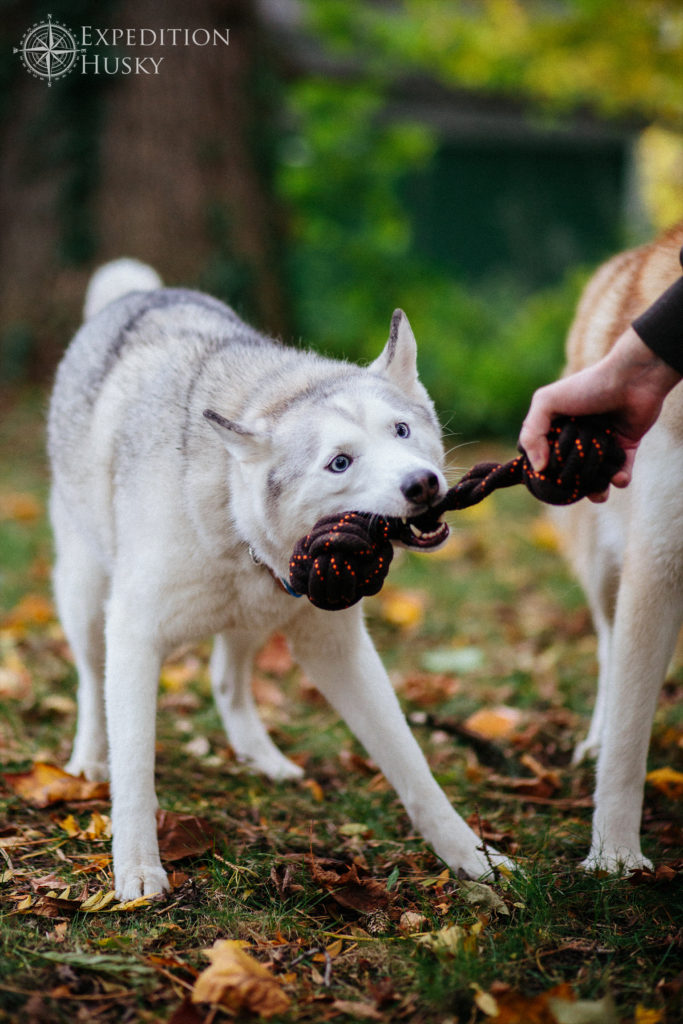 Overall, this is an excellent toy, and well worth every cent. It's given both our pups an awesome toy that has lasted far longer than we anticipated it would, and is something suitable for both indoor and outdoor use with easy cleanup. I would also definitely consider buying other toys from P.L.A.Y. because of the good experience we've had with the barbell rope toy.
This toy is best suited for: mild, moderate, and heavy chewers, as well as dogs who love to play tug, fetch, or dogs who work well with toys as a reward.
This toy is NOT suited for: dogs who are extreme chewers that may spend hours chewing at a time
Review by: Dogs That Hike Trail Tester @expeditionhusky
Product from: @petplaysf / www.petplay.com