If you're anything like us, packing for a road trip involves a fairly lengthy checklist of gear for your dog. Previous to using the Ruffwear Haul Bag, packing for Reggie just meant I would stuff a large, reusable grocery bag full of his things and hope that my husband wouldn't lose anything important on the trek down to the van.
Enter the Ruffwear 25L Haul Bag. It's made of durable polyester and features a wide mouth opening for easy loading/unloading and both zipper and mesh pockets on both the inside and outside of the bag for organization. It has both a shoulder strap and handles for two carrying options, an ID sleeve for displaying important info and is available in an attractive green and steel gray colour combo.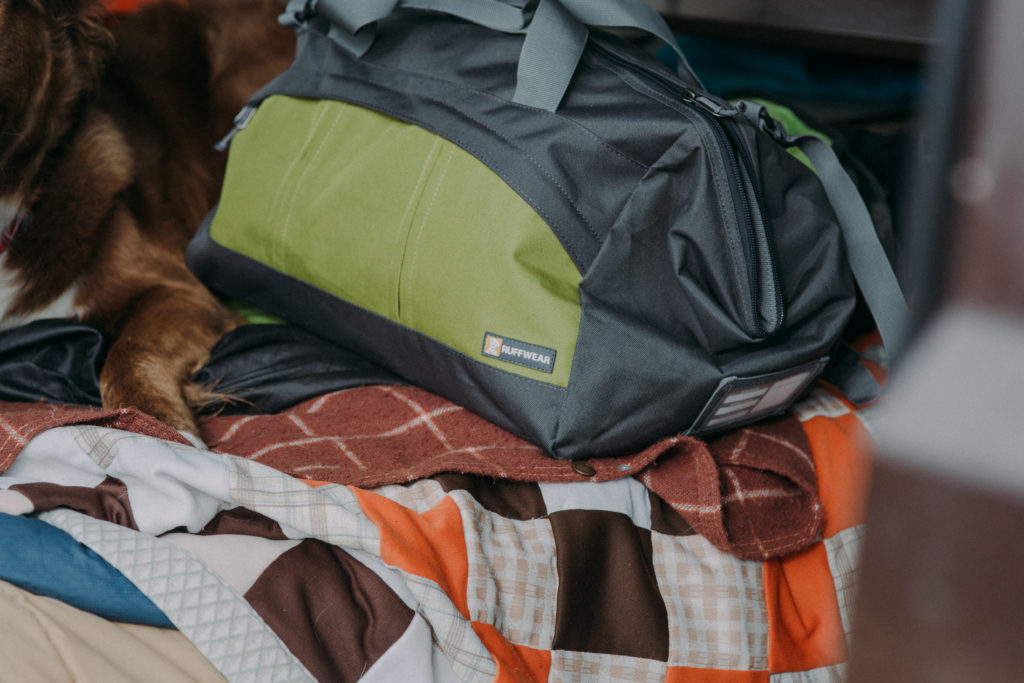 I must admit, when I first laid eyes on the bag I wasn't convinced it would be able to hold as much as we would like it to, but it turned out to be deceptively spacious. We took it camping recently and here is a list of the items I was able to fit in the bag:
Reggie's winter coat

Hammock & hammock straps

Pup Tent

Collapsible Travel Bowl

GoPro

Trail Pack

Extra collar/leash set

Ruffwear Highlands Bed

3 Bags of Treats

2 Days worth of dog food

Ball

Rope Toy

Antler Chew

Clicker

Nose Balm

Paw Wax

Small Towel
The bag wasn't easy to close when stuffed to the brim and required a little elbow grease to zip, but once closed wasn't bursting at the seams by any means. I feel like the wide mouth design while difficult to close, is smart as it allows for more room in the top corners of the bag. I would suggest packing the bag with that extra corner space in mind. The first time I packed the bag, I packed everything in the centre and wasn't able to get it to close.  After rearranging some of the contents and making use of the ample extra space in the top corners, I was able to fit in everything I wanted.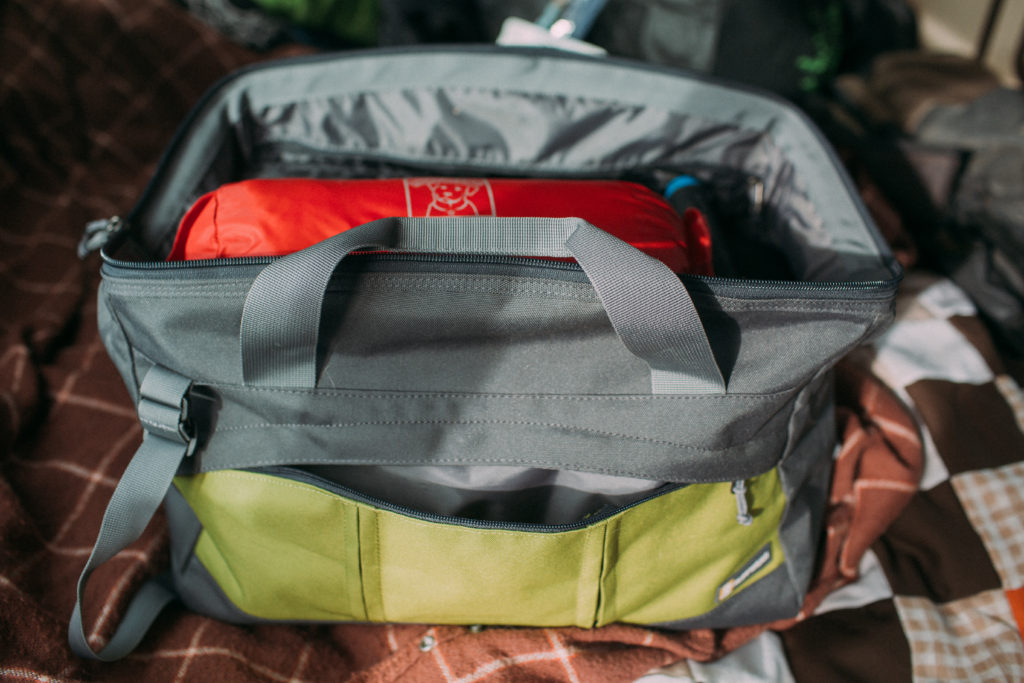 The external mesh pockets are designed for smaller items and the front zipper pocket is quite roomy and would be ideal if you wanted to keep dirty items separate from the main contents of the bag. There are no dividers on the inside of the bag, but there are mesh pockets on one side of the interior and a large zipper pocket on the opposite side. I find between the exterior and interior pockets, there is enough organizational space for my liking. It's worth noting that when the bag is full, it can be difficult to reach the interior pockets. I usually pack items I won't need until after I have unpacked I the interior pockets and items I always want handy in the exterior pockets.
One area where the bag doesn't get full marks from me is the shoulder strap. While it is a comfortable strap that is webbed so it doesn't slip, it just isn't quite what I hoped it would be. I don't like that it's not removable and it also is just not long enough. Often when I'm leaving the house for a weekend away or a lengthier trip, I'm carrying quite a bit of stuff all at once. As it is, the shoulder strap is too short to be worn diagonally which is how I would prefer to carry it if I'm also hauling a camera bag, backpack and walking an excited dog at the same time. On its longest length, the strap only allows the bag to hang awkwardly at waist height when worn diagonally.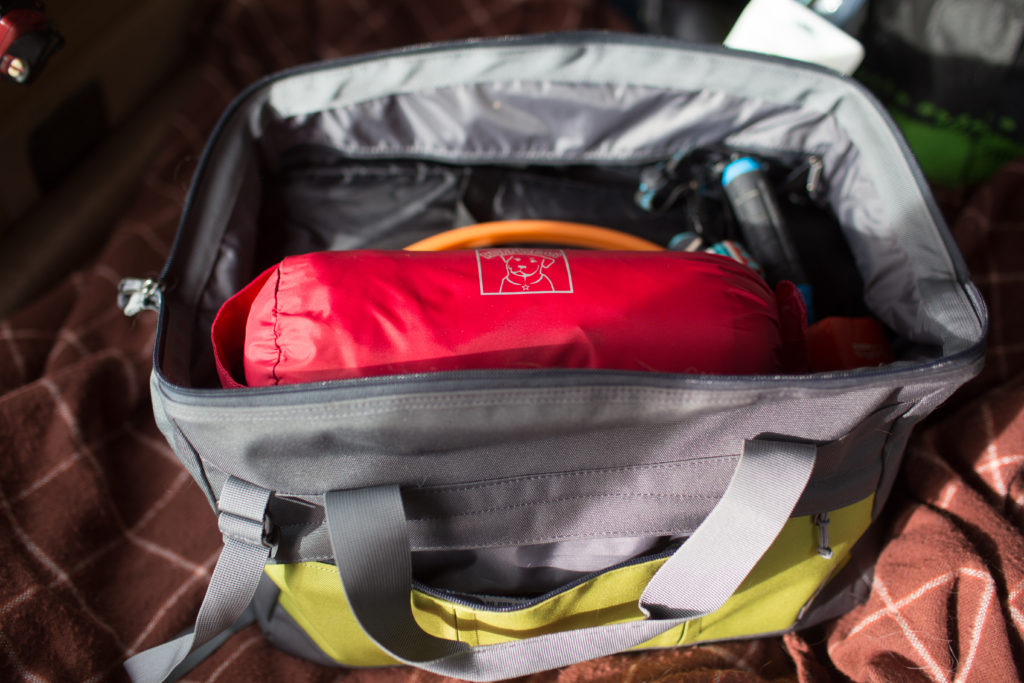 I also would like to see a removable liner on the inside of the bag that could be machine-washed. The bag can be hand-washed with detergent according to the Ruffwear website but it would be much easier for the bag to just have a removable liner.
Overall, this bag is great and we have already gotten a ton of use out of it. It's very sturdily built and nicely structured and is overall designed very well. It keeps us organized and is a good size for our purposes.  It is a bit on the pricey side at $79.95 but will likely not have to be replaced for a very long time and in my opinion, is worth every penny.
Review by: Dogs That Hike Trail Tester @reggieandthecats