It's official: spring has arrived and with it comes the camping season! Being an adventurous family on the go year round, warmer weather and longer days bring even more travelling – with our dogs River and Rain, of course. Our travel savvy lifestyle means needing to have a means of packing River and Rain's kibble, whether we are spending a week camping in the woods, traveling to visit family, or the occasional visit to the puppy sitters.
Before we received the Kibble Kaddie we tried a few different ways of transporting our kibble. Either way, the struggle is real when it comes to trying to decide on how to store dog food when traveling overnight. We loved the convenience of the Ruffwear Kibble Kaddie because of its large capacity, compatible design and easy pour spout.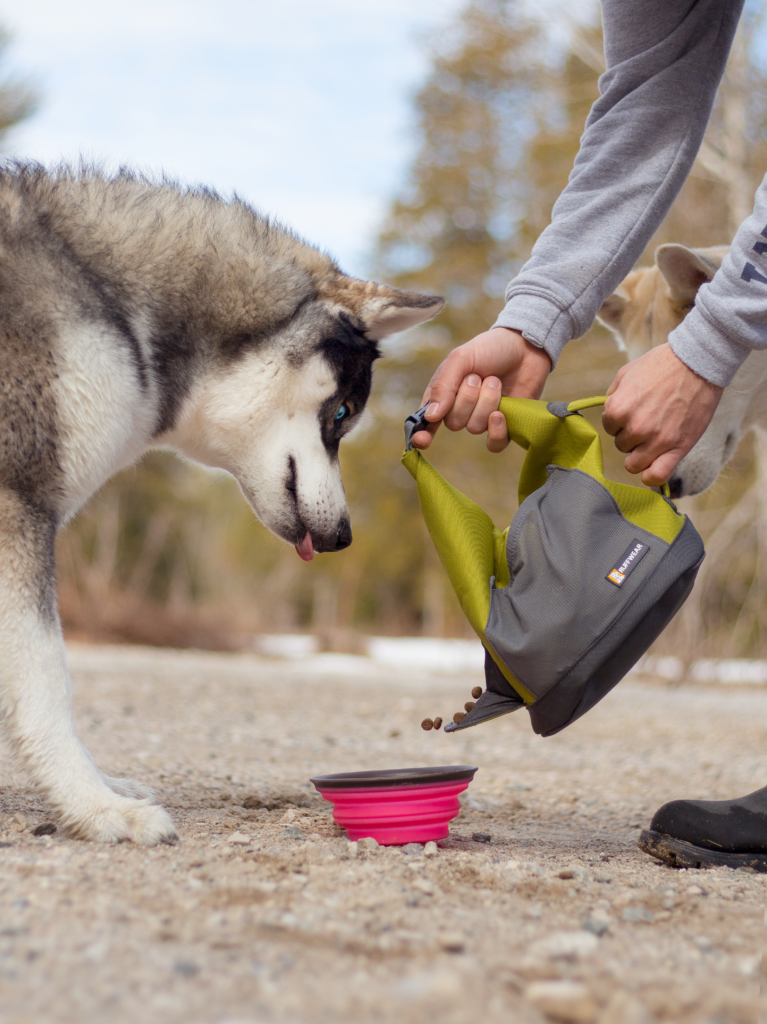 Our previous means of toting around their kibble have included:
Large freezer zip-lock bags – Holds about 14 cups of kibble. This worked ok for an overnight trip, it kept a water tight seal (when closed properly) but it was difficult to serve out of, didn't hold much capacity and I hate the idea of using something that is disposable.
Small Rubbermaid (plastic tote) – Our preferred container (approximately 6″x 8″x 14″) holds about 20 cups of kibble. The rigid shape of the container made scooping and serving easy, but the lid could easily come ajar if knocked over, the container also took up a lot of valuable space, and I found dirt was still able to get into the container even while keeping the lid firmly closed while camping.
Kurgo Kibble Carrier – Holds up to 5 pounds which is about 20 cups.  This is the only other true kibble carrier that we've owned and can compare to. Kurgo's Kibble Carrier is more of a daily-use sized carrier, or a weekend trip (dependent on number and size of dogs).  We previously reviewed the Kurgo Kibble Carrier and while we noted there was an integrated space for a Kurgo specific bowl, it didn't fit the bowl that we had.  One thing to note when considering either option is that the prize difference is quite large.  At the time of this review the Kurgo Kibble Carrier retailed for $15 USD and the Ruffwear Kibble Kaddie retailed for $39.95 USD.  One category we can say these two carriers are identical in, is the colour options, and in that they are slim. Both carriers only come in one colour; Ruffwear is green and Kurgo is red.
We would say that Ruffwear's Kibble Kaddie is the luxury kibble carrier compared to the others we've seen.  It has a massive advantage over the above items given ability to hold more – this carrier can fit up to 10 litres (42 cups) of dog food.  It has a huge pocket space that can fit a variety of bowls and is big enough to fit our collapsible bowl and a few other items. Personally, I wouldn't put anything of value in the pocket (e.g. phone, money) as the pocket does not securely close.  The back of the bag also has a tag to write your pups information and feeding instructions (very useful for if you're leaving your pup with someone else).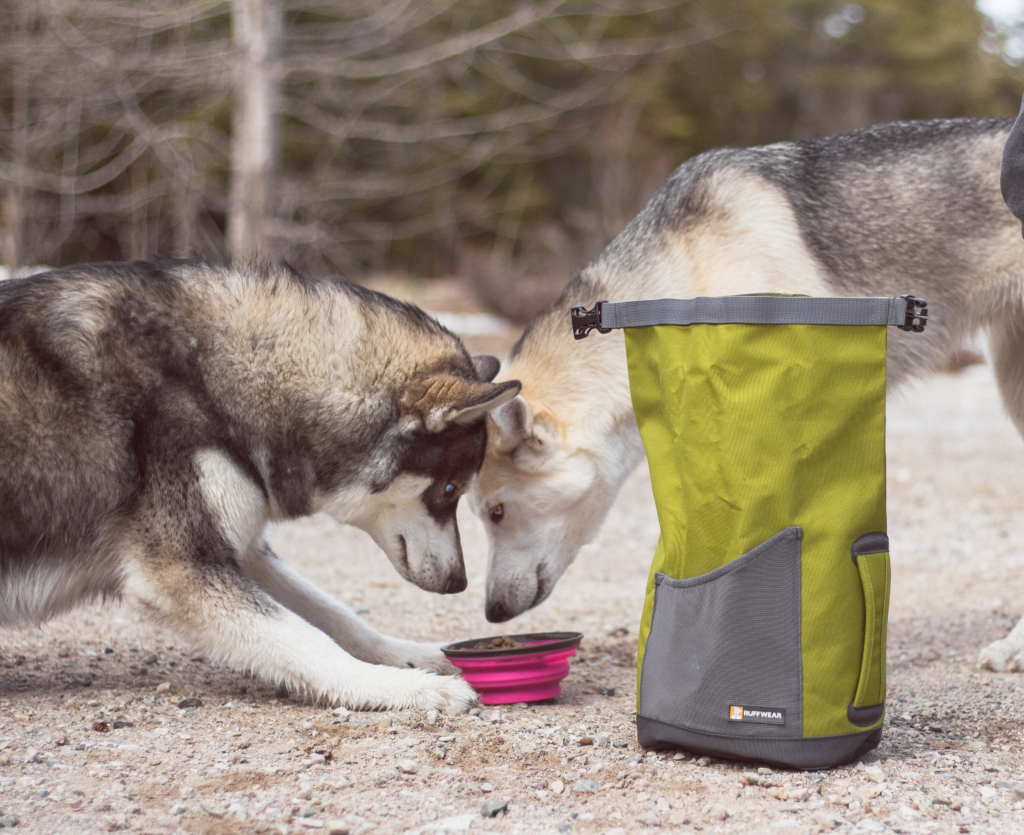 The Kibble Kaddie is built from food-grade, grease resistant fabric which is critical for keeping things clean.  If you're not sure why this is important leave kibble on a paper towel for a few hours to a day and you will notice that grease spots develop.  It has a round, flat bottom and the walls/sides have some rigidity to them so the bag is able to stand own its own when place on the ground (making pouring kibble into the bag hassle free/taking a scoop out).  The bag closes by rolling down the "bag" from the top and a plastic buckle on either end. I was skeptical of how secure this type of closure would be but we never had any issues with the top of the bag unrolling or coming undone.
One thing we noticed in our tests of the carrier was that the magnet which holds the "spout" of the carrier open, while it is quite strong there was a few occasions the spout came open and some kibble fell out.   Ruffwear should consider making this feature optional as not everyone would use it, or they could improve the closure on the spout to better secure it (e.g. add a snap to it). It is a neat feature, especially with the use of the handle on the side to pour food from the carrier just like a tea pot; however, this side spout also means that it's not able to be left on the ground since bugs would be able to enter the bag through the spout.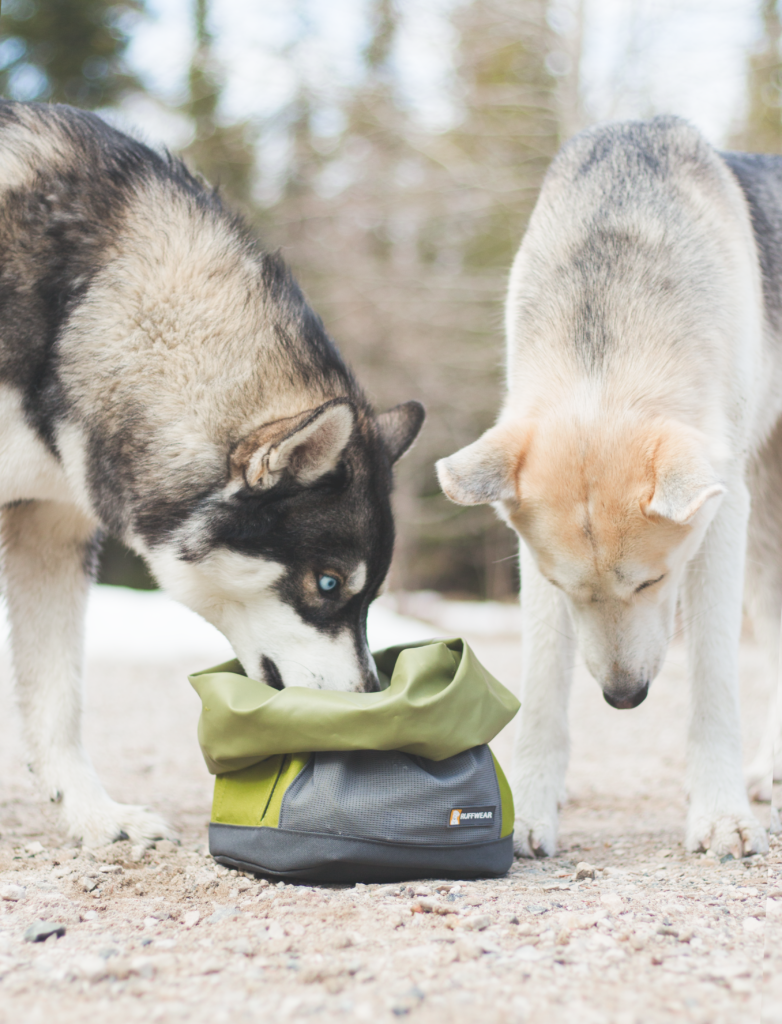 When we put this bag to the test we were very fortunate to not come across any rain.  But knowing that's not always the case when travelling we decided to test how it might hold up.  We put some toilet paper in the carrier and held it under the shower for a few seconds to see how it would hold up to being rained on.  Unfortunately this test proved the carrier not fully waterproof as the toilet paper near the spout was was quite damp.  As it is not fully waterproof, it may not be ideal for a backpacking trip where the carrier cannot be stored safely somewhere without risk of opening (e.g. truck, camper, RV etc.).
In the end, Ruffwear's Kibble Kaddie had us impressed, there aren't many negative things we can say about this carrier!  Ruffwear is known for making good quality and durable products but that means it comes with a price tag. As mentioned above it currently retails for $39.95 and I would say it's well worth the price.  I would much rather spend the extra money to get a quality product and know it wouldn't need to be replaced for a long time. How you use it is up to you – it holds a lot so it may not be something that you bring along on a simple weekend trip, but if you're a travelling nomad, always on the road, then grab your pup and load this thing up!
This carrier would be best for: Roadtripping or travelling with your pet, needing to leave them behind while you travel, camping, RVing, travelling by trailer
This carrier may not work well for: Day trips, short overnight trips, back packing or potentially portaging
Review by: Dogs That Hike Trail Tester @thenortherndogs