This review is on the old style Ruffwear Roamer Leash.  Ruffwear upgraded this product in spring 2017 after we were in the middle of testing.
According to the Ruffwear website the Roamer is an adjustable stretch-webbing leash that can be hand-held or worn around the waist for a dynamic hands-free leash experience. Wavelength™ stretch webbing keeps humans and canines connected while allowing an extended range for roaming and exploring.  Tundra and I tested this leash on local walks and trails where leashes are required to put these claims to the test.  We tested the leash as a regular leash (i.e. holding the leash) and the hands-free option.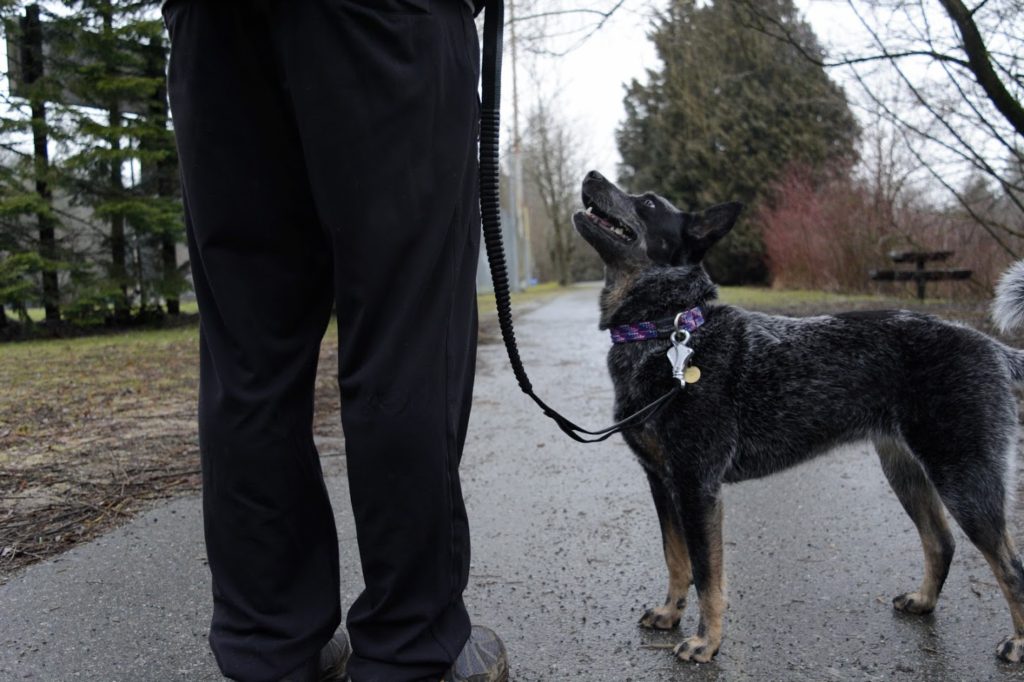 Tundra has energy to burn so we try our best to go on as many off leash trails as possible, but sometimes you just get stuck at an "on-leash only" spot.  The idea of a waist leash is to free up your hands for those times where your dog needs to be leashed but you'd rather not be holding it.  It provides options so if you need to hold your morning coffee in one hand for your walks and an umbrella in the other (I live on the 'wetcoast'; umbrellas on our walks are common!) you don't have to worry about finding another hand for the dog.
The leash can be adjusted to fit your waist, you just have to adjust the padded handle to the size that fits you. There were no instructions, so you just have to play around with it but this dog mom figured it out pretty quickly!  The old hook design that we tested made it more difficult to adjust and to quickly release it off of your waist for on/off action; at one point I thought it was never going to come off!  The new design features a buckle release which in my opinion could be a lot more handy for quicker release.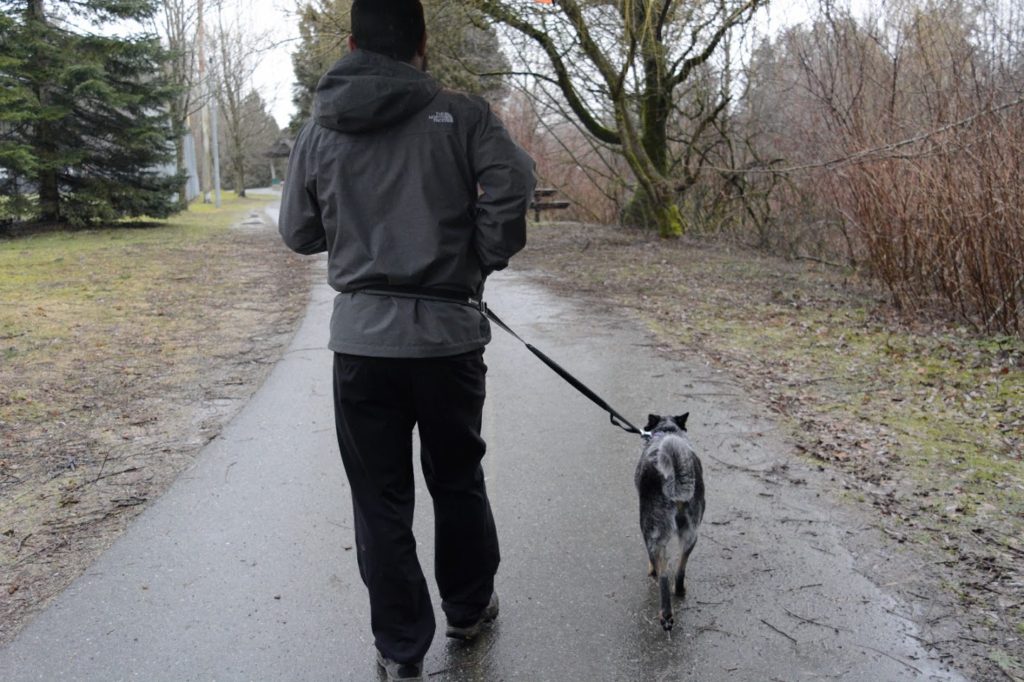 I find that Tundra pulls a lot on a leash, so when I received the Roamer leash, I thought this would be perfect as she may be tiny, but she is fierce!  When I tried the Roamer leash I was pleasantly surprised at how little I felt her pull.  The Wavelength webbing functioned as designed, it absorbed the shock of her pulls and helped with that resistance.  An added bonus, I found that she walked better on a leash because of this feature.
Having it on your waist also helps with pulling as the pulling happens near the core of your body for better control.  After I set it around my waist, the leash was still long enough that I didn't trip over Tundra at all while using it.  I didn't notice it to be uncomfortable around my waist, but I was wearing a light jacket with a sweatshirt underneath so I had some extra padding to keep the leash from cutting in to me.   I wouldn't recommend using it if you had a thicker winter jacket on as you would have to expand the waist feature a lot further and lose length of the leash.  You may also want to be careful if you are wearing a thinner shirt as the leash isn't very wide meaning you could end up with some chaffing.  Depending on where you live, this means it would be more ideal for spring, summer, or fall.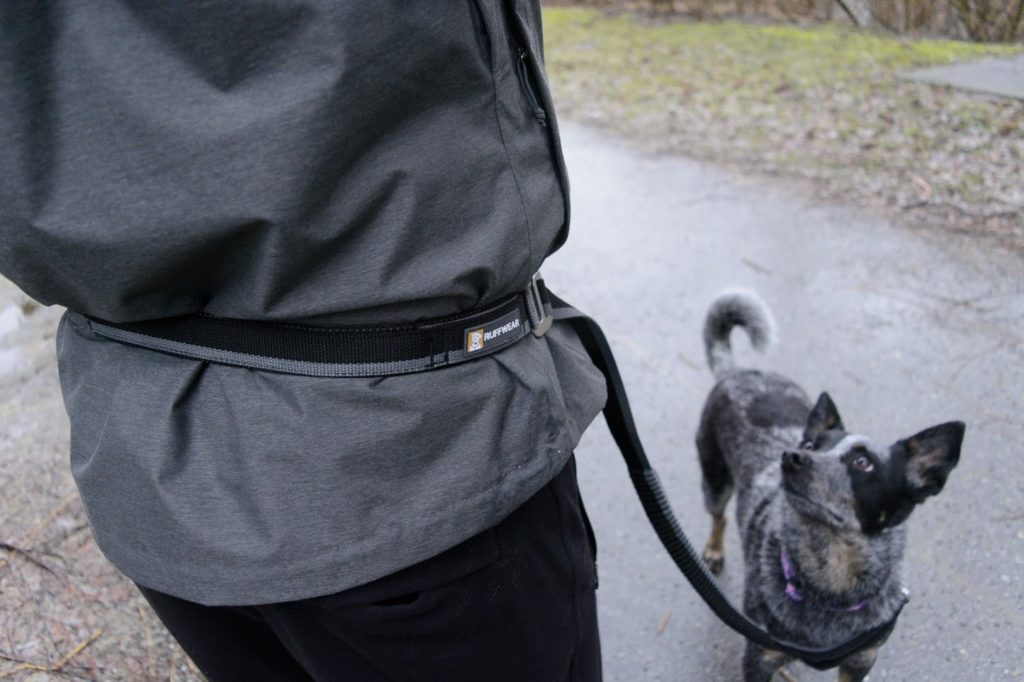 It has a padded handle feature to use while you are using it as a regular hand-held leash.  This is a nice change from other leashes that don't offer padding and may be useful for people with strong pullers who don't feel comfortable having their dog around their waist.  One downside on to the thickness of the leash is there isn't much of a spot for you to attach your dog waste bag carrier.  This means you would have to carry one of those separately or find a creative way to attach it.
Overall, given the size of the old clip, the webbing and the padded handle the leash feels a little bulky.  It's not something that you can easily shove in your backpack or your bag when you get to the fun off leash part of your adventure.  This means that it isn't often my first choice compared to some of the other leashes in my collection but it would definitely be my first choice if I need to go hands-free.  This would be a great leash for a runner who has a dog that needs to be leashed, although given that the leash isn't very wide it likely wouldn't be good for long distance running if you have a dog that pulls. During the time we tested it, the leash didn't get very dirty but it looks like it'd be fairly easy to clean.  Any small amount of dirt or mud that we noticed we were able to wipe down with just a wet cloth.
This leash would work best for: Dogs who are medium sized and larger, for all weather conditions, short distance runners, people who multi-function on walks (e.g. coffee, umbrella, baby strollers etc.)
This leash wouldn't work for: dogs who may all of a sudden bolt, don't have good leash manners, more strenuous activities/sports such as joring or canicross (for that check out the Hurtta Hiker Belt)
Review by: Dogs That Hike guest Trail Tester @tundra_theheeler