Having had great experiences with Helios' products for humans, we were quite excited to be able to test out a dog bed made by them and were hoping it would live up to the high standards we had for it. While the product isn't terrible, it was definitely a little disappointing.
The bed's main advertising point is that it is made of Cordura-Nyco material, which is supposed to be windproof, waterproof, abrasion-resistant, lightweight and easy to clean.  What puzzles me about the design of this bed is that the weatherproof material is wrapped in fleece.  The bottom of the bed is a rubbery material which is great, but the part of the bed that comes in to contact with the dog is very water absorbent fleece. The first experience we had with heavy rain, the bed became saturated just by the water held in Reggie's coat even after he had been toweled off extensively. I hate to think how saturated it would be if it were directly exposed to heavy precipitation.
The bed is definitely lightweight and is correctly advertised in that regard. The size Large bed has an attractive and well-designed carrying case that is easily strapped to the outside of a pack. The carrying case for the medium size of the bed is however quite awkwardly shaped and it is difficult to fit in the bag correctly. I do however quite like the fact that the bed can be rolled up and self-contained using buckles without the use of a stuff-sack.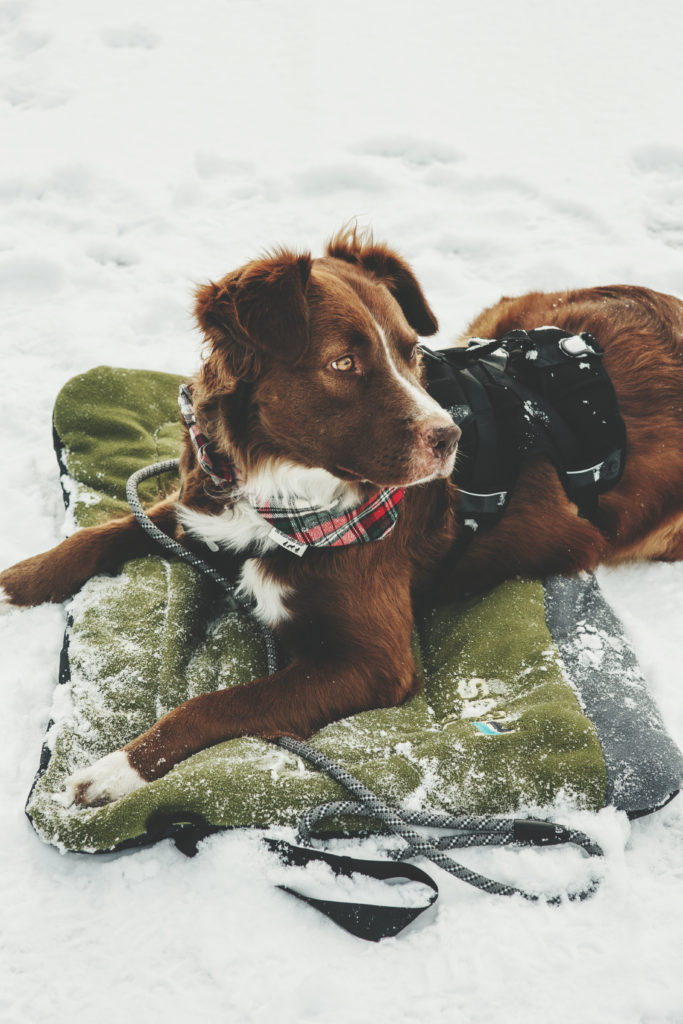 Another issue we have with the bed is its sizing. Reggie is a large sized dog but he is quite short and stocky for his weight. We had a size Large bed to test and even with Reggie's relatively short back and legs, he hangs over the bed by a solid 6 inches no matter how tightly he curls up. Having looked in to the dimensions of the XL, he would still be too large for the largest size this bed is sold in. I definitely would not recommend it for a large breed dog.
As this product is marketed as a dog bed rather than a sleeping pad, I would have also expected it to be thicker than it is. I would definitely classify it as a sleeping pad rather than a full-fledged bed. We were stranded on a road trip recently due to severe black ice and accidents on the highway and slept in our van until traffic cleared and the weather improved. It was a chilly but not overly cold evening with temperatures dropping to around -5 degrees Celsius.  Reggie usually sleeps on his bed on the floor of the van and only hops into bed with us if he gets really cold. He didn't last long on the floor with this bed. It's really hard to say if it's because he is too big for the bed and he was coming in to contact with the floor, or if it's because the bed simply doesn't offer very much insulation from the cold. Either way, this is clearly not an ideal situation.
While the stitching of the bed seems to be very durable and it held up excellently to being machine washed, the sizing on the beds needs some work if they wish to market to large-breed dogs.  The bed could be greatly improved by choosing a less absorbent wrap material.  The price point is reasonable but I do feel that if you're looking for a solid backpacking bed for your dog, you would be better off spending a little more on something that is truly made to withstand all-weather backcountry adventures.
This bed is bed for:  indoor use, RV/trailer camping, small-medium sized dog, backcountry camping in very dry, warm locations
This bed isn't ideal for: outdoor use, large breed dogs, cold weather, wet weather, dogs that enjoy cushioning/insulation
Review by: Dogs That Hike Trail Tester @reggieandthecats