Alcott Essential Fleece Blanket
Atlas is a dog who loves climbing mountains, swimming in creeks, and jumping over fallen leaves while out on the trail. There is nothing my dog will say "no" to when we are out in the wild. He is a true "Adventure Dog" through and through. Atlas does have another side to him though, a side that only my husband and I see on a regular basis. Atlas is a couch loving, snuggle addicted, love bug who spends his afternoons napping away and watching soap operas on the TV. Atlas is not your typical high strung, crazy Australian Shepherd. We are really lucky that he as a really good off switch. Sometimes when I come home from work and see him on his spot on the couch I really think to myself "Geeze we really won the Aussie lottery with this guy!" Atlas likes to find his own pillow and blanket and get as tucked in as possible on his own. It has got to be one of the weirdest behaviors for a dog to have. Luckily Dogs That Hike sent us the Alcott Essential Fleece Blanket to test out to make good use of his love of all things cuddly.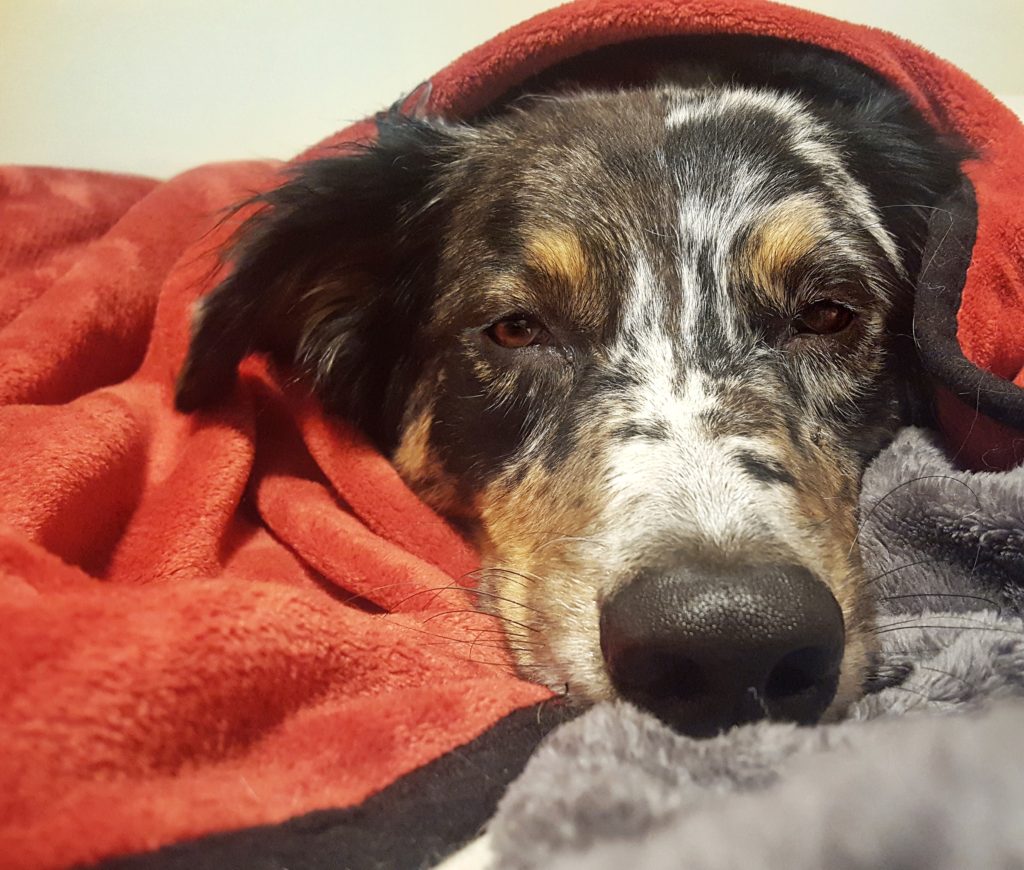 Alcott describes this blanket as "Fleece is so comfortable you might even want to get one for yourself!" This is 100% true as this blanket truly provides maximum snugglyness. Atlas and I have spent many evenings curled up on the couch watching Netflix while being tucked in together. At 50 x 50 inches this blanket is definitely big enough for the two of us to be covered completely. The blanket is so extremely soft and cuddly it's very easy to find yourself drifting off to dream world under its warmth. Recently we brought the Alcott Essential Fleece Blanket with us to Nordegg, Alberta for some back country hiking. We had a long day exploring the cliff side of Abraham Lake and Atlas was more than grateful to curl up for a break with his blanket. It was a super windy day and I'm sure he was grateful for the warmth that this blanket provided. He was so comfortable he even settled in for a quick snooze.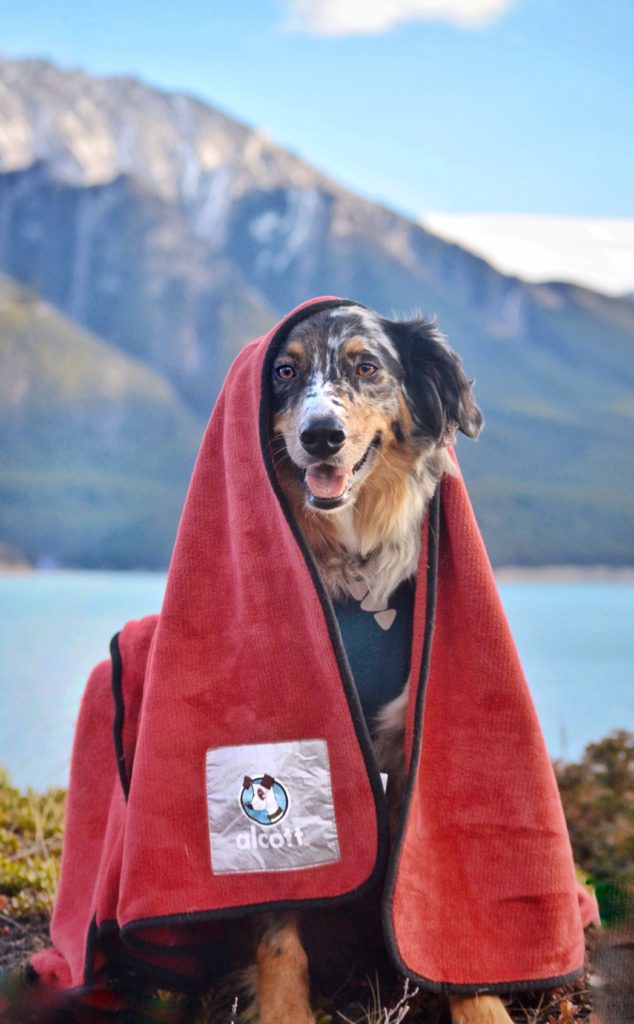 The Alcott Essential Fleece Blanket is made of a high quality fleece material that truly seals in warmth and keeps out drafts. It has a nice sewn black edging that keeps it from developing any frayed ends. It is machine washable which is a really nice convenience when dealing with dogs that hike in smelly areas. After washing this blanket it came out as good as new. This blanket has been scraped over rocks and sticks on the trail and has help up extremely well. A few other Trail Testers have mentioned that the blanket leaves fuzz on their pants and couch however mine has never done this.
The blanket is a bright red colour that goes perfectly with the holidays or as a little pop of colour in your home. We leave ours thrown over the back of the couch so it is always ready for action for an impromptu cuddle session. This blanket would be big enough for almost any breed of dog. It's large enough for Atlas (who is an above average sized Aussie) and myself with room to spare. The only thing I would change on it is the label. I wish the Alcott logo was embroidered on rather than a sewn on plastic-like label. Atlas likes to chew on labels and tags so one that is incorporated into the design would be better for us. The label is easily removed if needed so it isn't too big of a deal.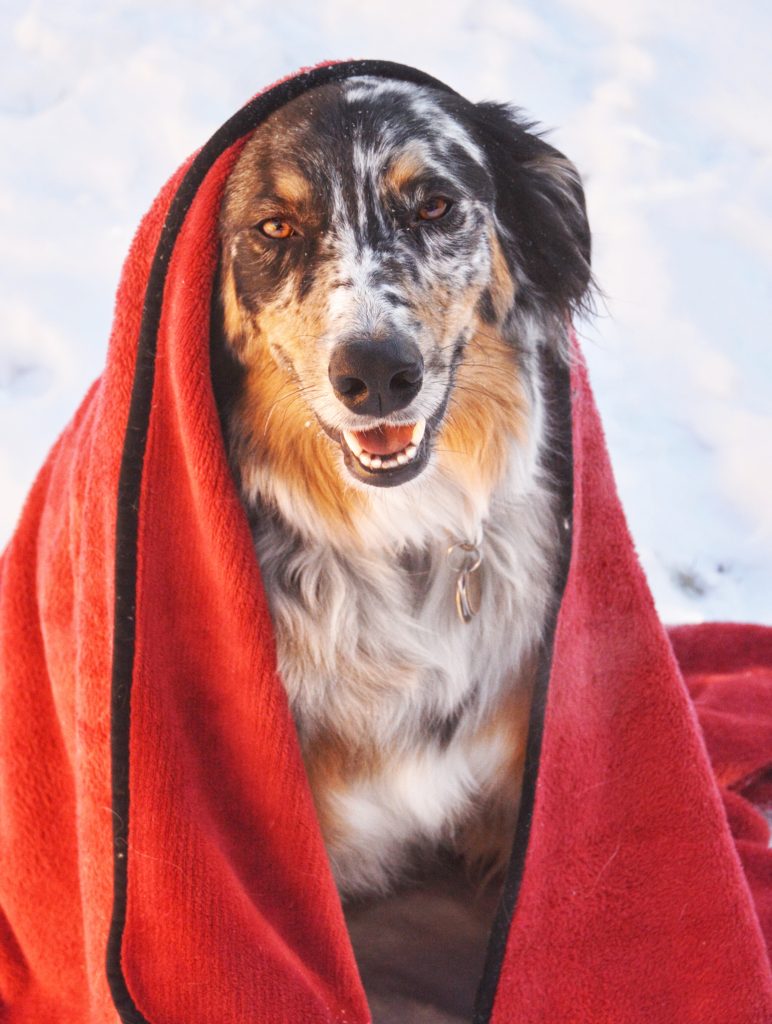 Even the most adventurous thrill sniffers need a break once in a while. I would highly recommend this product to anyone with a dog who likes to be tucked under a blanket. While out on the trail this blanket delivers a little piece of home to bring your dog back to a calm and relaxed state. I absolutely continue using this blanket in the future on camping trips and at home on the couch.
This blanket would work best for any sized dog who enjoys being under or on top of blankets. It is good for home use and for use outdoors in dry areas. It is great for cooler climates or for areas with temperatures that drop when the sun goes down.
This blanket wouldn't work for dogs who don't like blankets or for hot climates. This blanket also wouldn't be ideal to be used in wet areas as the fleece is not waterproof.
Review by: Dogs That Hike Trail Tester @atlastheadventuredog / atlasdogblog.com/
Product from: @alcottgear / alcottadventures.com