P.L.A.Y. is a San Francisco based dog shop that offers all the "fun stuff" – they have a luxury bed line, a training/outdoor line (including tents and treat pouches), and an adorable plush toy line. All of their Outdoor products, including this disc toy, come in two prints – Mocha, (brown background) and Vanilla (white background), printed with orange and brown dogs. Their Disc toy is an indoor/outdoor frisbee alternative, with a tooth-friendly rope border and a tough central panel that hides a squeaker.
The P.L.A.Y. Flying Disc toy is constructed of a stiff, tightly twisted rope circle with a durable fabric center panel that contains a squeaker. The three-sided shape of the fabric panel plus the structured rope makes it fairly rigid, but still a softer alternative to a traditional frisbee. Robin doesn't catch Frisbees (they're too heavy for him) but he does crunch on them, so I'm happy to have a tooth-safe alternative. According to the product listing, the Flying Disc floats on water, which is a fun option for water lovers, but we didn't test that since Robin's not reliable about fetching out of the lake. The toy features reflective piping on the edges for low-light visibility and is overall sturdy and well built.
Robin's not a particularly strong chewer, but he's torn up every rope toy we've gotten him – he looks for a loose end and unravels it. The P.L.A.Y. disc toy rope is too tightly twisted for him to get a good foothold, so it still looks pretty new after about two months of availability in his toy pile. Another Trail Tester with a larger dog found that the toy held up well to brief chewing in between throws, so it's definitely durable for supervised play, although the ropes probably wouldn't hold up long to a strong chewer if left alone.
I'm not generally a fan of the printed fabric P.L.A.Y. uses in their Outdoor collection items, but on a toy it's totally fine. However, the dark brown can be a little hard to see on all the sad brown dirt we have around here, so I'd prefer neon or bright choices.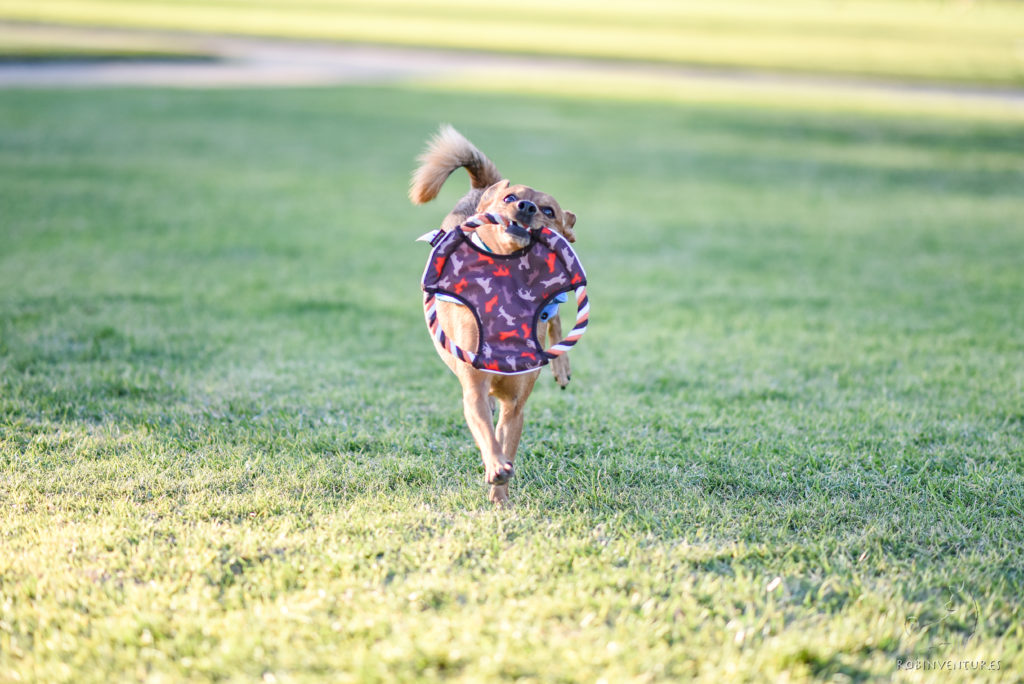 The disc is only available in one size, which is about an 8″ diameter, and it's a bit heavy for Robin (he refuses to try to catch it), but he'll fetch with no problems. When running, he does tend to catch his front foot in the ring but because it's soft, he doesn't get hurt, and just runs on three feet til he gets back to us. The problem for catching isn't the size, but the weight – the dense rope is heavy, so he waits for it to land. A smaller disc wouldn't make much difference in rope weight, so a different ring option would be a nice offering for smaller dogs – maybe a stiff rubber or silicone. As-is, the toy works great for active Robin-size (~18lb) dogs and up, but small dogs that are more tentative fetchers may not be interested.
This isn't Robin's favorite toy, but he does like it. Indoors, his plush toys win for playtime, but I'll catch him taking the P.L.A.Y. disc into his bed during downtime to pick at the rope. Outdoors, he likes it a lot – he prefers it to his "outdoor" rubber toys and will jump all over us trying to snatch it back.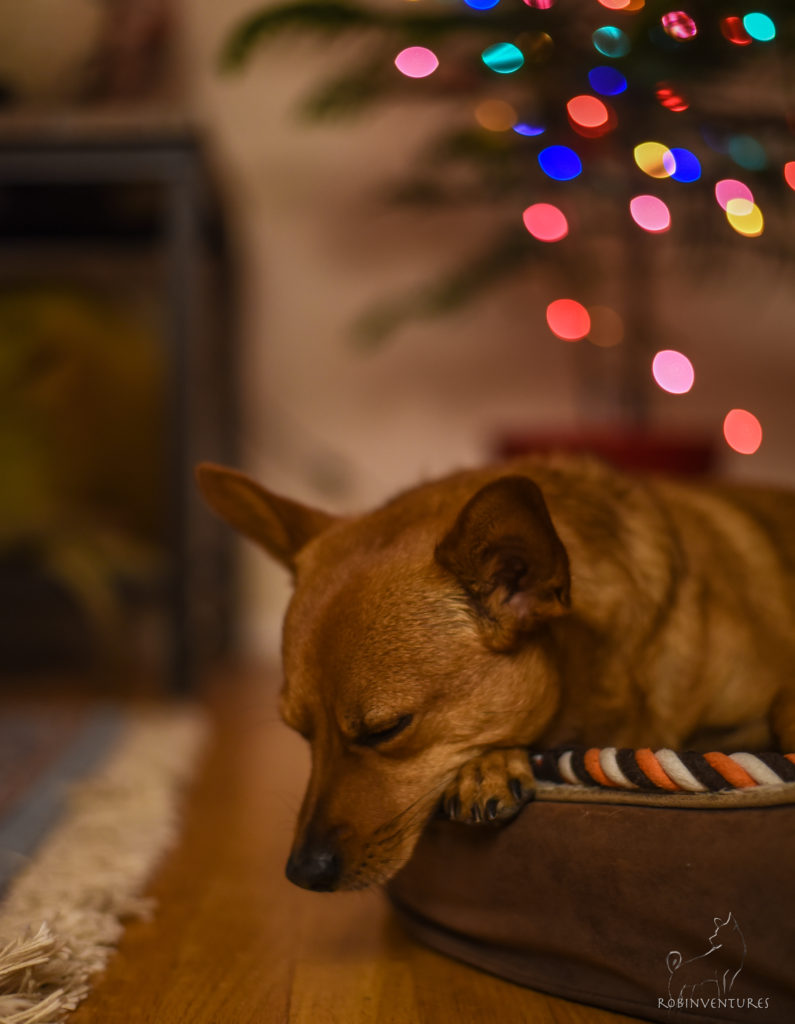 This toy is marketed in P.L.A.Y.'s Outdoor collection, but I'm not personally a big fan of using rope toys outside – the rope is cotton, so I worry about it getting nasty over time and we haven't had luck washing cotton rope toys in the past. For that reason it's primarily been an indoor toy for us with a few intentional excursions to test, which is too bad because the dense rope much better suited to big spaces where it can really fly. If the ring weren't cotton rope, I'd be more comfortable keeping it outside, which would put it into his regular outdoor play rotation.
The P.L.A.Y. disc flies really well, even after being yanked out of shape by some tug. I was actually surprised by how far it'll go, and it doesn't get buffeted around in the wind the way a standard fabric frisbee does, which is nice if you have a history of throwing them over fences or into lakes (oops).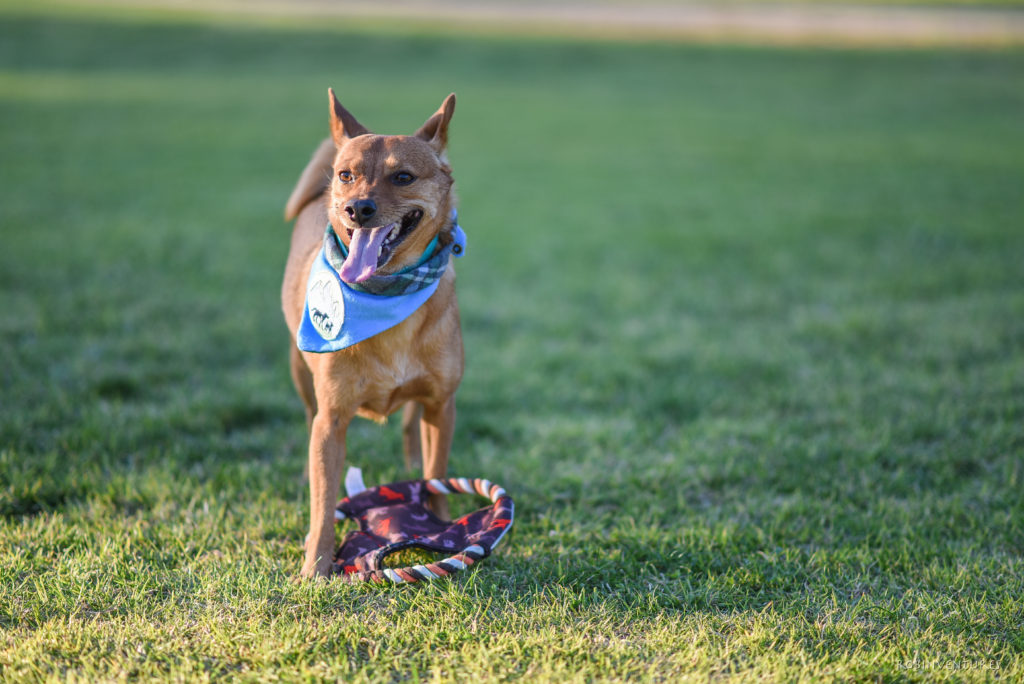 The other fabric frisbees we've used have been only a couple bucks cheaper, and this one has a more interesting design with the built in squeaker and is more durable – those all have been fabric wrapped around a rubber tube, and Robin's teeth punched right through the fabric. However, due to my concerns with the rope I'd say the toy needs a bit of extra care and is worth the price if you'll take it inside after playtime. This is not a drop-it-in-the-yard-and-forget-it toy.
The P.L.A.Y. Flying Disc toy is a great Frisbee alternative for supervised outdoor play. The rope border is gentle on dogs' teeth, and it's durable and stands up to plenty of tugging and chewing between throws. Just don't leave it inside in wet weather!
This toy would work best for: Frisbee dogs, outdoor fetch, supervised chewing/tugging
This toy may not be ideal for: Live-outdoors toys, dogs under 20 pounds
Review by: Dogs That Hike Trail Tester @robinventures / https://robinventures.wordpress.com/
Product from: @petplaysf  / petplay.com