If you read our previous article you're already aware of the dangers of heat in the summer – if not click here to read about How to Tell if Your Dog is Overheating.  Read on to find some key ways to prevent it.
Be aware of the weather that you're adventuring in. While that afternoon sun is great for relaxing on the beach, it's not so great for when you're working hard on the trail. Early morning and late evening are often the coolest times of day.  Not only is time of day important but when it is humid out your pup will have a harder time regulating and cooling gear may not function as intended.
Check the ground temperature. We often remember to check the pavement before we take our pups for a walk in the city but what about on the trail?  If you're on a rocky trail those rocks can be just as hot as pavement in the city!  Check the temperature of the ground with your hand – if it feels hot to the touch chances are it's too hot for your pups paws too.
Bring plenty of water. We can't stress enough the importance of staying hydrated on the trail.  Every time you need a drink you should be offering your pup a drink as well. If you have to be out when it's hot consider freezing your water bottle so your water doesn't become warm on your trek.  If your dog doesn't normally like to drink a lot consider adding a little beef or chicken broth (preferably homemade) to their water to encourage drinking.  If using store bought broth be careful how much you add as you don't want your dog to take in too much salt.
Take a break in the shade. If you're sweating chances are your dog is too.  Take a quick break in the shade and enjoy the scenery around you.  This will allow your pup an opportunity to cool down and make sure that they don't get too hot.  Don't have any shade on your trail?  Consider bringing shade for your dog – the Alcott Mariner Shade Canopy is a quick and easy set up and in a pinch could work for humans as well.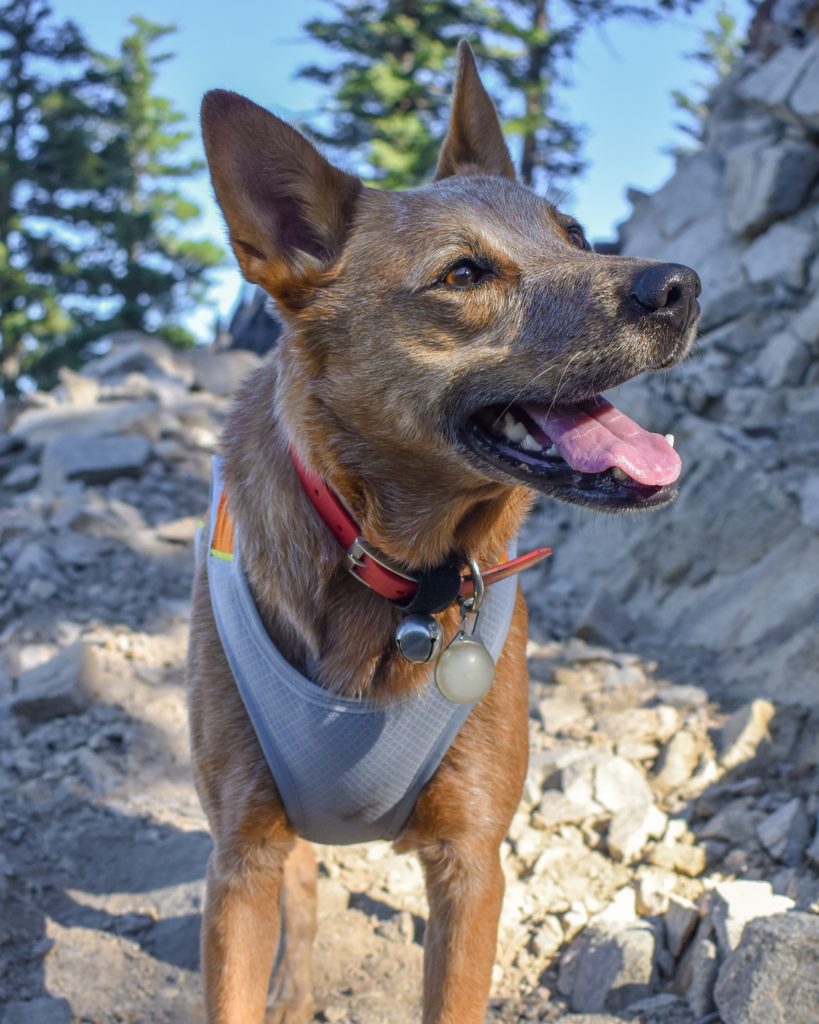 Offer some cooling treats. Not many pups will say no to a pupsicle or some doggy ice cream.  These may not be the most convenient on the trail by you can keep one in a cooler in your car for the end of your trek.  These can be found at most local pet stores or you can make your own.  Click here for a few Quick and Easy Dog Ice Cream and Pupsicle recipes.
Consider cooling gear.  There are many different styles and brands of cooling gear on the market and every dog needs something a little different.  Not sure which one is right for your pup?  Here is a quick run down on the ones we've received recently:
Hurtta Cooling Vest – Covers the heart and chest so ideal for dogs with thicker fur/not looking for full body coverage.  Uses evaporative cooling to keep your pups temperatures down.  Available in light colours to keep heat away.  Dip in cold water and wring for use. Step in design for pups who don't enjoy having products put over their head.  High quality materials that show no sign of wear after extensive use.  Excellent results when used in hot weather and direct sunlight.  Easy to re-wet when on the trail.
Ruffwear Swamp Cooler – Full body coverage with reflective properties.  Uses three layer technology evaporative cooling.  Dip in cold water and wring for use. Vest slips over head with adjustable side buckles allowing it to fit small and large chested dogs. Tightly woven and high quality materials used allow it to hold up to adventures.  Excellent results when used in direct sunlight and hot weather, our results are consistent with the Ruffwear thermal technology tests. Easy to re-wet when on the trail
Ruffwear Jet Stream – Lighter more minimal version of the Swamp Cooler that offers lightweight spandex with UPF 50+ and a three layer bottom section to cool the chest and belly. Dip in cold water and wring for use.  Compact design makes it a light addition to any pack. Excellent results when used in direct sunlight and hot weather. Easy to re-wet when on the trail.
Kurgo Dog Core Cooling Vest – Full body coverage, reflective properties and light colour help deflect the suns heat.  Dip in cold water and wring for use. Great materials and construction. Good results from our double-coated Explorer who took it on a strenuous summer hike.  Moderately easy to re-wet on the trail, coat doesn't absorb water as easily as other brands.
Canine Equipment Ultimate Cooling Coat – One of the few cooling vests on the market that doesn't rely solely on evaporative cooling.  Has a PVA strip down the back that works similar to the technology often used in cooling mats. PVA strip surrounded by mesh which offer little to no cooling properties.  Construction and materials leave something to be desired – likely will not last long term or hold up to adventurous pups. Not easy to re-wet on the trail.
Ruffwear Core Cooler – Cools the core under body area, dip in cold water and wring for use.  Uses evaporative cooling and designed to integrate in to specific Ruffwear products (i.e. harnesses and backpacks).  Cools well on non-double coated dogs. Can be difficult to re-wet on the go due to location.
Chilly Dogs Soaker Robe – Full body robe, micro terry cloth material does not absorb as much water as Hurtta, Kurgo, or Ruffwear and dries quickly. Does not use cooling technology, equivalent to putting a wet towel on your dog. Immerse in water or spray to wet, easy to re-wet on the go. Not ideal for the trail but would be useful for areas where not exposed to debris.
One thing most cooling gear has in common is that they are evaporative cooling – this means that you need to make sure you are bringing enough water with you to keep wetting it throughout your adventure.  Additionally, in high humidity your cooling gear will not function at peak performance.  Alternatively you can soak and freeze a bandana.  Please note this works best when the bandana is close to your pups skin so if you have a fluffy puppy you will need to make sure it can get down in between the fur.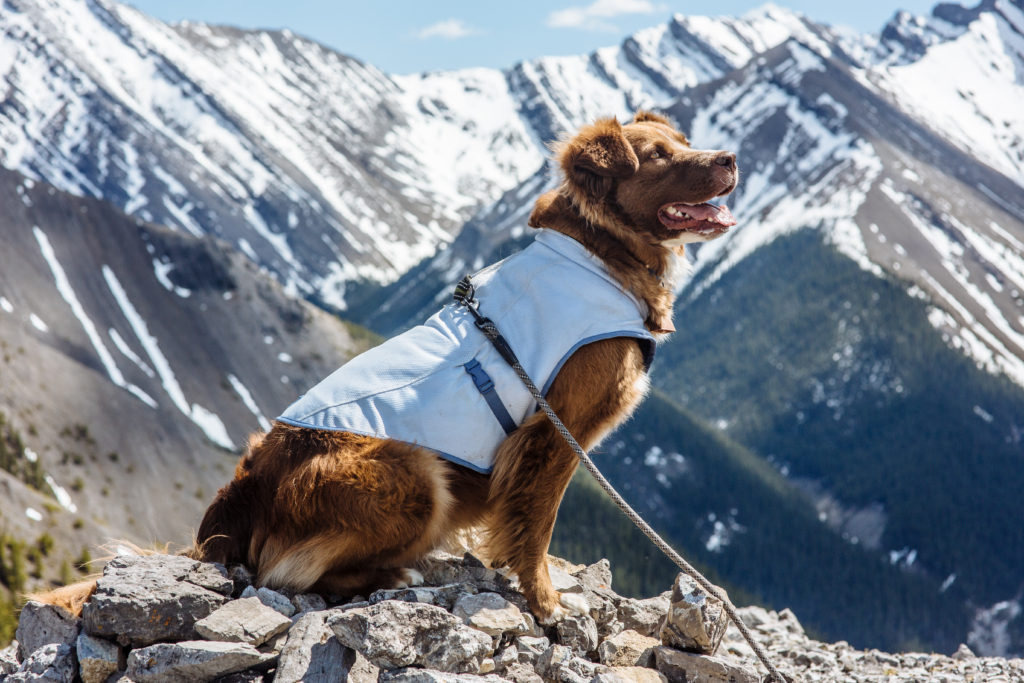 Watch for signs of over heating.  More often than not your pup is pretty good at letting you know they're overheating, you just need to know what to watch for.  Key early warning signs include:
Stressed out
Panting
Drooling
Seeking shade or coolness
Increased thirst
Weakness or anxiety
Increased heart rate
If these signs are missed it can progress to:
Vomit
Stress diarrhea
Red gums or pale gums (indicates shock)
Blue gums (visit your vet IMMEDIATELY)
Shock
Respiratory distress
Blood in vomit or diarrhea
Disorientation
Seizures
Ataxia (walking drunk)
No urine output
Respiratory or cardiac arrest
Bonus tip: Keep your pet groomed. This does not mean shaving your dog!  Dogs with double coats are able to regulate their temperature the best with their double coat intact.  What this means is do what's best for YOUR dog.  If they have long hair make sure they don't have mats or tangles.  If they have a double coat keep up with your regular maintenance so that their coat can do its job.
Disclaimer: The advice we offer above is based on our own personal experiences, research and talking to professionals but every dog is unique and what works for one may not work for another.  If you have any specific concerns about your dog please talk to your vet.