"You have a WHAT for your dog?!" is often the question I hear when my dogless backpacking friends and I talk about gear. "Yes, she has her own sleeping bag" is my response as I explain the multitude of reasons why I bring one along for her.  No matter how skeptical, they're always brought around when I conclude "annnnnd if I don't bring one for her she's just going to sneak in to mine in the middle of the night".
If you live in an area that's always warm or have a northern breed dog chances are you've never considered a sleeping bag for your pup.  But for the rest of us campers and backpackers it's likely something you already own or have thought about.  Living in the Canadian Rockies with a pup that barely has one coat of fur, a sleeping bag is a year round essential.  The climate around here means for her to stay warm at night she's often in a coat in her sleeping bag in the winter and just a sleeping bag in the summer.  I was thrilled when I heard Hurtta was launching the Outback Dreamer and even more excited when I found out Hurtta North America was sending one over to test.  I've tried many different options over the years to help keep my pup warm at night and the Outback Dreamer has outshined them all.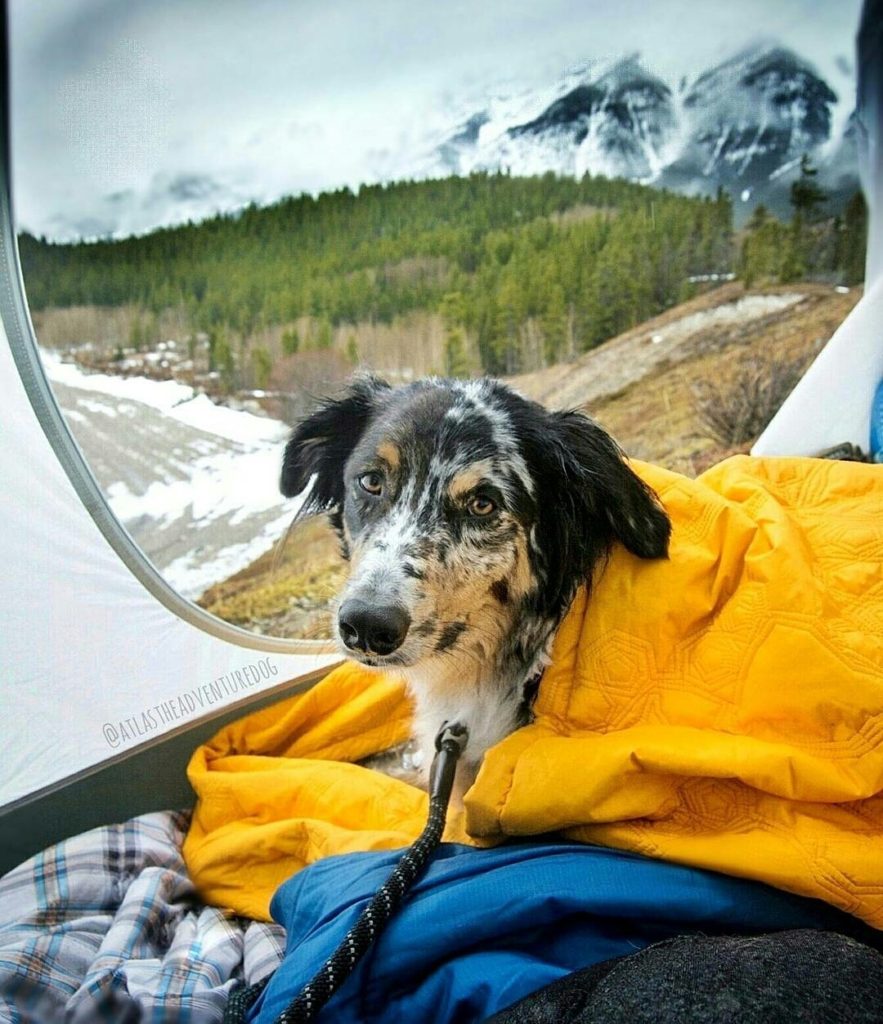 If you've ever looked in to getting a sleeping bag for your pup you've probably noticed one thing – most of them look the same!  The Outback Dreamer we received from Hurtta North America breaks all tradition when it comes to dog sleeping bags.  The bag is perfectly round and has an overlapping opening to keep the warmth in while your pup is sleeping. We love that they've broken the mold on this as the round design more closely aligns with how dogs naturally sleep and it allows them to curl up in to their own warmth.  As a bonus, if your pup prefers to keep his or her head outside of the bag, the overlapping opening means you can stuff the top of the bag and create a little pillow for your pup (have we gone too far? Probably… but our Trail Tester Atlas LOVES pillows so we're going with it).
Our pup is conditioned to sleeping bags so the fully enclosed round design and the overlapping opening made it easy for me to prop it open so she can get in and out on her own.  Our fellow Trail Testers who are newer to sleeping bags were able to get in with a some assistance from their humans and get out on their own.  While the round design is innovative and sets it apart from its competitor, the bag being fully enclosed means that some dogs (e.g. those who are new to sleeping bags, those with big booties) will need more assistance getting in than others.  Adding a quarter zip on one side would make this bag more accessible, would add minimal weight, and wouldn't affect the overall warmth of the bag.
The exterior of the bag is made with Houndtex which basically feels like a more durable human sleeping bag – the top is a cheery "Orange Sun" and the bottom and sides are black.  The Houndtex material is unique to Hurtta and something you'll find on their other products including their top of the line coats.  The material is both water and dirt resistant which allows you to use the bag as a sleeping pad outside of the tent and brush it off and bring it in to the tent overnight.  We used this bag as a place for our pup to hang out when we were eating dinner around the campfire – it gives her something a little more comfortable than dirt.  We also got her to lay down on the bag when she was soggy and muddy and found the material held up well – the bag didn't absorb any water and it still looks as new as the day we got it.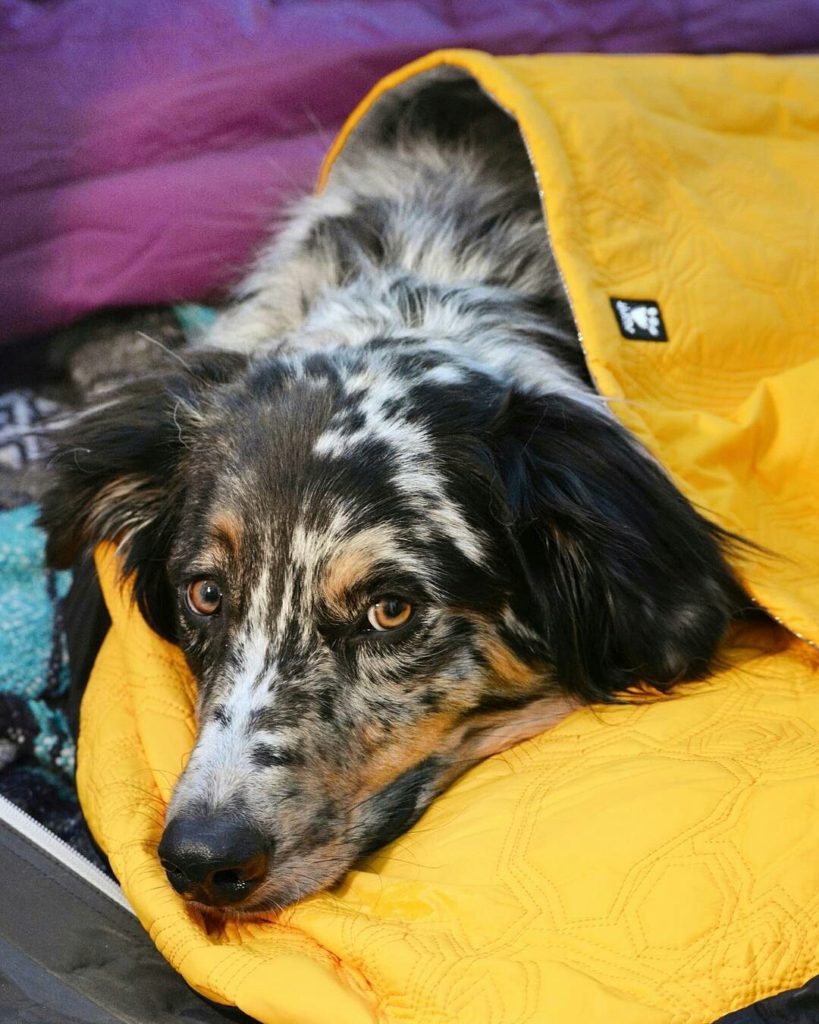 Both the top and bottom of the bag are filled with a synthetic wadding, however there is no wadding on the sides of the bag.  This was likely done to save on both weight and space as the largest bag packs down to about the size of a Nalgene bottle and is small enough to fit in to a dog backpack.  We weren't able to quickly identify what material is used on the interior so we reached out to Hurtta and were told it is "tricot".  The material itself has the feeling of a brushed lycra (think soft yoga pants) which creates a comfortable interior for your pup to sleep in. The lining is patterned with a soft heat reflective foil designed to reflect your pups heat back in to the bag adding warmth.  It's worth noting that the interior is not waterproof but it does dry very quickly.
Initially I was concerned that my pup may not enjoy the bag as it is less puffy than others we've tried.  Then I remembered that given a choice between a bed and dirt my pup often chooses to sleep in dirt.  It only took a few seconds for my pup to realize the bag was hers and now whenever it comes out she is quick to run and lay down on it.  Our fellow Trail Testers big and small agree that the bag is comfortable and they enjoy sleeping on or in it.  Most pups should be okay with the level of wadding this bag contains but if you are concerned that there isn't enough padding between your pup and the ground you can add Thermarest Z Lite or similar underneath the bag.  We do this in winter for the Outback Dreamer and for any previous bags we've used as it provides additional insulation from the cold of the snow.
While the bag doesn't have as much filling as other bags we've tried, the uniqueness of the heat reflective foil means that it is just as warm as its competitors.  We tested the warmth in a controlled environment – on a mild day we left the heat off in our house and let it get down to moderate 10C/50F.  Since our pup loves sleeping bags we asked her to climb in and sleep for 10 minutes.  At the end of the 10 minutes we coaxed her out and checked both her body temperature and the interior temperature of the bag.  Both her body and the bag were noticeably warmer than when we ran this same test on our previous more lofty sleeping bags.  Additionally, the interior of the Hurtta bag retained the warmth longer than the competitors we tested it against.  It's also worth noting that the interior fabric is the same technology that's employed on the Extreme Warmer and is what allows that coat to be used in extremely cold weather (successfully tested by our Trail Testers as low as -40C/-40F).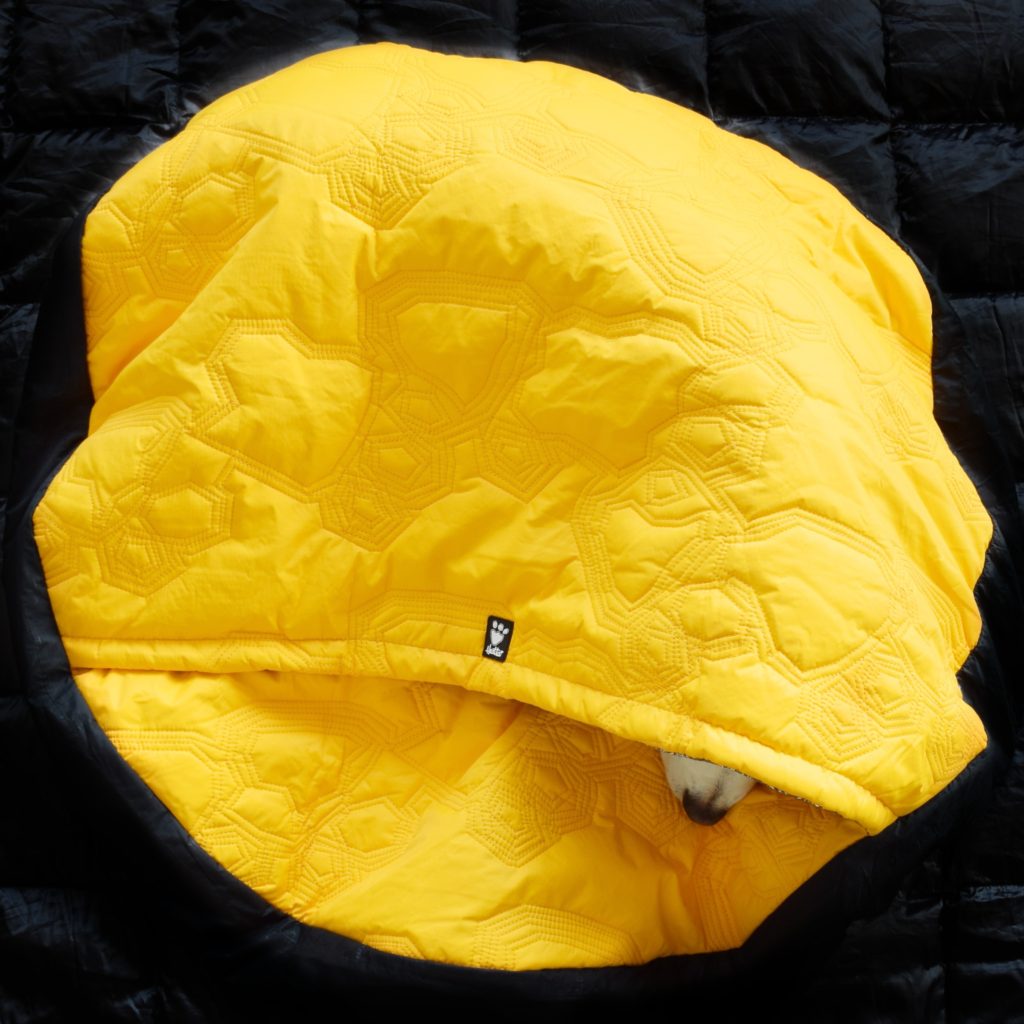 Filling it with down would save weight but we like the synthetic fill as our pup doesn't always stay completely dry on our adventures and wet synthetic fill retains warmth better than wet down.  Even with a synthetic fill, this bag is designed with backpackers in mind as it's available in three sizes, the heaviest weighing in at 1.5lbs – Small 20" diameter (0.5 lbs), Medium 28" diameter (1 lbs), and Large 35" diameter (1.5 lbs).  The current sizing is more than most competitors offer but we'd love to see this bag in an XL so those extra-large pups are able to have a sleeping bag of their own.  The bag also comes with its own stuff sack, the material being the same material that lines the bag.  Personally, I would prefer if the stuff sack was a water resistant ripstop nylon but depending on your travels you may not always need the stuff sack.
As with all Hurtta products the craftsmanship on these bags are impeccable.  Thought has been given to every detail of this bag, from the quality of the materials to the quality of the stitching and we expect to last for years to come. It is now one of our backpacking essentials and we appreciate that upgrading to this bag has not only saved us space but lightened our load a little.  We highly recommend this to anyone who has considered a sleeping bag for their dog or is not satisfied with their current one.
Want to learn more about what to take backpacking when you bring your pup along? Check back later this week as we'll be doing a post on backpacking with your dog.
This sleeping bag is best for: anyone who has been considering getting a sleeping bag or upgrading their current one, dogs who need some extra warmth overnight, weight and space conscious backpackers
This sleeping bag may not work for: extra-large dogs, those who camp in hot climates (would recommend using it as a bed/sleeping pad instead of a bag), northern breeds or dogs who are already too warm at night/love the cold
Product received from: @hurttanorthamerica / hurttaamerica.com
Additional photos by: @atlastheadventuredog / atlasdogblog.com and @robinventures / robinventures.wordpress.com