The Hurtta Summit Parka is the first Hurtta America product that we have ever owned and after our wonderful experience we will never hesitate to spend the extra money again as it has more than proved that you get what you pay for.
We used this parka in very cold and snowy environments, during snow fall and mild rain showers, during the day time as well as in dimly lit situations such as dawn and dusk. We even tested this to the extreme as we recently have had very cold winter weather here in the Canadian Rockies.  We've experienced temperatures as low as -30 degrees Celsius (-22 degrees Fahrenheit), Emma stayed warm and comfortable wearing only this parka and a set of dog boots. We could even enjoy over an hour long walk; she showed no signs of discomfort, held her body heat underneath the jacket well and was happy to run around and relieve some cabin fever!
This Summit Parka is intended to be used in cold and frigid environments to keep your dog's body temperature stable. The design of the parka is very well thought out as it is intended to be used both before and after rigorous activity to keep core muscle groups warm.  It offers a high collar, protective front and long rear hem protect your dog's most important muscle groups, neck and chest.  It also has a water resistant yet breathable Houndtex coating on the outer portion of the jacket helping your dog to stay dry. Along with a soft and warm interior, it definitely serves its main purpose of keeping your dog warm, cozy, dry and comfortable.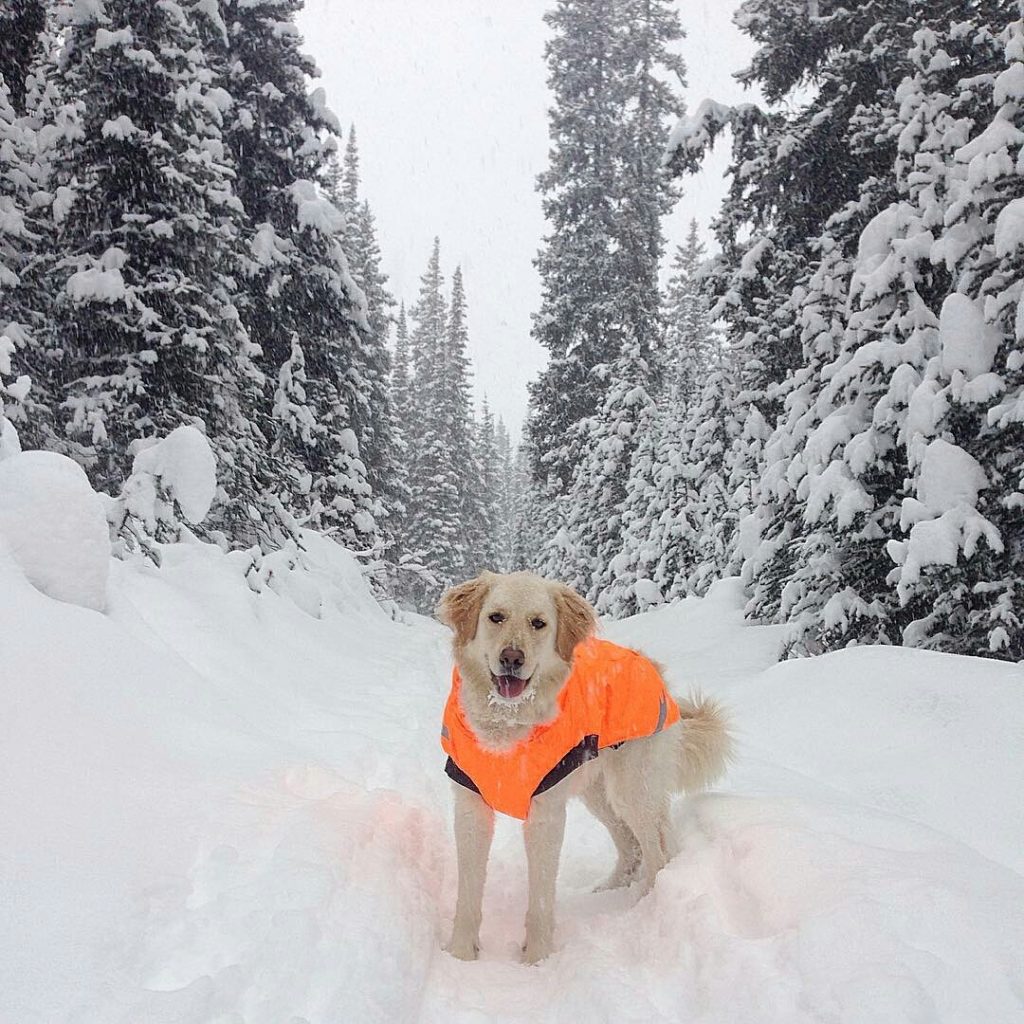 For us, the parka is so easy to put on and take off, no stepping in, just sticking her head through the neck of the jacket, the back flap rests easily over her spine and a belly flap runs through her legs and clips up over her mid section, with the clip ending up over the back portion of the jacket. Emma normally runs and hides when I try to put a harness or boots on her, but this jacket caused her no stress which indicated to me that it feels gentle and comfortable to her.  For my 55 pound Golden Retriever mix we have the 55cm/22inch size.  Hurtta offers a variety of sizes but if your dog is between sizes it's useful to know that the length of the jacket can easily be adjusted by a couple inches and the chest and neck portions can be cinched up easily for a closer fit.
There are a number of clever design elements to this jacket (which to me really showed how much thought went into the design).  First there is a hole where the leash may attach to a harness – Hurtta has cleverly designed this to create a more snug fit around the leash and prevent more heat loss than necessary.  In addition, the Summit Park comes with hind leg straps.  The hind leg straps can prevent the jacket from flipping up in windy conditions.  While the hind leg straps are good in theory, my female dog did not appreciate the location of the straps and does not urinate while the straps are on.  The good thing is that the straps are so minimal that we are able to leave them off the legs and continue to use the jacket without issue.  Not all dogs are as body sensitive as my dog, but even without the hind legs through the straps not once did the back of the jacket flip up.  If your dog is less body sensitive the leg straps would be quite useful to dogs who do not notice the strap location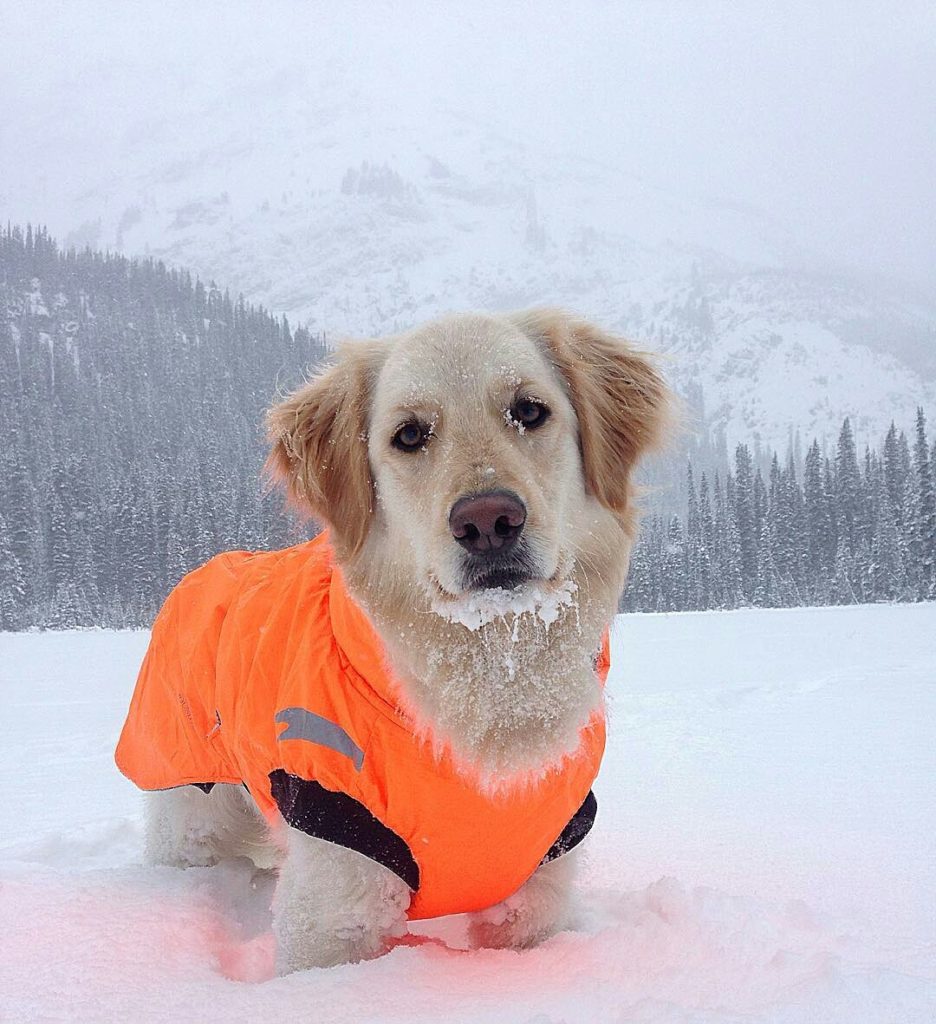 The only part of the design that I feel could be improved upon is the adjustment strap over the mid-section.  While the strap is useful, we found that when the jacket is worn during high activity the strap can slightly loosen on its own or if snagged on the trail.  While it did slightly loosen, the strap did not snag or sag away from her body at all.   While some prefer their jackets to stay tight, the ability of the straps to slightly loosen my in fact be a safety feature, as you never want to accidentally tighten the strap too much over the delicate midsection of an animal.
The quality of the workmanship is the best part of this jacket, we have used it for a couple months now and it held up during dog on dog play, rolling in poop, trudging through 2 feet of snow, I even put it through the washing machine on delicate and hung to dry and it looks bright as ever. The reflector strips so far are not peeling off and the fluffy interior is still soft and comfortable. I have not found any stitching coming undone anywhere on the jacket and am really pleased over all.
Our Summit Parka is Hi-Viz Orange, and while colour means nothing to Emma, I absolutely love the brightness – it's so bright I could see my dog from huge distances. The jacket seems to illuminate its own light that while using it in wintery conditions the snow around Emma reflects orange, this may not seem like an advantage to some but if you have a hunting dog that you want to be very visible, or are in an area where hunters may be active this is a life or death safety precaution! Every person that has witnessed the brightness of this parka has made a comment, compliment or just smiled and stared. I got a laugh every time we used the jacket at people's response to the jacket; it is after all a huge fashion statement.  Here in North America the jacket also comes in slightly less bright versions – Cherry and Raven.  In all three colour options there are reflector strips on either side of the jacket which is a bonus as far as visibility goes.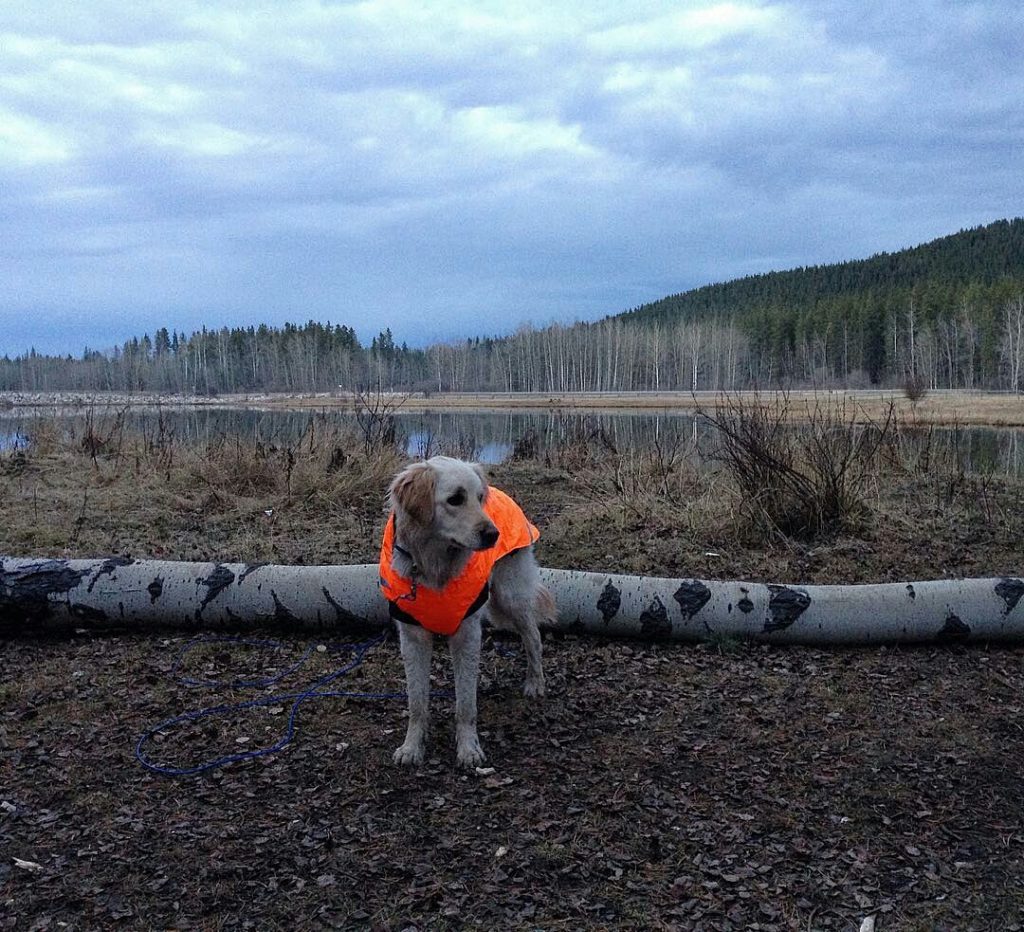 Overall the Summit Park would best suit a dog whose job is to be very active for a period of time and then told to be still, such as hunting dogs, scent working dogs, herding dogs, agility etc. The bright color would be a great safety feature in all cases to allow visibility by handlers or other people who may be in the area such as a hunter. The jacket could even prevent injury to the dog by keeping the core working muscles warm during periods of rest; this eliminates the risk factor of suddenly working muscles that are cold. One situation where the jacket is not beneficial is a dog who goes backcountry skiing or snowshoeing with its owner, where the dog is walking through chest high snow or deeper. In our case during our snowshoe, snow did get under the chest and armpits forming snowballs in the fur, this was the only time the jacket did not benefit us.  That said, if your dog does not have the type of fur that snow sticks to this won't be an issue for you.
We will continue to use the jacket on trails, in cold weather or when snow is falling because it kept Emma warm, comfortable and dry, even in the arctic temperatures this past week. I would absolutely recommend this product and we will be using ours over and over again!
This jacket would be idea for: short haired dogs, dogs who do not have double coats, dogs who are active and then still (prevent injury by keeping muscles warm), cool to cold weather, dogs who need to be seen (i.e. visibility)
This jacket might not be best for: deep powder if your dog has fur that snow sticks to, extremely windy weather if your dog is not okay with the leg straps
Review by: Dogs That Hike Trail Tester @emma_brat
Product from: @hurttanorthamerica / hurttaamerica.com