The WOOFgang Shop Paws & Go Balm
The wild winds blow, flakes swirl and fall from the heavens, ice cracks, melts, refreezes and the cold sets in deep into our bones. The Canadian winter is a force to be reckoned with. As humans we find ourselves dousing our bodies with gallons of lotion and body butter to offset the cold dry air. We are often so busy trying to quench our own dry skin that it's easy to forget that our furry companions can have some of the same issues. With the exception of extreme temperature lows, Atlas is not much of a bootie dog. He prefers to run around with his wide, furry feet in deep snow and scamper around with naked feet.  His pads are generally quite strong and hold up to the elements well. He has not ever had an issue with peeling or severe cracking, but he does oven have dry sandpaper like pads. Recently we were lucky enough to be given The WOOFgang Shop Paws & Go Balm to help combat dryness and to help protect Atlas's pads on the trail for a testing period of about a month.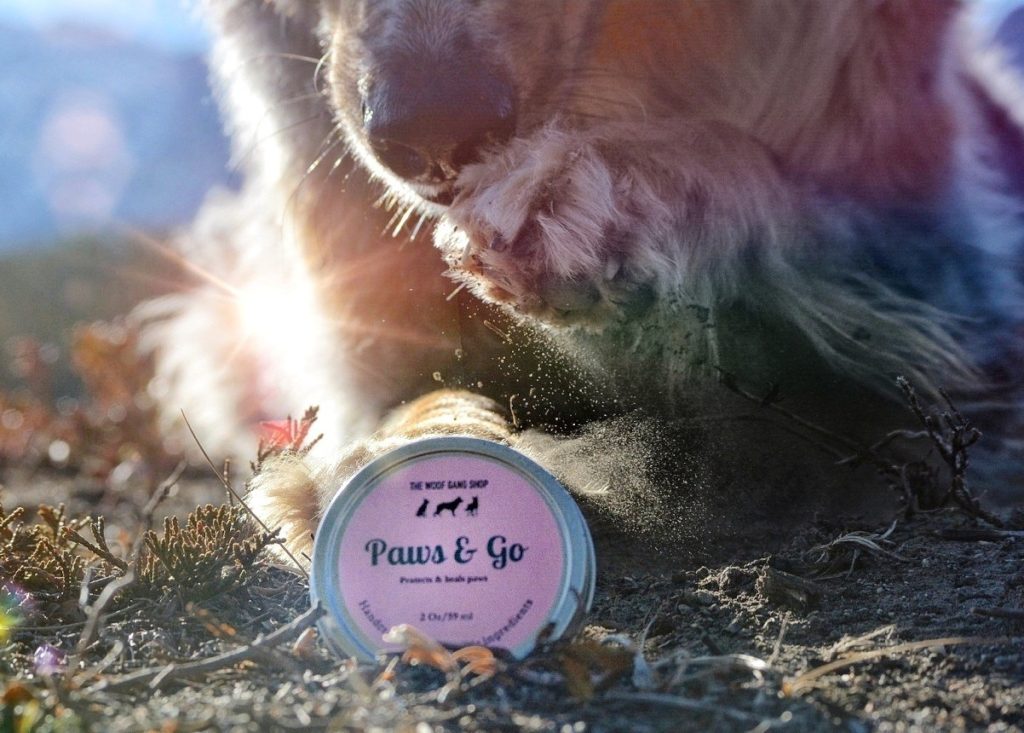 This product is designed to sooth, repair and moisturize paw pads that are dry or cracked. During our testing we have found that the balm did in fact make a difference with the dryness of Atlas's paws. We applied the balm twice a day as recommended by the company. The sandpaper like skin on his pads has been smoothed and his pads have turned from a dry, grey quality to a moisturized, black healthy pad. The results from this product have been quite dramatic. There was one instance where I noticed Atlas licking his Carpal Pad (the back toe like appendage) and upon closer inspection I saw that it appeared to be cracking on one side. I applied the balm to this area before bed and in the morning this crack appeared to have healed significantly during the night. This product really does appear to work quite well for dryness and small repairs. Atlas does not have significantly damaged paws as his is still quite young so I cannot yet comment on how this balm tackles abrasions or intense cracking.
One of my favorite things about the Paws & Go balm is that it is made here in Alberta with 100% organic and vegan materials. This gives me great confidence that if Atlas was to ingest the product, there would be no risk of illness. Atlas likes to eat absolutely everything and he was inclined to lick at his paws after applying the balm. I generally avoided this issue by giving him a peanut butter filled puzzle toy to gnaw on while the product did its magic on his pads. The ingredients in this balm have quite a few natural benefits to the skin. Coconut, shea butter, and candelilla wax help to lock in moisture; Comfrey oil naturally reduces inflammation and has skin healing properties. The added tumeric acts as a disinfectant and helps to aid in the heeling of cracks. The WOOFgang Shop also added in Vitemin E to help protect dry pads and help to moisturize the most parched sections. Paws & Go Balm is truly a feast for the nostrils. When opening the jar, your nose is instantly hit with the calming smell of the chamomile, lavender and rosemary which also aid with skin healing inflammation. The scent is nice and not too overpowering. When you dip your finger into the balm, it appears thick but does come out nicely. The balm starts to sweat with the heat of your hand and when applied to your dog's pads it goes on smooth and rubs in easily. The balm is reminiscent of a lotion for human hands. It was quickly absorbed into Atlas's dry pads and left a light scent behind.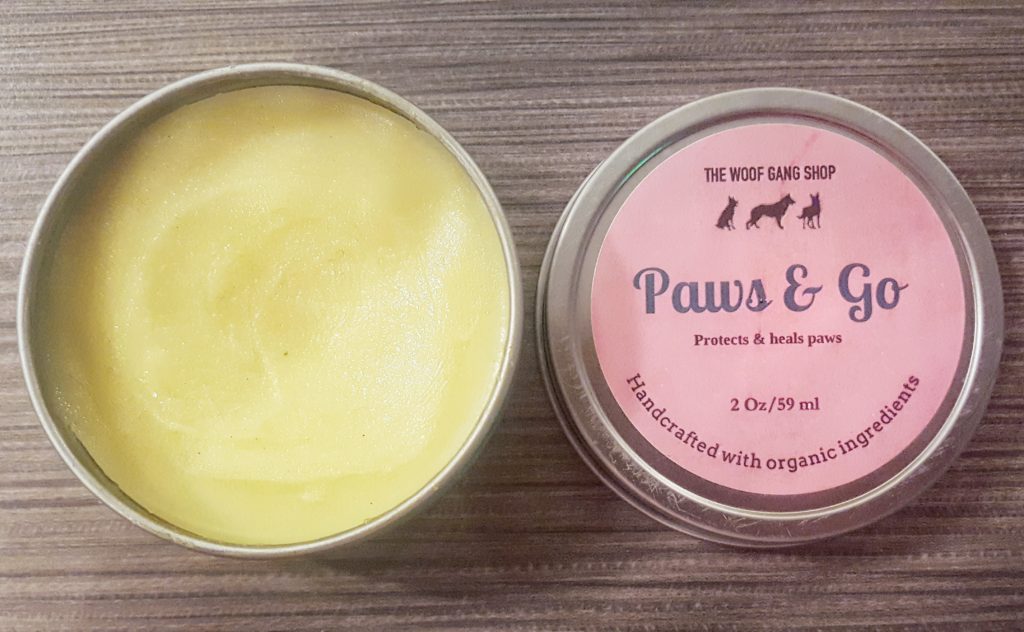 The balm has a natural yellow color in the jar and I would not recommend applying it while your dog is sitting on white fabric materials. Atlas likes to kick around when I touch his paws and for this reason I ended up with a bit of yellow spots on the white sheets of my bed. (These spots came out in the wash and did not stain.) This can obviously be easily avoided by applying the product on kitchen tiles or on darker services. One the product is rubbed in, it leaves zero colour behind and also does not leave any residue behind while your dogs walks around the house. The WOOFgang Shop recommends giving your dog a chew or distracting toy to keep your dog from licking its paws after it is applied. This seemed to do the trick for Atlas.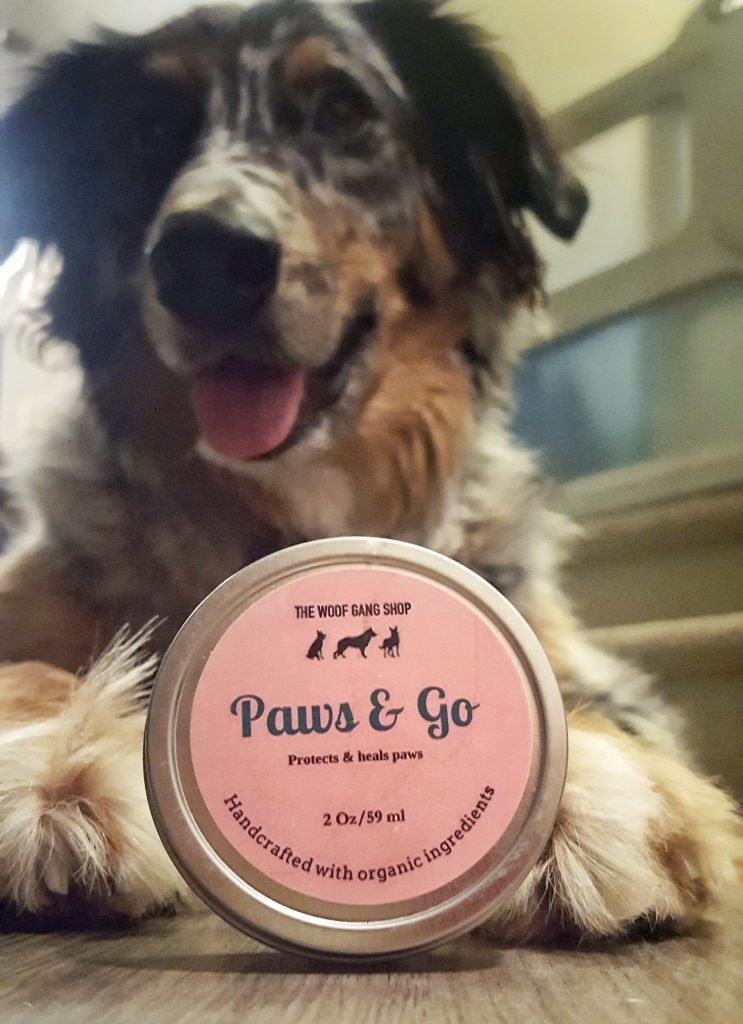 I am extremely happy with the results of this product. It really seemed to improve the look and feel of Atlas's paws and I would recommend trying this stuff out in a heartbeat. I have recommended this balm to all of my dog owner friends with dogs that suffer from dry skin on their pads. I really can't see a way that this product could be improved other than maybe offering a selection of sizes to choose from. The balm is only available in a 59mL (2 oz) container. A variety of container options would also be nice. Perhaps a "Deodorant" style container or "Chapstick" style would be a nice option for quicker applications.
This balm is ideal for: dogs who live in dry climates, especially dogs who are regularly active outdoors. This product works great for maintenance of dry pads and for small repairs of light cracking.
This balm may not be ideal for: you or your dog has allergies to any of the ingredients or sensitivities to natural fragrance. This product may help with more heavily damaged pads but I'd recommend discussing it with your vet before incorporating it into your dog's treatment.
Review by: Dogs That Hike Trail Tester @atlastheadventuredog / www.atlasdogblog.com
Product from: @thewoofgangshop / The WOOFgang Shop Etsy