Wild Hound Outfitters Large Antler Chew
So I'm at the pet store and see a fun, durable looking toy and decide to get it for the dogs in hopes it will replace the toy they destroyed the week before. We take it home and hand it over to the eager and excited dogs, and the countdown begins. How many hours, days or weeks will this one last before they destroy it?
Does that story sound familiar? I think almost every dog owner can agree they have gone through the same story at one time or another. If you are looking for something that your dog will love, sustain interest in and actually LAST you need to get an antler chew, like the Large Antler Chew from Wild Hound Outfitters. Almost all traditional chews offer no nutritional value (like rawhide) or simply may become dangerous by ingesting pieces of the toy. Antler chews contain bone marrow, which is very nutritious for dogs as they contain lots of essential minerals like calcium, iron, phosphorus, potassium and zinc.  Antlers provide a natural way for dogs to maintain healthy and clean teeth and since they contain more moisture than many other natural chews, so they have fewer tendencies to splinter while your dog is chewing.  Keep in mind all dogs should be supervised when chewing antlers. Sharp edges can occur (which can be filed down) so it is a good idea to check the antler after having a good chew.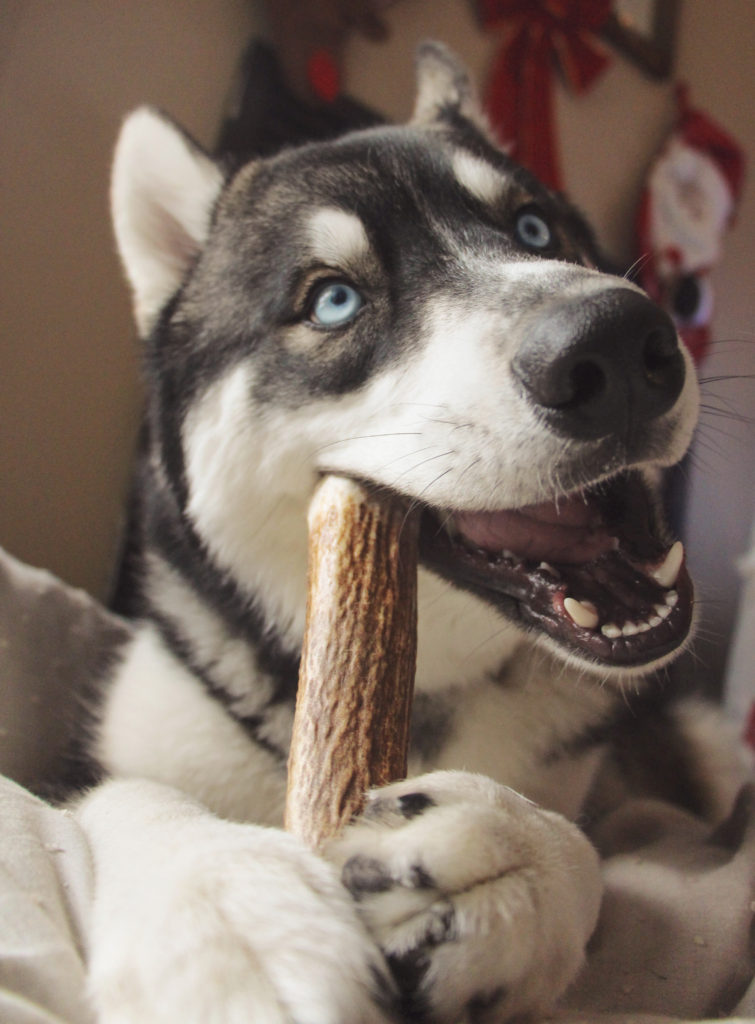 All of Wild Hound Outfitter Antler chews come from natural sheds of wild elk and deer found by shed hunters and their dogs in the Colorado area. The Large Antler Chew is Wild Hound Outfitters largest antler chew option, and advertises as a minimum of 7" long and 5oz. Our chew measured in at 8.25" and an average diameter of about 1.25", and it is intended for dogs 40-70lbs. They do not currently offer Antler Chew for dogs larger than 70lbs, but they do offer an Antler and Rope Toy for dogs 60-100lbs. Their other size options include a medium antler chew for dogs 20-40lbs and a medium split chew for dogs 10-30lbs. Picking the proper size antler for you dog is very important, as selecting an antler that is too small may become a choking hazard.  Wild Hound Outfitters states this potential hazard as a disclaimer on their website. The cost of the antler chew in comparison with similar size antler chews from other retailers is quite comparable and aptly priced.
River and Rain both took turns testing the Wild Hound Outfitters Antler Chew, as they are both hard core chewers this antler definitely saw a ton of action over the past six weeks. Both our dogs tend to share the antler, it is one of the toys we leave out at all times for them, chewing on it for periods of about 30 minutes. While naturally our dogs will stop their chewing sessions, chews shouldn't be consumed in large amounts at a time.  While not an issue for us (their antler is still the same length as the day we gave it to them) bone marrow in large amounts can cause some dogs an upset tummy.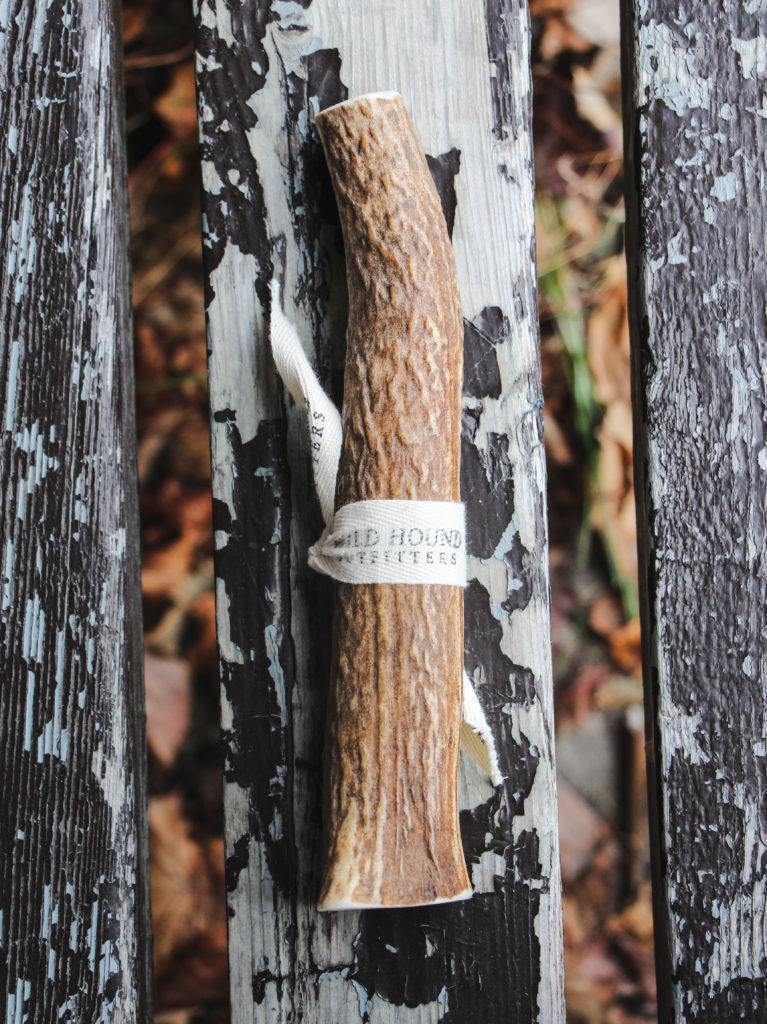 After six weeks, and having been introduced to other new toys since getting the antler, the Wild Hound Outfitters Antler Chew still seems to be River and Rain's favorite chew toy. We often catch one of them trying to swipe it off the other. The antler has turned white on each end, and the marrow at one end is just starting to become concaved after excess licking and it gets slowly digested.
I expect our Wild Hound Outfitters Antler Chew to last us many more months to come. It is a safe, natural chewing option that our dogs love, and we plan to replace it once it has become too small. I would highly recommend this chew to people with dogs that have interest in chewing toys. Although it is possible some dogs may not take an interest in chewing the antler right away, you can try sanding the surface a bit to expose some of the tasty marrow,  or even rubbing their favorite spreadable treat on it to get them started!
Review by: Dogs That Hike Trail Tester @thenortherndogs
Product from: @wildhoundoutfitters  / wildhoundoutfitters.com