When we're not exploring the forests, and climbing the mountains, we're training! And a key component to our training is having a reliable pouch to carry all those tasty treats in, without having to fumble around trying to open it, or having all your treats fall out if you bend over. And let's not forget finding a decent place for the pouch to stay attached so you're not left wondering where along the trail it fell off. I'm incredibly picky about the kind of treat pouch I use, because so many of them have most of the qualities I look for, but are lacking those one or two important aspects that will just make or break the deal. I can tell you that I have absolutely nothing but praise for the P.L.A.Y. Deluxe Training Pouch!
P.L.A.Y. offers two different sized pouches: the Deluxe Training Pouch and the Compact Training Pouch. The Deluxe Training Pouch has two main compartments: the biggest one is for treats, and the one on the front can be used for a roll of poop bags (has a front "dispenser" addition) and/or other small objects such as a key. The front pocket closes with a magnet which does seem to hold well, but I wouldn't suggest putting anything too valuable in there. There's also a small hidden zippered compartment in the back that opens on the side for something like credit cards, money, or a small phone. I admit that at first sight, the Deluxe Training Pouch looks large, but the slim design of it keeps it from really looking or feeling bulky, even with lots of treats inside. And having two dogs I train with, I generally carry a whole lot of treats at any given time, so the extra space was welcomed.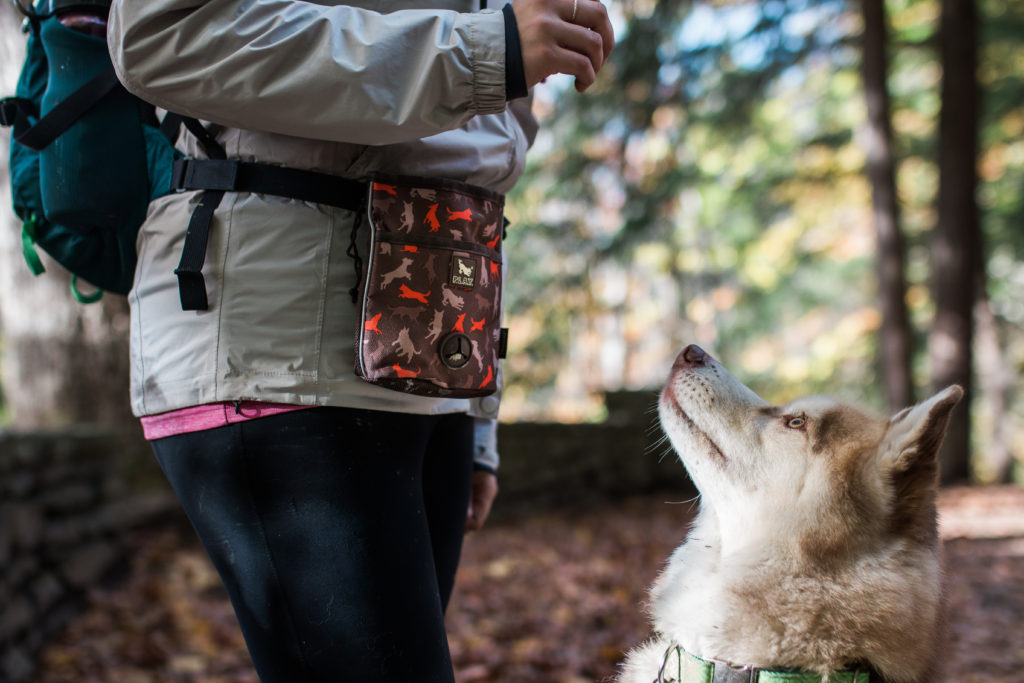 Both the Compact and Deluxe pouches are made from 600-Denier fabric which is a very durable, waterproof material that also resists color fading caused by sun exposure. Rain or shine, whatever is in the pouch will stay dry, and the pouch will remain just as vibrant as the day you buy it. This pouch also features reflective stripes on either side; any added safety feature is always a positive in my book. And for one last awesome little feature, it comes with its own built-in squeaker in the lower left corner. I've used it many times to get Ellie & Atlas' attention and it's worked great!
One thing I love about the Deluxe pouch is the number of ways it can be worn. The pouch comes with two loop straps on the back of it that have buckle attachments for a longer strap. This strap is very low-profile, not flashy, and can be worn around the waist, hanging off your shoulder, or hanging over your shoulder & across your chest. If you want to do without the strap, you can attach the loops on the back of the pouch to a belt or backpack strap, or even use the buckles attached to the loops to clip onto a belt loop. The versatility of the attachments is what truly caught my attention, because no matter how it's attached, it's secure.
In terms of style, it comes in two colors (brown or white) that each have a basic dog-silhouette pattern on them. While I think the pattern is not flashy enough to not draw too much attention, options for solid colors would be great and would be far more appealing to dog owners of all ages and activities they do with their dogs. Even other pattern options, or colors with the current dog silhouette pattern could be a great suggestion. My personal taste leans towards a solid color, but as long as it functions well (it does!), I'm not too picky.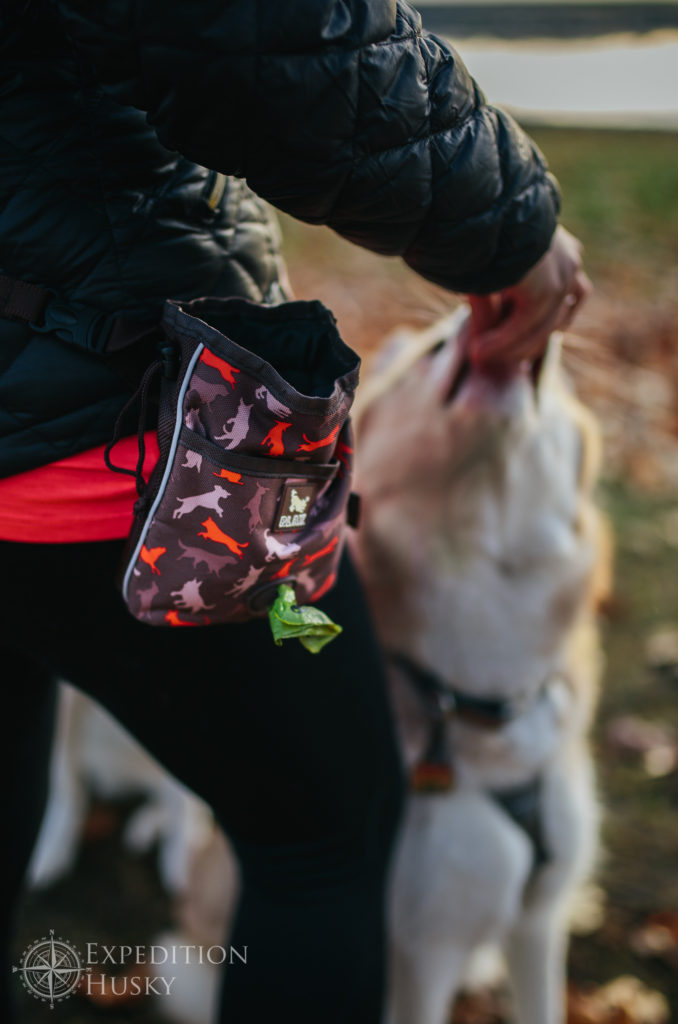 Photo credit: IG @expeditionhusky
The lining of the pouch, while not removable, is smooth, which makes it easy to take treats out without getting it bunched up. The cinch at the top seems to work well, allowing it to be anywhere between being completely closed to completely open. Most of the time, I leave it just slightly cinched so I can still get my hand in, but not have it wide open, and I've had zero issue with treats falling out, despite the number of times I've used it in various situations & activities.
A few things to consider when looking into this pouch… although you can easily throw this pouch in the sink for a quick spot clean or to clean out the inside, I think it could benefit from offering a removable liner for easier cleaning. In addition, the cinch at the top, while it does close all the way, cinches the entire pouch rather than just the lining, creating a more bulky feel if fully closed. Adjusting this with an alternate closure method such as Velcro, a magnet or even a zipper, could solve this issue. And last but not least the rear zippered compartment won't hold anything bigger than something about the size of an iPhone 5; I think a vertical compartment in the back that gives you the entire length of the pouch would be a change worth considering, most phones these days are just about the size of the pouch itself!
Overall, for the price, it's totally worth every penny for what you get. It's a great mid-priced option if you're looking for something a bit nicer without blowing the bank. The versatility of attachment, along with the ease of use and slim design (with a few extra pockets for whatever else you need), really give it an overall great functionality. I strongly recommend this pouch for anyone in the market for a new one.
Review by Dogs That Hike Trail Tester @expeditionhusky